When you are in the kitchen as much as I am, you need to make sure you have the necessary tools to get the job done. One of the tools I frequently use is my favorite hand mixer. I've used it as a cookie mixer, a dough mixer, and for mixing mashed potatoes.
The problem with buying a mixer is knowing how to pick the right one. Everyone is busy and finding time to do the research and pick out when you are comfortable purchasing can be tough.
Quick Note: This post contains Amazon affiliate links. Please read my disclosure statement for details. Thank you.
I recently went through the exercise of purchasing a new cookie mixer and realized that there are tons and tons of them available. Some were expensive and some were pretty reasonable. Some had a bunch of features and some were pretty basic.
In this post, I'm going to save you some time and cover the ones I considered and why I picked the one I did.
If you are in a hurry, the mixer I chose and am very happy with is the Kitchenaid KHM512.
I picked this particular one because it was a brand that I have had good experience with over the years, had good customer ratings, fit my budget.
After using it, I really like that it's nice and quiet and has the power to do the mixing I need. I also like that it's not too heavy.
If you are interested, here are some other posts related to my kitchen product reviews:
Best Chef Knife for 2020 under $100
Best Knife Set for 2020 under $200
Best Pasta Strainers – 2020 Buying Guide
All the ones I considered include:
KitchenAid KHM7210ACS 7 Speed Digital Hand Mixer
KitchenAid KHM512 5-Speed Ultra Power Hand Mixer
Breville BHM800SIL Handy Mix Scraper Hand Mixer
Black Decker Lightweight Hand Mixer
Braun HM5130 Multimix Hand Mixer
My review process was base:
Price (because price does matter),

Amazon customer reviews (because I am all about some online shopping),

Amazon customer feedback,

Product options,

Brand familiarity, and

Mixer weight.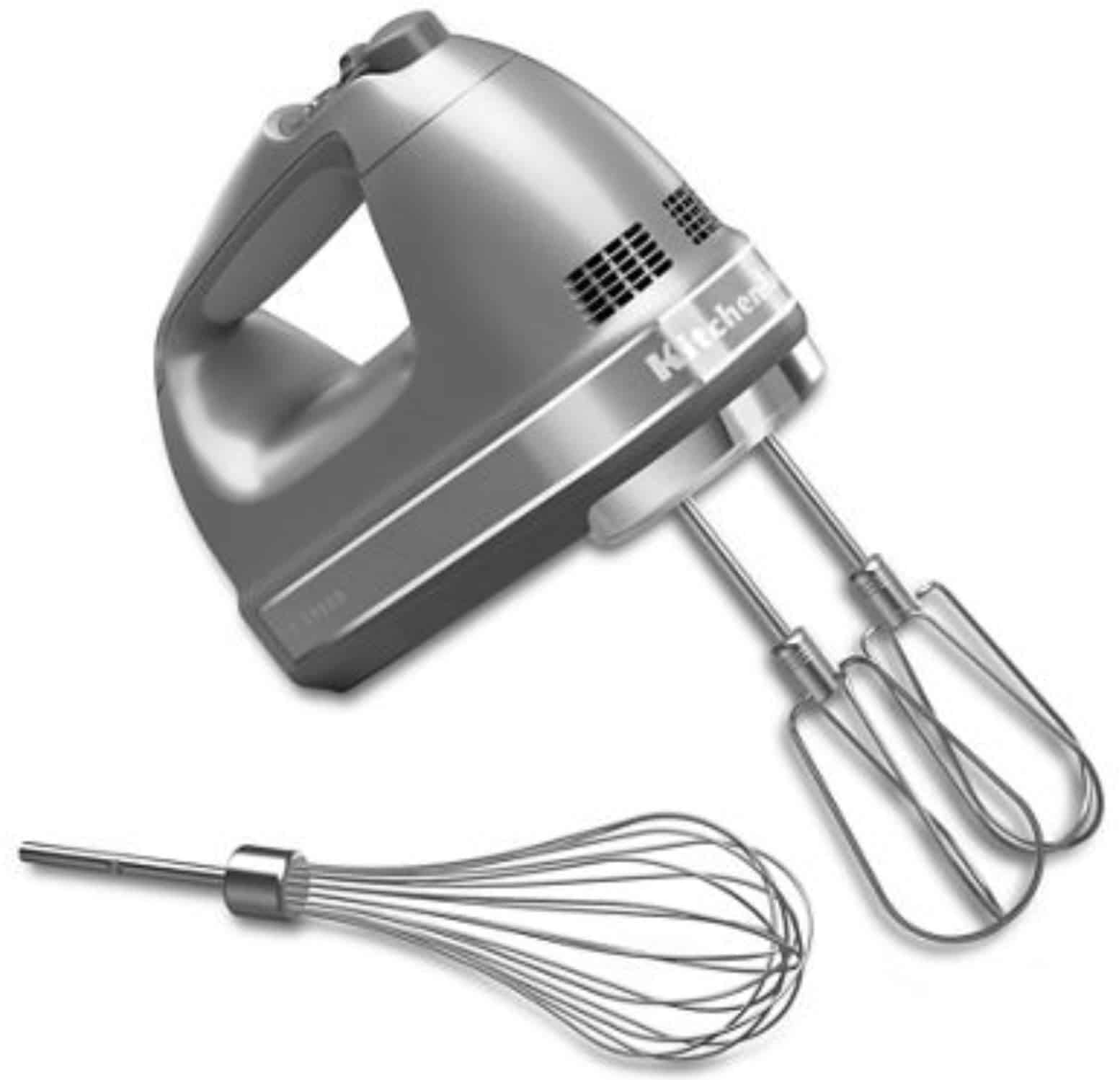 Product Pros:
7 Speeds
Soft start to bring beaters up to speed – reduce slinging ingredients
Comfort soft grip handle
Locking swivel cord
Weight: 2.0 lbs
Product Cons:
108 Watt Motor – a little small compared to others that I reviewed
Amazon Customers Reviews
2,879 Customer Reviews
Rating of 4.5/5.0 Stars
87% 4/5 star reviews
7% 1/2 reviews
5-Star Customer Review
This hand mixer is even more heavy duty than I anticipated. I have mixed up pretty heavy cookie dough, and it creams, folds like a champ. Whips cream (with the whisk attachment) perfectly.

Stands up nicely. Easy to pop the beaters off and in. There is also an indicator that tells you which beater goes into which hole — so you have a smooth beating experience.

I have a Kitchen Aid stand mixer, but I only drag that bad boy out during the holidays. This hand mixer does the trick for every day use, and then some. I may even give my stand mixer a run for its money.
4-Star Customer Review
Love how quiet it is. You can still talk and hear conversation at 1/4 to 3/4 speeds. Worth the price. The cord mount has left and right clicked positions to keep it out of the way. Good beefy cord. The beaters are not like old school 1/4″ wide blades. And the new smaller beaters simply don't beat half frozen butter. Unfortunately, mine was shipped with bent beaters. Shakes like it's having a fit. So minus one star.
2-Star Customer Review
My old Kitchen Aid finally started smoking while making mash potatoes this Thanksgiving, after 45 years of hard use. This new one is out of balance right out of the box.( No load.) The mixer feels cheaply made, and controls and switches are just waiting to get fluids and mix in them.
1-Star Customer Review
I had it less than a month and it broke I used it for 2 seconds and it broke after 1 use. they wouldn't even return it never buying from them again.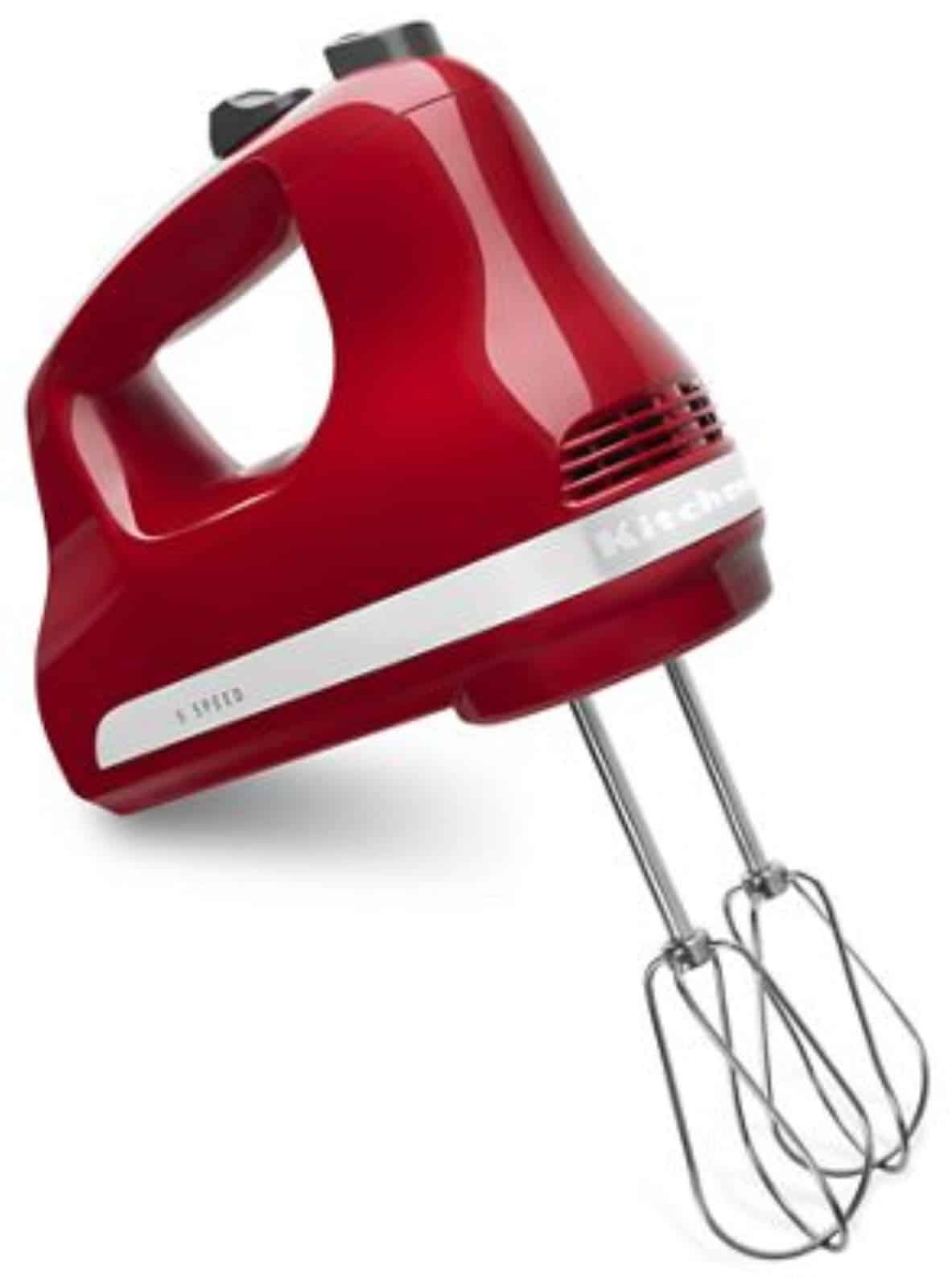 Product Pros:
16 color options
Weight: 2.0 lbs
Soft start option
Beater eject button
1 year replacement warranty
Product Cons:
Underpowered and beaters poorly made per customer reviews
5 Speed – many other mixer options have 7 – 9 speeds
Amazon Customers Reviews
7,109 Customer Reviews
Rating of 4.5/5.0 Stars
87% 4/5 star reviews
8% 1/2 star reviews
5-Star Customer Rating
Finally, a hand-mixer with a slow speed slow enough not to spew flour everywhere!
4-Star Customer Rating
These Kitchen Aid beaters are great, and I admit I love the bright color of the pink! I prefer the old version of the beater blades that were "flat" instead of wires… but those don't seem to be available anymore. Though powerful, this appliance still has limits when mixing thick concoctions like cookie dough. Very nice beaters. Convenient and not too heavy.
2-Star Customer Rating
The mixer was everything said–light, low speed, does not throw ingredients out of the bowl, cleans up easily, but when I was mixing cookies, the cookie dough became very dense, the motor slowed down and seemed to be struggling to turn the beaters. One of the reasons I bought the mixer was the add showed it could manage the dough hooks. If it was struggling with cookie dough, I do not think it could handle the dough hooks! Because of the plastic gears I did not want to push mixer beyond its capacity. extremely disappointed!
1-Star Customer Rating
This thing couldn't whip melted butter. Seriously under-powered. First time using it to try to mash potatoes – everyone had lumpy mashed potatoes. Thought the thing was going to burn up.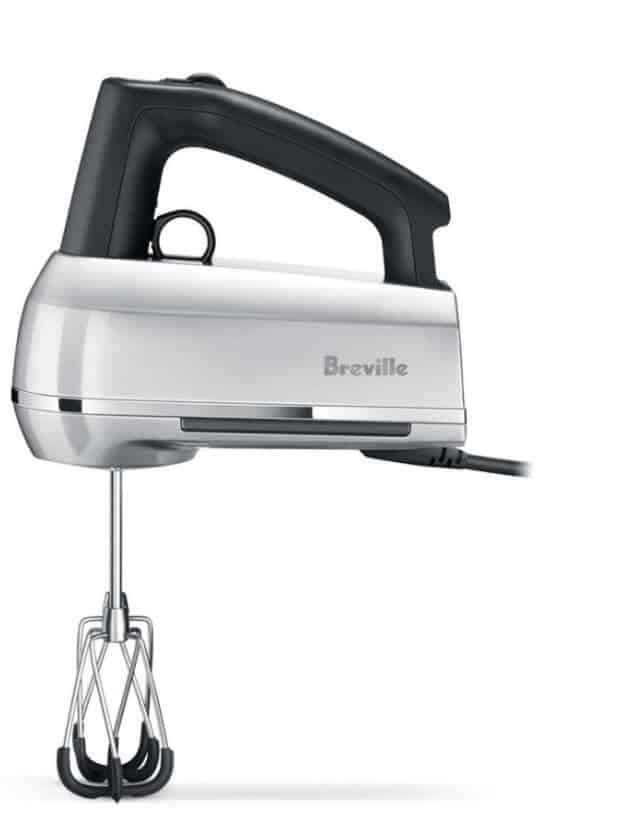 Product Pros:
Swivel cord
Beater IQ technology – optimizes beater speed based on use
9 speed
Ergonomic handle
Detachable storage compartment
Rubber coated Scraper beaters, dough hooks, and ballon whisk
240 watt motor
Mixing light
1 year warranty
Product Cons:
Weight: 4.0 lbs
Poor beater quality per customer reviews
Price: $140 +/- depending on current pricing
Amazon Customers Reviews
617 Customer Reviews
Rating of 4.7/5.0 Stars
93% 4/5 star reviews
4% 1/2 reviews
5-Star Customer Rating
I really love this mixer already. I made meringue in a shorter times using the double whisks, versus the many minutes I spent using my old mixer. It is easy to operate, just move the wheel forward to increase the speed. I love the pause button too, so that I can add more sugar to my egg whites and then just press the pause button again to start at the speed I was at.
4-Star Customer Rating
This mixer has an amazing strong motor, which is the reason i bought it, but i really also liked the timer on there so i can see how long i was beating something. Alas, i had to return it as one of the beaters was wobbly, and Amazon didn't have more in stock.
2-Star Customer Rating
Love the mixer, but the rubber on the beaters is coming off. It's dangerous to have plastic pieces coming off in food. I contacted the company and they aren't able to send me new beaters. My HAMILTON mixer cost $20.00 and lasted 18 years without any issues. This is an expensive mixer!!! I would not splurge on a Breville mixer.
1-Star Customer Rating
Awful. I'm an avid baker. The beaters as pictured are total crap. I had replacements sent. Arrived bent (middle one). Next one snapped in half (besting icing, not a thick dough). And rubber peels off, meaning I've had to toss a few batters and totally wasted all of those ingredients. Customer service is meh. The replacement beaters are now out of stock. They offered to replace the whole mixer which feels like a total waste. But in order to do so I need to mail current one back. Guess why I ordered this darn thing on amazon… because I don't have time to go to post office. No thanks, Breville!!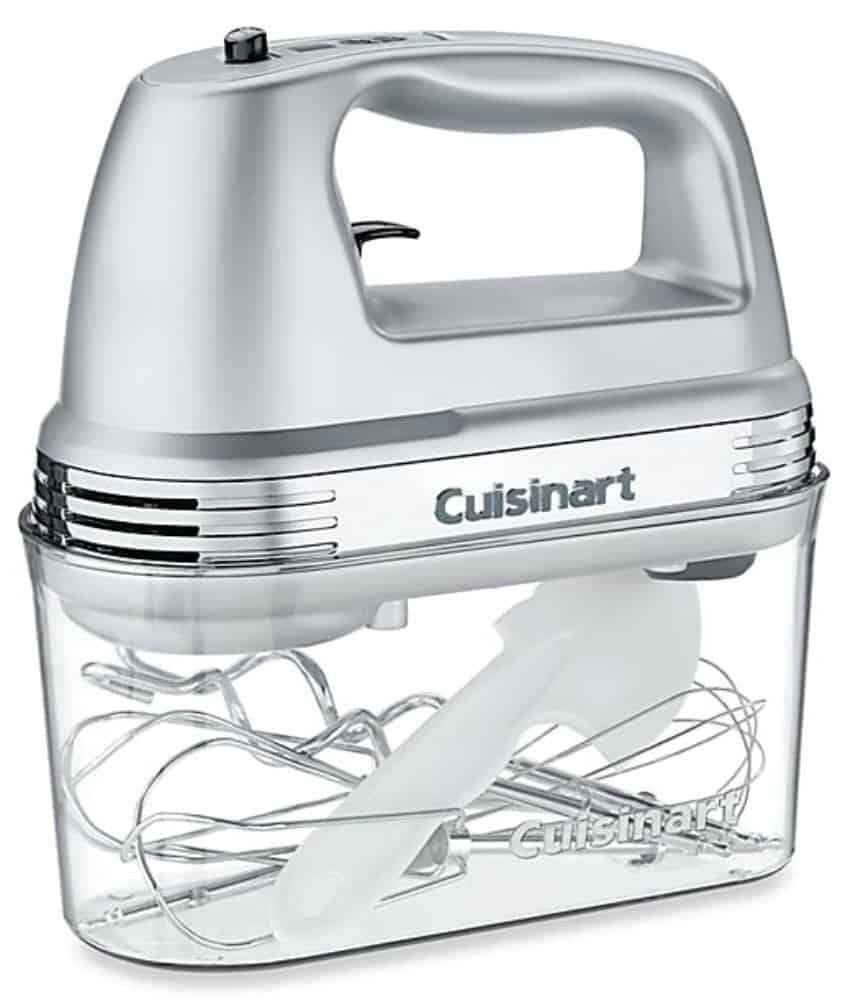 Product Pros:
Storage case
Easy to read LED display
7 speeds
225 watt motor
Price: $77 +/- depending on current pricing
Product Cons:
Weight: 3.5 lbs
Amazon Customers Reviews
17 Customer Reviews
Rating of 4.9/5.0 Stars
100% 4/5 star reviews
0% 1/2 reviews
5-Star Customer Rating
Excellent mixer. Glad I made the purchase.
4-Star Customer Rating
I love it works great no lumps ever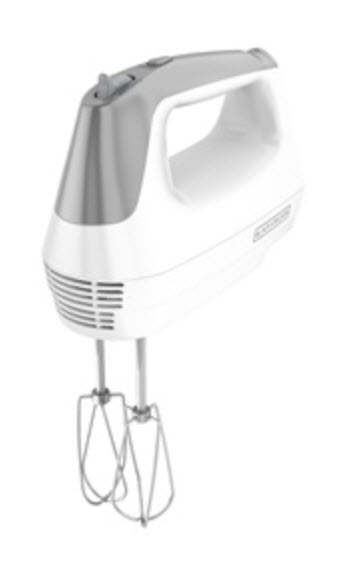 Product Pros:
Weight: 1.1 lbs
Comfort handle grip
Heel rest for countertop
175 watt motor which is pretty good for the price
Price: $15 +/- at time of review
Product Cons:
5 speeds, but does have power boast for thicker ingredients
Flimsy beaters per customer reviews
Amazon Customers Reviews
1,437 Customer Reviews
Rating of 4.5/5.0 Stars
88% 4/5 star reviews
7% 1/2 star reviews
5-Star Customer Rating
The lightweight really makes a difference. I usually only use my stand-mixer and I remember hating hand-mixers because my arms would get so tired, but sometimes you need an extra mixer. This mixer is so light that my arms never get sore and the power-fullness surprised me, given its weight.
4-Star Customer Rating
The speed on this sometimes isn't constant. I can hear it speeding up/slowing down without changing speed selection but its not enough to make it an issue. We ordered it to make homemade whip cream and it did the job just fine!
2-Star Customer Rating
A disappointment. My last black and Decker mixer was great and lasted 18 years. After 2 months I'm ready to throw this one out. It's not as powerful so it takes twice as long to beat egg whites and can't handle stiff jobs. I have to hold the "turbo" button all the time just to get something done.
1-Star Customer Rating
I have to say, this might be the most poorly performing product I've ever received from Amazon and I buy a lot from Amazon. Within 10 seconds of using it the first time, I saw an orange glow from inside the casing, then it stopped working. I was mixing cake batter. Not impressed.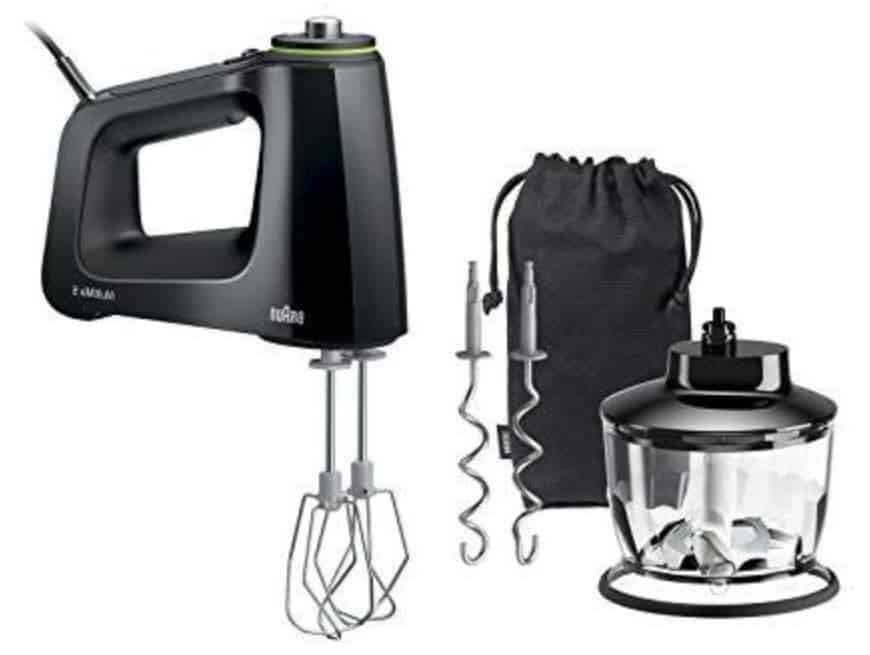 Product Pros:
350 watt motor
Soft ergonomic grip
Price: $99.95
Weight: 2.2 lbs
One hand vario control
Multiwhisk attachments
2 cup chopper
9 speed
3 year warranty
Smart mix technology
Product Cons:
Price: $99.95 is a little on the pricey side, but for the power and attachments might be a bargain for some consumers
Amazon Customers Reviews
451 Customer Reviews
Rating of 4.6/5.0 Stars
90% 4/5 star reviews
6% 1/2 reviews
5-Star Customer Review
BOTTOM LINE: This Braun HM5100 mixes like nobody's business and is easy to use, clean up & store. My wife is happy. Happy wife = happy life! 😀
4-Star Customer Review
This mixer replaced our old Bosch, which served us for 20 years. We chose the Braun because it had the same style attachments for mixing. Specifically, thin stainless wire beaters and very robust dough hooks.

There is a tendency for cake dough mixes to pull up from the beaters onto the mixer body. This was not an issue with our Bosch even though the beaters are similar
2-Star Customer Review
I bought it because I trusted the brand and liked the price but in the first use it turned out to be very noisy and speed was very low even at its highest .
the beaters stood too high

I returned it after the first used.
1-Star Customer Review
I like the function and balance of this mixer, my issue is the beaters. They give you a dough hook, a whip and beaters that function like a whip. Mixing up banana bread was a flop. Twice. No I would not recommend.
I hope you found this guide helpful. Thank you for reading!
Anne