Low carb tortillas filled with chicken, bacon, cheese, ranch dressing, and buffalo sauce.  Enjoy these super fast, easy, low carb wraps tonight or as meal prep for the week.  Per serving:  10 net carbs
Quick Note:  This post contains affiliate links. Please read my disclosure statement for details. Thank you.
Easy Buffalo Chicken Meal Prep
These wraps are low carb to help you stay on your low carb lifestyle.  If you're like me, there are times when you want quick and easy, low carb meals, because you don't have the time, energy, or interest to invest in the process.  Everybody's hungry and wants to eat now!  These wraps certainly come to the rescue.  They're super fast and easy meal prep.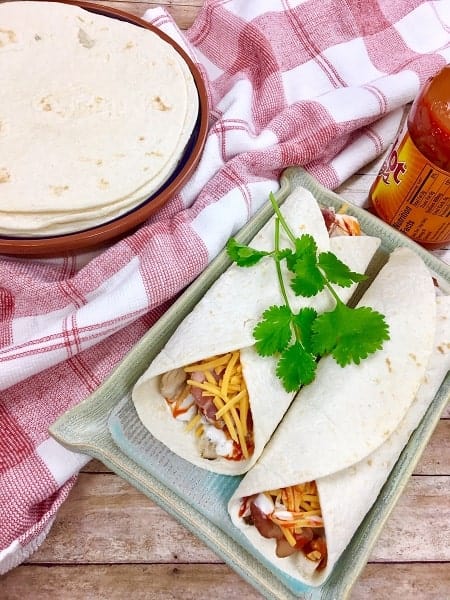 Of course, if you don't like low carb tortillas, or you're trying to cut the carbs down even lower, simply skip the wrap and turn this recipe into a "bowl" recipe by putting all the ingredients in a bowl instead of a tortilla.  Add lettuce and you've got a nice salad.
Easy Meal Prep
You can enjoy these wraps right away, or do the "meal prep" thing and have 4 meals ready for your work or school week.  If you choose to prepare these wraps for later, then I suggest waiting till you're ready to eat them before adding the buffalo sauce and ranch dressing, otherwise the tortilla might get a little soggy.
These meals are convenient and simple for busy people who want a tasty, low carb meal that requires little effort and cleanup. 
This is what I call a convenience meal.  Perfect for when you don't have time to cook, don't want to cook, or when you simply want quick and easy meal ideas to help you stay on your low carb way of eating.  Nothing fancy here, yet these meals are favorable and satisfying.  I hope you give these wraps a try.  If you do, please leave me a comment.  I'd love to hear from you.
Low Carb Buffalo Chicken and Bacon Wraps
Keyword:
buffalo chicken, buffalochickenwraps, easylowcarbmealprep
Ingredients
1

22 oz bag fully cooked chicken breast strips (chop if desired)

4

Low carb, burrito size tortillas

8

Slices of pre-cooked thick sliced bacon

1

cup

Shredded cheddar cheese

1/4

cup

Ranch dressing

1/4

cup

Buffalo wing sauce

1/4

cup

Salsa (optional) but does add extra flavor
Instructions
Thaw frozen chicken breast strips according to package directions. Chop the chicken strips if desired. Divide the chicken equally among each wrap (or bowl if going wrapless).

Add the following to each wrap (or bowl):

2 strips of bacon

1/4 cup shredded cheddar

1 TBS ranch dressing

1 TBS buffalo wing sauce

1 TBS salsa (optional)

Roll up the tortilla and cut in half. Enjoy!

If making for meal prep to enjoy later, skip the ranch dressing and buffalo sauce (and salsa if using). Place the chicken, bacon, and cheese in a tortilla, roll it up and place in a container and promptly refrigerate. When ready to eat, add the ranch dressing, buffalo sauce, and optional salsa to the tortilla; and warm in the microwave.
Try some of our other low carb recipes:
Low Carb Strawberry Cheesecake Bites
Low Carb Pork Curry over Cauliflower Rice
Low Carb Steak and Blue Cheese Salad