LAZY LOW CARB MEAL PREP SERIES.  Ready in under 15 minutes!  These easy Fiesta Burgers are low carb, keto friendly, satisfying, and flavorful plus there's little prep involved.  You'll have 4 lunches or 4 dinners, or 2 lunches and 2 dinners, or whatever you want.  Or enjoy them right away!  Per Serving:  5 net carbs
Quick Note:  This post contains affiliate links which mean if you make a purchase through one of these links, I may make a small commission, at no cost to you. Please read my disclosure statement for details. Thank you.
Are low carb and keto part of your lifestyle?  Are you looking for a new meal idea?  These low carb burgers fit the bill!! 
This was the first meal prep recipe I came up with and at the time, I didn't realize what I had started.  It was the beginning of my fascination with quick, easy, low carb meal prep. 
Thus, the Low Carb Fiesta Burger recipe was born.  You can enjoy these burgers right away, or do the "meal prep" thing and have 4 meals ready for your work or school week. 
These meals are convenient and simple for people who want a tasty, low carb meal without spending a lot of time prepping.
It was a Monday night and my husband was out of town on business.  I was determined to get back on my low carb lifestyle and I wanted to make enough meals for myself for the next several days.  I wanted meals that I knew would keep me on track (keep me accountable) and keep me away from the fast food restaurants.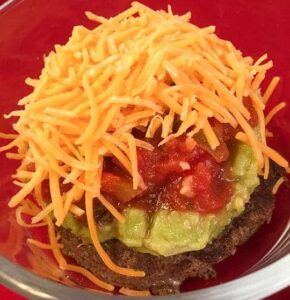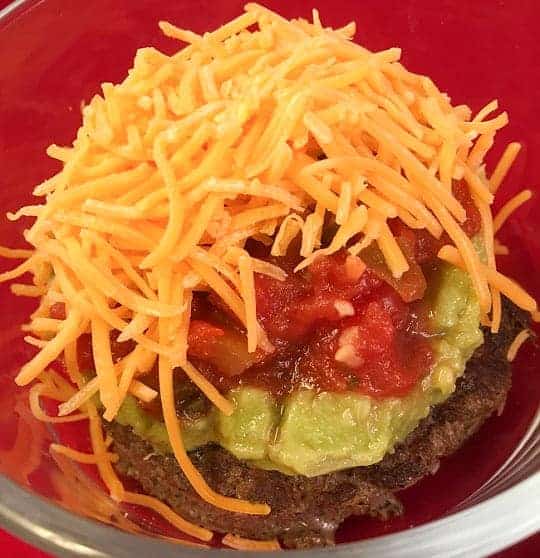 This is probably the only one of my low carb meal prep recipes that involves actually taking out a pan and cooking. But I thought "cook now, and I won't have to cook later."  And since I was using pre-formed hamburger patties, it really didn't take too much of my time to cook them.  
Most of my other meal prep recipes use pre-cooked chicken and beef; saving even more time and that's the basis of my entire collection of quick and easy low carb meal prep ideas.
How to make Easy Low Carb Burgers
Season the hamburger patties, if desired, with salt, pepper, etc.,  Then, after cooking the hamburger patties, you'll start building your Fiesta Burger. 
First, place the cooked hamburger patties into your favorite containers.  Layer the guacamole and salsa on top.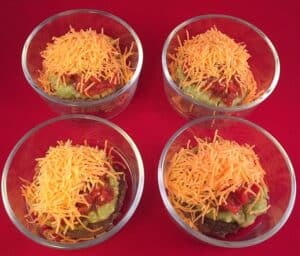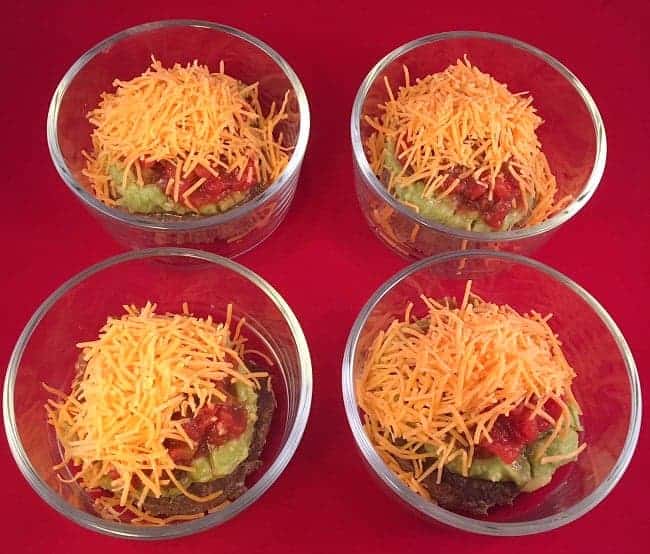 If you love cheese as much as I do, then this is your favorite part!  Pictured here is shredded cheddar cheese.  However, you can use shredded Mexican blend, shredded monterey jack, sharp cheddar, or your favorite choice. 
If you happen to have someone in the household who is not doing the low-carb lifestyle, then I can tell you this is fantastic on a hamburger bun.  I hesitated to post a picture of the Fiesta Burger on a Bun but I know from my own experience, not everyone in the household is on the low carb wagon. 
I've watched others eat bread right in front of my eyes!  But we can't be bothered by what others eat in front of us; we're "in the zone" right?  And once you've set your mind to anything, nothing can get in the way of your goals!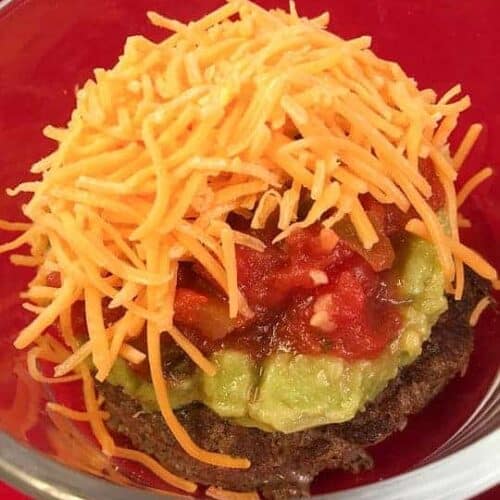 Low Carb Fiesta Burgers
These low carb fiesta burgers are an easy meal prep or enjoy right away.
Print
Pin For Later
Rate
Ingredients
4

Pre-formed hamburger patties, fresh or frozen

1

cup

Guacamole

1

cup

Salsa, mild, medium, or hot (your choice)

1

cup

Shredded cheddar cheese
Instructions
Season hamburger patties, if desired. Cook hamburger patties until they are cooked through. Let cool.

For meal prep: Place 1 cooked hamburger patty into each container. You'll need 4 containers of your choice. I prefer glass but plastic will work.

Top each hamburger patty with 1/4 cup guacamole, 1/4 cup salsa, and 1/4 cup shredded cheddar cheese.

Promptly refrigerate. When ready to eat, heat in microwave.

For the non-low carber in your house, place in hamburger bun. These low carb fiesta burgers are delicious either way!
I will point out, also, I've tried one of the popular low carb hamburger buns online, and they're not too shabby.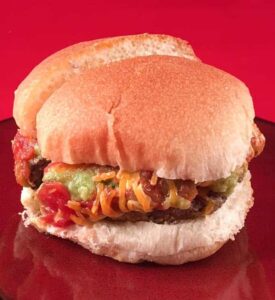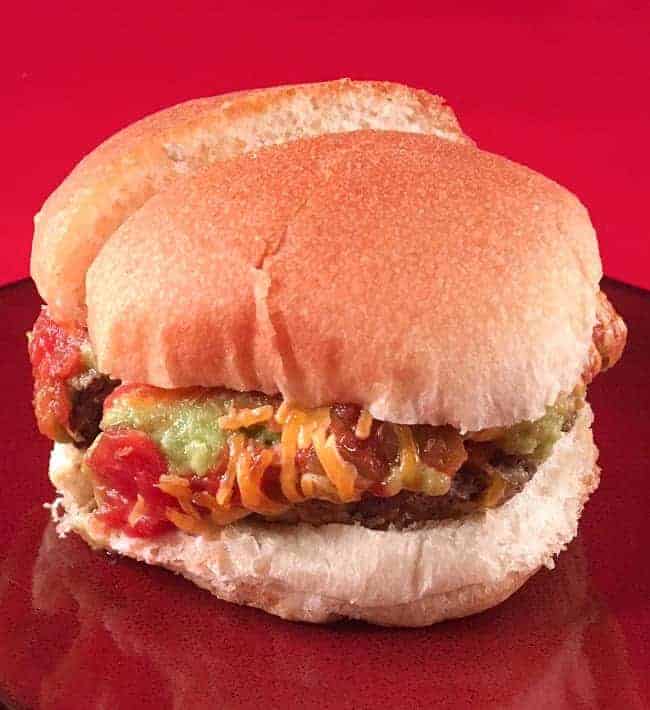 You may also want to try these Low Carb recipes…
Low Carb Strawberry Cheesecake Squares
Low Carb Steak and Blue Cheese Salad
Pork Curry over Cauliflower Rice