LAZY LOW CARB MEAL PREP SERIES:  Ready in under 10 minutes!  This low carb keto chicken vegetable soup with sausage has 11 net carbs per serving.  Easy meal prep you can put together in a flash because there are no pots, no pans, and no cooking involved.  Use pre-cooked chicken and pre-cooked sausage for super fast meal prep.  
Quick Note:  This post contains affiliate links which mean if you make a purchase through one of these links, I may make a small commission, at no cost to you. Please read my disclosure statement for details. Thank you.
Are you craving a hot bowl of chicken vegetable soup but don't want all the carbs of traditional chicken soup?  Are eating low carb, keto, and gluten-free meals part of your healthy lifestyle?   
You can enjoy this low carb chicken soup as it is full of flavor, satisfying, and without loads of carbs!  The crumbled sausage with bacon is an added bonus.  Low carb chicken soup is delicious any time of year.    
Meal prep is a very popular thing now.  Whether it's to save time or to plan out a few meals in advance, meal prep certainly comes in handy.  It can also help you eat healthier by providing convenient pre-portioned serving sizes.  These are the reasons I love this super fast meal prep chicken soup recipe!
Whether it's soup weather or any time of the year, sometimes you just want to eat a comforting bowl of hot chicken soup.  It actually does warm the soul.  But it's hard to find a recipe or even canned chicken soup that doesn't contain noodles, rice, or potatoes.  So you either have to make your own or do without.
How to Make Easy Low Carb Chicken Vegetable Soup
Making your own homemade chicken soup takes time, but if you've worked overtime or you've just returned from your kid's soccer game, it's late, and you really don't want to spend a lot of time in the kitchen.
Hopefully, I've got a quick and easy solution for your chicken soup blues.  I've come up with these "homemade" chicken, vegetable, and sausage soup meal prep bowls.  The chicken is already cooked and diced.  The sausage is already cooked and the vegetables are already pre-measured. 
Pictured below is one serving (one meal prep bowl) minus the chicken broth.  One serving has plenty of chicken breast, crumbled sausage, diced carrots, green peas, and green beans.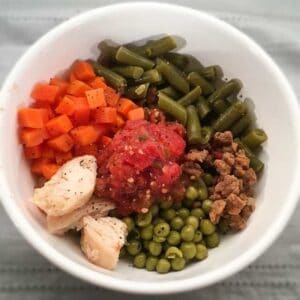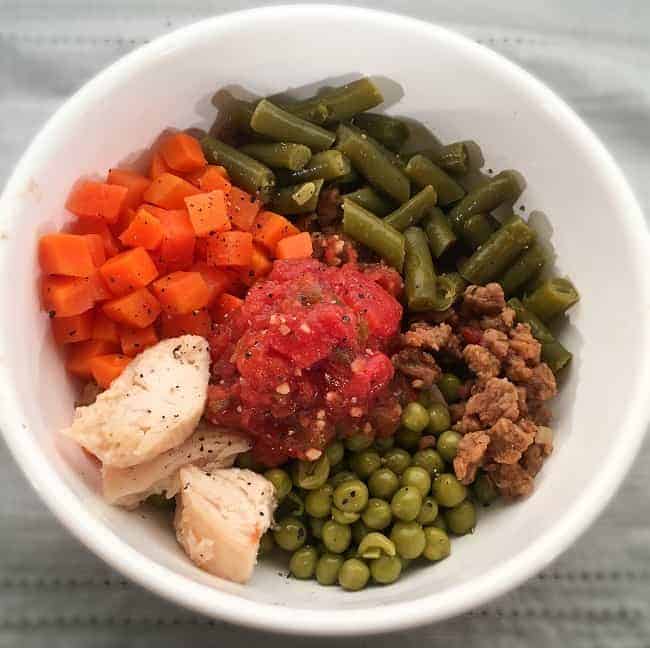 No pots, no pans, no cooking!  Pinch me!  You're going to be surprised at the great flavor, too. I like to add a little salsa to this soup as it adds extra flavor and a nice color.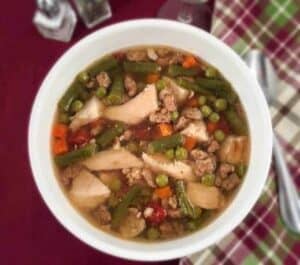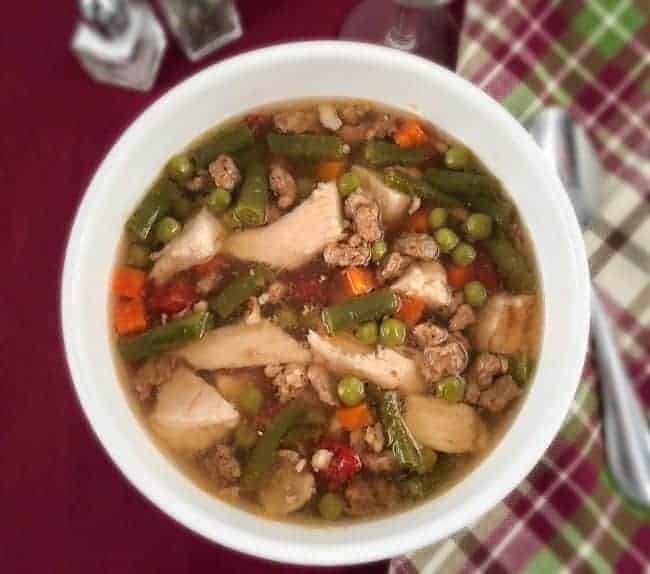 Simply place the ingredients, per the recipe directions, into each individual container, refrigerate, and heat when ready to eat. 
Or place all the ingredient in a pot, heat on the stove, dish out into your favorite soup bowls and enjoy right away!  I'm loving this low carb chicken vegetable soup and I hope you do, too.   
These are convenience meals – perfect for when you don't have time to cook, don't want to cook, or when you simply want quick and easy meal ideas to help you stay on track of your low carb keto lifestyle. Nothing fancy here yet the meals are flavorful and satisfying. You can use organic items or not, minimally processed items or not, this is completely up to you.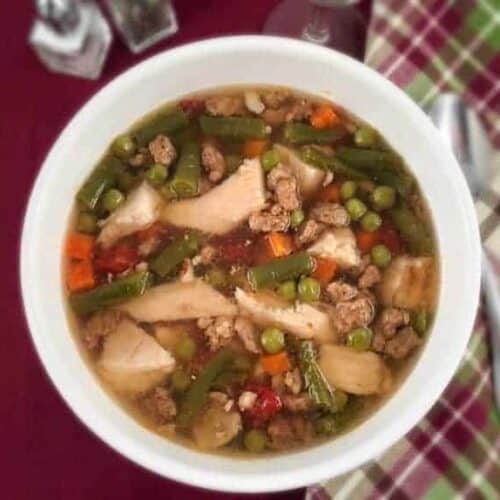 Low Carb Chicken Vegetable Soup with Sausage
These healthy, convenient meal prep bowls are full of chicken breast, crumbled sausage, and lots of veggies.
Print
Pin For Later
Rate
Ingredients
2

32-oz containers of chicken broth, lower sodium preferred

1

22 oz bag Pre-cooked diced chicken breast, frozen

1

8 oz package Pre-cooked sausage crumbles with bacon

1/2

cup

Salsa (mild, medium, or hot)

1

Single serving cups green beans

1

Single serving cups diced carrots

1

Single serving cups green peas

1

Black pepper, dried parsley, and/or hot sauce to taste
Instructions
For meal prep, you'll need 4 bowls or containers with lids.

Divide the pre-cooked diced chicken breast equally into each container.

Add the following to each bowl:

2 cups chicken broth

1/2 cup sausage crumbles

2 TBS salsa

1 single-serving container green beans, drained

1 single-serving container carrots, drained

1 single-serving container green peas, drained

Dash of black pepper, if desired

Dash of parsley, if desired

Place lids on bowls and promptly refrigerate. When ready to eat, warm in microwave.

If you're not making this recipe for meal prep, pour all of the ingredients into a large pot, heat on the stove. and enjoy right away!
You may also want to try these Low Carb recipes…
Low Carb Strawberry Cheesecake Squares
Low Carb Steak and Blue Cheese Salad
Now the legal stuff (because my mama didn't raise no fool):  Please note that I am not a medical or nutritional professional.  I am simply sharing my personal favorite recipes on this blog.  Please consult with your physician before starting any diet or exercise program.  I provide net carb information for my low carb/keto  recipes simply as a courtesy to my readers.  I expressly disclaim any and all liability of any kind with respect to any act or omission wholly or in part in reliance on anything contained in this website.