These bite size Oreo cheesecakes are super easy to make and packed with flavor! They're baked in a muffin pan with a whole oreo for each individual crust.
Plus, crushed Oreo cookies are mixed in with the cheesecake filling for an Oreo-flavor-blasted mini cheesecake you simply pop in your mouth!
This recipe makes 16 mini Oreo cheesecakes and take under 30 minutes to prepare. If you're an Oreo fan, like my husband, you'll love these cute little cheesecake bites.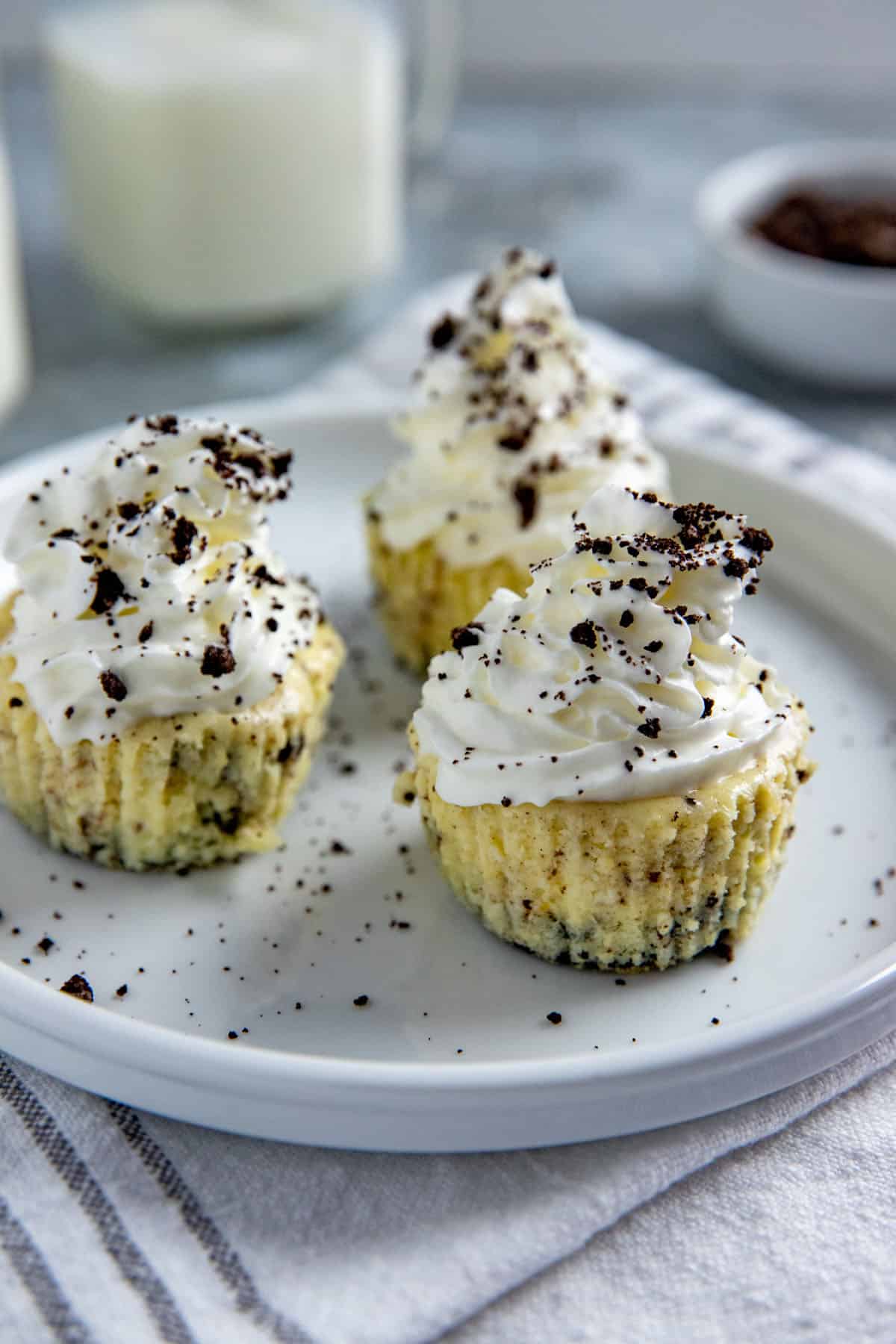 Why You'll Love These
Here are my top 4 reasons to love these mini Oreo cheesecakes:
Easy Prep - simply drop an Oreo cookie into each muffin cup (no need to make a crust when you've got access to the perfectly sized, delicious, ready-made crust!).
Easy Topping - let's keep this recipe truly simple by using store-bought, real whipped cream in a can!
Easy to Serve - since these are baked in a muffin pan, there's no slicing needed, and they're easy to transport to another location.
Customizable - you can make a variety of different flavors such as using vanilla wafers instead of the Oreo cookies. You can use any flavor Oreos as well.
Do you love chocolate? Try my Oatmeal Banana Chocolate Chip Cookies or my Homemade Chocolate Muffins!
What are they made of?
Mini Oreo Cheesecakes are made with simple, easy to find ingredients.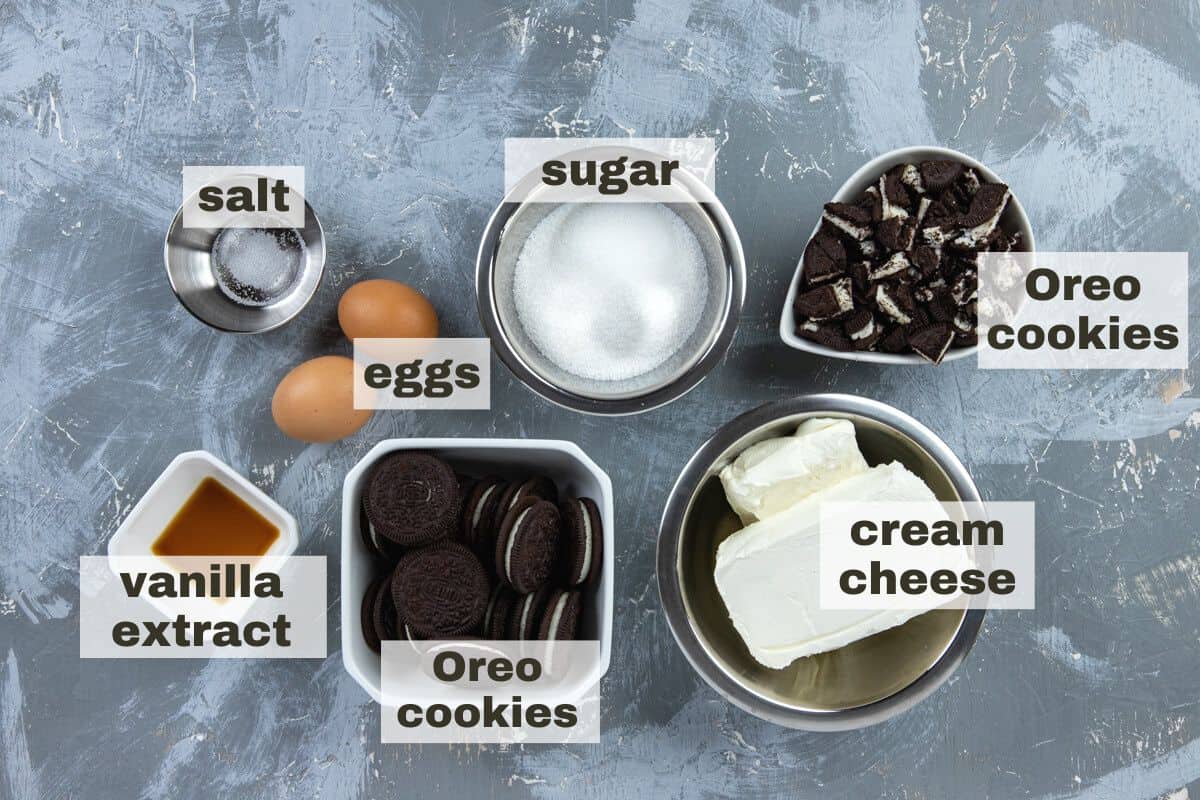 Oreo Cookies - you'll need about 30 Oreo cookies for this recipe. We'll use them for the crust, the filling, and for the topping. Gluten-free Oreos work well, too.
Cream Cheese - it wouldn't be cheesecake without the cream cheese! Use the full fat version for the creamiest texture and best taste.
Granulated Sugar - we add ⅔ cup of sugar to the filling. It's not overly sweet because the crust adds sweetness, too.
Eggs - helps to bind the filling.
Vanilla Extract - adds a rich vanilla essence that enhances the flavor. I recommend using pure vanilla extract instead of the imitation.
Salt - a little salt helps to balance out all the flavors.
How do you make them?
Here's a summary of the recipe directions; be sure to follow the actual "recipe card" when you get ready to make these.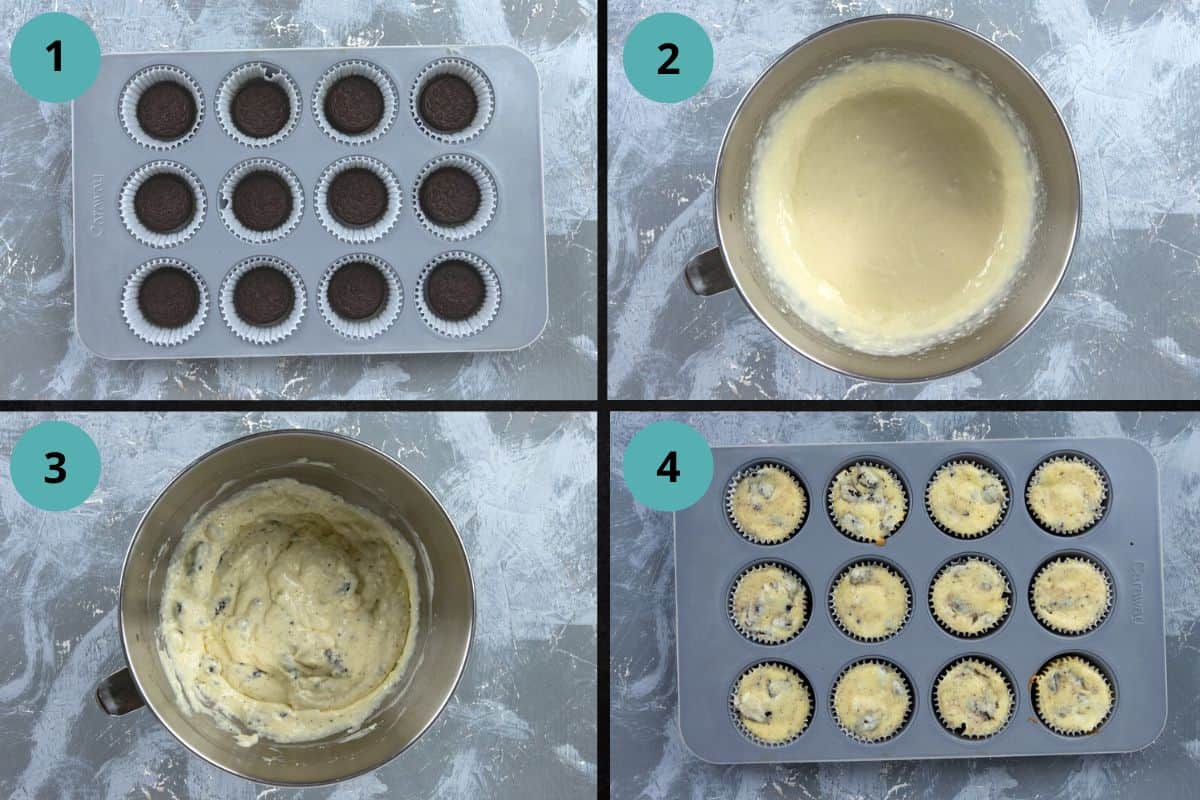 (1) Place a liner and an Oreo cookie in each muffin cup.
(2) In a mixing bowl, combine the cheesecake filling.
(3) Fold the chopped Oreos into the cheesecake batter.
(4) Fill the muffin cups with the Oreo batter and bake just until jiggly. Let cool, and chill in the refrigerator. Top with whipped cream and crushed Oreos (or add a mini Oreo on top of the whipped cream) right before serving.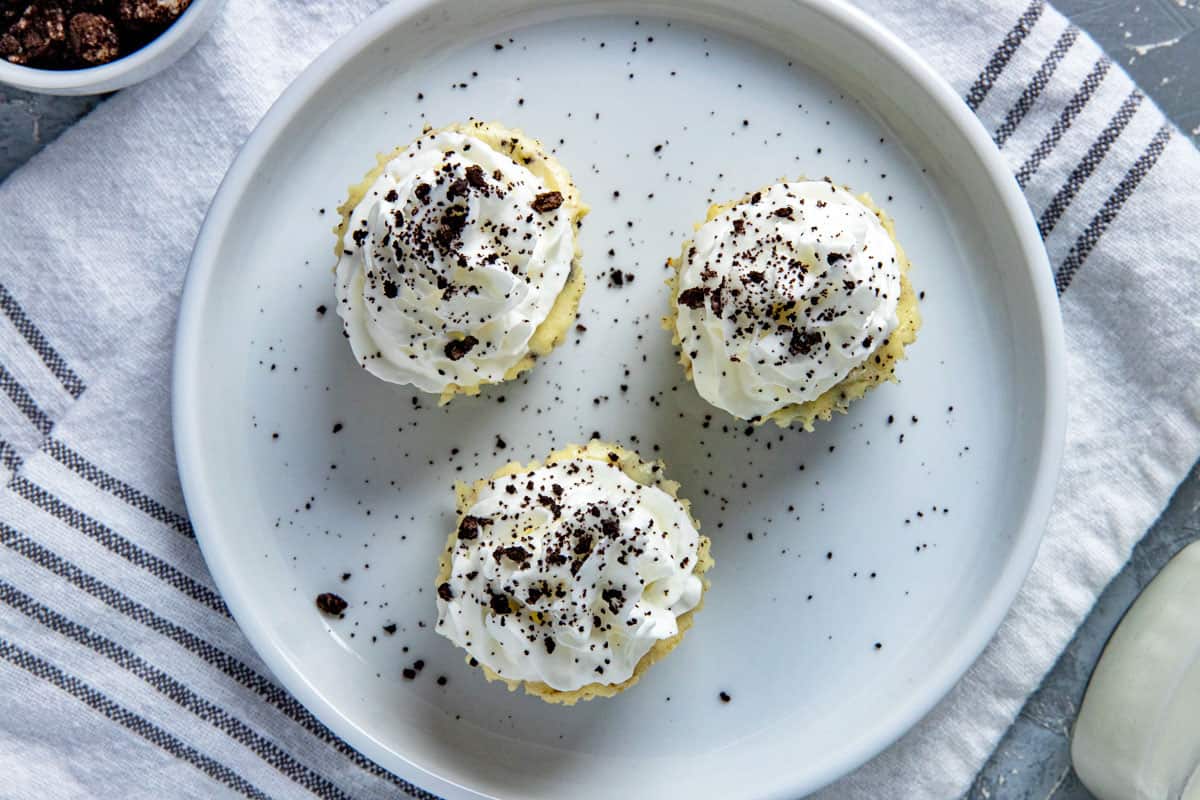 Frequently Asked Questions
What causes cheesecake to crack?
Overbaking causes the cheesecake to crack while it cools. To prevent this from happening, remove the mini cheesecakes when they are still a little jiggly.
How long will they last in the fridge?
Keep the mini oreo cheesecakes stored in an airtight container (or on a covered plate) in the refrigerator for up to 3 days.
Can you freeze them?
Yes, let them cool completely, wrap them in plastic wrap, then place them in a freezer-friendly container. Write the date on the container. Freeze for up to 3 months.
What if I don't have any paper muffin liners?
The muffin liners work great at preventing the mini cheesecakes from sticking to the pan. However, you can spray your muffin pan with non-stick spray if you don't have any liners. Bonus points if you have a non-stick muffin pan!
Expert Tips
My best tips to ensure you get the best results for these mini cheesecakes:
Make Ahead Version - Make the day or night before you plan to serve them; that way, they'll be nicely chilled when you serve them (however, save the whipped topping for when you're actually serving them because the canned whipped cream breaks down fairly quickly).
Room temperature cream cheese is easier to blend with the other ingredients and makes the filling nice and creamy.
A quicker way to get your cream cheese at "room temperature" is to remove it from the foil wrapper, slice it into cubes, and let it sit on the countertop for 15-20 minutes.
Use an electric mixer for the creamiest, lump-free filling. If you don't have an electric mixer, a whisk will do a pretty good job.
More Sweets and Treats
If you'd like some recipe inspiration delivered straight to your inbox, sign up for my email newsletter on my subscribe page and receive a free 5-day meal plan.
If you tried this recipe, please let me know by leaving a comment! I'd love to hear from you.
Recipe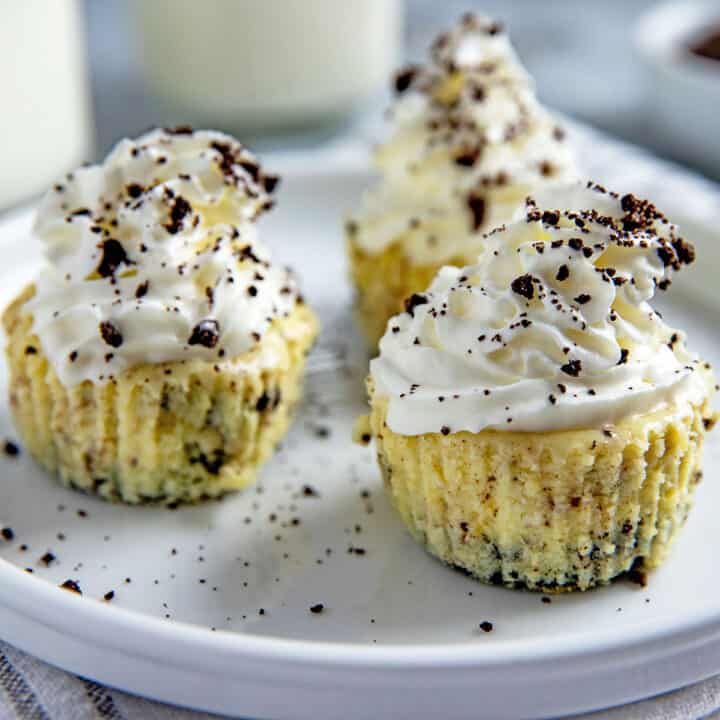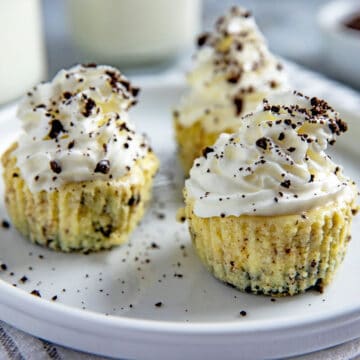 Mini Oreo Cheesecakes
These bite size mini Oreo cheesecakes are super easy to make and packed with flavor! They're baked in a muffin pan with a whole oreo for each individual crust.
Print
Pin For Later
Rate
Equipment
1-2 standard size muffin pan(s)

since this recipe makes 16 mini cheesecakes, you'll need 2 muffin pans or 1 muffin pan plus 4 small ramekins.

measuring cup(s)

measuring spoons

Electric mixer

spatula
Ingredients
FILLING
16

ounces

cream cheese (full fat), softened

⅔

cup

granulated sugar

2

large eggs

1

teaspoon

real vanilla extract

quick dash of salt

10

Oreo cookies (finely chopped but not crushed)

see recipe note
TOPPING
Real Dairy Whipped Topping (canned)

I use Reddi-Wip

2-4

Oreo Cookies, finely crushed

A rolling pin works well for this step
Instructions
Preheat the oven to 350F. Add a paper liner to each muffin cup and spray them with non-stick spray. Add 1 whole Oreo to the bottom of each muffin cup.

In a large mixing bowl, add the cream cheese, sugar, eggs, vanilla extract, and salt. Blend with an electric mixer on medium speed until smooth (about 5 minutes).

Fold in the 10 chopped Oreos with a spatula.

Spoon the batter into the muffin cups until 99% full. See Recipe Note Below. Bake for 12-14 minutes. The center of the cheesecakes should be a little jiggly and the edges a little browned. They will firm up after they've cooled off.

Refrigerate the mini cheesecakes for at least 2 hours before eating them (they're mighty fine when they're ice cold!). Just before serving, top each mini cheesecake with a high pile of real dairy whipped topping and then sprinkle with a little Oreo cookie crumbs. See Important Note Below regarding the Topping!
Notes
For the filling:  I like to chop the Oreos much like you would an onion.  I like the small bits of Oreos mixed within the cheesecake!
For the topping:  The whipped topping must be eaten pretty quickly because it won't hold its shape (it's mostly air!).  Save the whipped cream topping as the very last thing you do before serving.  Don't forget to sprinkle some Oreo crumbs on top.  Have fun!
Store the mini cheesecakes in the refrigerator, covered, for up to 3 days.
Nutrition
Serving:
1
oz
|
Calories:
244
kcal
|
Carbohydrates:
26
g
|
Protein:
4
g
|
Fat:
14.7
g
|
Saturated Fat:
7
g
|
Cholesterol:
55
mg
|
Sodium:
209
mg
|
Fiber:
1
g
|
Sugar:
18
g
Nutritional information is provided as a courtesy to my readers. I'm not a nutritionist and I don't guarantee the accuracy of this data. The data may differ according to the brands I used versus the brands you use. To calculate the data yourself using your brands, try using an online nutrition calculator or app.