Moist chocolate muffins from scratch are an easy sweet treat! Chocolate pudding mix ensures a nice fluffy muffin! Not too sweet but will satisfy your sweet tooth. Ready in 30 minutes!
Welcome to My Kitchen Serenity! I'm excited to share with you my recipe and how to make the best chocolate muffins! These muffins are perfect when you're wanting something a little sweet and fully satisfying. They've got a rich fudgy flavor that's a must for chocolate lovers.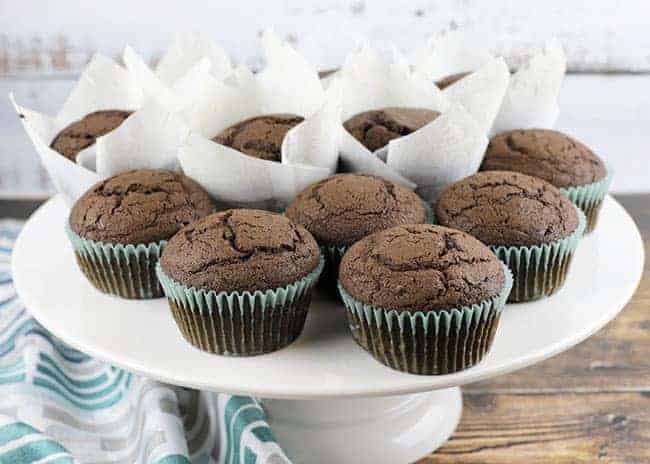 Why They are so Moist
I like to add a couple of tablespoons of instant chocolate pudding mix to the batter. The pudding mix adds more chocolate flavor and makes the muffins nice and fluffy.
If you're totally a chocolate lover, I also recommend taking a look at my Chocolate Chess Pie recipe. It's made from scratch and I've received a ton of rave reviews about it as well!
What I Like About These Muffins
What I like about these muffins is they aren't too sweet but sometimes I like to sprinkle them with powdered sugar to dress them up a bit. My husband loves to spread peanut butter on these muffins. My daughter likes to add chocolate chips to the mix when she makes them for her family.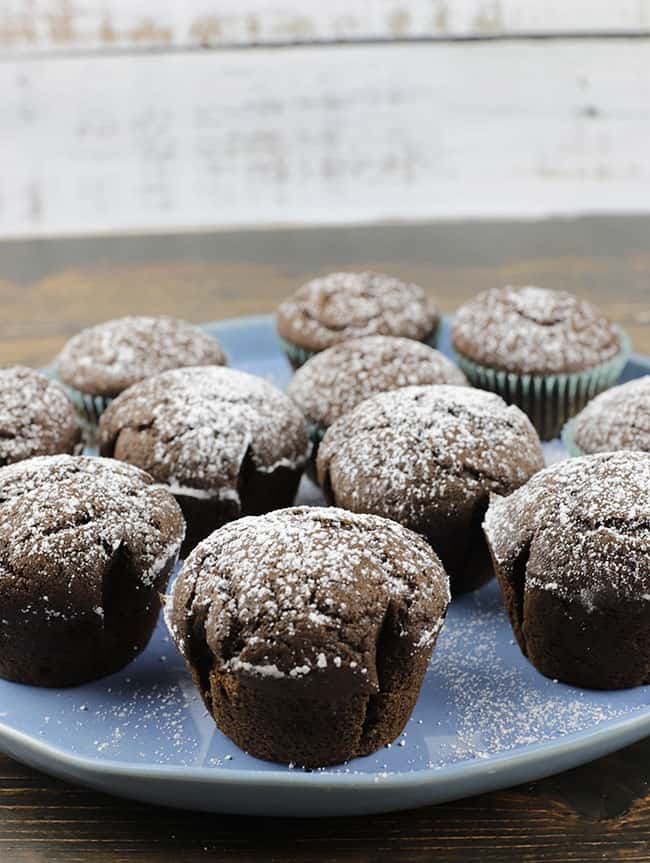 Make it fun and try different kinds of muffin liners. I have regular muffin liners in assorted colors and I also have the cute tulip-shaped muffin liners. I used both styles for the pictures so you can see them. This recipe makes 12 muffins and is ready in about 30 minutes.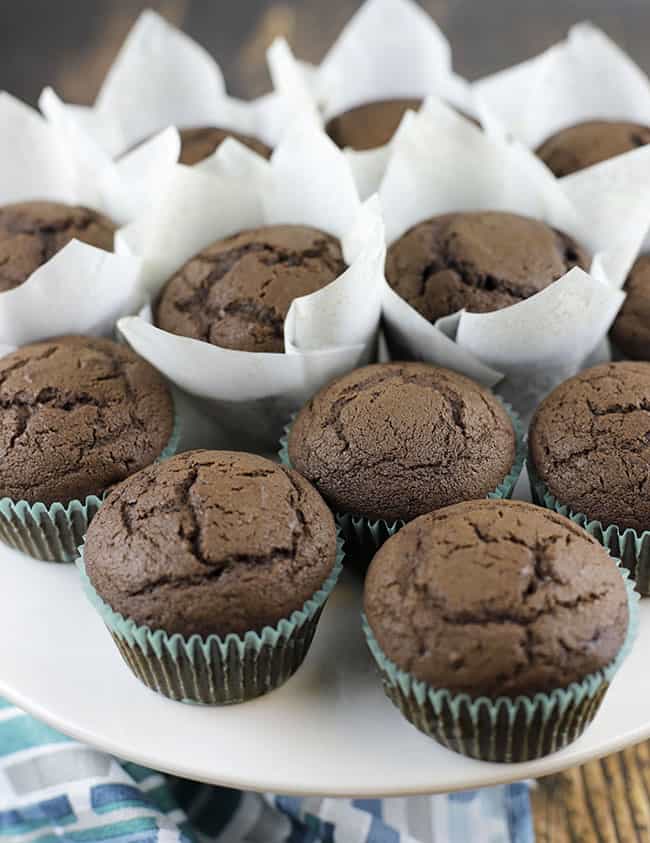 Enjoy these muffins with a glass of cold milk or a cup of hot coffee! Have one for breakfast or an afternoon snack. So simple to pack inside a lunch bag, too. These muffins freeze well, too. Freeze the leftovers, then take one out of the freezer when you're ready for a treat. It only takes about 10-15 minutes for one to thaw on the countertop or wrap one frozen muffin in a paper towel and microwave on high for 10-15 seconds.
Ingredients Needed
please scroll down to the printable recipe card for ingredient details and step by step instructions with photos
All purpose flour
Unsweetened cocoa powder
Dry chocolate pudding mix
Granulated sugar (add more sugar if you prefer a sweeter muffin - or more like a chocolate cupcake)
Baking powder
Baking soda
Salt
Eggs
Butter
Milk (or buttermilk)
Vanilla extract
Kitchen Tools Needed
Muffin pan
Muffin liners
Large mixing bowl
Measuring cups
Measuring spoons
Electric mixer
How to Make These Muffins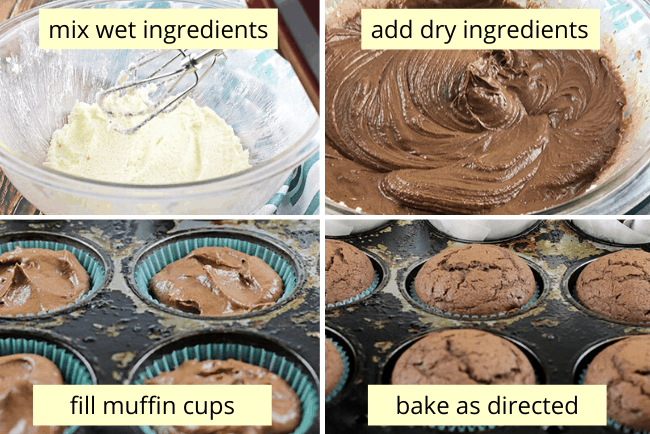 This recipe is so simple!
Mix the "wet" ingredients first (softened butter, eggs, milk, vanilla extract).

Then add the "dry" ingredients (sugar, flour, cocoa powder, pudding mix, baking powder, baking soda, salt) to the wet ingredients, and mix well with your electric mixer.

Fill muffin cups.

Bake!
Tips and Helpful Information
Add more sugar to the batter if you want sweeter muffins! One-half to one cup additional sugar to the batter makes them sweeter, like a cupcake. Try one-half cup first, then taste test after mixing for sweetness, if desired. Just a tiny taste (½ teaspoon) is all you need to determine if the batter is sweet enough for you.
Variations
Add chopped pecans to the muffin tops before baking.

Add some chocolate chips to the batter (my husband's suggestion, lol).

Sprinkle the tops of the cooked, cooled muffins with powdered sugar.

Add a dollop of whipped cream to the cooled muffin top just before serving.
Are you a Fan of Chocolate Banana Muffins?
Simply add 2 very ripe bananas that have been mashed with a fork (approximately ¾ to 1 cup) to the batter. Voila! Chocolate banana muffins!
How to Make Gluten-free Chocolate Muffins
Use your favorite all-purpose gluten free flour. Use gluten-free baking powder. Use paper muffin tin liners or gluten-free non-stick spray. How easy is that!
TIP: Not all gluten-free flours perform the same. A little birdie told me Pillsbury Gluten-Free Flour works very well for baking cakes and muffins since it contains much needed xanthan gum.
Storing Baked Muffins
To keep these muffins fresh and moist, store them in an airtight container at room temperature for up to 3 days (refrigerate them and they'll keep fresh for a couple more days).
Freezing Baked Muffins
You can freeze muffins for up to 3 months if you wrap them tightly in aluminum foil or place in plastic freezer bags. They will be extra moist after thawing!
Transporting Muffins
So now that you've made these delicious muffins, what the best way to transport them? I recently discovered a plastic carrier that's perfect for transporting pies, muffins, and cupcakes. It's the Southern Homewares 3-in-1 Plastic Holder Container. It offers easy-grip handles, a snap-tight lid, and it's made out of durable plastic. Available now on Amazon!
More Muffin Recipes
If you made this chocolate muffin recipe, please comment below to let me know how it turned out for you! I always love hearing about your successes and am here to help you through any (temporary) defeats.
Need more great recipe ideas? Follow me on Facebook, Pinterest, and Instagram to get more delicious recipe ideas in your feed.
If you'd like more simple and easy recipe inspiration delivered straight to your inbox, sign up for my email newsletter.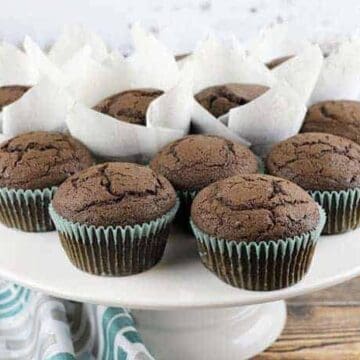 Easy Homemade Chocolate Muffins
Moist chocolate muffins from scratch are an easy sweet treat!  Dry chocolate pudding mix ensures a nice fluffy muffin!  Not too sweet but will satisfy your sweet tooth.
Print
Pin For Later
Rate
Equipment
muffin pan

muffin liners

large mixing bowl

measuring spoons

measuring cup(s)

Electric mixer
Ingredients
½

cup

butter (room temperature)

1

cup

granulated sugar

SEE RECIPE NOTES

2

large eggs

1

cup

milk (or buttermilk)

1

teaspoon

pure vanilla extract

1-½

cups

all purpose flour

½

cup

unsweetened cocoa powder

2

tablespoons

dry chocolate pudding mix

2

teaspoons

baking powder

¼

teaspoon

baking soda

½

teaspoon

salt
Instructions
Preheat oven to 350°F. Spray a standard muffin pan with non-stick cooking spray and set aside.

Mix the butter and sugar in a large mixing bowl until creamy (takes about 5 minutes with mixer on medium speed). Add in the eggs, milk, and vanilla and mix until well blended (about 2 minutes with mixer on slow-medium speed).

Add dry ingredients and mix until well blended (about 2 minutes with mixer on slow-medium speed).

Fill muffins cups about ¾ full.

Place in the pre-heated oven and bake for 15 minutes.  Check for doneness by inserting a wooden toothpick into the center of a muffin.  If the toothpick comes out clean or with a tiny bit of batter on it, the muffins are ready to come out of the oven.  If there is a lot of batter on the toothpick, bake for another minute and check again. The goal is not to overbake the muffins or they will be dry.  Remove from oven and cool for at least 5-10 minutes before eating.
Notes
These muffins are not very sweet; they're slightly sweet.  If you like a sweeter muffin, add ½ cup additional sugar, or add 1 cup chocolate chips to the mix. 
Optional:  cool muffins completely and sprinkle with powdered sugar or add a dollop of whipped cream