Chicken and Sausage Jambalaya is a family favorite!  This authentic easy jambalaya recipe is simple to make and full of Cajun flavors. Mardi Gras wouldn't be the same without this wonderful cajun food! You'll enjoy every spicy, savory bite of chicken, sausage, rice, and the perfect blend of seasonings.
Quick Note:  This post may contain affiliate links. Please read my disclosure statement for details. Thank you.
My family roots run deep in south Louisiana.  Perhaps you've heard of Gramercy, Lutcher, and Convent?  Cajun country is the southern part of Louisiana.  People in this area usually have that authentic Cajun accent and my relatives were no exception!  In fact, my family often refers to jambalaya as "Jang."  We grew up on jambalaya, etouffee, shrimp creole, and all kinds of delicious meals.   And if you're looking for a great andouille sausage recipe, then use it for this recipe.  Or use it for my quick and easy red beans and rice recipe!
Family Favorite Jambalaya Recipe
My family loves it when I make this jambalaya!  They say it's the best jambalaya recipe.  Who can argue?  It's a special treat for them since I don't make it near enough times; which is a shame because it's super easy to make.  Easy yet special enough for a weeknight meal, potluck, office party, tailgate, or holiday meal.  Getting the ingredients laid out and prepped before you begin cooking makes it simpler.  And, if you have a helper, then it's even easier.  My husband usually does all the chopping.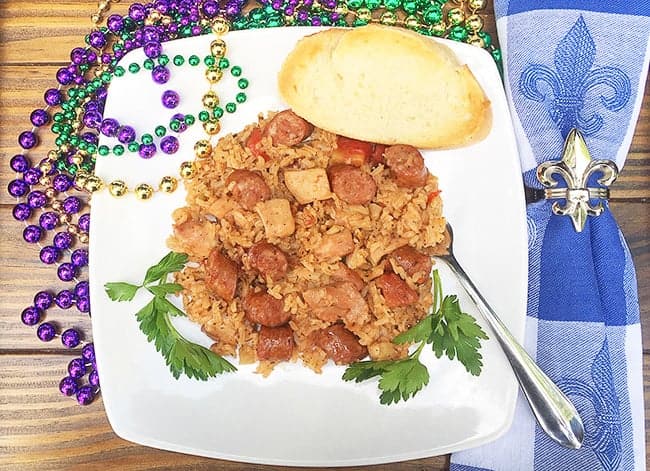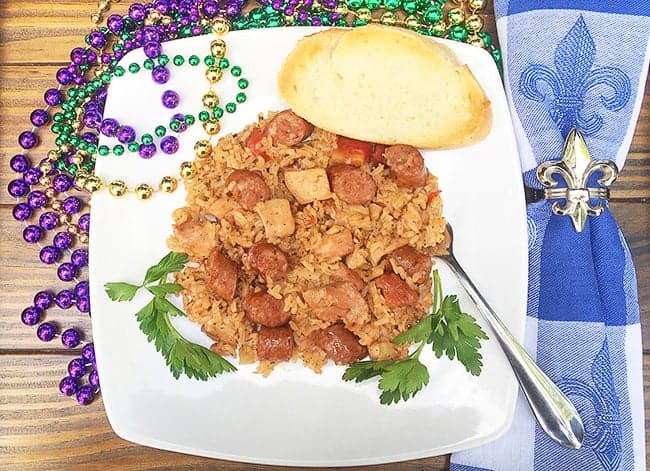 History of Jambalaya
According to https://www.mccormick.com/zatarains/jambalaya, "Like so many great things, jambalaya started with a problem. The problem? There was no saffron in south Louisiana in the 1700s, which meant Spanish colonists were unable to make their beloved paella.  Necessity was the mother of invention, and jambalaya was the result of attempts to make a variation of paella using ingredients available locally.  Like so many other great things, jambalaya is also the result of a collision of cultures. A single bowl reflects many of the numerous diverse cultures that planted roots in and around New Orleans in the 18th century."
Jambalaya Ingredients
This jambalaya is our family version; my dad's to be exact.  However, I tweaked the recipe a little, to make it my own version and to suit me and my family's taste preferences. We receive so many requests for this one!
Boneless skinless chicken thighs

Smoked sausage (andouille sausage or Conecuh sausage)

Trinity (onion, bell pepper, celery)

Canned diced tomatoes

Chicken broth

Extra long grain rice (I recommend Riceland Extra Long Grain. It won't get sticky or gummy)

Olive oil

Parsley

Basil

Garlic powder

Cajun seasoning (Tony Chachere's or Slap ya mama)

Salt & pepper
How to Make Jambalaya
Once you've sauteed the chicken, sausage, and trinity (what we call onions, bell peppers, and celery), the rest of the steps go really quick and easy.  I recommend using a heavy 5-quart pot.  I've been using the same pot for many years because the jambalaya always turns out perfect.  Here's the Calphalon pot that I use and love!  Below is a picture of the chicken, sausage, and trinity that's been simmered.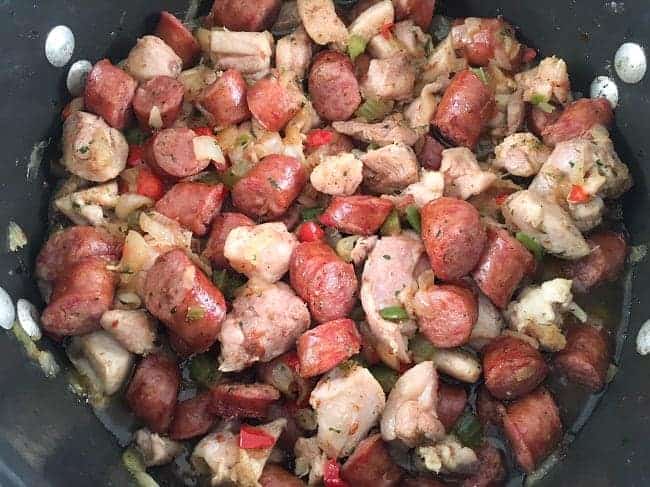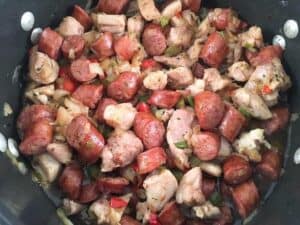 After sauteeing the chicken, sausage and trinity, add the broth, tomatoes, seasonings and rice.  Simmer covered for about 30-40 minutes.
This Chicken and Sausage Jambalaya is Sure to Please
So delicious and worth the wait, I guarantee!!  Serve this chicken and sausage jambalaya with buttered, toasted french bread and you've got yourself a winning authentic plate of Cajun bliss!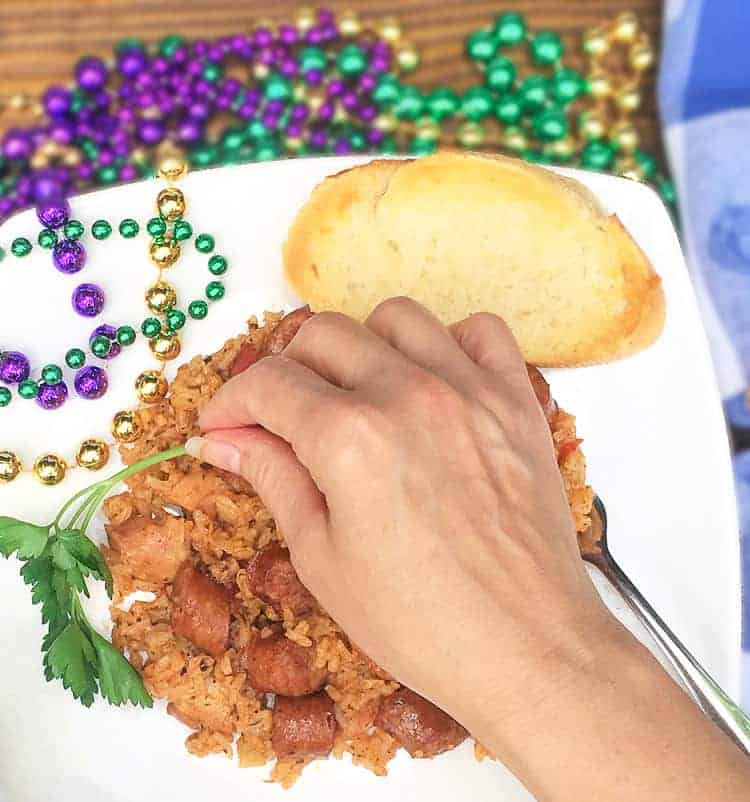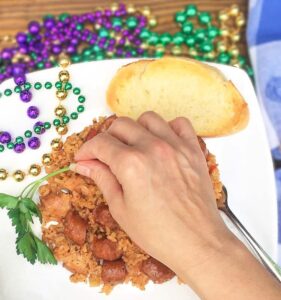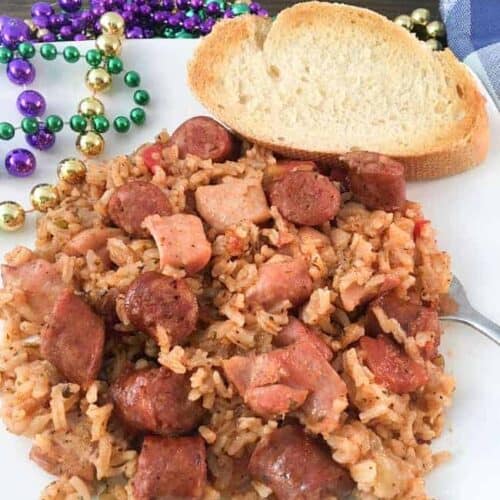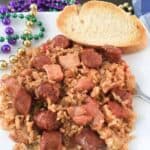 Chicken and Sausage Jambalaya
This jambalaya recipe is simple to make and full of Cajun flavors. You'll enjoy every spicy, savory, bite of chicken, sausage, rice, and the perfect blend of seasonings.
Ingredients
1

lbs

boneless skinless chicken thighs, cut into 1" chunks

1

lbs

spicy sausage (such as conecuh or andouille), cut into 1" diagonal slices

1

cup

diced onion (see recipe Note for time-saving step)

1

cup

diced bell pepper (see recipe Note for time-saving step)

1/2

cup

diced celery (see recipe Note for time-saving step)

1

ea

16 oz can diced tomatoes with basil, garlic & oregano

1

ea

16 oz can chicken broth

2

cups

uncooked, extra long grain rice

1/2

cup

olive oil

1

tbsp

dried parsley

1

tsp

dried basil

1

tsp

garlic powder

1/2

tsp

cajun seasoning (tony's)

1/2

tsp

pepper

1/2

tsp

salt
Instructions
In a heavy 5 qt saute pan, brown the cut up chicken that has been generously seasoned with Tony's (extra Tony's. This is not the amount in the ingredient list) in oil for 3-5 minutes. Do not cook the chicken through. Remove chicken from pot.

Add the sliced sausage to the pot and brown for 5 minutes. Then add the onion, bell pepper, and celery. Mix well and scrape bottom of pan to remove and incorporate any browned pieces of chicken and sausage. Simmer covered for about 5 minutes, stirring halfway through cooking.

Return chicken to pot and add the tomatoes, broth, and seasonings above. Mix well and taste for flavor. Add raw rice and mix well. Bring mixture to a boil, cover, and lower heat to medium-low. Simmer for 10 minutes and then stir mixture to bring rice to the top.

Cover and lower heat (very gentle simmer) and cook another 30 minutes or until rice is done. Do not lift the lid while the jambalaya is cooking.

Alternative Method. Recipe can be doubled and baked in the oven at 350 for 1 hour. The pan needs to be covered tightly with heavy duty aluminum foil.

Recipe Note. Time-saving tip: You can use the frozen chopped onion, bell pepper, and celery. I promise, the recipe will still turn out fantastic!
Some of the items used in this recipe include:
Here are some other recipes you may like.  By the way, the chocolate chess pie recipe is super crazy good.
Chicken Broccoli Alfredo Pasta
One Pan Yogurt Marinated Chicken and Potatoes
Quick and Easy Red Beans and Rice with Sausage
Southern Shrimp and Rice Casserole
Side dishes to try are:
Please leave me a comment if you make this recipe.  I'd love to hear from you.