Take fried potato slices to the next level with these spicy deep-fried potatoes! Thinly sliced potatoes are soaked in buttermilk, dredged in flour, then fried. Twice seasoned with Nashville Hot Chicken seasoning. What in tarnation!
I could literally eat these every day. The flavor will have your taste buds in heaven! The Nashville Hot Chicken seasoning is the secret to the amazing and tantalizing flavor.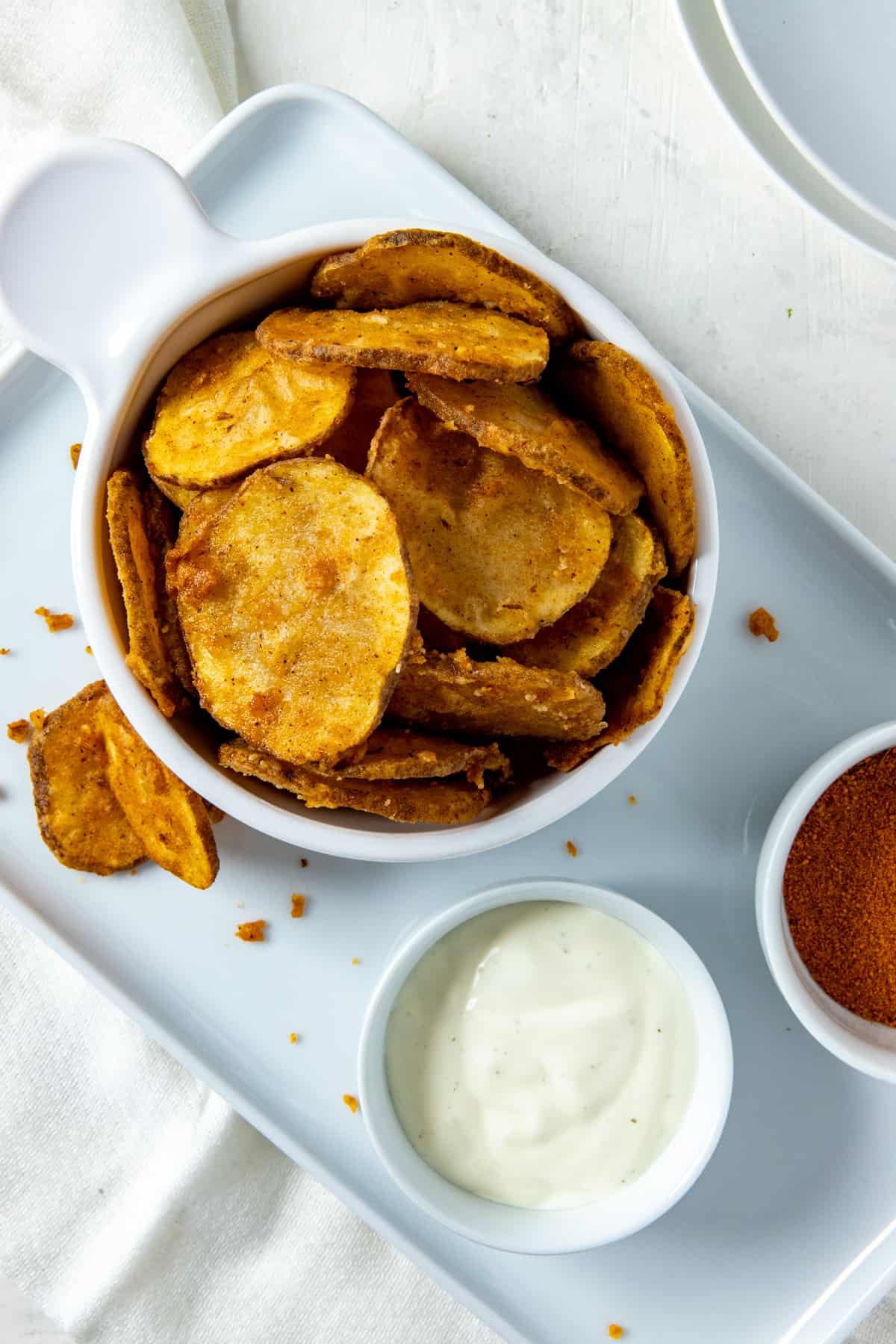 Why You'll Love These
Flavor! These potato slices are creamy on the inside and crispy on the outside (no big surprise there!). The flavor is what sets them apart from the rest. Soaking the potatoes in a seasoned buttermilk mixture AND dredging them in the seasoned flour mixture doubles the flavor!
Do I hear someone say these are reminiscent of chicken fried potatoes? Why yes, yes they are so very similar! Soaking potatoes in buttermilk gives them a creamy texture and rich flavor. But adding this seasoning takes deep-fried potatoes to the next delicious level!
Adding Nashville Hot Chicken seasoning is the "southern flair" for these deep-fried potatoes. This seasoning mix is located in the spice aisle of your grocery store. It's a granular mixture and not a liquid.
What Goes In Them?
These southern deep-fried potatoes have only 5 ingredients!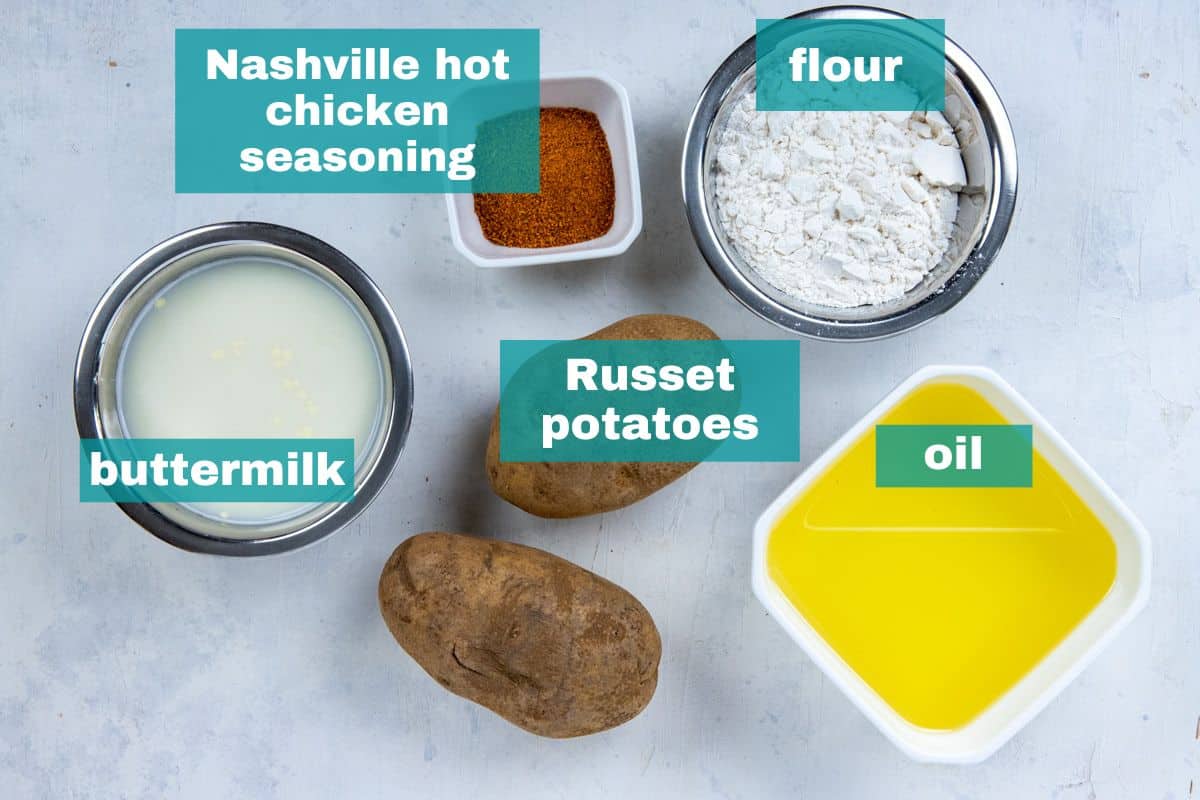 Russet potatoes - or you can use Yukon gold potatoes. These types of potatoes are best for frying because of their low moisture content and high starch content.
Nashville Hot Chicken seasoning - you can find this in the spice aisle of your grocery store. Here's the brand I used: The Spice Lab Nashville Hot Chicken.
Buttermilk - you could use regular milk but since buttermilk is thicker, it will cling to the potatoes a little better.
Flour - use all-purpose flour (not self-rising). This is what gives the potatoes their crusty appearance.
Oil - use a high-heat oil such as canola or peanut oil.
How to Make Them
For the best deep-fried potatoes, follow the recipe card at the bottom of this post!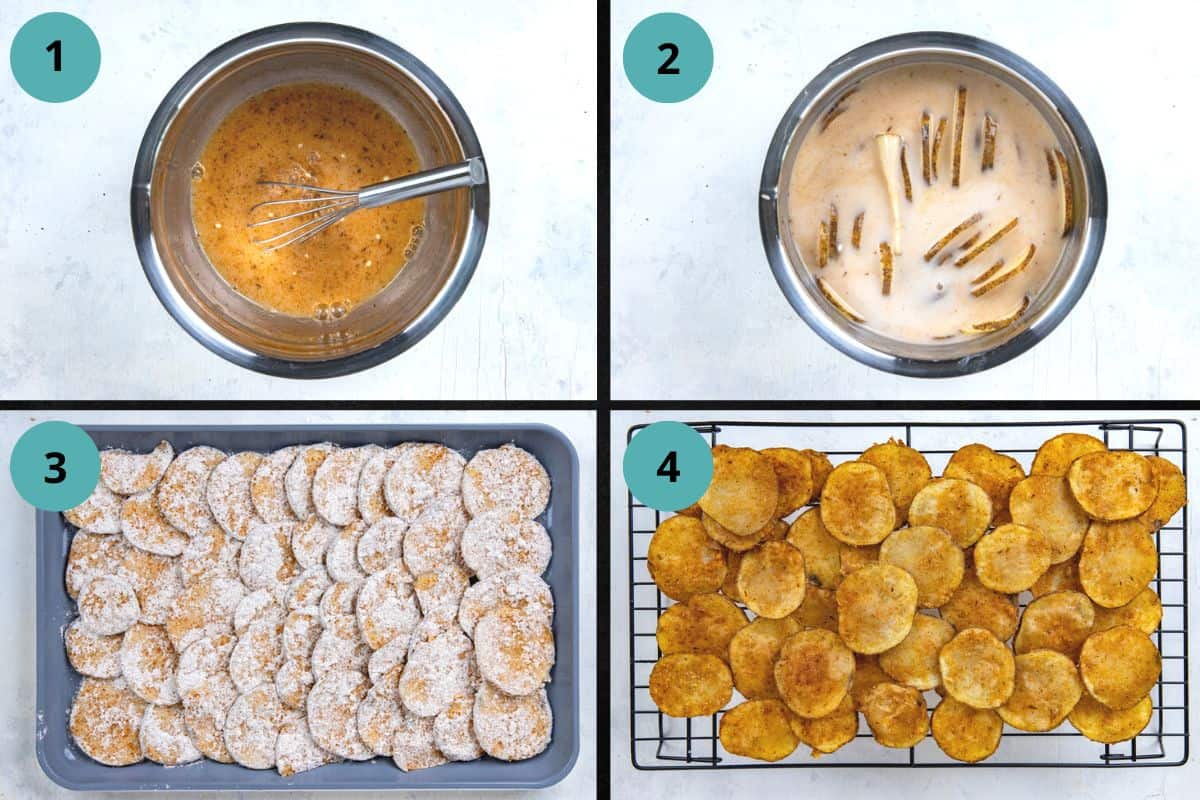 (1) Make the buttermilk-Nashville Hot Chicken seasoning mixture.
(2) Slice the potatoes and let them soak in the buttermilk "marinade" for 1 hour.
(3) Make the seasoned flour coating and dredge the potato slices in it.
(4) Fry in hot oil and then place on a cooling rack to let the oil drip onto a paper towel.
What to Serve with Them
These can be served as an appetizer with ranch dressing on the side for dipping. Sprinkle some extra seasoning on top for added flavor.
If you're serving these deep-fried potatoes as a side dish, they go great with hamburgers, hot dogs, steaks, or practically any kind of meat.
Expert Tips
Make sure all the potato slices are the same thickness (about the same thickness as pickle slices. A mandolin really works well and it makes the slices quicker, too.
Don't soak the potatoes for longer than an hour, or they may turn brown.
I like to use a cast-iron skillet for frying potatoes but you can use a deep fryer if you have one.
You can experiment with different seasoning blends such as steakhouse seasoning.
Frequently Asked Questions
What kind of oil is best for frying potatoes?
Neutral-tasting oils are best to keep potatoes tasting like potatoes! Choose high smoke point oils such as canola, vegetable, or peanut oil.
Are fried potatoes good the next day?
Deep-fried potatoes are at their finest when eaten immediately. You can eat them the next day by heating them up in the microwave just until hot, to bring out the flavor.
Can you refrigerate fried potatoes?
Yep! Store them for up to 3 days.
What are some good dipping sauces for potatoes?
Ranch is probably the most common. Other options are comeback, ketchup, honey mustard, bbq sauce, sweet & sour sauce, mayo, or even a vanilla shake!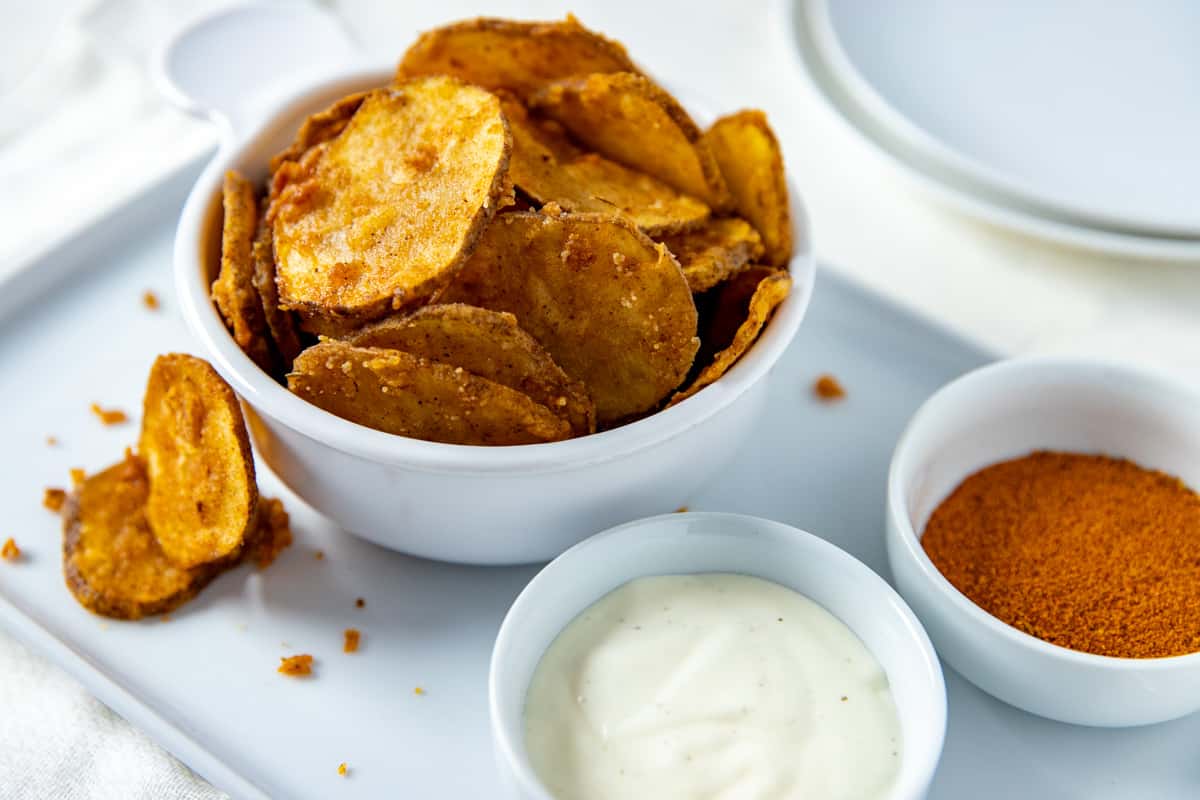 More Appetizers to Try
If you'd like some recipe inspiration delivered straight to your inbox, sign up for my email newsletter on my subscribe page and receive a free 5-day meal plan.
If you tried this recipe, please let me know by leaving a comment! I'd love to hear from you.
Recipe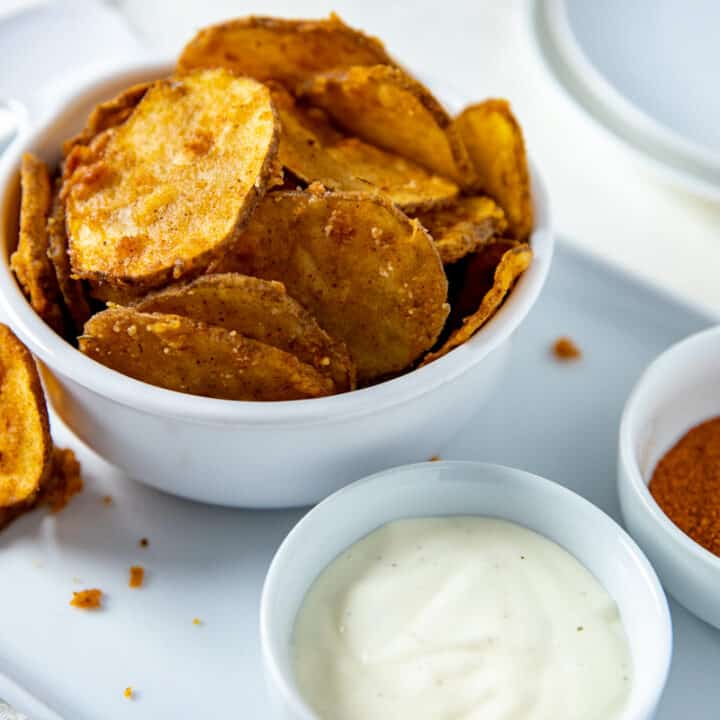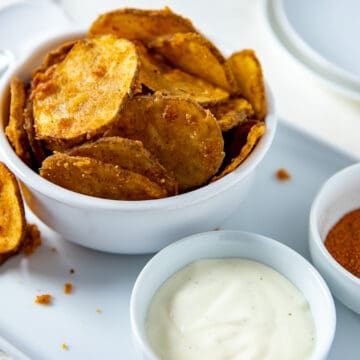 Southern Deep Fried Potatoes
Adding Nashville Hot Chicken seasoning is the "southern flair" for these deep-fried potatoes. This seasoning mix is located in the spice aisle of your grocery store. It's a granular mixture and not a liquid.
Print
Pin For Later
Rate
Equipment
Mandoline slicer

Cooling rack and cookie sheet

Deep fryer or large pan for frying
Ingredients
1

cup

Buttermilk

4

tablespoons

Nashville hot chicken seasoning (DIVIDED)

more or less to suite your taste

2

Russet potatoes, cleaned

no need to peel

1

cup

Flour

Oil for frying

use a high-heat oil such as canola oil or peanut oil
Instructions
Add the buttermilk to a bowl then add 1 tablespoon of Nashville hot chicken seasoning. Stir to combine. (or add the buttermilk/hot sauce mixture to a large ziplock bag). You may double the buttermilk-seasoning mixture if you feel there's not enough to completely coat all of the potato slices.

Slice 2 russet potatoes thinly (thin like a dill pickle chip). A mandoline works great for this step! Soak the potato slices in the seasoned buttermilk for 1 hour. But no longer than 1 hour or they will turn brown.

Whisk together 3 tablespoons of Nashville hot chicken seasoning with the flour.

Dredge the potato slices into the flour mixture one at a time. Transfer over to a plate, or a cookie sheet and allow to dry for about 15 minutes. While the potato slices are resting in the flour mixture coating, heat your cooking oil to 325F degrees.

One at a time, drop the potatoes into the hot oil. Allow to cook for about 3 minutes or until a nice golden brown!

Place on a cooling rack placed on top of a cookie sheet and allow to drip for a few moments (or place on paper towels to absorb excess oil). Serve with hot sauce, spicy ranch, or with any dip you prefer.
Notes
Refrigerate leftovers for up to 3 days.
Serve with ranch dressing, comeback sauce, mayo, bbq sauce, or your personal favorite!
These deep fried potatoes can also be a side dish for hamburgers, hot dogs, grilled chicken, and steak.
Nutrition
Calories:
519
kcal
|
Carbohydrates:
57
g
|
Protein:
8
g
|
Fat:
30
g
|
Saturated Fat:
3
g
|
Polyunsaturated Fat:
8
g
|
Monounsaturated Fat:
18
g
|
Trans Fat:
0.1
g
|
Cholesterol:
3
mg
|
Sodium:
45
mg
|
Potassium:
1000
mg
|
Fiber:
4
g
|
Sugar:
3
g
|
Vitamin A:
262
IU
|
Vitamin C:
13
mg
|
Calcium:
144
mg
|
Iron:
5
mg
Nutritional information is provided as a courtesy to my readers. I'm not a nutritionist and I don't guarantee the accuracy of this data. The data may differ according to the brands I used versus the brands you use. To calculate the data yourself using your brands, try using an online nutrition calculator or app.