Ground beef, creamy tomato sauce, and cauliflower rice baked inside a bell pepper.  Topped with mozzarella cheese!  This is an easy low carb meal you can make any day of the week.  Stuffed bell peppers have been popular for a long time.  And now for low carb and keto eaters, they're a great healthy choice as cauliflower rice replaces traditional rice.
Quick Note:  This post contains affiliate links to my personal favorite items. If you make a purchase, I'll receive a small commission which helps me keep this blog up and running at no extra cost to you.  Please read my disclosure statement for details. Thank you.
Cauliflower.  Who knew it would become the most versatile vegetable for the low carb and keto diet.  You can make just about anything with cauliflower from mashed cauliflower to pizza crusts!  Cauliflower rice is a healthy, excellent replacement for regular, starchy rice.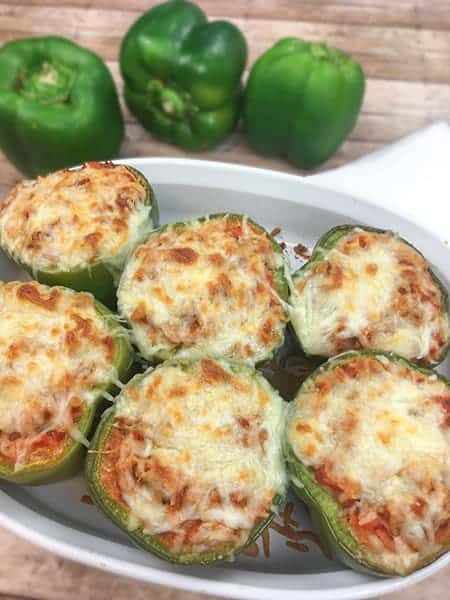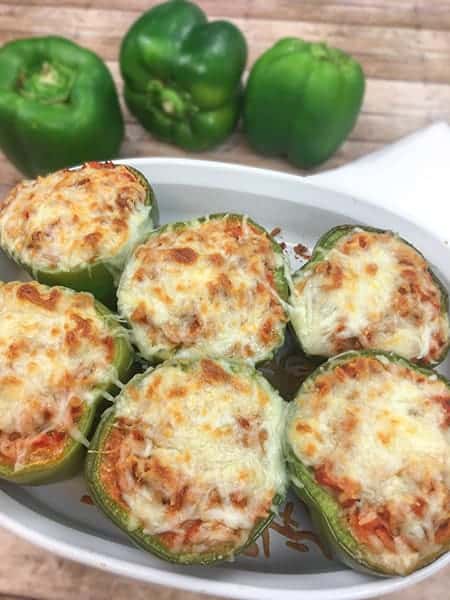 Let's be social!  Follow me on Facebook, Pinterest, and Twitter!
Ingredients for Low Carb Stuffed Bell Peppers
Ground Beef

Cauliflower Rice

Bell Peppers

Tomato Sauce

Sour Cream

Mozzarella Cheese

Salt & Pepper
How to Make Low Carb Stuffed Bell Peppers
This easy recipe uses hamburger meat but you can use ground turkey or even ground sausage.  This recipe also uses frozen cauliflower rice which is super convenient. Use a muffin pan to hold bell peppers upright.  I personally like this jumbo muffin pan.
Step 1.  Cook the ground beef until done and drain the grease.  While the ground beef is cooking, steam the cauliflower in the microwave.  I use the kind you steam in the bag.  After the cauliflower has cooked, place it in a strainer over a bowl and press out as much liquid as possible.  Using paper towels to press out the liquid helps to absorb the extra liquid.
Step 2.  After you've cooked and drained the ground beef, add the remaining ingredients (cauliflower rice, tomato sauce, sour cream, and seasonings).  The sour cream makes the ground beef-cauliflower mixture so rich and creamy!
Step 3.  Cut the tops off of six bell peppers and remove the seeds.  Add the seasoned ground beef-cauliflower rice mixture into each bell pepper, fill all the way to the top!  Place the peppers on a baking dish or in a muffin pan.  Bake for about 20-25 minutes.  (Cover before baking for softer bell peppers).  Top each bell pepper with mozzarella cheese and bake for another 5-10 minutes or until cheese is slightly browned.  You could also use the broiler for a few minutes to get the cheese nicely browned.  We love mozzarella cheese or the Italian blend for this recipe.  These hearty, low carb stuffed bell peppers are excellent comfort food and make great leftovers!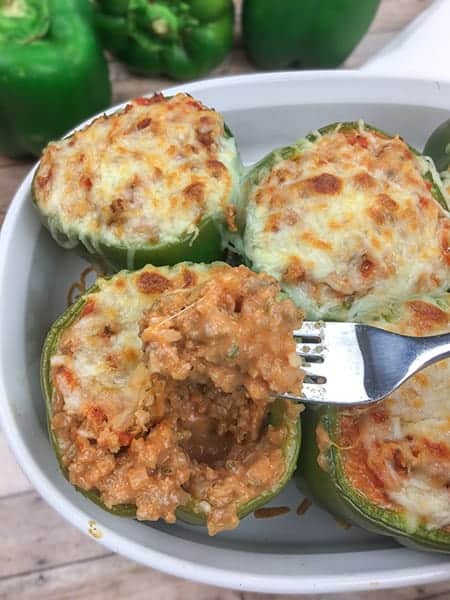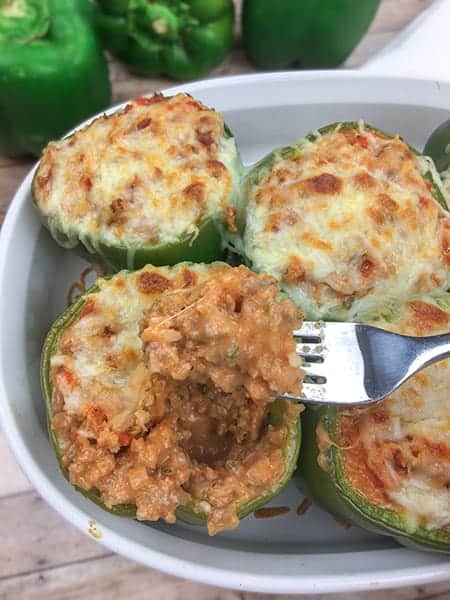 Each serving has approximately 8 net carbs according to the brands that I used for this recipe.
Some common questions regarding these stuffed bell peppers:
How Long Do Stuffed Bell Peppers Last in the Fridge?
Store cooked stuffed bell peppers in an airtight container in the refrigerator for up to 3 days.  I prefer to use BPA-free glass containers with locking lids.  Check out this 20 piece set of glass food storage containers with snap locking lids.
Can You Freeze Stuffed Bell Peppers?
You can freeze these stuffed bell peppers for up to 3 months.  Make sure they are stored in an airtight container like a freezer bag and be sure to write the date on the bag for an easy reminder when they went into the freezer.  When you're ready to eat them, let them thaw in the refrigerator then heat them in a preheated 350 oven for about 10-15 or until thoroughly heated.
What Other Types of Meat Can you use for Stuffed Bell Peppers?
As stated in the recipe card, you can use ground sausage instead of the ground beef.  You can also use ground pork, ground chicken, or ground turkey.
What Can I Substitute for the Tomato Sauce?
If you don't like tomato sauce, you can substitute 8 oz of cream cheese.  Eight ounces of cream cheese has 1 net carb per serving, according to the brand you use.
Low Carb Stuffed Bell Peppers
Ground beef, tomato sauce, and cauliflower rice baked inside a delicious, nutritious bell pepper.
Ingredients
1

lb

Ground beef, cooked and drained

12

oz

Cauliflower rice, steamed and drained

6

ea

Bell peppers

2

ea

8-oz cans Tomato Sauce

1/2

cup

Sour cream

1/2

cup

Shredded cheese, mozzarella or Italian blend

1

tbsp

Parsley

1/2

tsp

Garlic powder

Salt and pepper to taste
Instructions
Combine the cooked ground beef (or ground sausage if preferred) with the steamed cauliflower rice. Be sure to drain the cauliflower rice and press out as much of the liquid as possible.

Add the tomato sauce (use the tomato sauce with basil, garlic, and oregano for added flavor but check carb content), sour cream, and seasonings.  Mix well.

Wash and dry bell peppers.  Cut the tops off the bell peppers and remove the seeds and white membrane.  Fill the peppers with the ground beef mixture and place in a baking dish or muffin pan.

Bake, uncovered, at 350 for 20-25 minutes. Remove from oven, and top with cheese. Return to the oven for another 5-10 minutes to melt the cheese. Use the broiler to brown the cheese to your liking.

NOTE: For softer bell peppers, cover with foil before baking.
If you try this recipe, let me know.  I'd love to hear from you!
Have you tried these low carb products?  I love to get their sampler box.  There's a nice variety of bread, bagels, sweets, and even pasta.  At the moment, they only have a few Keto items, but I'm sure they'll be adding more.  I've been a customer of theirs for years and enjoy their low carb bread and bagels the most!
Please try these easy Low Carb & Keto recipes from My Kitchen Serenity:
Buffalo Chicken and Bacon Wraps
Skillet Chicken Thighs over Cauliflower Rice
Notes:  Different brands will vary on the net carbs so keep that in mind.  For the most part, they should be fairly close.  Use a site like MyFitnessPal.com or FatSecret.com to figure out this information based on the brands or ingredients you used.  
Now the legal stuff (because my mama didn't raise a fool):  Please note that I am not a medical or nutritional professional.  I am simply sharing my personal favorite recipes on this blog.  Please consult with your physician before starting any diet or exercise program.  I provide net carb information for my low carb recipes simply as a courtesy to my readers.  I expressly disclaim any and all liability of any kind with respect to any act or omission wholly or in part in reliance on anything contained in this website.