This easy chocolate chess pie is an authentic southern dessert. Rich and creamy are the best two words to describe this classic chess pie from an old family recipe.
Quick Note: This post contains affiliate links. Please read my disclosure statement for details. Thank you.
If you have never eaten a slice of chocolate chess pie, then making this recipe is a must! It's rich and so "chocolatey" and pure bliss! This recipe could not be any easier – just mix the ingredients with a whisk and pour into a pre-made pie crust.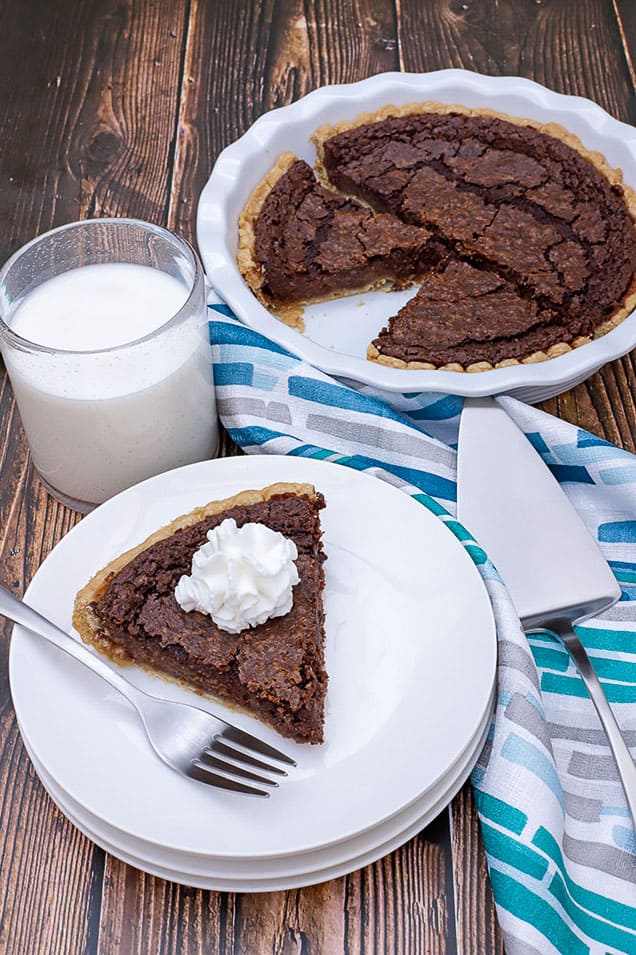 This is an easy pie recipe with simple ingredients. One thing that makes this an easy dessert recipe is that you will use a pre-made pie crust. Hooray!
Before pouring all of the ingredients into the pie crust, I recommend "blind baking" the crust. Simply means to prick the raw crust a few times with a fork and pre-bake the pie crust for 5 minutes. I do this because the filling is very "liquidy" and pre-baking the crust seems to help the bottom of the crust stay firm and not get soggy.
Honestly, I've tried to make a homemade pie crust and it never turns out as good or as pretty as the pre-made so I'm sticking with what I know works best for me. If you have the talent to make your own pie crust, I envy you 🙂
Let's be social! Follow me on Facebook, Pinterest, and Twitter!
Old Fashioned Goodness
Words can not describe how delicious this chocolate pie is. After baking, the rich creamy chocolate pie filling has a slightly crisp top. Don't ask me how or why the top of this pie is crispy, thin and crunchy like candy, because I don't know why (maybe it's the butter and sugar combo). All I know is this pie turns out great and is always a huge hit.
There is no cornstarch or flour added to the pie filling. You may have seen other chess pie recipes that call for cornstarch or flour, but this recipe simply does not require either of them.
You may wonder if this recipe came from my grandmother but actually it came from my grandmother's (we called her Mimi) sister (Alice Ruth). I was very pleased to find this old family recipe. Family recipes are sentimental, special treasures. Every time I look at an old, handwritten recipe card, I vividly remember who that recipe came from and all the wonderful memories.
This recipe uses evaporated milk. I talked about how great this stuff is on a previous recipe post: Family Favorite Stuffed French Bread. It really does make a HUGE difference in the creaminess and richness of a recipe. If for some reason, you can't find evaporated milk, use whole milk instead.
You can sprinkle some confectioner's sugar on top of the pie AFTER it has completely cooled; if not completely cooled, the powdered sugar will absorb into the warm pie. Top with whipped cream or serve with a scoop of vanilla ice cream (or both like we do, lol).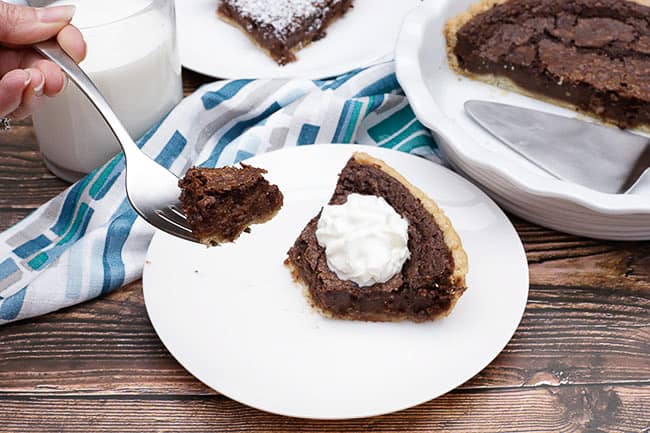 Ingredients
(be sure to scroll down to the printable recipe card for more detailed and helpful information)
Unbaked Pie Shell (1) Deep Dish recommended to prevent spillage

Cocoa (3 Tbsp)

Sugar (1-1/3 cups)

Evaporated Milk (5 oz)

Vanilla (1 tsp)

Eggs (2)

Butter (1/2 stick)

Pinch of Salt (omit salt if using salted butter)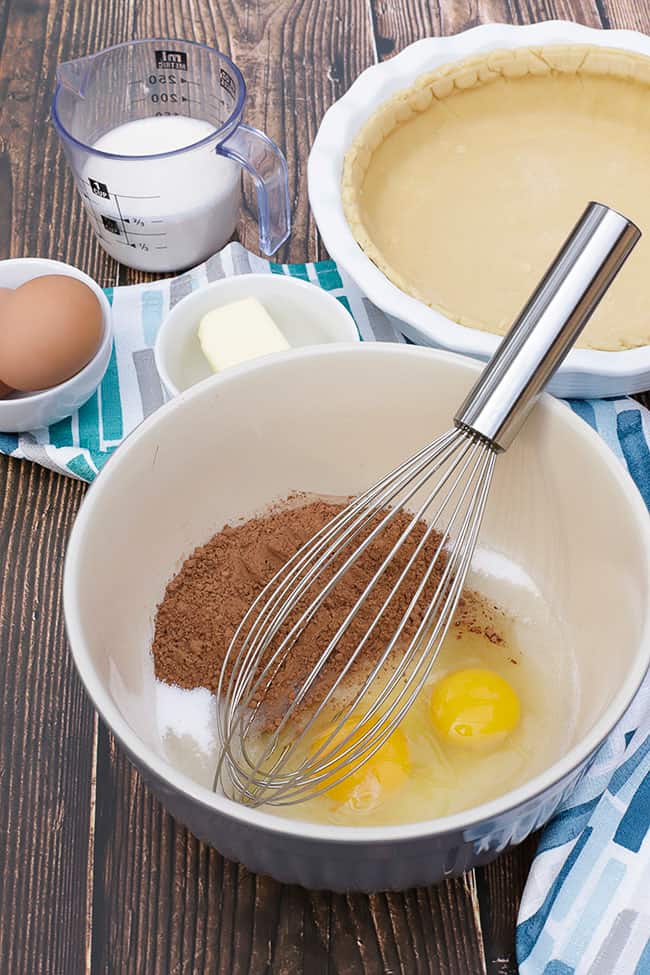 Kitchen Tools Needed
Deep dish pie plate
Large mixing bowl
Measuring cup(s)
Measuring spoons
Whisk
Instructions
STEP 1: Preheat oven to 350F. Prick the pie shell a few times with a fork and bake for 5 minutes. Remove from oven.
STEP 2: Using a wire whisk, mix remaining ingredients in a bowl and pour into pie shell. Bake for 35-40 minutes (I've had people tell me they've baked the pie for up to 50 minutes, so please check the pie often. Cover loosely with foil if the crust starts to brown too quickly).
STEP 3: Trust me, this pie is spectacular all by itself. But if you prefer to "dress it up" I suggest topping it with powdered sugar, whipped cream, or ice cream; you've got yourself a winning dessert each and every time. Note: wait for the pie to completely cool before adding powdered sugar because the powdered sugar might get gummy on top of a hot pie.
Try serving with some fresh strawberries or blueberries, as well. This pie is awesome when served with a glass of ice-cold milk!
The following are common questions related to Chess Pie
Where did Chess Pie Originate?
According to Portable Press, chess pie originated in the South. According to legend, a cook on a plantation made up this kind of pie (or something very close to it) and was asked what she had made. Her answer: "just pie," which, delivered in a Southern accent could be misheard as "chess pie." Full article here.
Storing in the Refrigerator
I would say yes because I think it tastes better cold; and because of the dairy ingredients although it's cooked. Store covered in the refrigerator and enjoy for up to 2 days. When you plan to serve it, you can take it out of the refrigerator and place it on the counter to come to room temperature if you prefer.
Storing in the Freezer
You can definitely freeze this pie if you want to make it in advance. The day before you plan to serve it, remove it from the freezer and place in the refrigerator to thaw.
Graham Cracker Crust Substitution
Yes, I don't see why not! I have not tried a graham cracker crust, but imagine it would be a delicious option!
Chess Pie vs Buttermilk Pie
You would be surprised how many people ask this question. Although they are similar, the answer is no. As the recipe name indicates, buttermilk pie contains buttermilk but chess pie does not.
More pie recipes from My Kitchen Serenity!
How to Transport a Pie
So now that you've made this delicious pie, what the best way to transport it? I recently discovered a plastic carrier that's perfect for transporting pies, muffins, and cupcakes. It's the Southern Homewares 3-in-1 Plastic Holder Container. It offers easy-grip handles, a snap-tight lid, and it's made out of durable plastic. Available now on Amazon!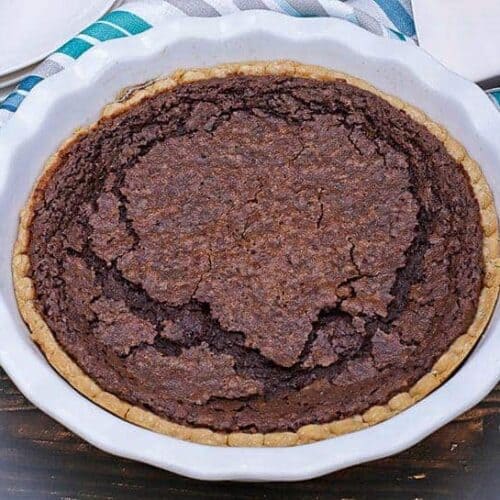 Easy Chocolate Chess Pie Recipe
This easy chocolate chess pie recipe is so delicious you'll become hooked after just one bite. Rich and decadent are the best two words to describe this chocolate chess pie from an old family recipe.

Print
Pin For Later
Rate
Equipment
deep dish pie plate

large mixing bowl

measuring cup(s)

measuring spoons

whisk
Ingredients
1

Unbaked pie shell (recommend deep dish)

2

eggs

3

tbsp

cocoa

1-1/3

c

sugar

5

oz

evaporated milk

1

tsp

vanilla

1/2

stick butter, softened

pinch of salt
Instructions
Preheat oven to 350. Prick the pie shell a few times with a fork and bake for 5 minutes. Remove from oven.

Add remaining ingredients to a mixing bowl.

Use a wire whisk to mix ingredients. Whisk for about 1 minute.

Pour into pie shell.  Bake for 35-40 minutes or until set and not jiggley. SEE NOTE BELOW!!
Notes
(A) The pie filling won't be thick before baking; in fact, it will be quite liquidy.  This is OK!  After the pie bakes and cools, it will thicken nicely.
(B) I've had people tell me they've baked the pie for up to 50 minutes, so please check the pie often.  Cover loosely with foil if the crust starts to brown too quickly.
(C) Store chocolate chess pie in the refrigerator.
Nutrition
Serving:
1
slice
|
Calories:
414
kcal
|
Carbohydrates:
50
g
|
Protein:
6
g
|
Fat:
22
g
|
Cholesterol:
186
mg
|
Sodium:
237
mg
|
Fiber:
1
g
|
Sugar:
35
g
You May Want to Try Some of my other Dessert Recipes:
Brownie Trifle with Toffee Bits
Italian Cream Cake Cookie Bars
Please leave me a comment if you make this recipe. I'd love to hear from you.