Crisp romaine lettuce, fresh broccoli, and ripe tomatoes with toasted slivered almonds and toasted Raman noodles tossed in a homemade sweet and sour vinaigrette.  This salad goes with just about anything!  
This crispy crunchy salad is so delicious and hard to stop eating (I always want seconds!).  I'm not sure which is my favorite part of this salad, the crispy crunchy romaine, broccoli, slivered almonds, and ramen noodles or the salad dressing (oh this salad dressing is the bomb).  When all these ingredients come together, what a delightful flavor and texture experience!  Even my husband, who is a ranch dressing person, ate two huge bowls of this salad!
This quick and easy salad recipe only takes minutes to prepare.  The toasting of the slivered almonds and Raman noodle pieces takes the longest; only about 5-8 minutes.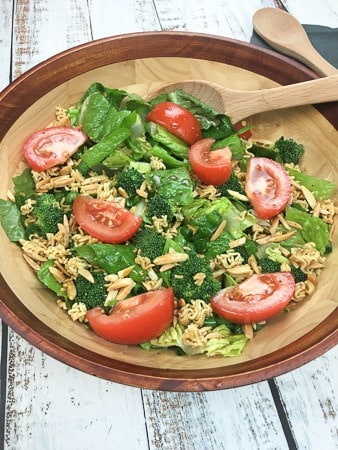 How to Make Crunchy Romaine Toss Salad
Wash a head of romaine lettuce then tear into bite-size pieces.  Chop one bunch of fresh broccoli into small florets.  Cut 4 green onions with a pair of scissors.  Place these ingredients into a large salad bowl (I like to use a wooden salad bowl; so pretty).  Toast slivered almonds with Raman noodle pieces (you can throw away the seasoning packet that comes with the Raman noodles, or save it for something else) in the oven. While these ingredients are toasting in the oven, combine oil, sugar, vinegar, and soy sauce.  You can use a clean, empty salad dressing bottle or a mason jar.  When ready to serve the salad, toss the salad mixture with the dressing.  Prepare to be blown away, lol.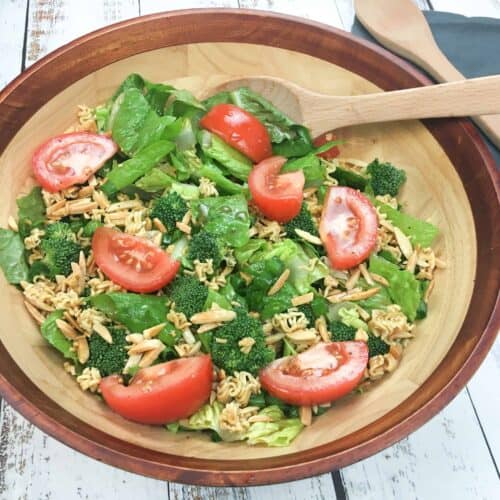 Crunchy Romaine Toss Salad
Crisp romaine lettuce, fresh broccoli, and ripe tomatoes are tossed with crunchy toasted slivered almonds and Raman noodles then topped with a sweet, tangy homemade salad dressing.
Print
Pin For Later
Rate
Ingredients
1

head of romaine lettuce, washed and torn

1

package Raman noodles (throw away the seasoning packet)

1

bunch of broccoli, chopped

4

green onion, sliced

1

cup

slivered almonds (or walnuts, pecans)

3

tbsp

butter, melted

1/2

cup

oil

1/2

cup

sugar

1/4

cup

red wine vinegar

3

tbsp

soy sauce

fresh ground black pepper to taste
Instructions
Preheat oven to 300F. Break the Raman noodles into small pieces and add to a sheet pan with the slivered almonds. Pour melted butter on top and toss to evenly coat the noodles and almonds. Bake for 5-8 minutes until slightly browned. Remove from oven to cool.

Mix the oil, sugar, vinegar, soy sauce, and black pepper in a small container.

Place the lettuce, broccoli, green onions in a large salad bowl. Add the browned Raman noodles and almonds.
If you try this recipe and like it, let me know!  I'd love to hear from you!
Try Crunchy Romaine Toss Salad with my Best of the Best Meatloaf!