Calling all busy moms and kiddos! Get ready for a cheesy, beefy delight that's both scrumptious and kid-friendly. Our amazing Stuffed French Bread is a breeze to make and can be enjoyed as a tasty appetizer or a satisfying main meal.
Just grab a loaf of French bread, stuff it with a creamy mixture of meat and cheese, and voila! It's time to indulge in a world of deliciousness. So gather your little ones and let's dive into this irresistible treat together!
This meaty, cheesy, savory meal is always a busy weeknight family favorite. Ready to eat in about 40 minutes! Incredibly easy comfort food everyone will love!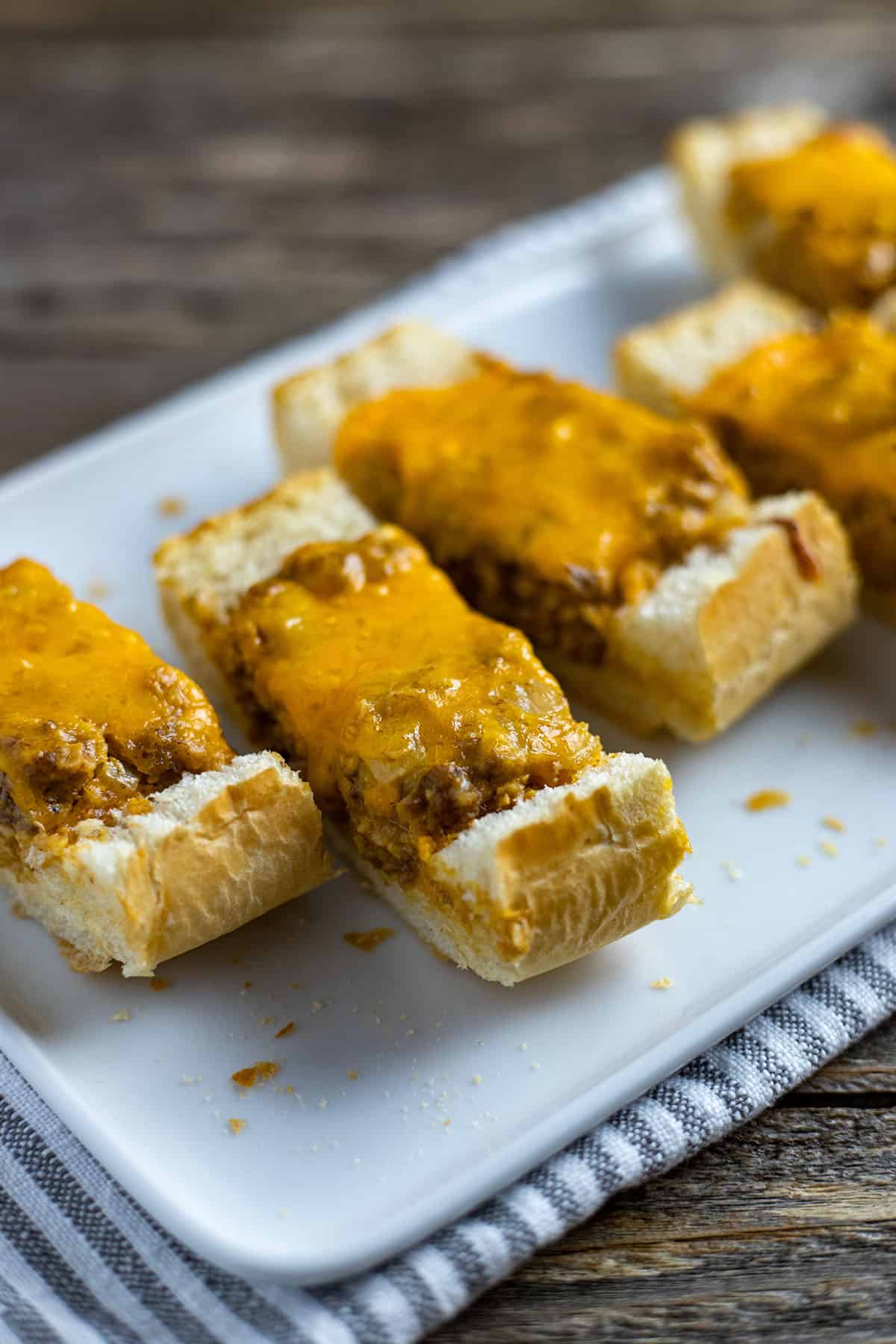 Welcome to My Kitchen Serenity!  I hope you enjoy this stuffed French bread with ground beef and cheese as much as we have over the years.  The kids will think this meal is fun to eat and the grown-ups will love a delicious and easy home-cooked meal. 
Why You'll Love It
This particular stuffed bread recipe is an excellent meal choice for busy families. It's basically a large cheeseburger that you just slice into individual open-faced sliders.
Easy make-ahead meal prep. Prepare the beef filling ahead of time (the morning of or day night before), then simply slice, fill, and bake the bread for a dreamy weeknight dinner. Serve with a quick side salad for a satisfying, inexpensive, and complete dinner.
Ingredients You'll Need
Let's take a quick glance at what's needed: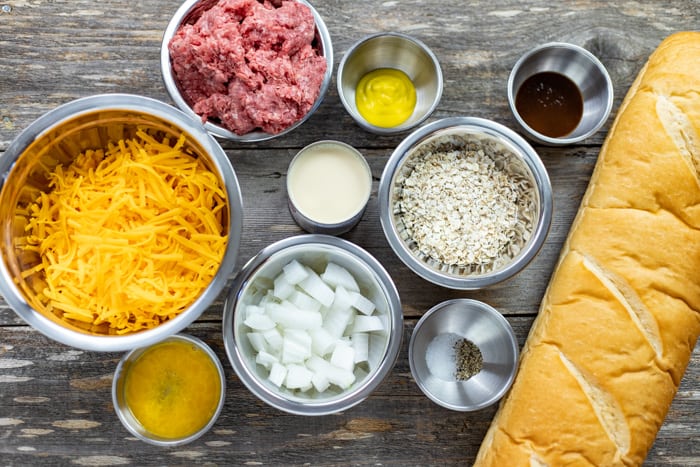 Lean Ground Beef - lean ground beef only contains 10% fat. We don't need a fatty ground beef for this recipe because we are adding moisture-rich ingredients and seasonings that add flavor.
Onion - Chop it finely if you don't like chunks. Mince the onion, and the kids will never know there's onion in it! You can also substitute red, yellow, or even green onions.
Evaporated Milk - If you are unfamiliar with this magical product, go get yourself a can ASAP. Evaporated milk is real milk that has had about 60% of its water removed by an evaporation process. This process creates a much more creamy, rich, savory milk than regular milk, which results in a dreamy filling for this cheeseburger stuffed bread.
Egg - In this instance, the egg is working as a binder to help the mixture stay together.
Oats - The oats are also used to bind and thicken the filling but have the added benefit of giving you a bit of fiber. Use either quick oats or old-fashioned. Do not use instant or steel cut oats. And don't worry! Your kids won't even know they are there.
Steak Sauce - A1 is my top choice, but feel free to use your own favorites.
Cheddar Cheese - Mild or sharp cheddar both taste great. You could also sub in any other melty cheese your family likes! American, mozzarella, pepper jack, or Swiss would all be great too!
Yellow Mustard - Mustard adds a little bit of a "twang" to the flavor, so please don't leave it out!
French Bread - this sturdy loaf of bread is hard and crusty on the outside making it perfect for holding hearty fillings like this cheesy beef mixture.
Ingredient Substitutions
So you want to make this Stuffed French Bread but you don't have all the ingredients? Here is a list of some great ingredient alternatives.
Ground Beef - Substitute with a pound of ground turkey, ground or shredded chicken, ground sausage, or ground venison. You can also use a combination of two (half ground beef and half ground turkey). A reader told me that they used cooked and shredded chuck roast - sounds pretty good to me!
Evaporated Milk - Substitute with regular milk or your favorite non-dairy milk.
Oatmeal - use bread crumbs, crushed crackers, or crushed potato chips as an alternative. Just keep in mind crackers and potato chips are salted so you may want to omit the salt in the recipe card.
Yellow Mustard - good replacements are Dijon mustard, honey mustard, Creole mustard, or dry mustard (½ teaspoon dry mustard plus 2 teaspoons water).
French Bread - Instead of French bread, you can stuff small crusty rolls, or use a loaf of ciabatta, Italian, or any other sturdy loaf. You can also use yeast rolls or small hoagie buns for true slider style stuffed bread. Last but certainly not least, pizza dough or crescent rolls to stretch the concept a little further!
Eggs - I really like Bob's Red Mill Egg Replacer for when I find myself out of fresh eggs. It's in powder form and comes in a resealable bag which means it stays fresh and is convenient. One 12-oz bag is equivalent to 34 eggs.
How to Make It
Step 1: Slice the French bread loaf in half lengthwise and scoop some of the bread out of the middle. Set on a large baking sheet.
Money Saving Tip: Save the centers of the loaves that you pull out. Let them go stale overnight, then blitz into breadcrumbs so you can make my Best Southern Meatloaf with them later in the week! 
Step 2: In a pan over medium heat, brown and crumble the hamburger meat with the onion and drain off the fat. Mix in the remaining ingredients (save 1 cup cheese for topping).
Step 4: Spoon the ground beef mixture into the French bread halves. Top with remaining cheese and bake as directed.
Step 5: After baking, slice into hand-held size serving pieces. These little open-faced "cheeseburgers" are creamy, cheesy, and delicious all by themselves. But you can drizzle some mustard or ketchup on top, or dip them into whatever special sauce suits your fancy.
A vinegar-based hot sauce really adds extra flavor, so put a few drops on top. And don't forget pickles or slaw on the side!
Stuffed Bread Ideas
We love the cheesy beef mixture in this house, but don't for a second feel limited to stuffing your bread with only that! Here are just a few ideas to get you started:
Play with the flavors!

Meatball and Mozzarella (and maybe brush the bread with garlic butter first?!?)
Broccoli, Bacon, and Cheddar
Ham, Pineapple, and Cheese
Sloppy Joe Mix and American
Spaghetti and Mozzarella Cheese (yes, spaghetti!!!)
Recipe Tips
Don't hollow out too much of the bread or you won't have enough bottom to hold the meat and cheese filling.
Don't skip the evaporated milk! It really makes a big difference with the creamy consistency of the beef filling.
Grate your own cheddar cheese for maximum flavor and a creamier texture.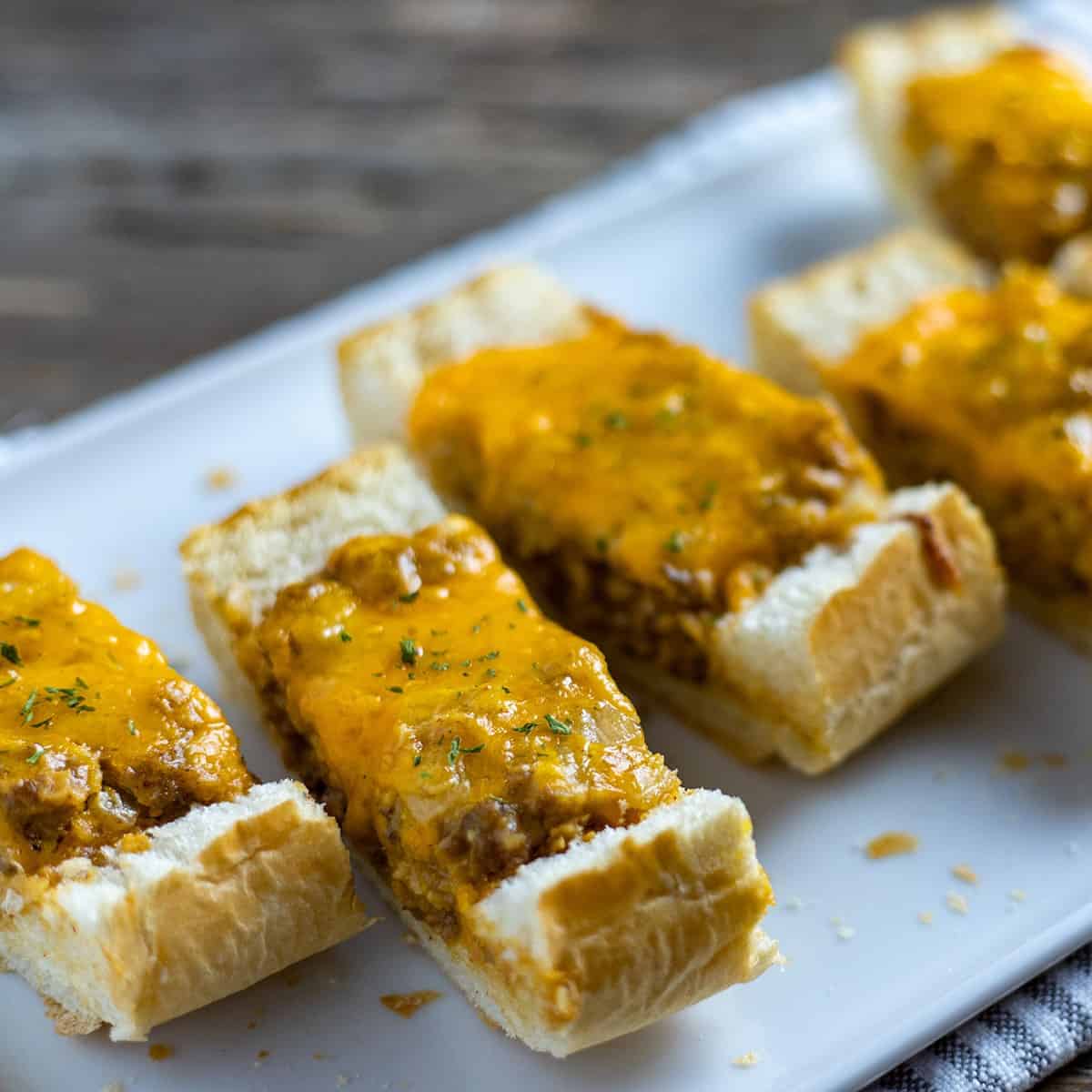 Frequently Asked Questions
What is Evaporated Milk?
If evaporated milk sounds weird to you, let me assure you that it is an AWESOME item to keep in the pantry. It is made with real milk that has had about 60% of the water removed, and then is canned to keep it shelf stable. The resulting ingredient is a thicker, creamier milk that is perfect for cooking.

There are so many excellent ways to use evaporated milk instead of regular milk or cream in your recipes and even in your coffee!  From creamy desserts to savory main dishes, evaporated milk is an excellent replacement for regular milk. 
What is the best kind of oatmeal for the meat mix?
It really doesn't matter whether you use quick oats or old-fashioned oats for this recipe, but I would NOT recommend using instant oatmeal or steel oats. And trust me, your kids won't even know they're eating oatmeal. I love having healthy mommy tricks! Ha! 
Is Stuffed French Bread good for meal prep?
Heck yeah! Just make the filling ahead of time. It'll last in the fridge for up to 5 days, and in the freezer for up to three months! On the night you need dinner in a flash, simply halve the loaf, stuff it with your pre-made filling and cheese, then bake!
Storage/Shelf Life/Reheating
Store any leftovers covered in the refrigerator for up to 3 days. To reheat, place slices into a toaster oven for a few minutes or you can reheat in the microwave (microwave reheating will not be as toasty as the toaster oven method).
What to Serve with It
Serve Stuffed French Bread with your favorite hamburger sides, such as French fries, chips, fruit cup, potato salad, or a green salad.
More Comfort Food
If you tried this recipe, please let me know by leaving a comment! I'd love to hear from you.
If you'd like some recipe inspiration delivered straight to your inbox, sign up for my email newsletter on my subscribe page and receive a free 5-day meal plan.
Recipe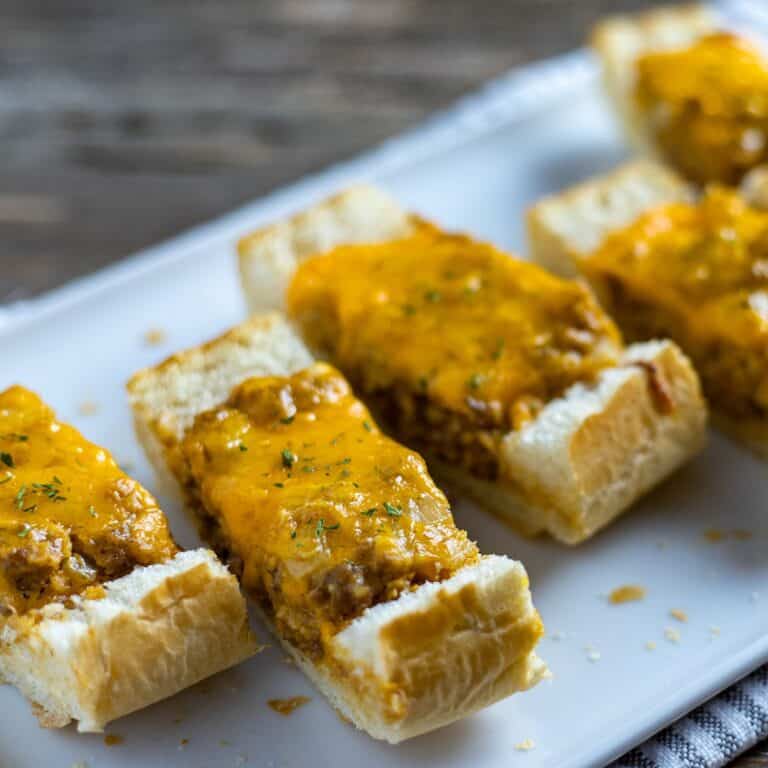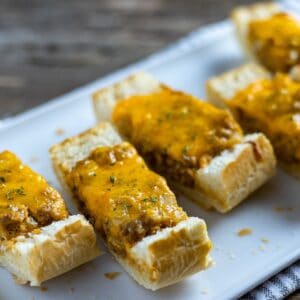 Easy Stuffed French Bread
Stuffed french bread is an excellent meal choice for a busy family. In a short amount of time, you'll have a delicious hot homemade meal with easy cleanup. After baking, slice the loaves into easy to hold individual mini sandwiches.
Print
Pin For Later
Rate
Equipment
large pan

measuring cup(s)

measuring spoons
Ingredients
1

Loaf of French Bread

1

pound

Ground beef

½

cup

Onion, diced

1

5-oz can Evaporated milk

1

Egg, beaten

½

cup

Oats, uncooked, quick or regular

1

tablespoon

Yellow mustard

1

tablespoon

Steak sauce (such as A-1)

1

teaspoon

Salt

½

teaspoon

Pepper

3

cups

Cheddar cheese, shredded (2 cups for beef mixture, 1 cup for topping)
Instructions
Preheat oven to 350F. Slice the french bread in half lengthwise. Press down the inside of each half with your fingers, (or remove some of the bread) creating an indention to hold the meat mixture. Place each half onto a baking sheet. 

Brown and crumble the ground beef with the onion until the beef is done, remove from heat, and drain off the fat. Mix in the evaporated milk, egg, oats, mustard, steak sauce, salt, pepper, and 2 cups cheddar cheese.

Stuff equally into each half, top with remaining 1 cup cheese, and bake for about 20 minutes. Midway through cooking, check to see if the edges of the bread are browning too quickly. If so, loosely cover the loaves with foil and continue baking.  

After baking, slice into hand-held size serving pieces.
Notes
Make-Ahead Instructions: Prepare the beef filling a day or two in advance; then stuff the french bread right before baking.
Easy Substitutions
For a change of pace, you could use cooked chuck roast instead of the ground hamburger meat.  Just cook and shred the roast; then proceed with the rest of the recipe instructions. 
Cooked, shredded chicken is a great substitution for ground beef.
Instead of french bread, use yeast rolls or small hoagie buns.
Nutrition
Serving:
1
serving
|
Calories:
658
kcal
|
Carbohydrates:
45
g
|
Protein:
37
g
|
Fat:
36
g
|
Saturated Fat:
18
g
|
Polyunsaturated Fat:
2
g
|
Monounsaturated Fat:
13
g
|
Trans Fat:
1
g
|
Cholesterol:
140
mg
|
Sodium:
1212
mg
|
Potassium:
413
mg
|
Fiber:
3
g
|
Sugar:
3
g
|
Vitamin A:
616
IU
|
Vitamin C:
1
mg
|
Calcium:
464
mg
|
Iron:
5
mg
This recipe was originally published in 2020 and was updated in 2023.
Nutritional information is provided as a courtesy to my readers. I'm not a nutritionist and I don't guarantee the accuracy of this data. The data may differ according to the brands I used versus the brands you use. To calculate the data yourself using your brands, try using an online nutrition calculator or app.