This delicious Strawberry Cream Pie (also knows as strawberry margarita pie) is made with fresh strawberries, condensed milk, lime juice, tequila (optional), and Cool Whip with an amazing crushed pretzel crust. The filling is as decadent as ice cream and pairs beautifully with the salty-sweet crust. Also known as a strawberry pretzel pie this will be your go-to pie for the summer.
Welcome to My Kitchen Serenity! I love this creamy, dreamy pie! Since this strawberry cream pie is served frozen, it's a perfect summer dessert. It's cold and creamy and there is no baking required. No-bake desserts certainly are a favorite during the hot summer months when nobody in their right mind wants to turn on the oven.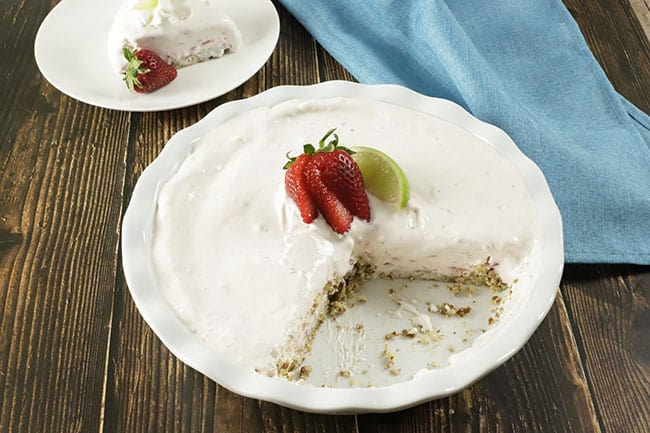 Why You'll Love This
When I first made this pie, my husband said that not only was it the best dessert he's ever had, he said it was the best thing he had ever eaten. WOW! What a compliment! Especially coming from my chocolate-loving husband.
The best way I can describe this strawberry pie is somewhere between creamy strawberry ice cream and a cheesecake. Also, unlike some other recipes, there's no need to add jello as it gets all its delightful strawberry flavor and light pink tint from the fresh strawberries. Fresh always beats artificial, right??
This may be our favorite easy summer dessert because it's cold and refreshing. This pie is perfect for parties or a family get together like Mother's Day. It is also extra special because it's a make ahead dessert, meaning all you have to do at serving time is pull it out of the freezer. I just love this pie!
What's perhaps most exciting is how few ingredients this recipe requires. All you need are fresh strawberries, a lime, some tequila (if you want it), a container of Cool Whip, a can of sweetened condensed milk, some pretzels, butter, and sugar. That's just 7 ingredients for the best dessert ever!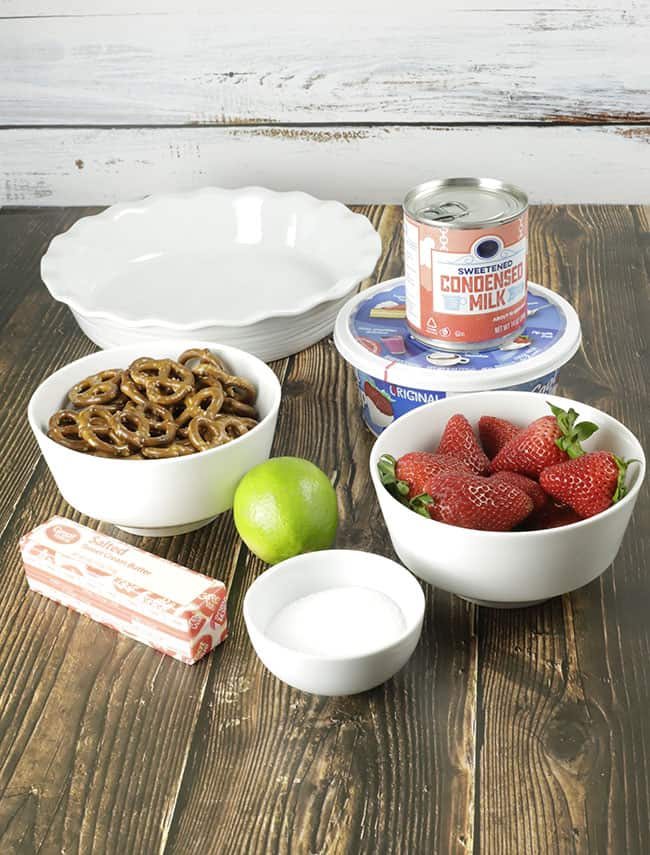 Ingredients
Fresh strawberries
Lime
Condensed milk
Tequila (optional)
Cool Whip
Pretzels
Butter
Sugar
So if you're wondering, "What Can I Bake Without an Oven," you have your answer! You'll be hooked after one bite. Now, let's take a peek at what goes into this pie.
I was really surprised at how delicious this crust is. I'd never made a crushed pretzel crust before, but let me tell you: it's fantastic! I could easily make a snack out of the pretzel crust alone. It almost tastes like sugared pecans, a true Southern favorite. It's sweet, salty, and crunchy and goes perfectly with the sweet, creamy filling.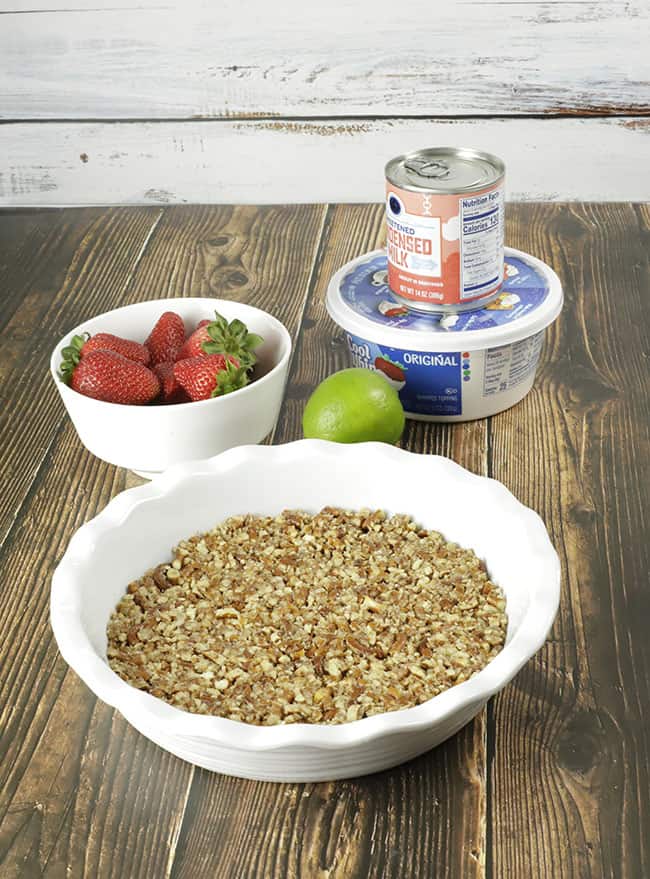 Tip: Want fewer dishes? Mix your crust ingredients together right in the pie pan, then press down to the bottom. That's one less bowl to clean.
Make the Crust
Best of all, this crust is SUPER easy to assemble. All you'll need to do is combine crushed pretzels with melted butter and sugar, then press it into your pie pan. It's so easy, even a toddler could do it!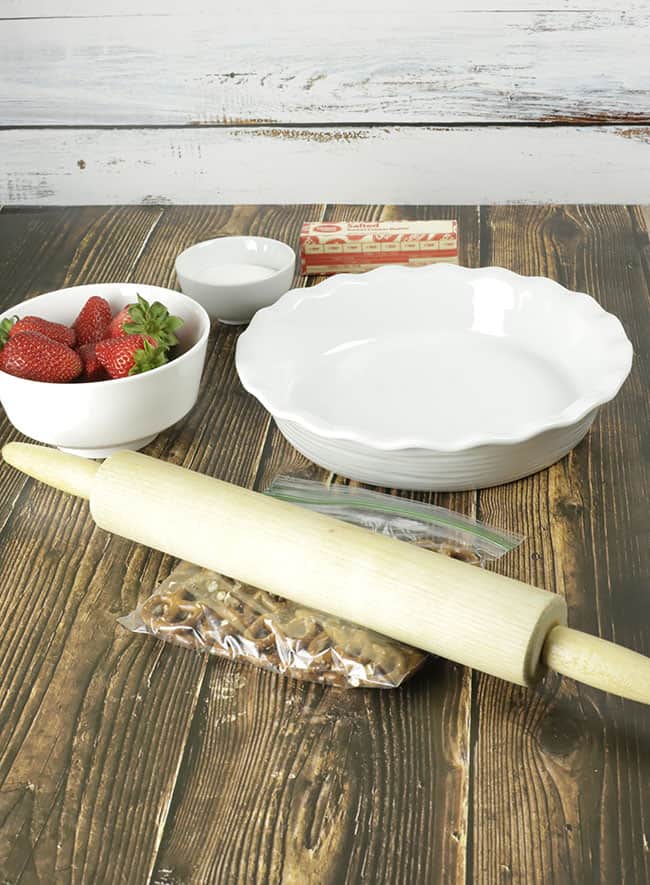 TIP: The easiest and most low-tech way to crush your pretzels is to put them in a zipper-top bag and whack them with a rolling pin. No rolling pin? No problem! You can also use a meat tenderizer, a large can of food, or even a wine bottle (just go easy since it's made of glass!). If you're in a rush, you can also pulse them in a food processor.
Make the Strawberry Cream Filling
The deliciously light and creamy filling for this pie is almost as simple as the pretzel crust. First up, you are going to need to remove the stems and purée your strawberries. The easiest way to do this is to place them in a food processor or mini chopper, like mine: Proctor Silex Durable Mini 1.5 Cup Food Processor.
Tip: Want to make this yummy pie but strawberries aren't in season? No worries! Get yourself some frozen strawberries (no sugar added) instead, thaw them and proceed as instructed. BOOM! Strawberry Cream Pie is now a year-round treat.
Now that your strawberries are ready, simply mix them with the sweetened condensed milk, lime, and tequila (if using). Oh, and no need to get out a mixer. You can easily whisk the filling together.
Fold in your defrosted Cool Whip, and you're basically done! So far, you've only invested about 10 minutes of your life to this project. Awesome, right?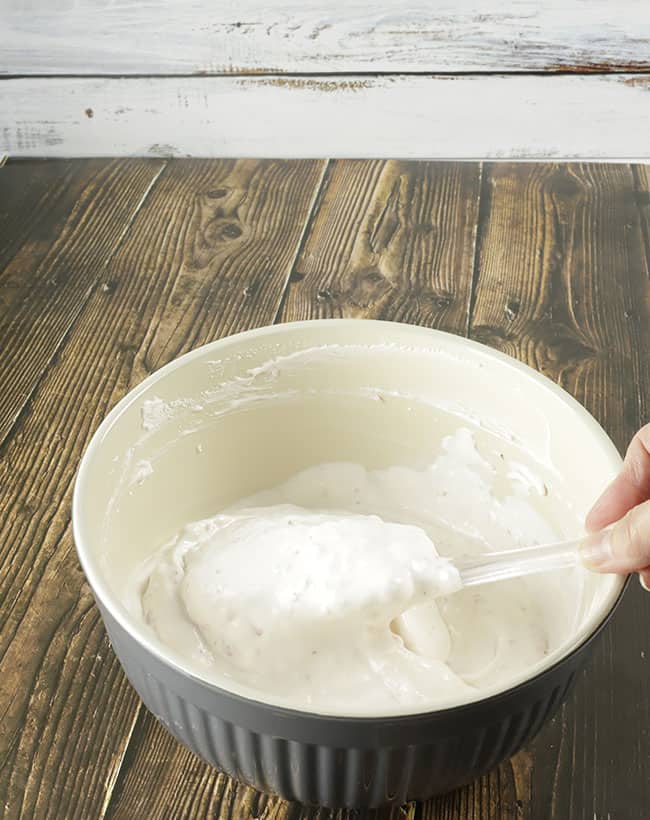 Pour the creamy, dreamy filling into the crust, cover lightly with plastic wrap and freeze for at least 6 hours. When you're ready to serve what my hubby calls the best thing ever, remove the pie from the freezer and let it hang out on your counter for about 15 minutes prior to slicing.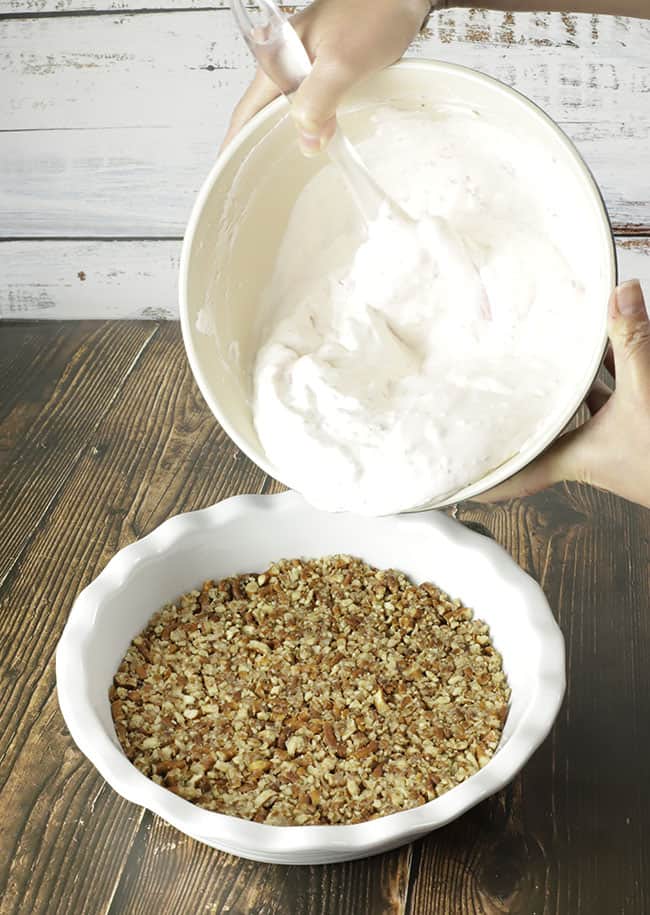 Tip: To make the slices as beautiful and even as possible, run your knife under hot water between each slice.
Serve with a fresh strawberry as a garnish and ENJOY!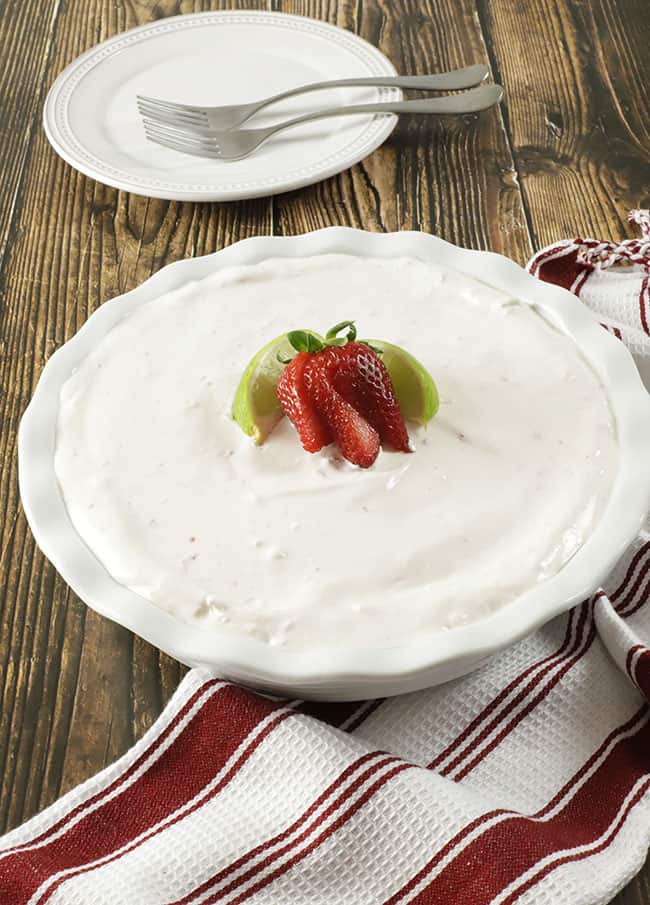 Frequently Asked Questions
How long will the strawberry cream pie keep?
Store any leftover pie covered in the freezer. This will keep the pie nice and firm, and it'll stay fresher longer. The pie should keep for up to a week in the freezer, if you have that kind of self control.
Any way I can make a vegan version of your recipe?
Here at My Kitchen Serenity, we want to include everyone in the mix, meat eaters and veggie lovers alike! If you're vegan, simply swap in some vegan butter or margarine and make your own vegan sweetened condensed milk.
As of 2018, you'll also need to make your own vegan version of Cool Whip. Check out this post for some ideas on how to make it!
I'm gluten free - any suggestions for me?
That's an easy one, y'all! Just substitute gluten free pretzels in the crust. There's a bunch of brands out there that carry them - Snyder's, Glutino, Trader Joe's, and Utz are just a few.
What's the best way to transport?
So now that you've made this delicious pie, what's the best way to transport it? I recently discovered a plastic carrier that's perfect for transporting pies, muffins, and cupcakes. It's the Southern Homewares 3-in-1 Plastic Holder Container. It offers easy-grip handles, a snap-tight lid, and it's made out of durable plastic. Available now on Amazon!
Need some more pie-spiration? Check out these other simple and delicious recipes:
If you tried this awesome pie, please comment below so I know how it turned out for you!
If you'd like more easy, Southern inspired recipes delivered straight to your inbox, be sure to sign up for my email newsletter. You can also follow me on Facebook, Pinterest, and Instagram if you're feeling social!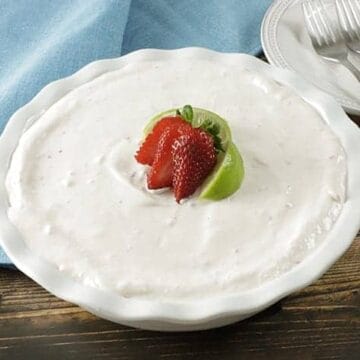 Strawberry Cream Pie
This delicious No Bake Strawberry Cream Pie is made with fresh strawberries, condensed milk, lime juice, tequila and Cool Whip with an amazing crushed pretzel crust. The filling is as decadent as ice cream and pairs beautifully with the salty-sweet crust. Also known as a strawberry pretzel pie, or even strawberry margarita pie, this will be your go-to pie for the summer.
Print
Pin For Later
Rate
Ingredients
Crust Ingredients
1-¼

cup

crushed pretzels

1

stick of butter, melted

¼

cup

granulated sugar
Filling Ingredients
½

cup

crushed or pureed fresh strawberries

½

cup

lime juice

14

oz

sweetened condensed milk

8

oz

Cool Whip, thawed

2

tablespoon

tequila, optional
Instructions
Mix crushed pretzels, melted butter, and sugar in bowl. Press onto the bottom of a 9-inch pie plate. Place in the refrigerator.

Mix crushed strawberries, lime juice, tequila (optional), and condensed milk in a bowl. A wire whisk works well for mixing.

Gently fold in the cool whip with a spatula just until blended. Don't stir or whip vigorously.

Pour strawberry mixture on top of the pretzel crust. Freeze for at least 6 hours (overnight is fine, too). Let thaw on countertop 15 minutes before slicing.
Notes
Garnish with fresh strawberries, sliced lime, and an extra dollop of cool whip.  Store pie in the freezer!
Nutrition
Serving:
1
serving
|
Calories:
251
kcal
|
Carbohydrates:
44
g
|
Protein:
5
g
|
Fat:
6
g
|
Saturated Fat:
4
g
|
Polyunsaturated Fat:
1
g
|
Monounsaturated Fat:
2
g
|
Trans Fat:
1
g
|
Cholesterol:
22
mg
|
Sodium:
116
mg
|
Potassium:
250
mg
|
Fiber:
1
g
|
Sugar:
39
g
|
Vitamin A:
194
IU
|
Vitamin C:
11
mg
|
Calcium:
176
mg
|
Iron:
1
mg
Nutritional data is based on 1 serving and on the brands that I used.