Pineapple season is here, so how can you tell if you've picked out the freshest one at the market? Everyone thinks that they know the solution, but many people miss key indicators.
Why waste money on a pineapple that is not fresh and juicy? We've been there a time or two ourselves and understand the frustration level completely.
If you're ready to learn how to do this, these top tips can help you choose a perfectly delicious pineapple every single time. I've also provided some really cool other facts about pineapples, so get ready to learn everything you've always wanted to know, plus more!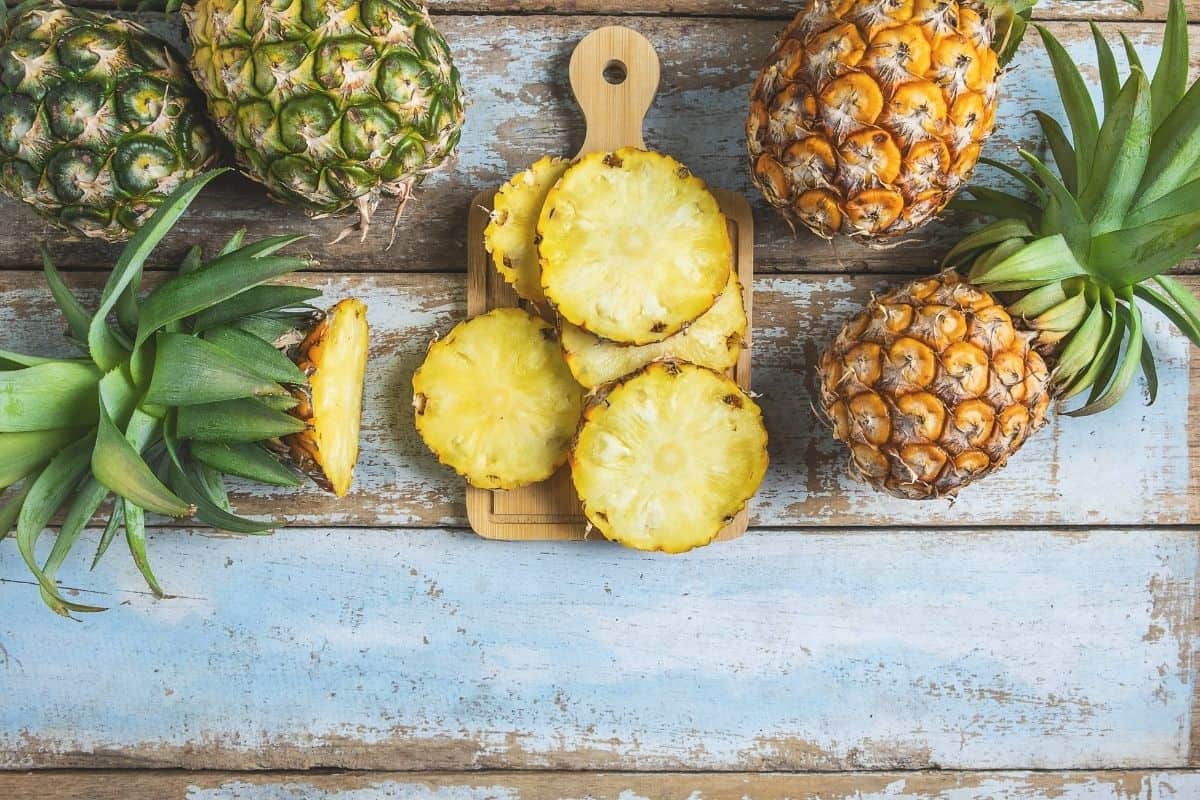 Jump to:
How to tell if a pineapple is ripe
The big question on everyone's mind is how do you know a pineapple is ripe? The fact of the matter is, pineapples that come from two of the major pineapple farms, are actually harvested ripe. And once you pick a pineapple, it won't "ripen" anymore.
According to Dole, "choose pineapples that look fresh, have green leaves and are slightly soft to the touch."
How does a ripe pineapple look?
Most pineapples at the store are going to look green in color. As mentioned before, this is completely normal. However, the sweetness of the flesh will always be sweeter and juicer at the bottom of the pineapple! Try it out the next time you purchase a pineapple.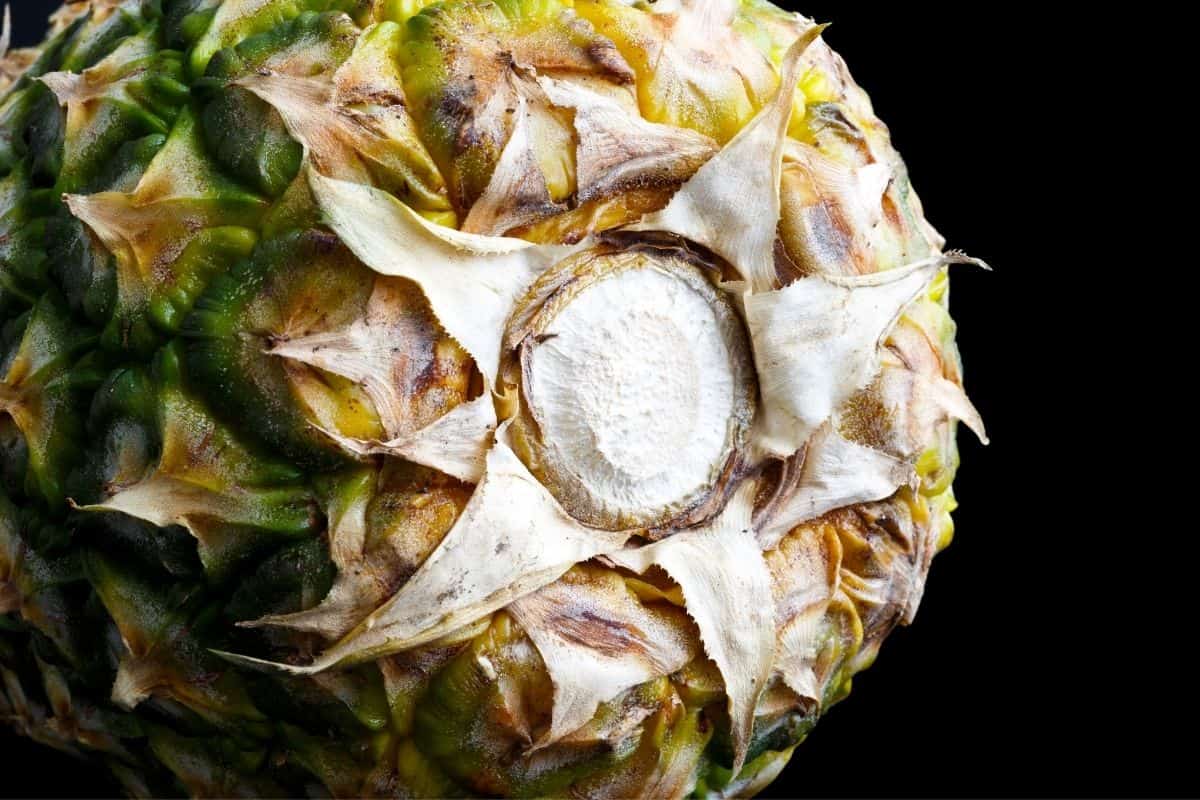 Pineapple color and smell
According to Del Monte, "Look for a pineapple that is symmetrical and heavy for its size. Look for crown leaves that are fresh and green. Sniff the pineapple, and pick one that has a sweet, fragrant smell. Ensure that the pineapple is free from soft spots."
How to store
Once you've brought a pineapple home, you're going to want to be certain to store it properly so that it lasts for you to enjoy. Below you'll find the top tips for storing pineapple to keep it as fresh as possible.
Cut
The biggest and most important thing to remember about storing cut pineapple is that you need to store it in a container with a lid and have the cut pieces of pineapple covered in juice. You also need to keep it nice and chilled in the fridge for later, too.
Whole
You actually have a couple of options for storing a whole pineapple. You can store it in the fridge for a few days or store it on the counter at room temperature as well. The choice is up to you. This only applies to a pineapple that hasn't been cut.
Fresh pineapple recipes
Don't miss out on these delicious pineapple recipes!
Fresh Pineapple Upside Down Cake
Facts about pineapple
Just when you thought you knew everything about pineapple, there are a lot more facts that you might not be aware of. Here are some facts about pineapple that can help you understand how the fruit grows and ripens.
How long to grow your own pineapple
Believe it or not, a pineapple can take up to 24 months to grow from start to finish. Hard to imagine that the fruit that you just ate in about 2 minutes flat might have taken up to 2 years to grow!
If you're interested in growing your own pineapple plant, here's a great article from HGTV How to Grow Pineapple Plants from Tops, Seeds, or Plants. While you're waiting for your pineapple to grow, the plant is absolutely gorgeous!
Pineapple myths
One of the biggest myths that people tend to think is true is that pineapple burns fat. In all reality, it doesn't. The way that pineapple is made up is that it will be processed in your body and actually burn protein, not fat. Read below for a few other myths about pineapples as well.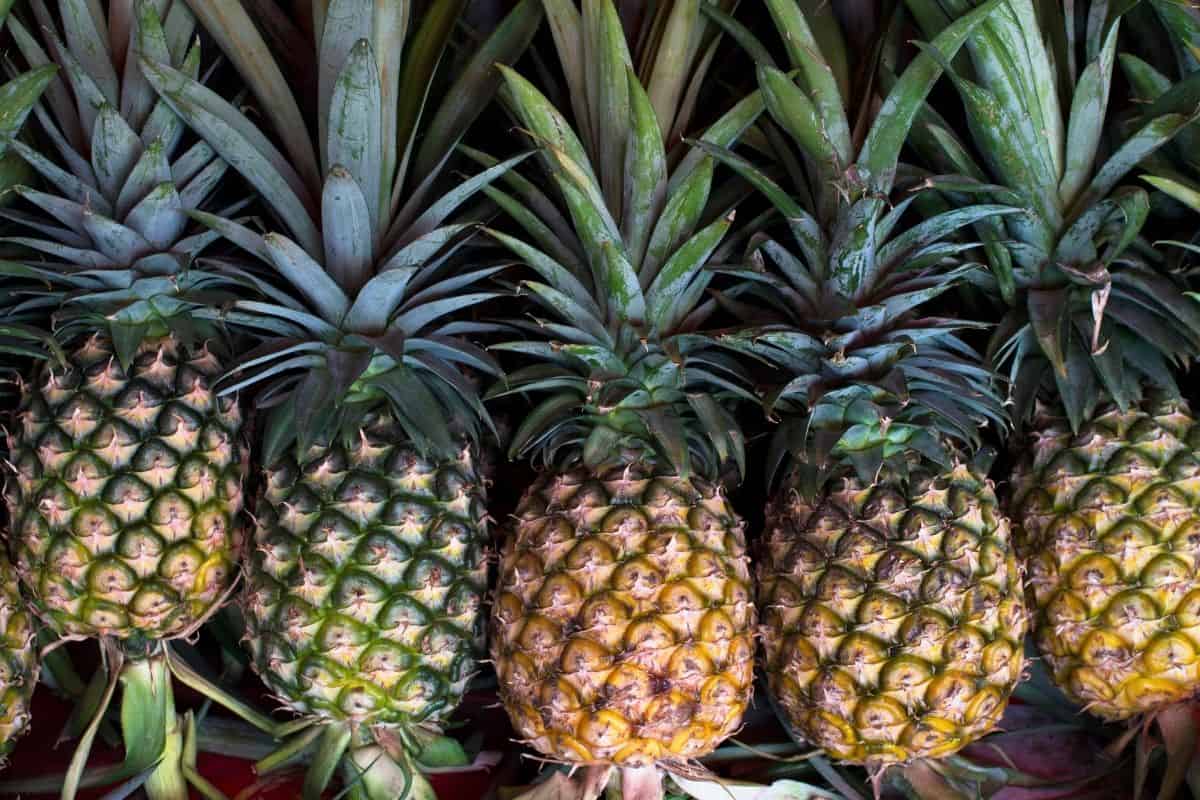 Frequently asked questions
Will pineapple ripen on the counter
Nope! Once a pineapple has been harvested, it simply won't "ripen" any more.
How many months does it take to grow a pineapple?
Again, if you're growing your own pineapple plant, the entire process from start to finish can take anywhere from 18-24 months. This means that your pineapple can literally take up to 2 years to be ready to eat. I actually grew my own pineapple a few years ago. The plant itself is beautiful. It produced one pineapple for me and I will tell you this, that pineapple was the best one I've ever eaten, It was heavier than the store-bought versions and incredibly juicy.
Why does a pineapple leak from the bottom
This is because that all the natural sugars are going in that direction because of how it's sitting. If a pineapple was laying on its side to ripen, those same natural flavors and juices would be leaking out of the side as well.
Final Thoughts
As you can tell, the fear of getting a pineapple that isn't fresh and juicy doesn't have to be a reality. With these simple tips, you can rest easy that you're doing everything in your control to be able to choose the freshest and juiciest pineapple!
While I do enjoy eating fresh pineapple as is, I do have a recipe that uses fresh pineapple. Check out my Sweet and Sour Pork Chops with Peppers and Pineapple. It's a great way to include fresh pineapple in your meal!
I've also been dying to try this Sticky Pineapple Chicken recipe from Just a Taste! Doesn't it look scrumptious?
Need some recipe inspiration? Follow me on Facebook, Pinterest, and Instagram to get recipe ideas in your feed.
Join my email list to get a variety of delicious recipes sent to your inbox. How easy is that, right?!