Need some cheesecake topping inspiration? I've gathered over 20 cheesecake topping ideas sure to wow everyone and please even the pickiest of eaters.
There are so many toppings for cheesecake it is often very difficult to decide just what cheesecake topping recipe to go with! From fresh strawberries to caramel sauce, the topping options are endless.
So, how many times have you found out that you need to come up with a dessert and you have little to no time to plan?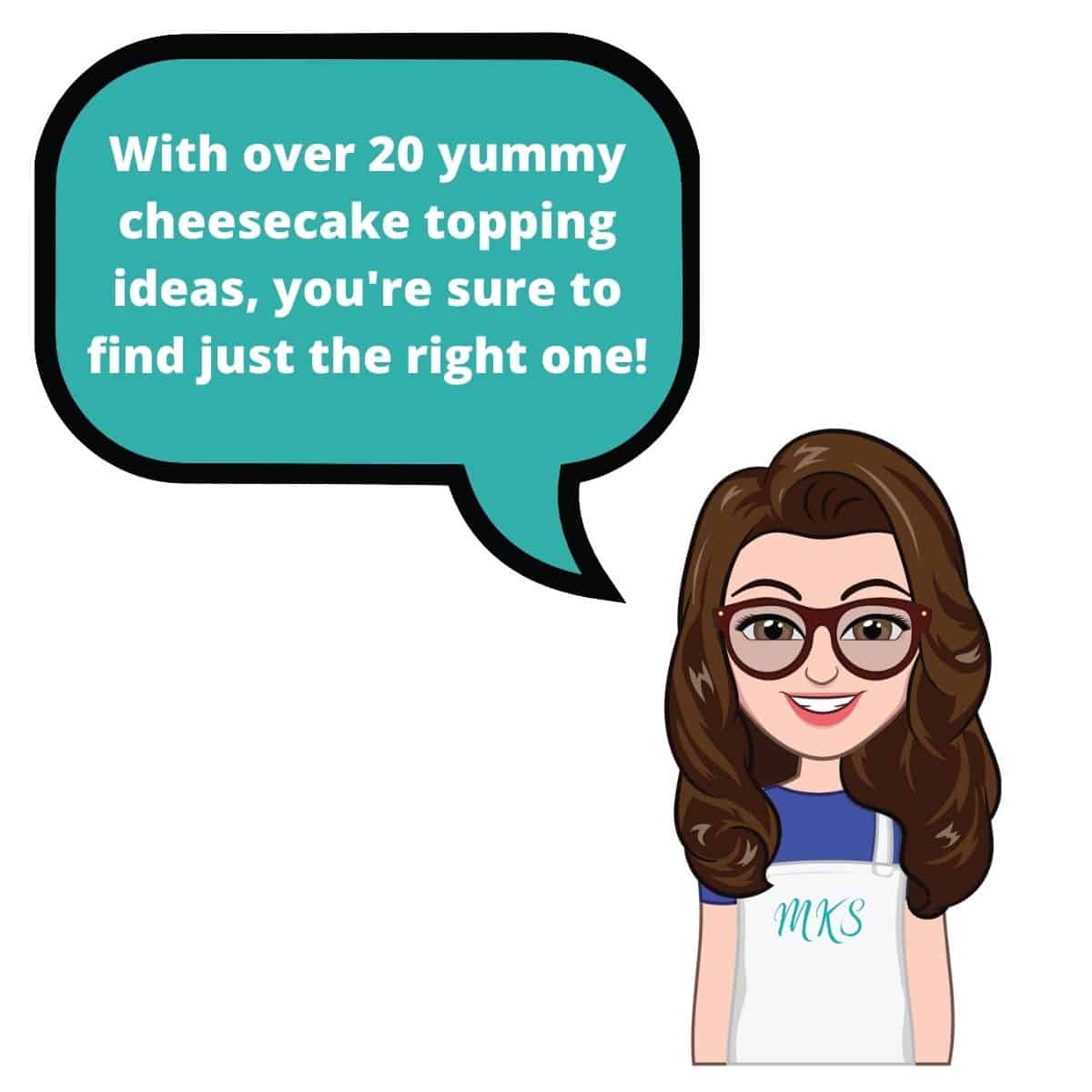 I just found out about a family picnic and my cousin, (who is an amazing baker) just assigned me a cheesecake! She is going to make an amazing summer dessert, which just so happens to be my Banana Cream Pie.
So, I go to everyone's favorite search engine: Google! I found the best cheesecake recipe from Cookies and Cups. But I know my family loves cheesecake with a topping and now I need to find the perfect cheesecake toppings.
In this post, you'll find a variety of cheesecake topping ideas that will knock the family's socks off!
Cheesecake Sauces
A specialty sauce on top of cheesecake can easily bring a boring cheesecake to life!
Fruit sauces are one of the most popular toppings of cheesecake. Fresh fruits like peach, lemon, raspberry, blueberry, blackberry, and strawberry.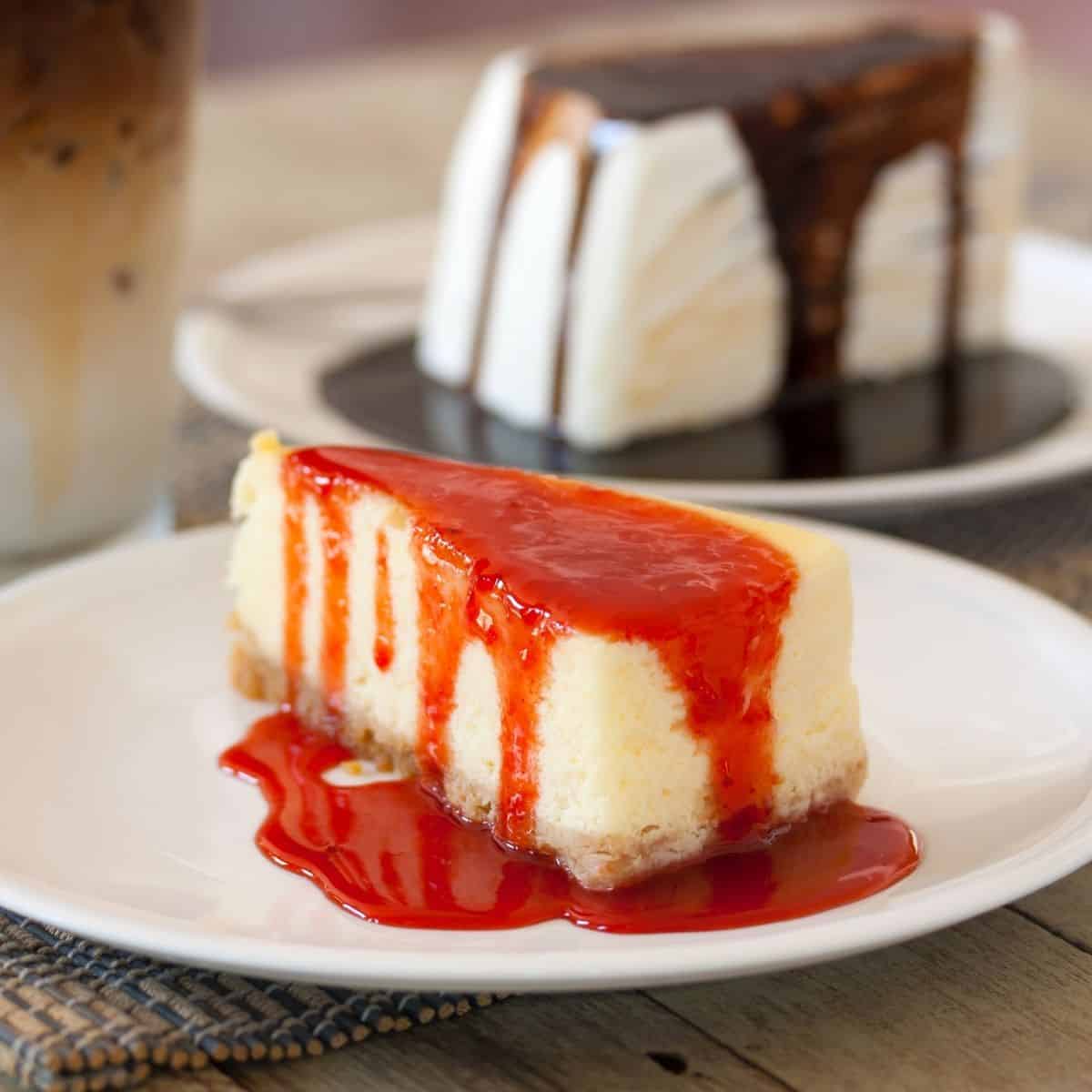 How Do You Make Your Own Sauce
There is an amazing homemade strawberry sauce recipe using fresh strawberries over at Nastasha's Kitchen. It has received a recipe rating of five stars and only includes three ingredients which makes it incredibly simple!
Most homemade fruit sauce recipes involve a pot, sugar, fresh fruit, lemon juice and some stirring! Taking minutes to make! You can totally whip the sauce up while your toddler takes a nap! Or while you drink your glass of wine. Whichever you prefer!
There are other amazing cheesecake sauces besides fruit sauces as well. Fudge, pecan praline, bourbon salted caramel, pecan caramel, toffee, coconut caramel. Now, these sauces are a little more difficult to make.
However, the sauce recipes for most of these cheesecake toppings won't take you all day.
Where Can You Buy Sauce
If you just do not have time to create your own homemade cheesecake sauce. You can buy many sauces right in your nearby grocery store!
Difference Between Jelly, Jam, Preserves, and Compote
Jelly, jam, preserves, and compotes often all fall into the same category but are all very different. Jelly is the firmest and smoothest and is made of fruit juice.
Jam is looser and more spoonable than jelly. It is made from crushed fruit and mixed with sugar.
Preserves are the physical fruit either chopped or kept whole and held together loosely by a syrup. Preserves are not bad on top of cheesecakes. My Low Carb Strawberry Cheesecake uses sugar-free strawberry preserves and is delicious!
What Is Compote
Although jelly, jam, and preserves are great, compotes are the most outstanding option for a cheesecake topper. The king of cheesecake toppings as a matter of fact! A compote is a fancy word for a fruit preserved or cooked in syrup.
How Do You Make Compote
To make a compote, you are going to heat fresh fruit, sugar, and some lemon juice over heat. You can find a lot of amazingly simple compote videos on YouTube.
Compote vs Coulis
Remember, a compote is also different from coulis. Coulis is strained and doesn't have the physical fruit in it like a compote does. Mango coulis makes a delicious topping as well!
Two fantastic cheesecake topper compotes are apple and vanilla pineapple. These compotes have a sweet but tart taste that compliments cheesecake very well. Veggie Desserts has an easy vanilla pineapple compote recipe. It involves 5 ingredients and 15 minutes!
Giving you enough time to enjoy a quick coffee break before you have to run off to do your next household chore.
Where Can You Buy Fruit Compote
If you do not have the time or energy (I get it!) to create your own fruit compote cheesecake topping, you can find jarred compote at Target, Whole Foods, and other grocery stores!
Pie Fillings
Pie fillings are not just for dumping into pies! They also make easy cheesecake toppings. Rhubarb, strawberry, and cherry pie fillings are great toppings for cheesecake. You're probably singing "Cherry Pie" by Warrant in your head now! Don't worry, it's a great song and an even better cheesecake topper.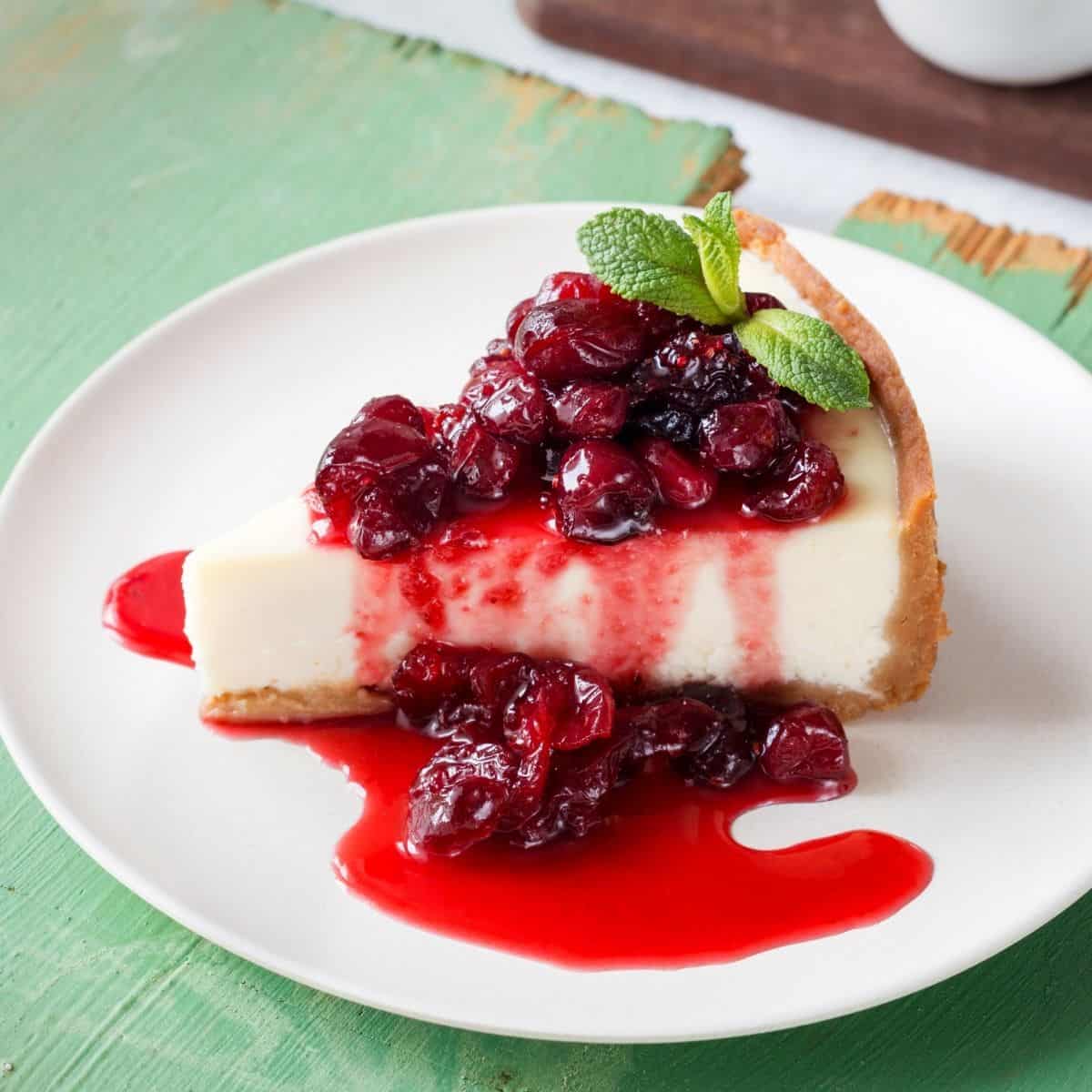 These pie fillings are no-bake cheesecake toppings which make them delicious and easy to use. Two things to love! These fillings can be found in all grocery and big box stores.
Cheesecake Toppings
Now that you may be thinking, "What if I don't want a sauce, compote, or filling-type cheesecake topping?" Maybe you are looking for something out of the box. Your family may want something different. You can use candies, nuts, and other amazing toppings on your cheesecake. There are a lot of different types of toppings for cheesecakes!
Fresh fruit is always a favorite in the summer. Plus, it is fairly inexpensive and quick. Blueberries, strawberries, blackberries, and raspberries are all delightful. Plus, you can probably get your children to eat the leftovers. WIN-WIN for you! High five!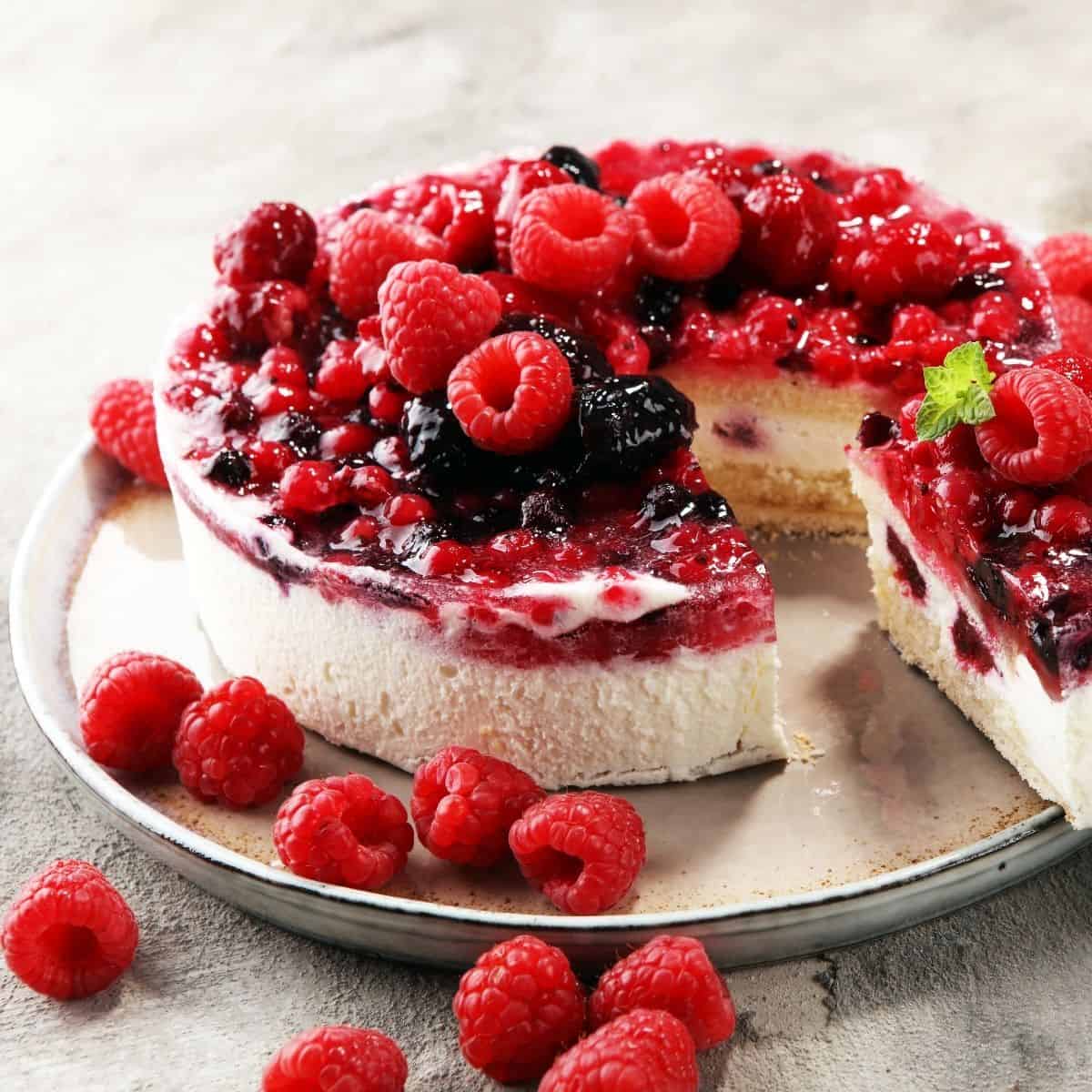 White chocolate, Thin Mints, Heath bar, malted milk balls, chocolate shavings, and peanut butter cups all make amazing cheesecake candy topping. They add a salty, sweet type flavor and are the perfect complement to the crust of the cheesecake. S'mores and marshmallows are not exactly candies, but they fall into this salty, sweet category as well. Who wouldn't want to bite into a s'more after a cookout? They are the perfect ending to a summer day!
Lemon meringue, sour cream, cream cheese, and whipped cream are cream toppings. These give cheesecake a fluffy top and a light and airy feel. You will want to mix your sour cream with lemon and sugar. You can find a sour cream topping recipe at My Family and Food. Lemon meringue is a little more difficult and time-consuming than throwing some whipped cream on top. But it is delicious!
Ganache, hot fudge, chocolate caramel, or chocolate liqueur can make a cheesecake very sweet and a perfect dessert to finish the BBQ with. These require just a little warming in the microwave or on the stove to make them easy to pour over the top of your cheesecake.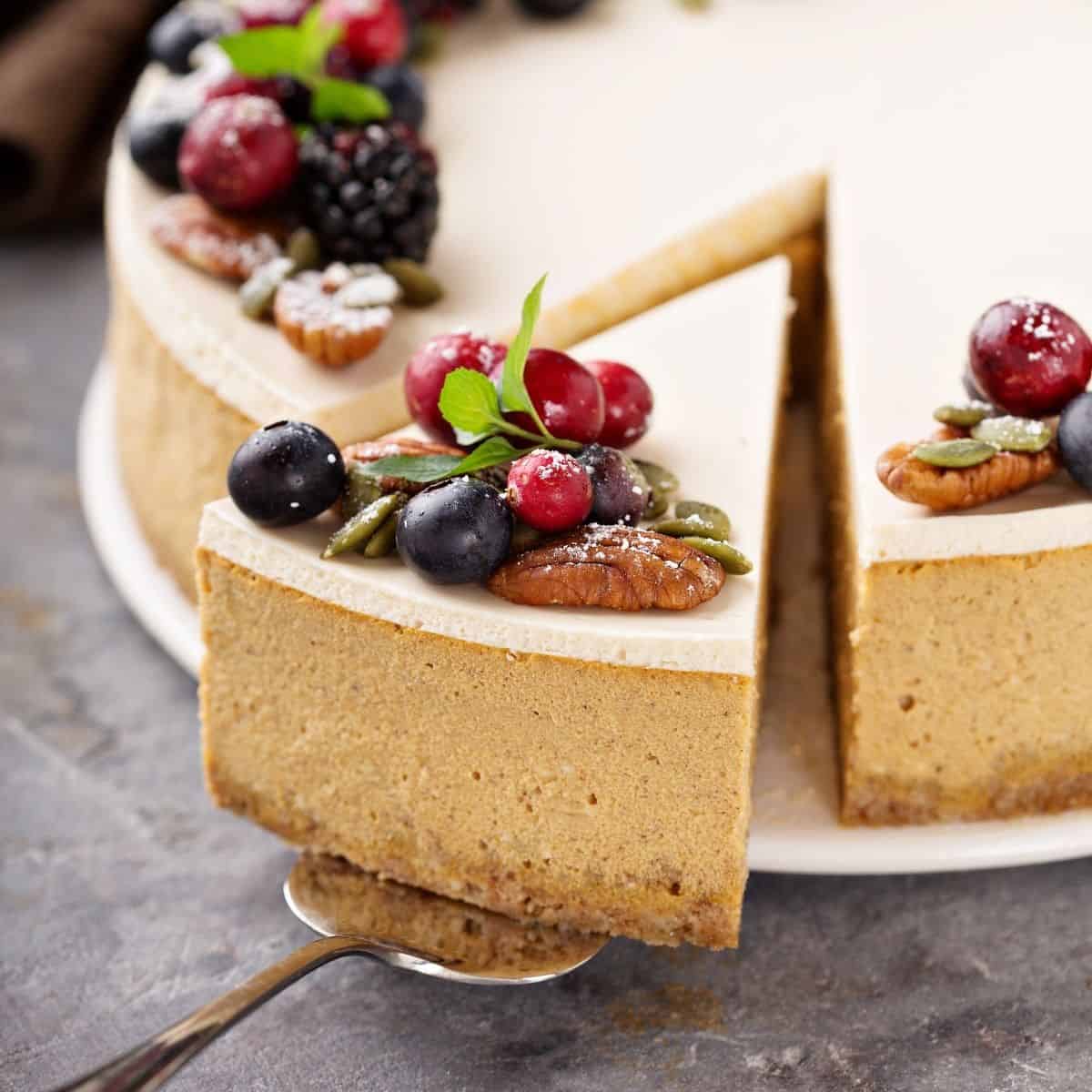 Shredded coconut and mixed nuts are the final cheesecake topping ideas on the list. They add a little crunch on top and have the salty, sweet factor everyone loves!
Now you have over 20 different ideas for cheesecake toppers. You just need to find the one that will suit you.
So, head into that cookout with a little swagger in your step. You'll have your cheesecake with your amazing topping. Your family will jump for joy when you arrive with your beautiful cheesecake and you can walk away like a boss!
FAQ
How do you decorate the top of a cheesecake?
There really is no right or wrong way to decorate a cheesecake, which makes this a perfect choice for someone who is being pulled in 900 different directions like you!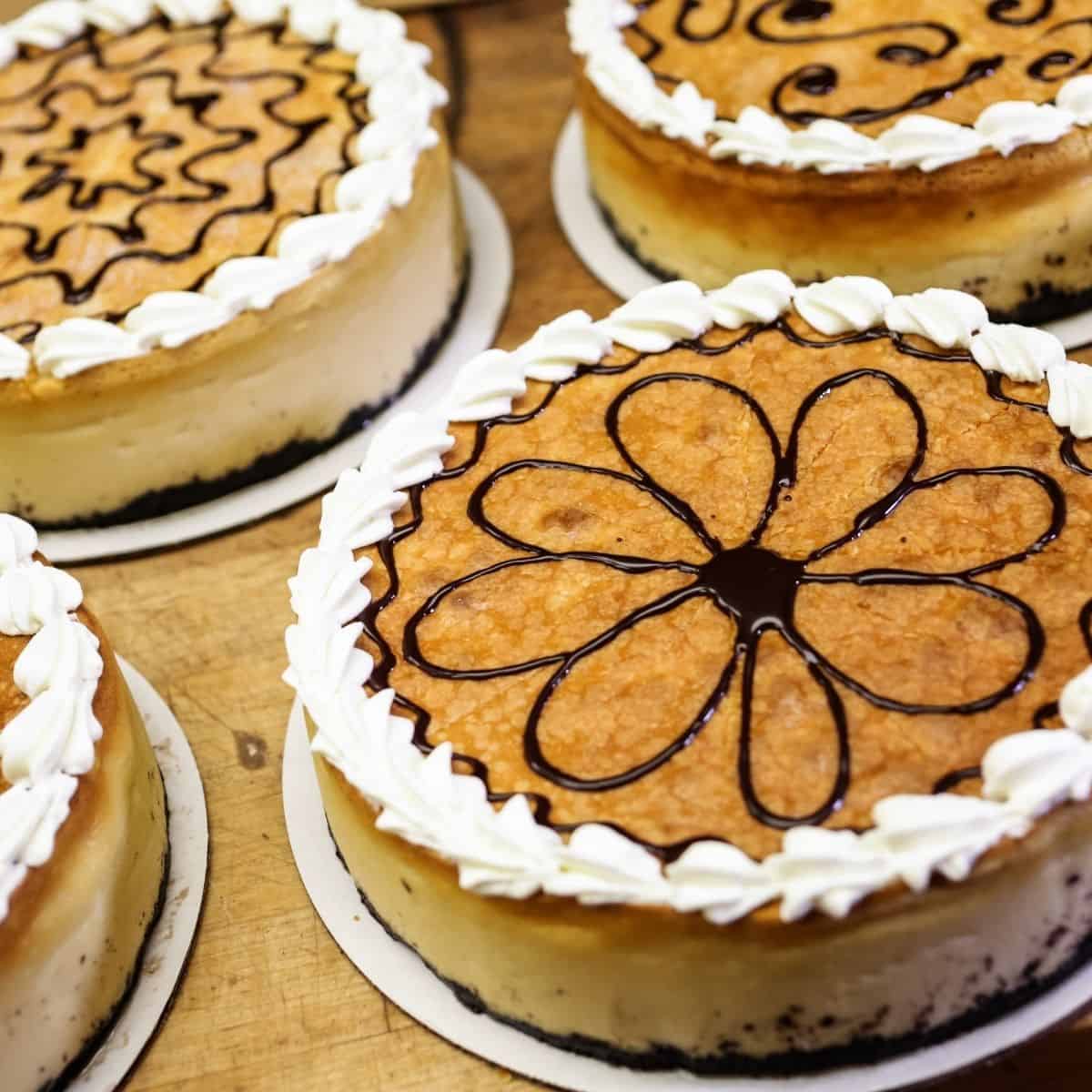 You can easily use different toppings to decorate the top of a cheesecake. Use a sauce and pour it over the top of the cheesecake. Maybe drop fresh fruit on the outer edging. There are a lot of amazing decorating ideas on Pinterest if you are looking to up your cheesecake decorating game!
What flavors go well with cheesecake?
A lot of different flavors can enhance a cheesecake. Sweet, tart, salty, and rich flavors are all a perfect pairing for cheesecake. Much like a fine wine, cheesecake goes well with a lot of different flavors!
Where can I find even more cheesecake topping ideas?
If you are looking for even more cheesecake topping ideas. Head over to Insanely Good Recipes or Souffle Bombay.
Need some recipe inspiration? Follow me on Facebook, Pinterest, and Instagram to get recipe ideas in your feed.
Join my email list to get a variety of delicious recipes sent to your inbox. How easy is that, right?!
[mailerlite_form form_id=2]