Easy, homemade Mexican cornbread made with cornmeal, sour cream, cheddar cheese, cream corn, and jalapenos. Super moist!  No matter what you call it, Mexican Cornbread or Jalapeno Cheddar Cornbread, this 3-layered cornbread is the moistest, cheesiest, and tastiest jalapeno cornbread yet!
Quick Note:  This post contains affiliate links. Please read my disclosure statement for details. Thank you.
Several years ago, I had the notion to create a 3-layered Mexican Cornbread that consisted of a thick layer of cheese in between 2 layers of jalapeno cornbread.  This is now our favorite way to eat cornbread!  The thick layer of cheese in the middle is like a ooey gooey treat.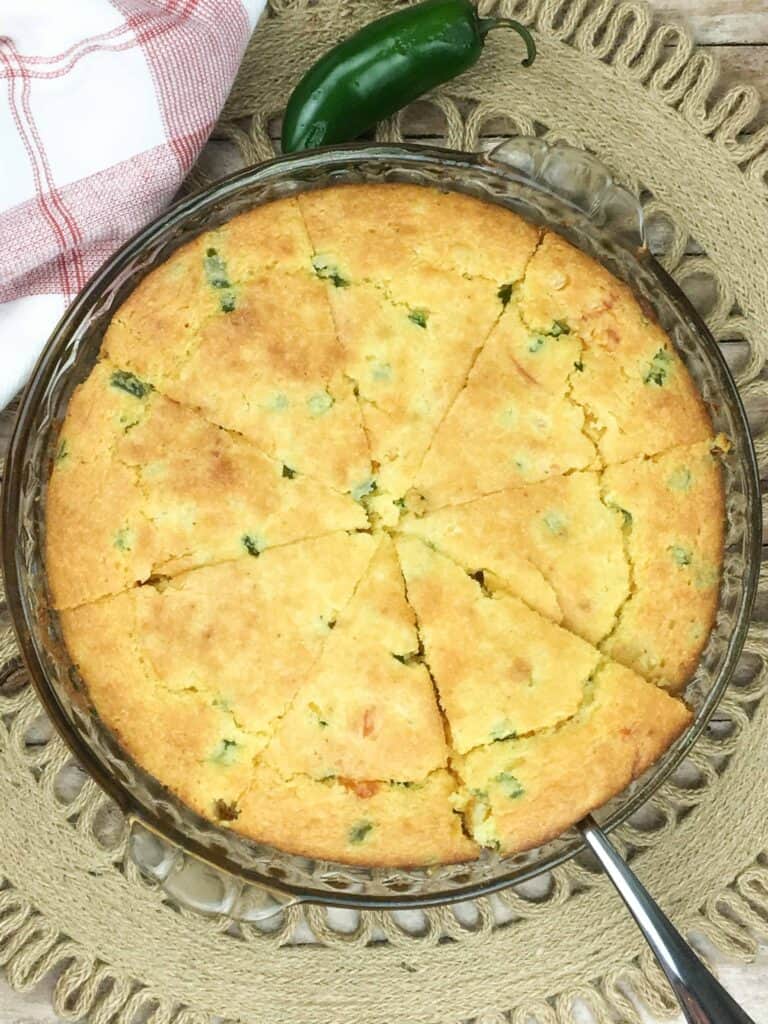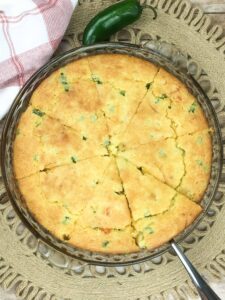 Do you prefer to bake cornbread in a glass dish, cast iron skillet, or pie plate?  This time, I used my trusty pie plate. Honestly, I've baked cornbread in every kind of dish, pan, and skillet out there.  And sometimes I've used a muffin pan.  I even have heart-shaped tins that I occasionally use to make my hubby smile. 
What Makes this Cornbread so Moist?
This homemade cornbread is super moist thanks mostly to the sour cream, cream corn, and oil.  Its rich and flavorful thanks to the cheese and jalapenos.  This recipe uses cornmeal mix (not jiffy mix) which means the baking powder and salt are already included in the mix.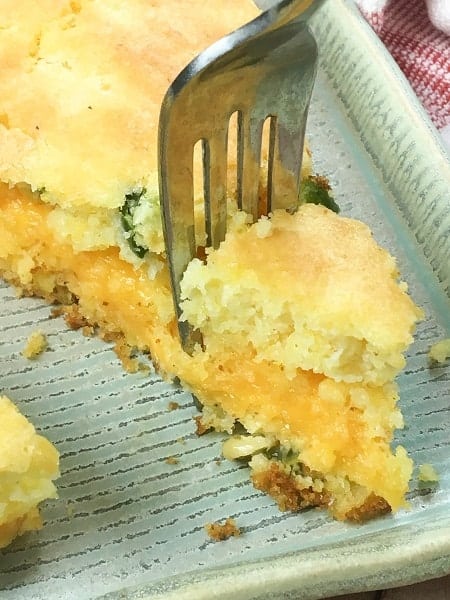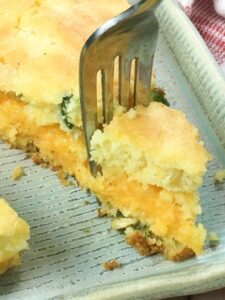 How to Make Mexican Cornbread
It's actually simple and easy to make this cornbread!  To make this layered cornbread, combine all ingredients, except the cheese, in a bowl and mix well.  Pour half of the batter into a baking dish or skillet.  Add the cheese on top, then add the remaining batter.  Bake at 350 for about 40 minutes.  This cornbread is also crazy delicious without the layers.  Just mix all the ingredients, pour into a baking dish or skillet, and bake as directed.
Mexican cornbread is an easy side dish that goes great with just about anything.  Most people enjoy it with a bowl of chili or vegetable soup. It goes well with Red Beans and Rice with Sausage, too.
Common Questions Regarding Cornbread
How Long will this Cornbread Last in the Refrigerator?
Keep in cold in the fridge and it will last about 3 days.  Be sure to store leftovers in an airtight container.  We only use BPA-free glass food storage containers with the locking lids.  Check out this 20-piece set!
Can You Freeze Cornbread?
Yes, this cornbread freezes well.  Place in a heavy-duty sealable freezer bag; be sure to squeeze out excess air.  I like to write the date on the bag so I'll remember exactly when I need to use it by.  Freeze for up to 3 months. 
How do you Reheat this Cornbread?
Putting this cornbread in the microwave and zapping it for a long period of time is a no-no!  Reheat one slice at a time for a small amount of time.  Wrap it in a paper towel that has been slightly dampened with water.  Then heat it in the microwave for about 20 seconds.  You want it to be warm, but not scalding hot because it may turn hard or even worse, it might dry out!
Can I Make Cornbread Ahead of Time?
Yes, however, cornbread is best freshly made and baked.  If you must prepare ahead of time, keep the mixture tightly covered in the refrigerator for no more than 8 hours ahead of the time you're planning to bake it.  
What Makes this Cornbread Moist?
As stated earlier, this homemade cornbread is super moist thanks to the sour cream, cream corn, and oil.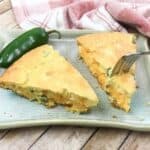 Mexican Cornbread
Ingredients
1-1/2

cup

Self rising cornmeal mix (yellow)

1/3

cup

Oil

1

cup

Cream corn

1

cup

Sour cream

2

Eggs

2

cups

Grated cheddar cheese

1-2

Diced fresh jalapenos
Instructions
Preheat oven to 350. Grease 9-inch pie plate or cast iron skillet.

Combine all ingredients EXCEPT CHEESE in large bowl. Mix well,

Layer the following in the pie plate or skillet: 1/2 cornbread mixture, all the cheese, then the remaining cornbread mixture. Do not mix the layers together.

Bake uncovered for about 40 minutes or until golden brown.

NOTE: If you don't want to do the layers, simply combine all the ingredients, mix well, and bake as directed.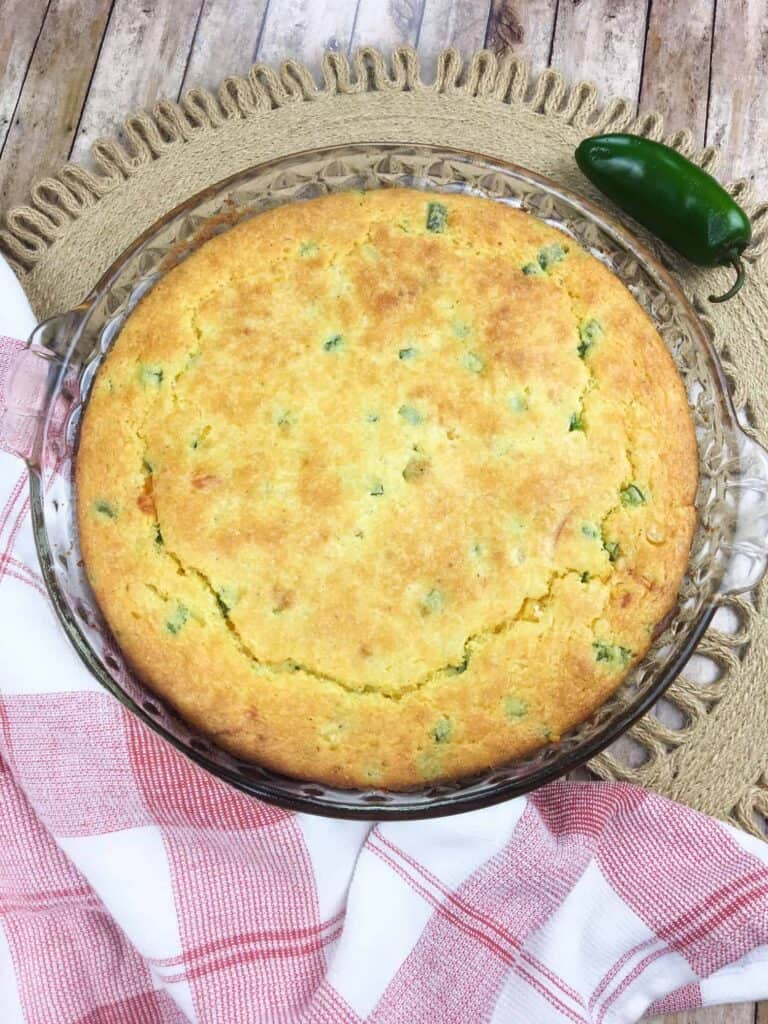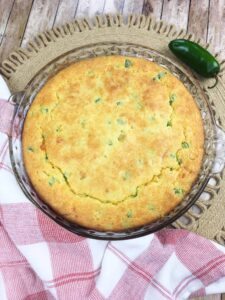 If you like this recipe let me know by leaving me a comment.  I'd love to hear from you!

Try these other great recipes from My Kitchen Serenity
Brown Sugar Baked Beans with Bacon
One Pot One Pan Roasted Chicken and Potatoes