Baked chicken breasts are marinated in a tangy, smokey citrus marinade that makes them super flavorful and juicy, and baked in the oven for a fuss free meal.
This easy marinade takes just a few minutes to mix up then pour it over chicken breasts or thighs and let it hang out in the fridge for up to 12 hours. Easy!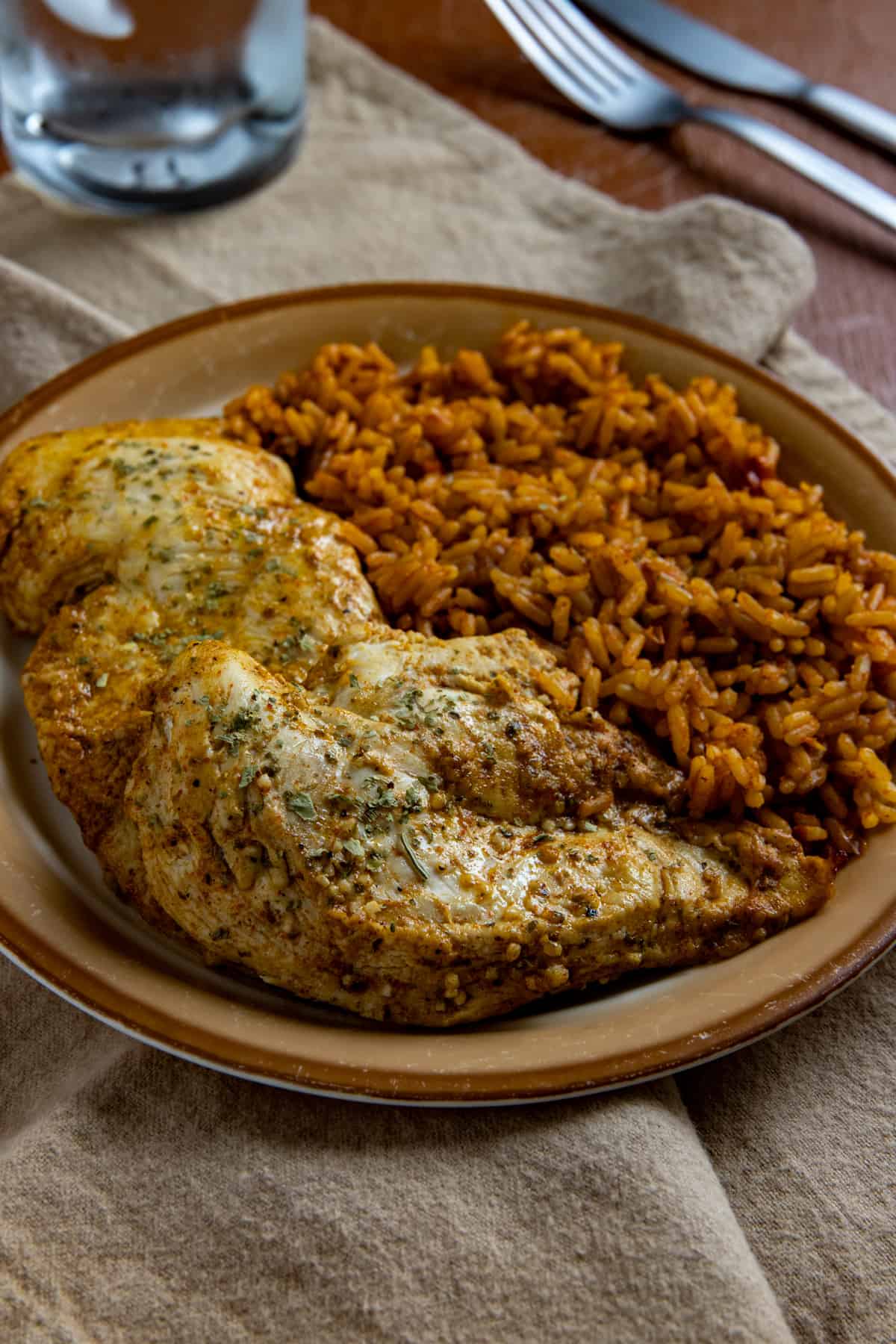 Another great chicken marinade is for my Honey Garlic Chicken Thighs. The marinade is sweet and savory with a hint of Asian flavors.
Why You'll Love This Recipe
It's hard to pick just one reason to love this Mexican Chicken Marinade! We already know it juicy and flavorful, but it can eaten in a variety of ways:
Eat it with your favorite Mexican-inspired side dishes.
It's baked in the oven which means you'll have about 20 minutes to get the rest of the meal prepared.
Slice it, then marinate it, cook it, and use it for fajitas or tacos. Stuff it into taco shells or flour tortillas then add your own sauteed onions, peppers, guacamole, cheese, salsa, etc.
Great for meal prep, too. After the chicken has cooked, slice each chicken breast (or thigh) into strips or bite-sized pieces. Place in 4 individual containers and add your favorite vegetables or even a starch (such as Spanish Rice).
Ingredients Needed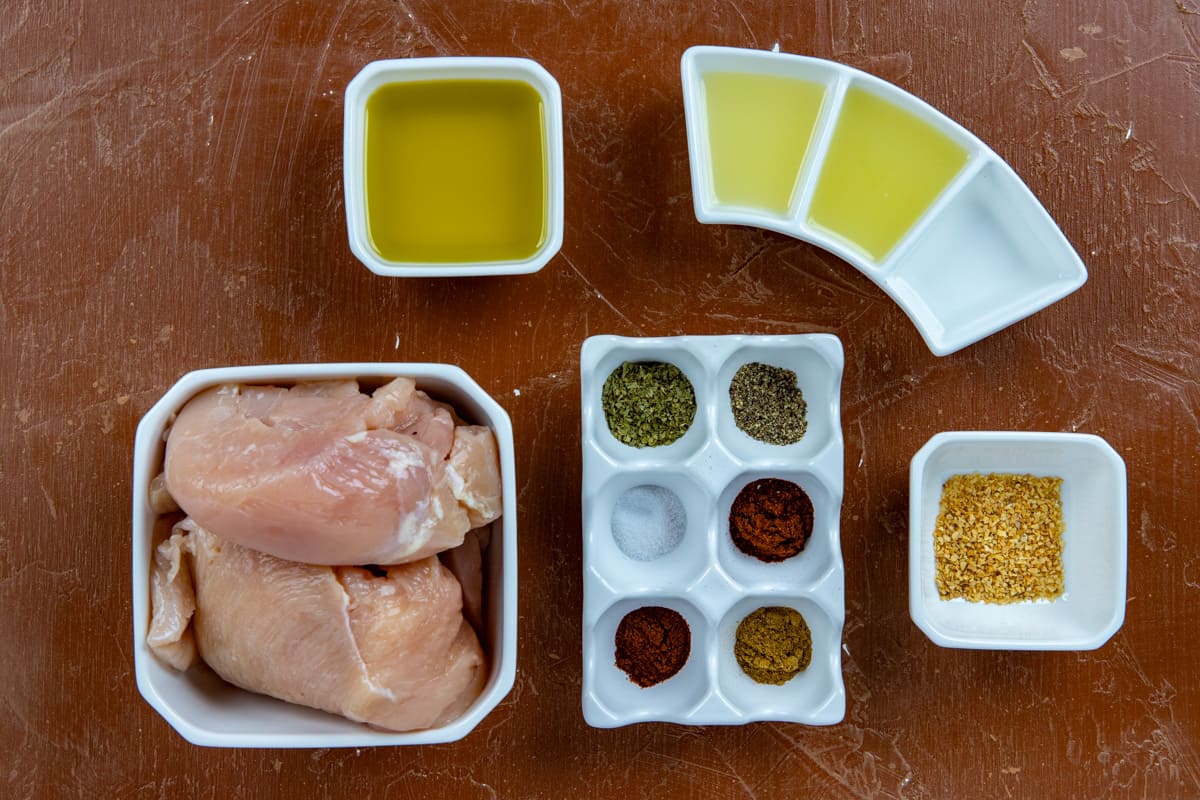 Boneless skinless chicken breasts - (about 1-inch thick) approximately 8 ounces each
Lemon Juice and Lime Juice - the acid from the lemon and lime juice helps to tenderize the chicken and add citrus flavor.
White vinegar - the vinegar also aids in tenderizing the chicken and adds a slight zing.
Extra virgin olive oil - ensure moist chicken and helps to pull the flavors out of the marinade.
Mexican seasoning blend - ground cumin, smoked paprika, chili powder, salt and pepper, dried cilantro.
Ingredient Substitutes
I love the this marinade as is, however, below are some alternatives if you need to make a sub or if you already have these on hand and want to use them instead.
Chicken breasts substitute - boneless, skinless chicken thighs. You can also use this marinade for pork.
Olive oil substitute - canola oil, vegetable oil, or sunflower oil.
Vinegar substitute - lemon or lime juice (1 to 1 ratio).
Dried cilantro substitute - dried parsley, basil, or dill.
Cooking Alternatives
Instead of baking the chicken, you can pan fry or grill for 6-8 minutes per side over medium heat. Just be sure to remove it from the heat as soon as it hits 165F!
How to Make It
Just three easy steps are needed to make this Mexican Chicken Marinade (blend marinade and add chicken, give it some time to soak up all the smokey, citrus flavors and get tender, then bake it!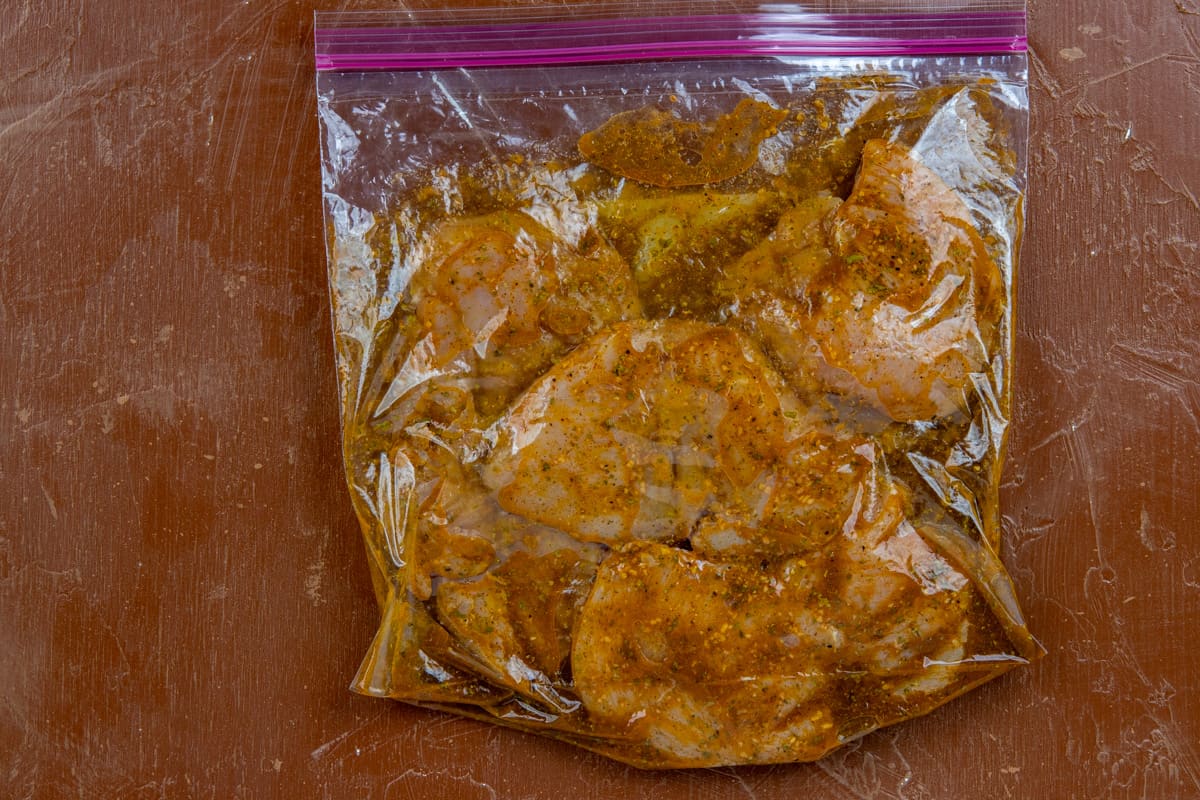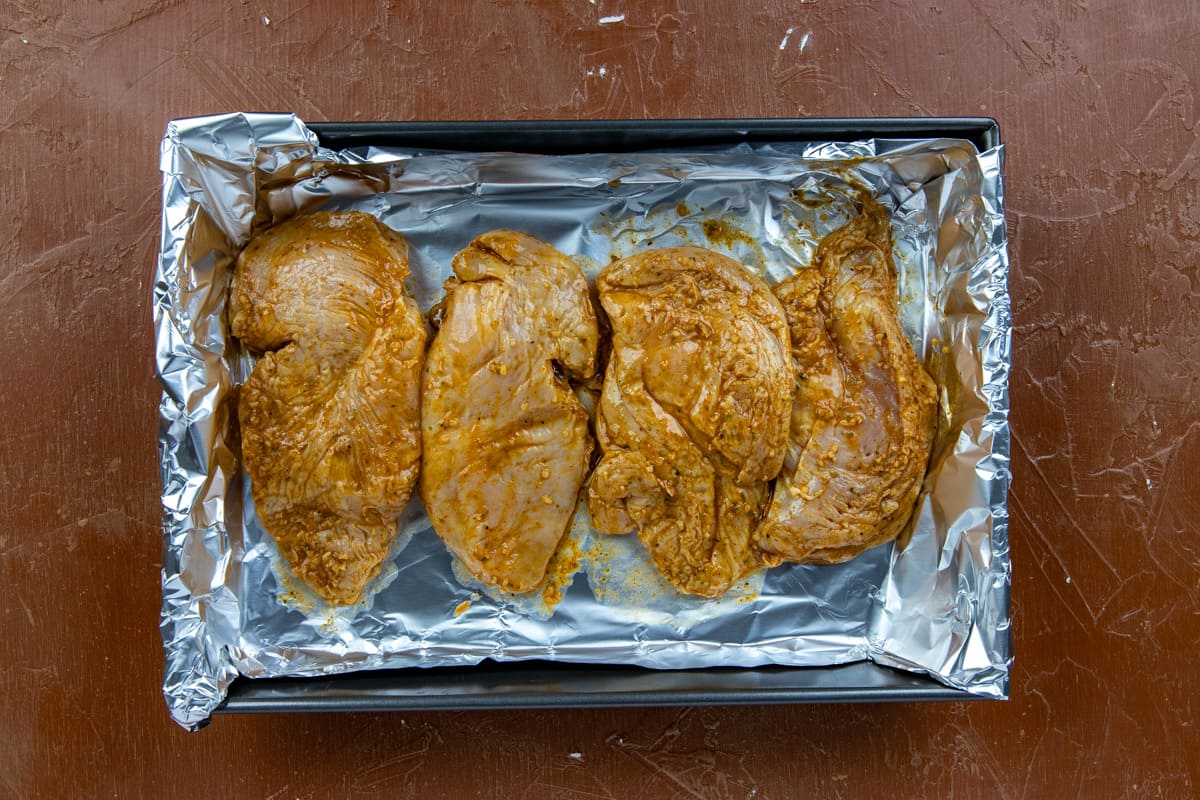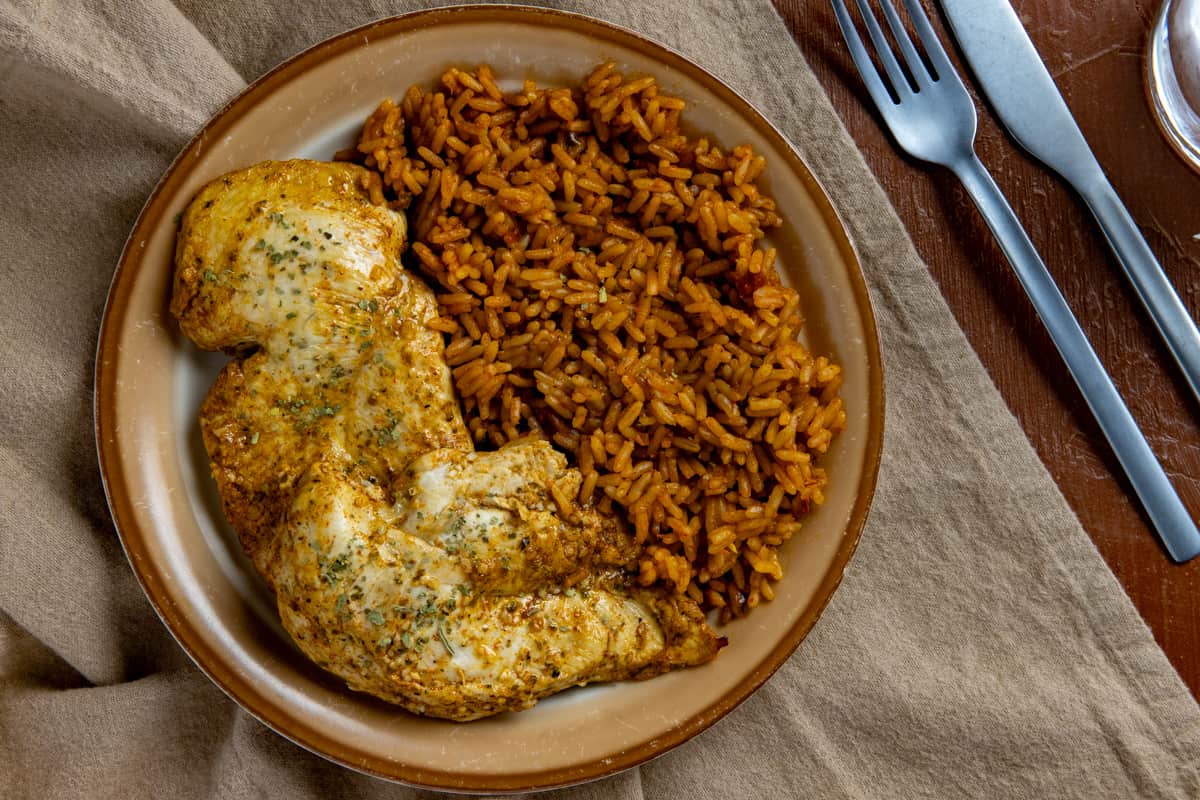 Sides for Mexican Marinated Chicken
You could go for the Mexican restaurant style dishes such as rice, beans, and pico de gallo served with sliced chicken in a flour tortilla.
Serve the whole breast on a plate with mashed potatoes, cast iron jalapeno cornbread, or Southern mac and cheese.
Serve chopped chicken on top of a mixed green salad with sliced avocado, tomatoes, and cheddar cheese. Top with your favorite salad dressing.
Frequently Asked Questions
How long should you marinate chicken?
The optimal flavor and tenderness, aim for 5-6 hours. Since this marinate has both citrus acid and vinegar, it's best to marinate for no more than 12 hours.
Do you wash chicken before marinating?
Most experts agree that you should not wash or rinse chicken, or any meat, before using it. The reasons are because if there are any bacteria present, rinsing will not kill them so it's a waste of your time. Secondly, you run the risk of spreading those potentially harmful bacteria. Yuck and double yuck!
What's the secret to juicy chicken?
(1) Marinating chicken and (2) not overcooking it! Both are key to flavorful, juicy, tender chicken.
What are the 3 main ingredients when marinating?
Typically, marinade contains oil, acid (such as vinegar or citrus), and seasonings.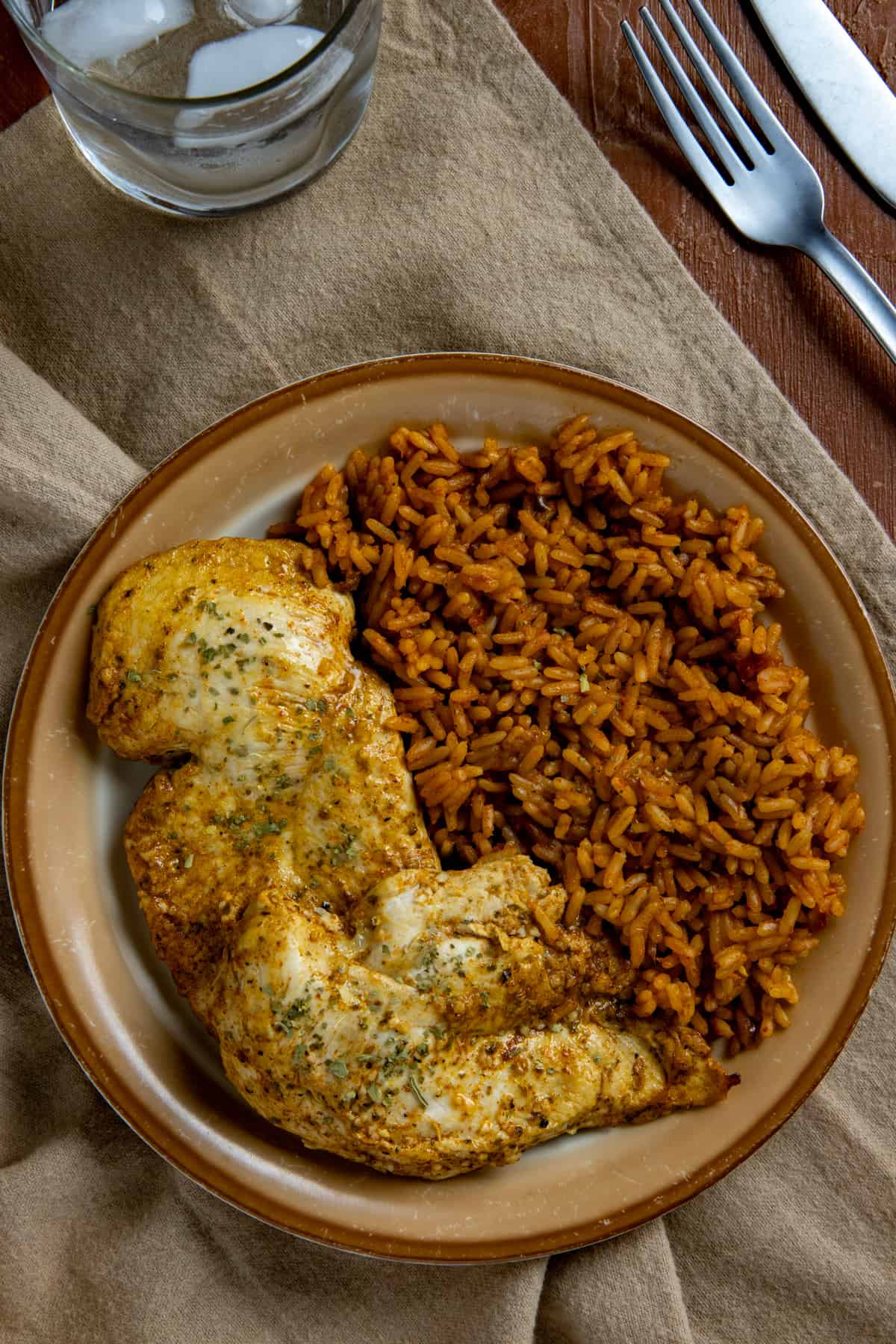 More Chicken Recipes
If you'd like some recipe inspiration delivered straight to your inbox, sign up for my email newsletter on my subscribe page and receive a free 5-day meal plan.
If you tried this recipe, please let me know by leaving a comment! I'd love to hear from you.
Recipe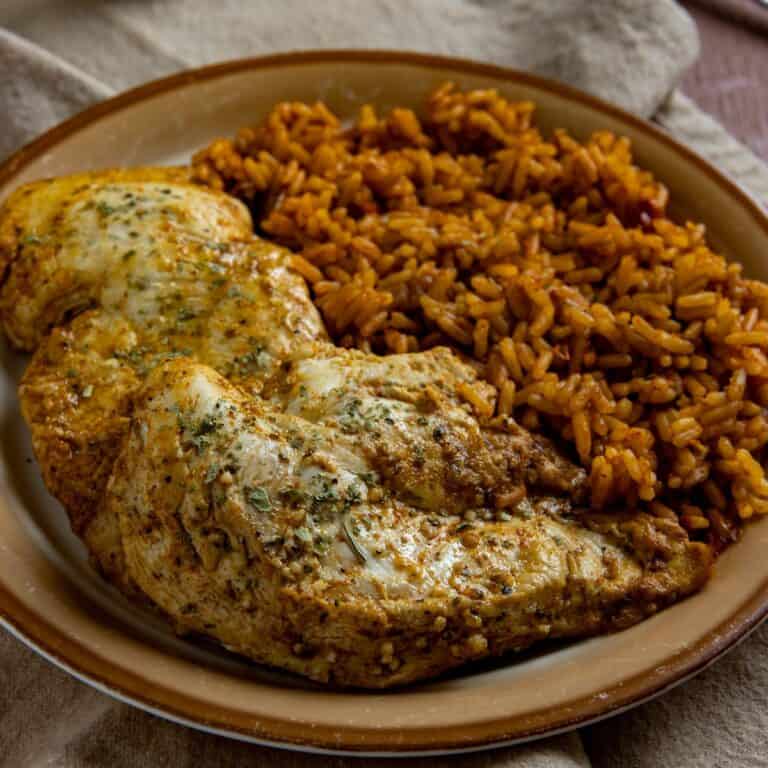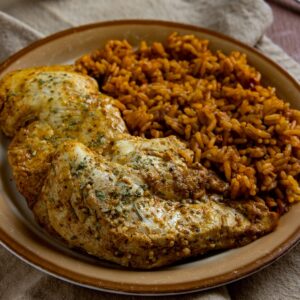 Mexican Chicken Marinade
Chicken breasts are marinated in a tangy, smokey citrus marinade that are super flavorful and juicy, then oven baked for a fuss free meal.
Print
Pin For Later
Rate
Ingredients
4

boneless skinless chicken breasts (about 1-inch thick)

approximately 8 ounces each

1

tablespoon

lemon juice

2

tablespoons

lime juice

¼

cup

extra virgin olive oil

½

teaspoon

ground cumin

½

teaspoon

smoked paprika

1

teaspoon

chili powder

½

teaspoon

sea salt

½

teaspoon

black pepper

1

teaspoon

dried cilantro

1

teaspoon

minced garlic

1

teaspoon

white vinegar
Instructions
Place chicken in a large ziptop bag (or small dish in a single layer).

Place remaining ingredients in small bowl, cup, or mason jar and mix well.

Pour marinade over the chicken making sure all the chicken is coated with the marinade. Close the bag (or cover the dish).

Place the chicken in the refrigerator and marinade 5-6 hours (but no more than 12 hours). Make sure the chicken is in a single layer and not overlapping each other.

When ready to eat, preheat the oven to 450F. Place the chicken breasts in a single layer on a pan lined with foil (for easy cleanup).

Bake for 15 minutes, remove from the oven, loosely cover with foil, and let the chicken rest for 5-10 minutes. If your chicken breasts are thinner or thicker, you will need to adjust the baking time. See notes below.

Serve chicken with your favorite side or slice into strips and serve as fajita or taco meat.
Notes
The USDA recommends cooking chicken breasts to 165 degrees Fahrenheit (F).  Use a digital meat thermometer, and pay close attention to the temperature.  Immediately remove the chicken once it reaches 165F.  Overcooking the chicken surely guarantees you'll end up with dry chicken!
Instead of baking the chicken, you can pan fry or grill for 6-8 minutes per side over medium heat. Just be sure to remove it from the heat as soon as it hits 165F!
Store leftovers in the refrigerator for up to 3 days (keep them in an airtight container).
Nutrition
Calories:
386
kcal
|
Carbohydrates:
2
g
|
Protein:
48
g
|
Fat:
20
g
|
Saturated Fat:
3
g
|
Polyunsaturated Fat:
2
g
|
Monounsaturated Fat:
12
g
|
Trans Fat:
0.03
g
|
Cholesterol:
145
mg
|
Sodium:
563
mg
|
Potassium:
879
mg
|
Fiber:
0.4
g
|
Sugar:
0.3
g
|
Vitamin A:
349
IU
|
Vitamin C:
7
mg
|
Calcium:
20
mg
|
Iron:
1
mg
Nutritional information is provided as a courtesy to my readers. I'm not a nutritionist and I don't guarantee the accuracy of this data. The data may differ according to the brands I used versus the brands you use. To calculate the data yourself using your brands, try using an online nutrition calculator or app.