We've all been ready to make our favorite chili, spaghetti, or tomato soup, and as we start to lay out the ingredients, we realize we don't have that one component we need to take the meal to the next level. Ugh, we are out of tomato paste!
So, we set out to create the ultimate guide for easy tomato paste substitutes. Read on for 23 great substitute options!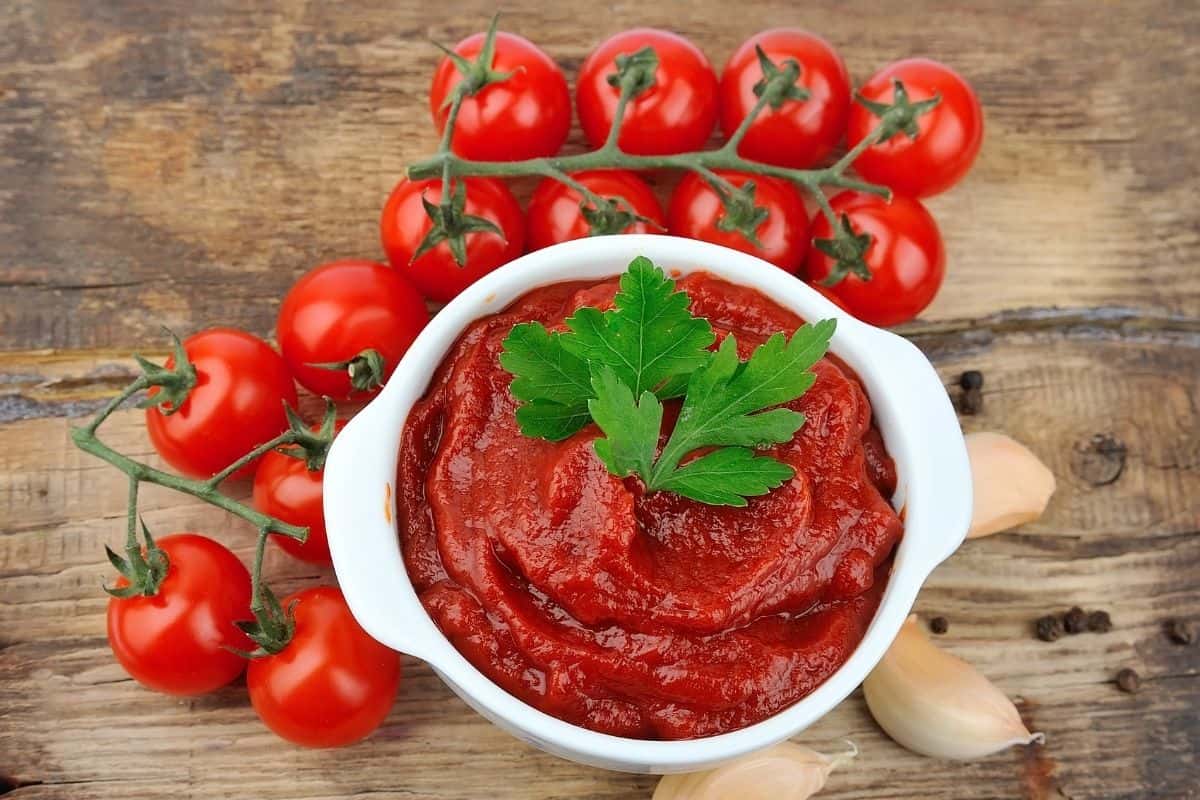 Tomato paste is generally on my grocery list when I'm writing out a list for a specific recipe I want to make. While it's typically something I keep on hand, I never really thought through why we need it in the first place if we already have tomatoes. Is it just me?
After returning home from the grocery store, I realized that I forgot to actually buy tomato paste. Now, what? I decided that I would try to see what I could use to work in a pinch as a quick substitute.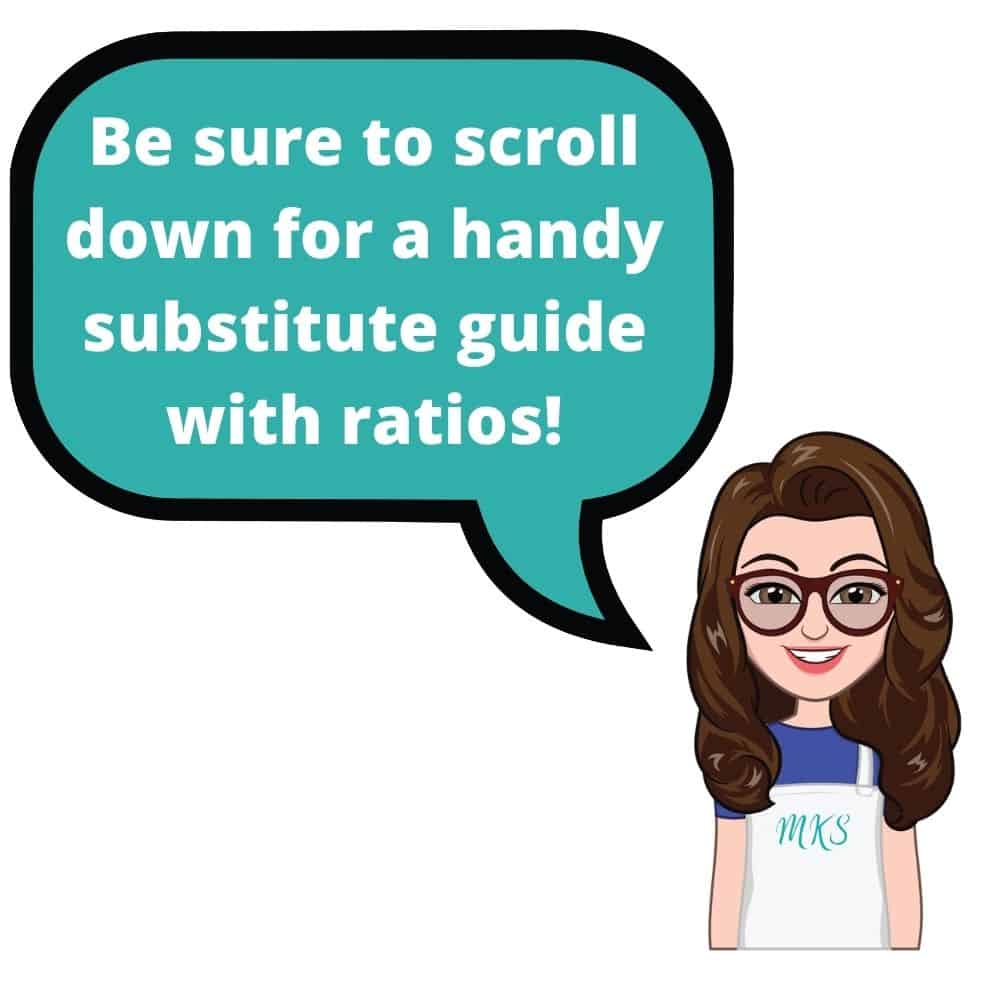 Here are a few recipes that use tomato paste:
Jump to:
What Is Tomato Paste?
What is tomato paste anyway? I knew it must be made of tomatoes, but that's where my intricate knowledge of this ever so useful ingredient ends. Tomato paste is made by cooking down fresh tomatoes and straining their seeds and skin, which condenses them down to a paste. Interesting, right!
You may find seasoned tomato paste at the store, but traditionally, tomato paste is simply cooked down tomatoes and nothing else.
Which should be easy to substitute for, right? Yes! I found more than a few ways to create this flavorful paste in a pinch and beyond. I'm excited to share with you all the interesting and helpful information I found!
What is Tomato Paste's Origin?
Of course, our Italian friends decided tomato flavor was worth having throughout the year and I certainly agree with them. Greek families knew fresh tomatoes were only accessible during the summer months. Without the refrigeration systems we have now, they decided to condense and store tomato paste for when they made a recipe that calls for the robust flavor.
I thought this article was interesting - give it a read if you get a chance - History of Greek Food - Tomato Paste
Americans adopted this practice later on and created more and more recipes that need this unique flavoring. I love tomato paste as it adds a rich flavor as well as thickening sauces.
What is it used for?
Tomato paste is used in so many ways and in so many different recipes. Famous for its thickening attributes for stews, soups, and sauces, it's also known for its robust tomato flavor.
Tomato paste enriches the flavor profiles of tomato-based dishes and takes them to the next level. You can also use it in your marinades to boost the flavor profile for more savory meat. I really like this!
Do you even need the tomato paste?
I've asked myself this question a million times when I'm going through a new (or old) recipe, and I don't have tomato paste on hand. What I will tell you from personal experience is, yes, yes, you do need it.
You can quickly tell the difference in a soup, stew, or sauce that isn't thick enough. Your dish may end up with a watery consistency and lack the tasty, zesty tomato flavor.
Canned Paste vs. Tube Paste - which is better?
Both canned and tubed tomato paste gives you that robust tomato flavor. But if you're looking for a taste that's just a tad bit better, you should go with the tube.
I love Tuscanini tomato paste in the tube. It should be available at your grocery store and it's always available on Amazon.

Tomato paste in a tube wins simply because of the ease of re-using it. Once you open a tube of tomato paste, squeeze out the amount you need, then store it in the refrigerator, and forget about it until next time. It lasts a long time but if you're like me, you may forget it's in there. Ooops! If it's too old, that's ok, because now we have a ton of substitutes to try!
Are Tomato Paste, Tomato Sauce, and Tomato Puree the same thing?
This is another question I've asked myself a few times. Now after learning the difference between the three, the answer is yes - mainly it's the consistency. Let's look at the differences between them:
Tomato paste: The thickest of the three comes from condensing different types of tomatoes into a thick paste. Its flavor profile makes you think of sun-dried tomatoes, rich and packed with tomato flavor. Used mainly as a thickening agent in recipes.
Tomato sauce: The thinnest of the three when it comes to its consistency. It's made up of diced tomatoes that have been simmered down to release instant tomato flavor and are customarily used for a pasta sauce that needs flavor.
Tomato puree: Puree is right in the middle when it comes to consistency while still having the same flavor. Think fresh, yes, ready to use. It's great, made from both cooked and raw tomatoes, pending the flavor profile you're looking for in your dish. Commonly used for our favorite thing here in America -- you guessed it, PIZZA!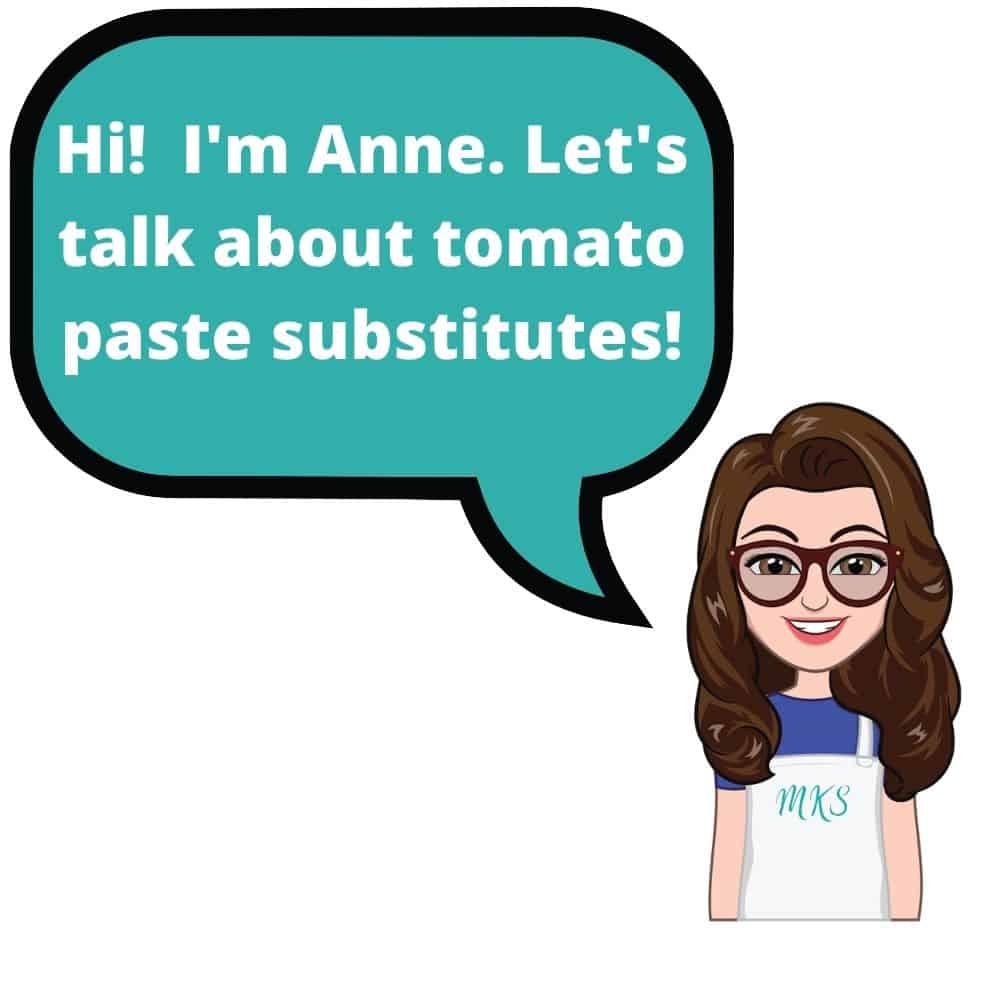 How much of a substitute should I use?
When using a substitute for tomato paste, you want to ensure you've reviewed the recipe thoroughly to see how much tomato paste it calls for. Most recipes only call for 1-2 tablespoons to increase the tomato flavor profile.
You should start by looking at a can or tube of tomato paste to measure the amount inside. Tomato paste amounts are generally about 10 tablespoons in a 6-ounce can and about 14 tablespoons in a 7.05-ounce tube.
You should try to stay at 2 to 3 tablespoons when using a sub for tomato paste.
Tomato Paste Substitute Guide
I've put together a simple guide to help you with your substitute selections. This table includes the amount and ratio needed for each tablespoon of tomato paste you would normally use.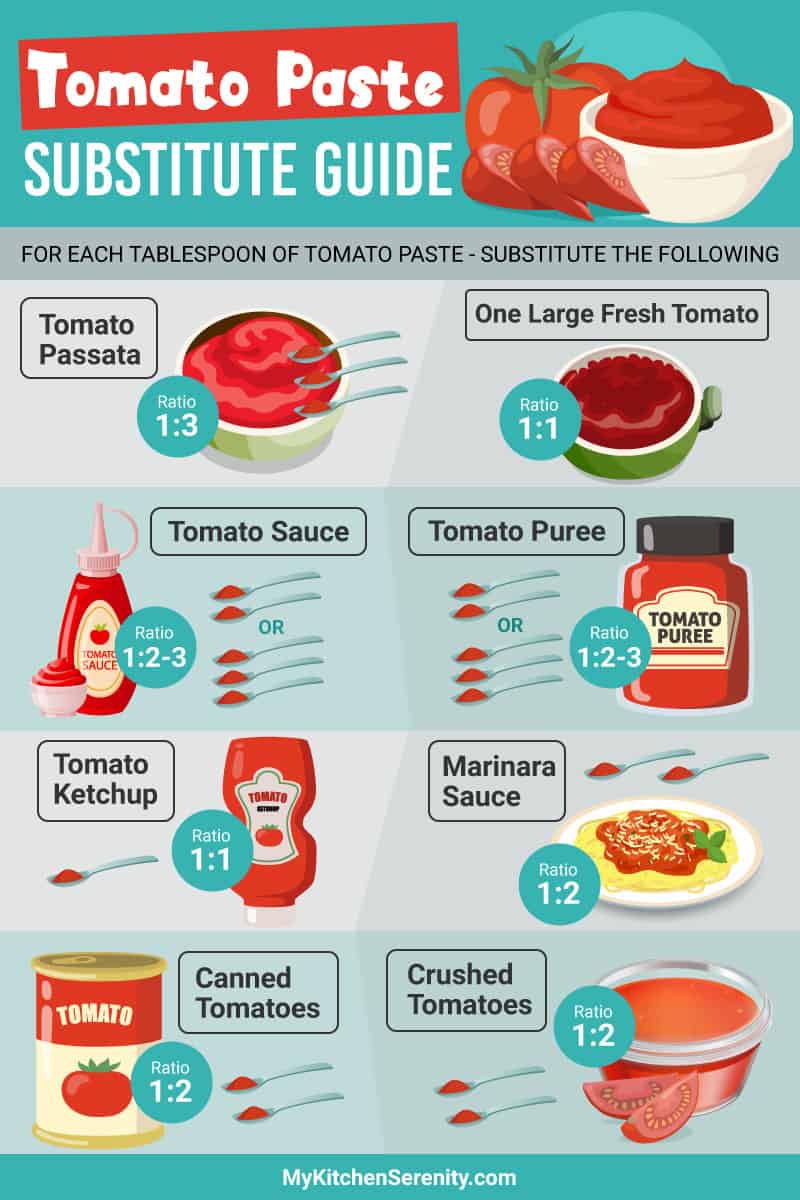 Tomato-based Substitute Options
Tomato Passata: This is pureed uncooked tomatoes, usually used as a thickening agent for tomato-based sauces. Definitely a great substitute for tomato paste, seeing they're so closely related.
When using tomato passata as a substitute, you want to bring it to a simmer to bring out its additional liquid as the passata cooks down. When doing measurements, you want to stay in the 1 tablespoon of tomato paste ratio being equal to 3 tablespoons tomato passata.
Fresh Tomatoes: Fresh tomatoes can also be used to replace tomato paste in a recipe but you'll have to work to get them to the consistency needed.
First, peeling and removing seeds, then cooking the fresh tomatoes down until they have significantly reduced. Use the measurement of 1 large tomato for every tablespoon of tomato paste.
Tomato Sauce: Tomato sauce is a thinner version of tomato paste. To substitute tomato sauce for tomato paste, you'll have to use a more considerable amount for the flavor or thickness you're looking for from the paste.
When measuring, use the ratio of 2 to 3 tablespoons of tomato sauce for every tablespoon of tomato paste.
Diced Tomatoes - Canned Tomatoes: Diced tomatoes are picked and chopped at the peak of ripeness. Used to replace tomato paste in most recipes.
When using diced tomatoes as a replacement, they have an immense amount of water. They will also need to be cooked down to increase the tomato flavor, thickness, and concentration when used as a sub for tomato paste.
Stewed Tomatoes: These tomatoes are picked fresh and mixed with spices and other fresh ingredients to create a unique flavor. When using stewed tomatoes like the above, you must ensure to reduce the amount of water and cook them down for a smoother consistency for your dish.
Tomato Puree: This is one of the best substitutes for tomato paste as it almost mimics its smooth condensed consistency. With that in mind, you would double the amount of tomato puree in your recipe for tomato paste and cook it down to the desired texture.
Crushed Tomatoes: Can quickly become a tomato paste substitute. It's simple for this one; drain, season, and mix in for thickness for that tomato flavor your dish needs.
Ketchup: Ketchup is a great substitution for tomato paste and is probably the most used sub on our list.
Ketchup does have a sweet flavor, so you may want to ensure your recipes call for the sweetness ketchup brings to the table. When measuring, you can use a 1 to 1 ratio for ketchup since they are closely related.
Marinara Sauce: This is a thick pasta sauce mixed with onions, garlic, olive oil, and your choice of spices.
When measuring, use 2 tablespoons of marinara sauce for every 1 tablespoon of paste.
Non-Tomato options to consider
Vegetable-based Options:
Pureed Vegetables are always a good substitution for tomato paste and may give you an even bolder flavor. It's easy to simmer vegetable puree down and condense it to a thicker agent for your soup or stew.
Olive Tapenade: This is not a thickening agent that we think of often but can be used as a substitute for tomato paste. It's olives, anchovies, capers, parsley, garlic, lemon juice, and seasoning and then processed into a paste.
Pureed Roasted Red Peppers are a flavorful choice to use when substituting for tomato paste. Use a jar of roasted red peppers and puree until smooth. Seeing it's close to paste consistency, you would just need to use a 2:1 ratio when measuring it out.
Miso Paste is a fermented mixture of soybeans with a mold called koji and mixed with the makers' favorite spices. You can use this as a substitute for tomato paste.
Harissa: Is a hot chili paste very close to the consistency of tomato paste. You can use harissa as a substitute but should note the very different flavor!
Soy Sauce: Is always a friend to a meal. If you're choosing soy sauce as a sub for tomato paste, you want to ensure you don't need it to thicken as soy sauce is on the thinner side of things. Use the ½ to 1 ratio or the taste method due to its salt content; it's very different from the sweeter flavor of tomato paste.
Fish-based Options:
Fish Sauce: Like soy sauce, fish sauce is thinner than tomato paste and brings a bold flair when used. Be sure to taste test when using this ingredient for that flavor fact alone.
Anchovy Paste is made up of just anchovies, olive oil, and salt, but packed with taste. And will bring a VERY bold salty depth to any dish it's added to.
Cheese Options:
Cream Cheese: Cream cheese is one of my favorite go-to's when I need to substitute for tomato paste as it adds a creamy flavor to the dish. Pro Tip: use whipped cream cheese.
Cheese: Melted cheese is a fantastic substitute for tomato paste adding both flavor and texture. Be sure to use shredded cheese for easy melting.
Other Thickening Options:
Corn Starch: Cornstarch is an active ingredient to thicken most sauces. Simply boil the water or sauce you want to thicken and sprinkle in the cornstarch. Be sure to stir or whisk the sauce as you sprinkle the cornstarch in.
Roux: If you're looking for both fat and flavor, you've found the proper substitute for tomato paste. There is just a little work involved to get to the consistency you need. You can start by heating the roux and adding in your favorite flavors. Once you've thoroughly mixed the roux, you can add it as a thickening agent to your dish.
How to make your own tomato paste
There are so many great ways to keep it simple and make your tomato paste at home. Here are three quick and easy variations you can make.
Tomato sauce: When making tomato paste from tomato sauce, you simply simmer until you've reduced it to paste consistency. You'll have to keep stirring while reducing it down to get it to a paste.
Fresh Tomatoes: When making tomato paste from fresh tomatoes, you'll need to peel the skin off and remove the seeds. Next, season and stir continually while reducing it down. Pro Tip: heirloom cutting tomatoes are a great choice for homemade tomato paste.
Canned Tomatoes: Can be thrown into a blender to get them to a smoother texture for your paste. You then place the tomato mixture into a saucepan and bring it to a boil. Continue cooking, constantly stirring until thickened and reduced by about two-thirds.
Want more? Visit The Spruce Eats for 3 Easy Ways to Make Homemade Tomato Paste!
Substitution options for those with tomato allergy
We all have someone we love that may have an allergy, and that's when we have to pivot. While researching tomato paste substitutes, I found a couple of options for those with a tomato allergy.
Notmato Paste: When looking for an alternative, I found a tomato paste recipe simply made up of chopped beets, carrots, pumpkin puree, and balsamic vinegar. Sure to add an extraordinary flair to your dish of choice. Check out this notmato paste recipe from Savory Nature.
Tomato-Free "Ketchup": I found a bottled tomato-free "ketchup" from KC Natural on Amazon. This is an easy substitute for tomato paste for those with tomato allergies.
Are there health benefits to using a substitute?
I'm not a health expert so I'm not offering any kind of medical advice, but there are, of course, benefits to substituting for tomato paste, pending what you're looking for. Some of the substitutions listed are rich in vitamins and minerals; some have fewer carbohydrates, less sugar, and even less sodium. Always do your own research when it comes to nutritional information; use a site like HappyForks.com to calculate nutritional data.
How do you store tomato paste?
There are a few ways to store your tomato paste. Pending how quickly you will be using it, will directly affect how you choose your storage method. If you are making another dish that needs tomato paste within the week, you'll want to place it in the refrigerator, where it lasts 5-7 days.
I prefer to use BPA-free glass containers with locking lids. Check out this 18-piece set of glass food storage containers with locking lids from Bayco, available now on Amazon.
You can also freeze your leftover tomato paste in cubes of ice, where it lasts for up to 4 months.
Tomato paste will spoil. To ensure you don't waste your leftovers, be sure to have your leftover method ready. This will also save you from wasting it, as most recipes only call for 1-2 tablespoons.
All in all, we have a pretty vast list of substitutes for tomato paste. Be sure to let us know if you use one and how it worked for you. We would love to know if you find any additional substitutes we can add to the list.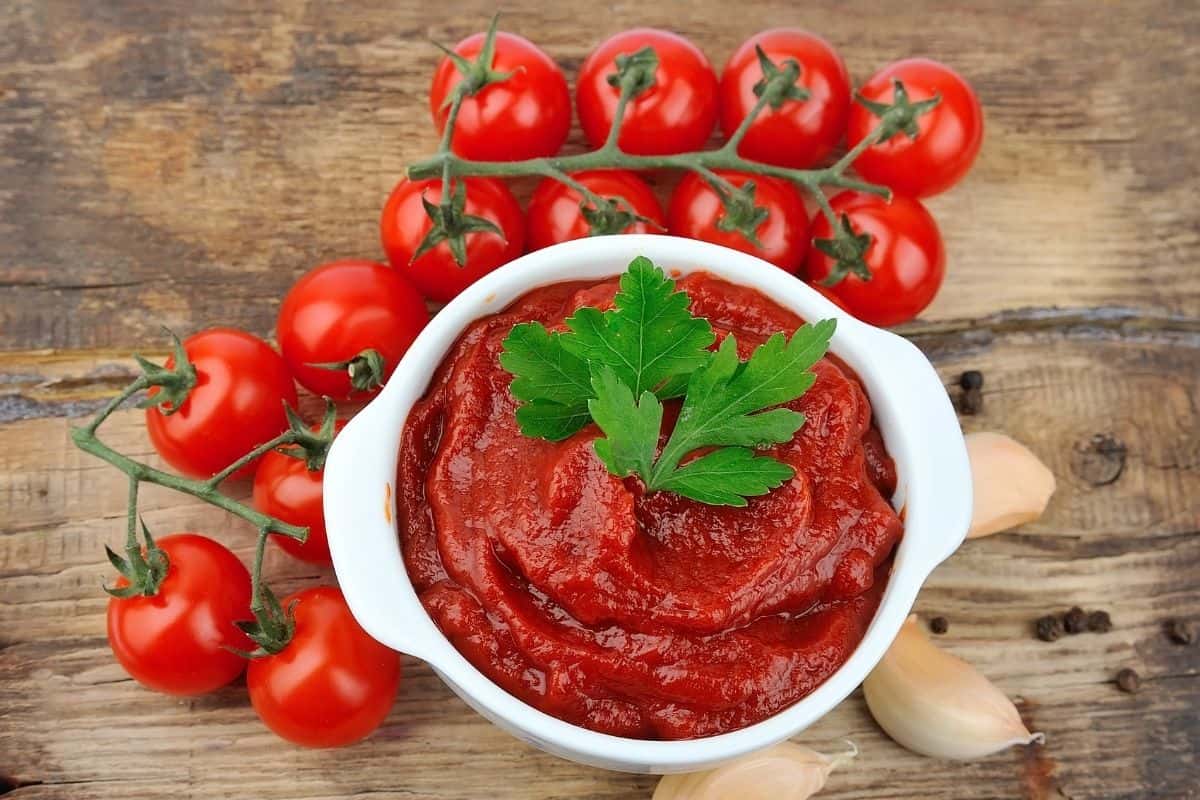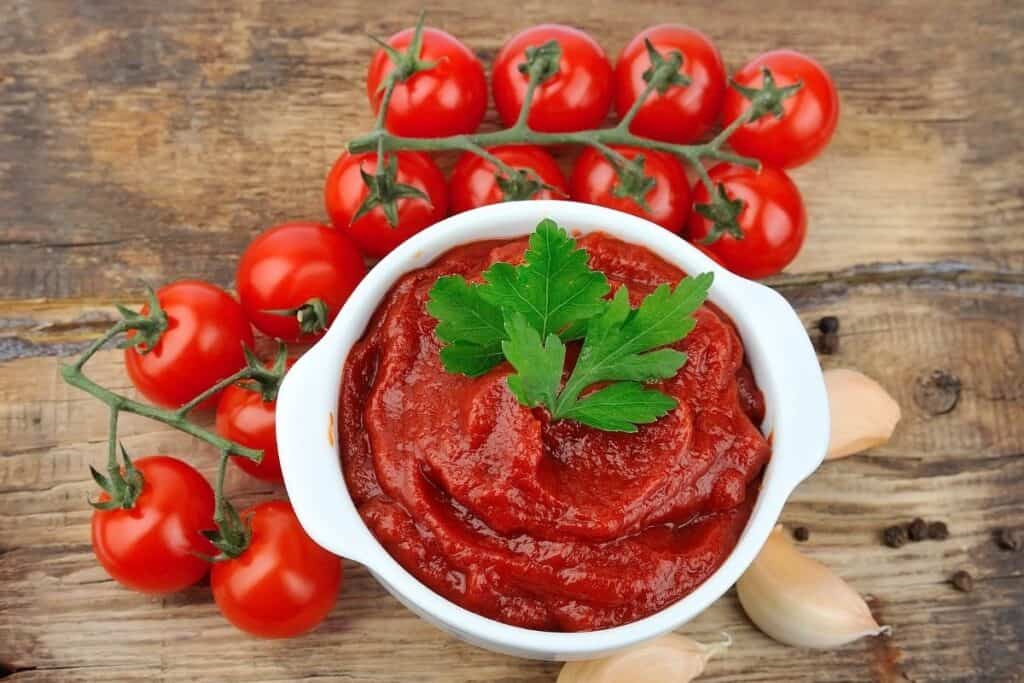 Practical steps to take:
Screenshot the infographics here in this post, it can be used as a quick go-to.
Be sure to pin this on Pinterest as a reference.
Be sure to read the labels when choosing which substitute to use.