My easy Cinnamon Applesauce Muffins make a delicious breakfast or a tasty snack. Fluffy, moist and topped with an absolutely addictive cinnamon sugar mixture, these Bisquick muffins are sure to become a family favorite. As an added bonus, they're ready to eat in under 30 minutes!
Quick Note: This recipe was originally published in February 2019. It was updated in December 2020 with fabulous new photos. This post also contains Amazon affiliate links. Please read my disclosure statement for more details.
Welcome to My Kitchen Serenity! I'm excited to share with you our favorite cinnamon applesauce muffin recipe. Cinnamon sugar has always been a favorite for my children, and I grew up on cinnamon sugar toast. So, topping these easy bisquick muffins with cinnamon sugar was a no brainer!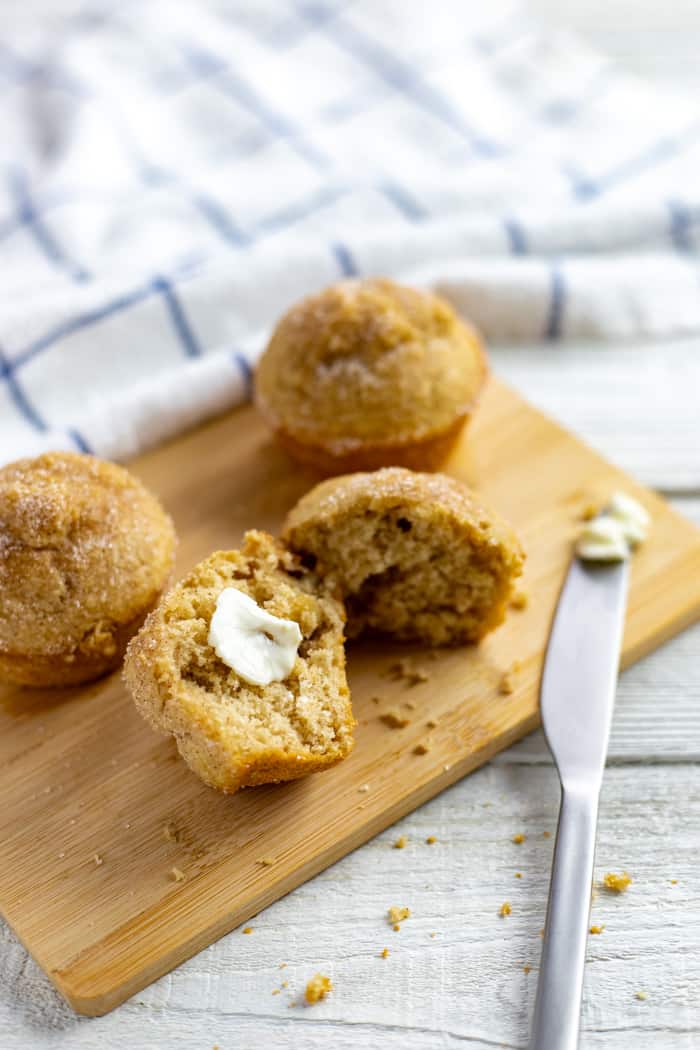 Why you should make these applesauce muffins
These sweet, breakfast-y muffins are moist and full of apple cinnamon flavor! Have one for dessert with your favorite coffee or tea to satisfy that sweet tooth. Pack one inside a school lunch bag for a happy surprise come snack time.
One batch makes about 10-12 yummy muffins, meaning there's plenty to share with coworkers, neighbors or friends. And the best part? These tasty treats are super easy to make, taking less than 30 minutes from start to finish.
My applesauce muffin recipe calls for Bisquick instead of regular flour, making these muffins extra delicious. Bisquick gives the muffins the slightest hint of a biscuit or pancake. While similar to a cinnamon sugar biscuit, using Bisquick ensures a light and fluffy muffin and I just love the texture and taste.
As a bonus, Bisquick already has leavening and salt added, meaning there's less for you to measure. Simplicity at it's finest! So what are you waiting for? Let's make a batch of these delectably sweet treats together RIGHT NOW, okay?
Ingredients and Equipment
My recipe for cinnamon applesauce muffins is short and sweet. Here's everything you'll need to make them: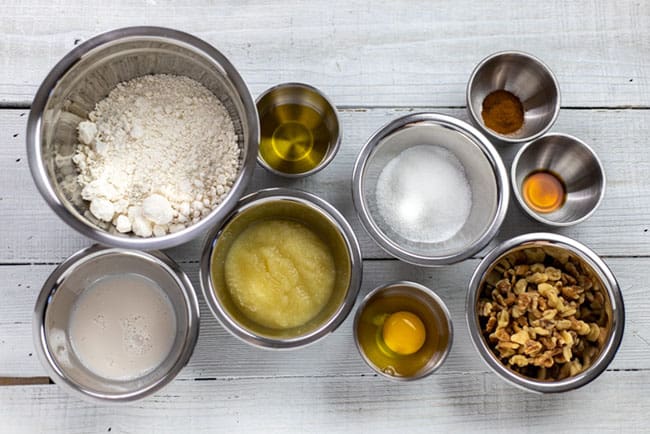 Ingredient Notes:
Bisquick

– Bisquick is my preferred baking mix because I grew up with it and trust the quality. You can try subbing in your favorite baking mix here, but note that results may vary depending on the mix.

Applesauce

– If you don't often eat applesauce, do what I do and keep the individual serving sized cups on hand. This recipe requires just one. I recommend using unsweetened applesauce where possible, but cinnamon flavored is perfect acceptable!

Sugar –

I used granulated sugar for this muffin recipe, but you can feel free to swap in brown sugar or coconut sugar instead.

Milk

– If you're dairy free, simply swap in your favorite milk of choice!

Egg

– If you're allergic to eggs, you can swap in a flax egg (1 Tbsp ground flax + 3 Tbsp water mixed together for about 5 minutes), or add 1/4 cup extra applesauce.

Cinnamon

– My family happens to LOVE cinnamon, so I like to add some extra flavor to the muffin batter. You can opt to omit this and just add cinnamon sugar if you prefer a lighter flavor.

Oil

– Opt for a neutral flavored oil for best results. Vegetable, canola or corn oil will all do the trick!

Vanilla Extract

– I find that adding just 1/4 teaspoon adds a lovely depth of flavor to the muffins. Feel free to omit it, or swap in maple extract for more of a fall flavor!

Chopped Nuts – While they're optional, I love adding some unsalted walnuts or pecans for some extra crunch and heart healthy fat.

Cinnamon Sugar

– While you can buy pre-made cinnamon sugar from the store, it's much cheaper to make your own and only takes a few seconds to throw together!
Kitchen Equipment Notes
Making these simple cinnamon applesauce muffins is pretty dang simple and straightforward. You'll need some basic kitchen equipment including:
Muffin Pan

–

OXO offers a wonderful, heavy-gauge muffin pan with easy grip sides.

Muffin Liners – these are optional. If you don't have any on hand, just grease the muffin tin!

Large Mixing Bowl

Measuring Cups & S

poons

Whisk

Basting Brush – this is to add butter to the tops of the muffins so the cinnamon sugar adheres. If you have a clean, unused paint brush, feel free to turn it into your basting brush!
How to Make Cinnamon Apple Bisquick Muffins
STEP 1: Preheat oven to 400F. Lightly grease muffin pan or paper liners.
STEP 2: Add sugar, cinnamon, applesauce, egg, milk, vanilla extract, and oil to a large bowl. Blend well with a whisk. Add Bisquick and blend until just uniform.
TIP: Mix until *just* combined. If you over mix, the muffins will be too dense. Don't believe me? It's science.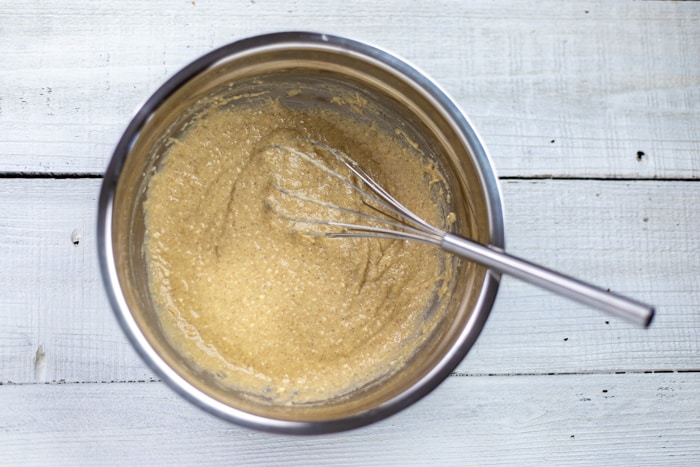 STEP 3: Fill the muffin cups 2/3 full.
TIP: To make this step easier, employ the use of your ice cream scoop!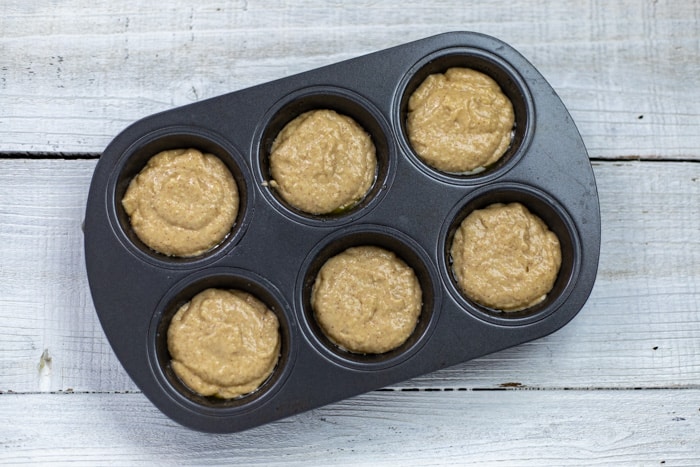 STEP 4: Bake at 400 for about 10-12 minutes, or until a toothpick inserted into the center of a muffin comes out clean.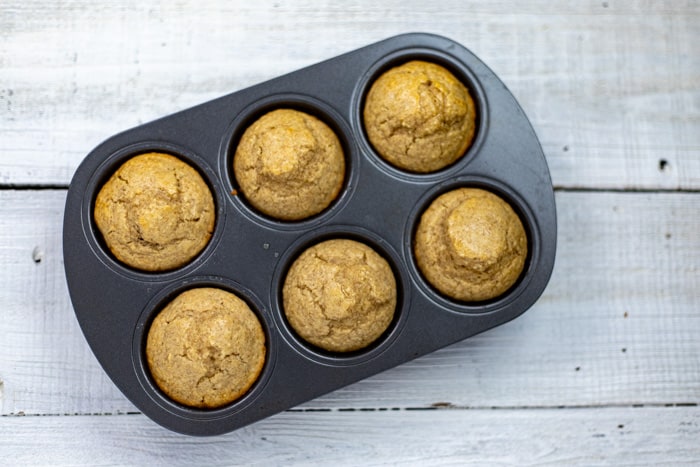 STEP 5: For the muffin topping: Combine the cinnamon and sugar ingredients in a small bowl Brush tops of baked muffins with melted butter. Sprinkle muffin tops with cinnamon-sugar mixture.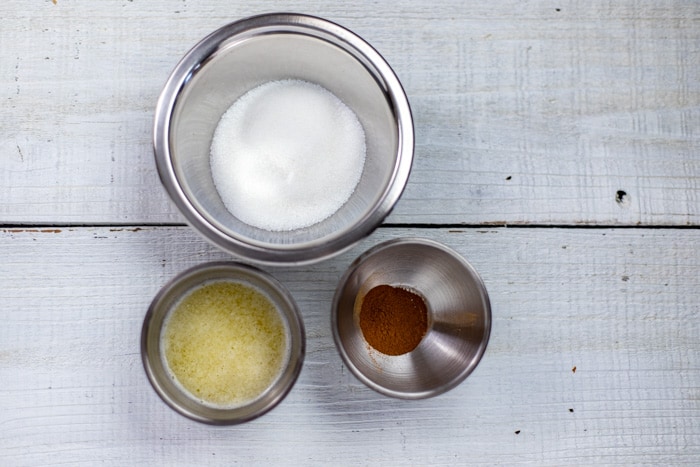 STEP 6: Enjoy! Makes 10-12 muffins.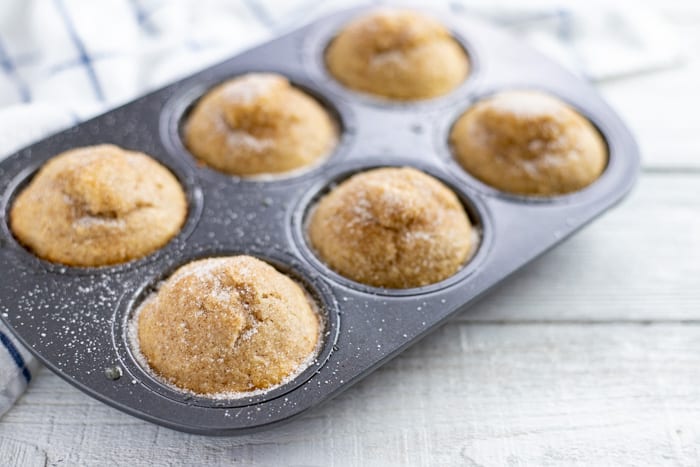 Serving and Storing Muffins
These yummy cinnamon applesauce bisquick muffins are delicious still warm from the oven. Slather with a little butter for an extra indulgent treat!
If you have leftover muffins, you can store them at room temperature for up to 3 days in an airtight container. You can also freeze muffins for up to 3 months if you wrap them tightly in aluminum foil or place in plastic freezer bags. To serve, defrost for at least an hour. Split in half and toast in the oven to get them nice and warm again!
Frequently Asked Questions
What is the difference between all-purpose flour and Bisquick?
Glad you asked! Bisquick is a pre-made baking mix with a hint of sugar. It's used for all kinds of baking recipes such as biscuits, muffins, pancakes, and waffles. It already has leavening (i.e. baking soda) and salt added, meaning there's less for you to measure in this simple muffin recipe. Hooray!
When was Bisquick invented?
Bisquick first hit the grocery store shelves in 1931! Wow! I can remember my mom using Bisquick when I was little. Rumors have it that the original baking mix ingredients have changed over the years; however, I've used it and haven't noticed much change at all in the flavor or consistency.
How should I serve these bisquick muffins?
I like to slice a hot muffin in half and put a pat of butter inside for a little extra richness. For day-old muffins, slice one in half and toast it. Then spread some cream cheese on both halves. Apple butter would also be a nice addition. Mmm, the possibilities are endless!
Can I make these muffins with my kids?
I would say yes! I have received several photos of parents/grandparents making these muffins with their children/grandchildren. Children love to help in the kitchen, and since this is an easy muffin recipe, it's a great one to try with the kids.
If you're working with a very small child, measure the ingredients and let the kiddo pour into the mixing bowl. If they're a little older, you can supervise them measuring the ingredients and placing into the mixing bowl. Older kids can also use the whisk to blend the batter. HINT: Baking is a great way to help kids understand fractions!
Just remember that adult supervision is of utmost importance. I'd advise that as the adult, you should handle the hot oven and pans. Make it a fun experience and your kids will learn how fun cooking can be!
What is the best way to transport homemade muffins?
If you're looking to share your tasty muffins with coworkers, you'll need to get them to the office intact. I recently discovered a plastic carrier that's perfect for transporting pies, muffins, and cupcakes. It's the Southern Homewares 3-in-1 Plastic Holder Container. It offers easy-grip handles, a snap-tight lid, and it's made out of durable plastic.
Need more grab-and-go breakfast inspiration? Check out these other yummy recipes:
Follow me on Facebook, Pinterest, and Instagram to get more delicious recipe ideas in your feed. You can also sign up for my email newsletter to get more traditional Southern recipes delivered straight to your inbox.
Please leave me a comment if you make this recipe. I'd love to hear from you. Let's keep in touch!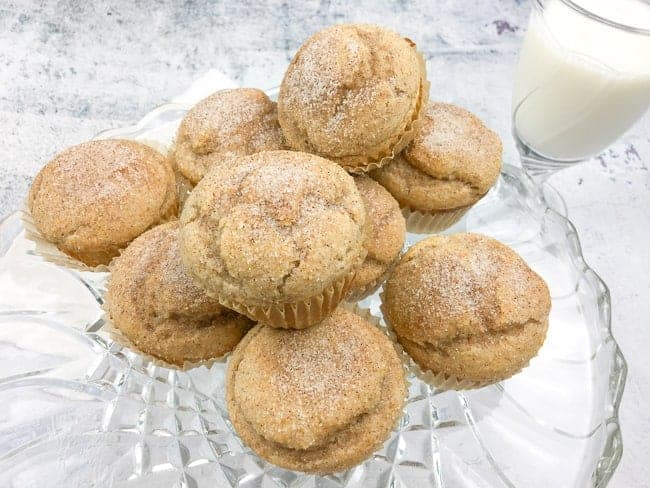 Cinnamon Applesauce Muffins
Easy muffins! Applesauce adds sweetness and moisture. Cinnamon adds warmness and comfort. A moist muffin that's great for breakfast or a snack. Sprinkled with cinnamon sugar on top.
Print
Pin For Later
Rate
Equipment
muffin pan

muffin liners (optional)

large mixing bowl

measuring spoons

measuring cup(s)

whisk

Basting Brush
Ingredients
MUFFIN INGREDIENTS
1

tsp

cinnamon

1/4

cup

sugar

1/2

cup

applesauce

1

egg

1/4

cup

milk

3

tbsp

oil

1/4

tsp

vanilla extract

2

cups

Bisquick

1/2

cup

chopped walnuts or pecans, unsalted (OPTIONAL)
CINNAMON SUGAR TOPPING INGREDIENTS
2

tbsp

melted butter

1/4

cup

sugar

1/2

tsp

cinnamon
Instructions
Preheat oven to 400F.  Spray muffin tins or paper liners with non-stick to keep muffins from sticking.

Add the cinnamon, sugar, applesauce, egg, milk, oil, and vanilla extract to a large bowl and blend with a whisk. Then add Bisquick (and nuts if using) and blend well.  

Fill muffin cups 2/3 full and bake for 10-11 minutes or until wooden toothpick inserted into muffin comes out clean.

Remove muffins from oven.

Mix the cinnamon-sugar topping and sprinkle on top of muffins.
PREPARE CINNAMON-SUGAR TOPPING
Mix the cinnamon and sugar together in a small bowl. Brush muffin tops with melted butter. Sprinkle muffin tops with cinnamon-sugar mixture.
Notes
Makes 10-12 standard size muffins.  Store cooled muffins in an airtight container for up to 3 days.
Nutrition
Serving:
3.5
oz
|
Calories:
334
kcal
|
Carbohydrates:
43
g
|
Protein:
4
g
|
Fat:
16
g
|
Saturated Fat:
4.5
g
|
Trans Fat:
0.2
g
|
Cholesterol:
11
mg
|
Sodium:
528
mg
|
Fiber:
1
g
|
Sugar:
23
g
My original photos from 2019. Not bad, but it was time for an update!