These easy Cinnamon Applesauce Muffins make a delicious breakfast or a tasty snack. Applesauce adds sweetness and moisture while cinnamon adds a warm and cozy flavor. Topped with a simple cinnamon sugar mixture. Makes about 10 fluffy moist muffins.
Quick Note: This post contains affiliate links. Please read my disclosure statement for more details.
Welcome to My Kitchen Serenity! I'm excited to share with you our favorite cinnamon applesauce muffin recipe! Cinnamon sugar has always been a favorite for my children. And I grew up on cinnamon sugar toast! So, topping these muffins with cinnamon sugar was a no brainer. This easy muffin recipe is ready in well under 30 minutes.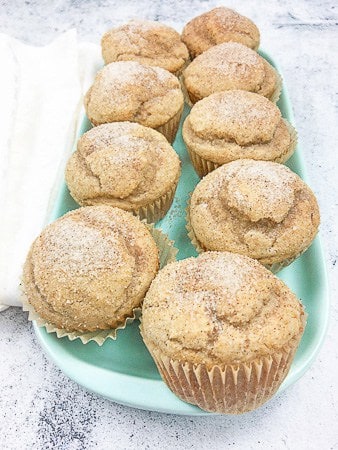 This recipe calls for Bisquick instead of regular flour. Bisquick gives the muffins the slightest hint of a biscuit. Using Bisquick ensures a light and fluffy muffin and I just love the texture and taste.
These muffins are moist and full of apple cinnamon flavor! Have one for dessert with your favorite coffee or tea to satisfy that sweet tooth. Pack one inside a school lunch bag. Cinnamon applesauce muffins are wonderful sweet breakfast muffins that your coworkers will thank you for.
What to Put on a Muffin
For these muffins, I like to slice a hot muffin in half and put a pat of butter inside. For day-old muffins, slice one in half and toast it. Then, spread some cream cheese on both halves. Apple butter would also be a nice addition.
Ingredients
2 cups Bisquick
1/2 cup applesauce
1/4 cup sugar
1/4 cup milk
1 egg
1 tsp cinnamon
3 Tbsp Oil
1/4 tsp vanilla extract
1/2 cup chopped nuts (optional)
CINNAMON SUGAR TOPPING:
1/2 cup sugar
1/2 tsp cinnamon
2 Tbsp melted butter
Kitchen Equipment/Tools Needed
muffin pan
muffin liners (optional)
large mixing bowl
measuring cups
measuring spoons
whisk
basting brush
Directions
STEP 1: Preheat oven to 400F. Lightly grease muffin pan or paper liners. OXO offers a wonderful, heavy-gauge muffin pan with easy grip sides. Find OXO Good Grips Non-Stick Pro Muffin Pan here on Amazon.
STEP 2: Add sugar, cinnamon, applesauce, egg, milk, vanilla extract, and oil to a large bowl. Blend well with a whisk. Then add Bisquick and blend well. Mix just until blended because if you overmix, the muffins will be too dense.
STEP 3: Fill the muffin cups 2/3 full then bake at 400 for about 10-12 minutes or until a toothpick inserted comes out clean.
STEP 4: After baking, brush tops of muffins with melted butter. Sprinkle tops with cinnamon sugar mixture. Enjoy! Makes 8-10 muffins.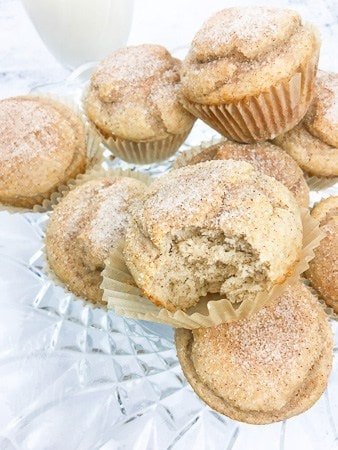 Please follow me on Facebook, Pinterest, and Twitter!
More Muffin Recipes
Banana Nut Muffins
Homemade Chocolate Muffins
Love apples? This Easy Apple Crisp is made with fresh apples, maple syrup, and cinnamon and topped with a crispy oatmeal almond topping.
Storing Muffins
Whether you're looking for make-ahead muffins, or you have leftover muffins, you can store muffins at room temperature for up to 3 days if they're stored in an airtight container.
You can also freeze muffins for up to 3 months if you wrap them tightly in aluminum foil or place in plastic freezer bags.
Kid-Friendly Muffins
I would say yes! I have received several photos of parents/grandparents making these muffins with their children/grandchildren. Children love to help in the kitchen and since this is an easy muffin recipe, it's a great one to try with your toddler or older children.
Adult supervision is of utmost importance. Measure the ingredients and let the child pour into the mixing bowl. If they're older, you can supervise them measuring the ingredients and placing into the mixing bowl. The older child can use the whisk to blend the batter. However, let the adult handle the hot oven and pans. Make it a fun experience!
How to Transport Muffins
So now that you've made these delicious muffins, what the best way to transport them? I recently discovered a plastic carrier that's perfect for transporting pies, muffins, and cupcakes. It's the Southern Homewares 3-in-1 Plastic Holder Container. It offers easy-grip handles, a snap-tight lid, and it's made out of durable plastic. Available now on Amazon!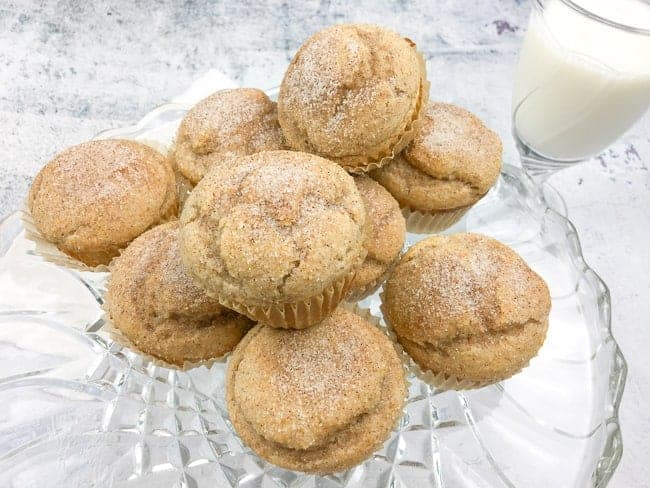 Cinnamon Applesauce Muffins
Easy muffins! Applesauce adds sweetness and moisture. Cinnamon adds warmness and comfort. A moist muffin that's great for breakfast or a snack. Sprinkled with cinnamon sugar on top.
Print
Pin For Later
Rate
Equipment
muffin pan

muffin liners (optional)

large mixing bowl

measuring spoons

measuring cup(s)

whisk

Basting Brush
Ingredients
2

cups

Bisquick

1/2

cup

applesauce

1/4

cup

sugar

1/4

cup

milk

1

egg

1

tsp

cinnamon

3

tbsp

oil

1/4

tsp

vanilla extract

1/2

cup

chopped nuts (OPTIONAL)
CINNAMON SUGAR TOPPING
1/2

cup

sugar

1/2

tsp

cinnamon

2

tbsp

melted butter
Instructions
Preheat oven to 400.  Lightly grease muffin pan or paper liners.  Spray paper liners with non-stick spray to keep muffins from sticking to paper cups.

Add the cinnamon, sugar, applesauce, egg, milk, oil, and vanilla extract to a large bowl and blend with a whisk. Then add Biscuit (and nuts if using) and blend well.  

Fill muffin cups 2/3 full and bake for 10-11 minutes or until wooden toothpick inserted into muffin comes out clean.

Remove muffins from oven and brush tops with melted butter. Mix the remaining sugar and cinnamon, and sprinkle on top of muffins.
Notes
Store cooled muffin in an airtight container for up to 3 days.
Nutrition
Serving:
3.5
oz
|
Calories:
334
kcal
|
Carbohydrates:
43
g
|
Protein:
4
g
|
Fat:
16
g
|
Saturated Fat:
4.5
g
|
Trans Fat:
0.2
g
|
Cholesterol:
11
mg
|
Sodium:
528
mg
|
Fiber:
1
g
|
Sugar:
23
g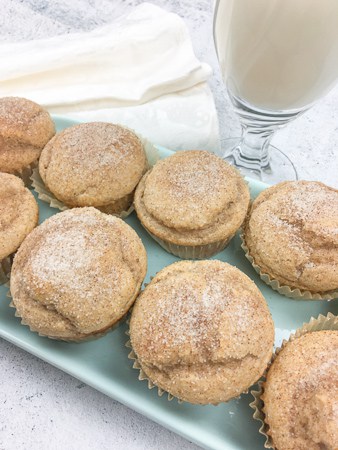 If you try these muffins and like them, please let me know by leaving me a comment. I'd love to hear from you.