It doesn't get any more southern than smothered pork chops! Tender bone-in seasoned pork chops are lightly floured and browned in a pan. Then topped with cream of mushroom soup and fresh mushrooms. Easy slow-simmered stovetop recipe for a delicious family dinner.
Hi, welcome to My Kitchen Serenity! I'm so glad you're here. If you're looking for an easy dinner recipe for the family, then let's talk about these melt in your mouth Smothered Pork Chops!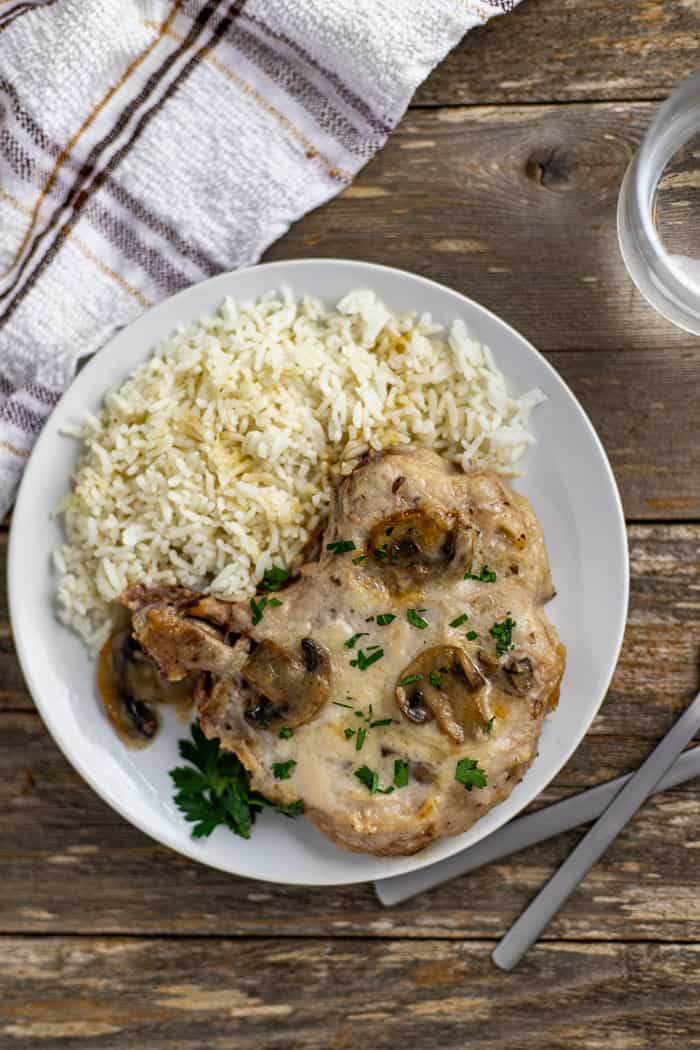 Nothing says comfort food like a plate of smothered pork chops with rice or mashed potatoes. However, if pasta is your go-to comfort food, give my Beef and Noodle Casserole a try. Now, let's get back to talking about THIS fabulous recipe!
Another comfort food recipe you may love is my Venison Stroganoff. Made with ground venison, sliced mushrooms, and a rich & creamy sauce served on top of egg noodles.
Why We Love This Recipe
Smothered pork chops with gravy is classic Southern comfort food. I like using cream of mushroom soup because it helps make the gravy creamy and flavorful. As the pork chops simmer with the soup and mushrooms, the gravy simply comes together effortlessly. If you feel like adding a green vegetable to the menu, these roasted brussels sprouts are another great side dish.
I think smothering anything in gravy is a southern tradition. After all, smothering adds flavor and the south is known for its flavorful and lively foods. We will smother beef, chicken, fish, shrimp, crawfish, cabbage, green beans, and a whole lot of other foods with gravy!
What Makes These Smothered Pork Chops The Best
These chops are slow simmered on the stove and covered in a rich, thick gravy with fresh mushrooms (add sliced onions and bell peppers if you wish). This has been an easy family dinner favorite for many years. This family recipe is suitable for an easy weeknight dinner (plan for 60 minutes for prep and cook time). Or add to your Sunday dinner idea rotation.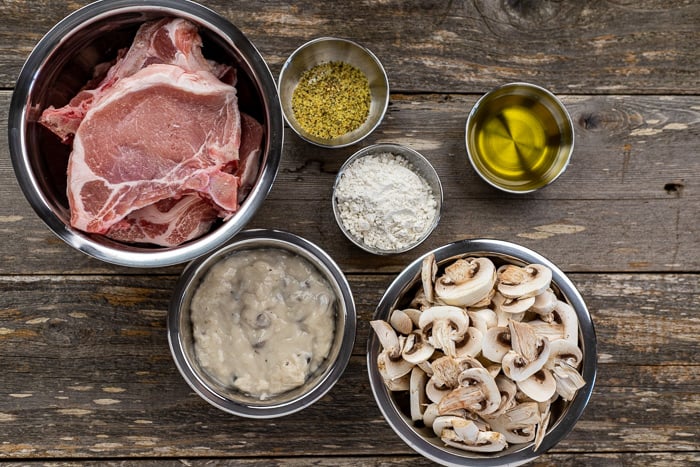 Ingredients for this Recipe
Bone-in p

ork chops

Fresh Sliced Mushrooms

Cream of Mushroom Soup

All Purpose Flour

Serve over cooked rice, mashed potatoes, or cooked egg noodles (if desired).
Easy Directions
Sear seasoned and lightly floured pork chops in a hot skillet. I like this skillet from Cuisinart because the base heats evenly and the handle stays cool! Remove pork chops from skillet and add fresh sliced mushrooms. Cook till tender; about 5 minutes. Those browned bits at the bottom of the skillet pack a lot of flavor!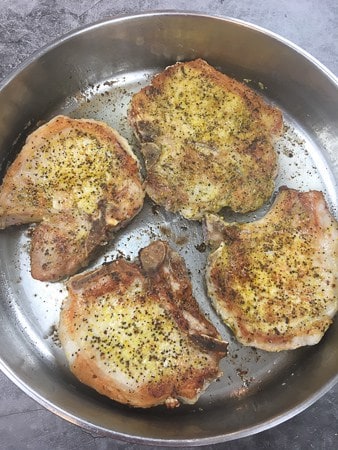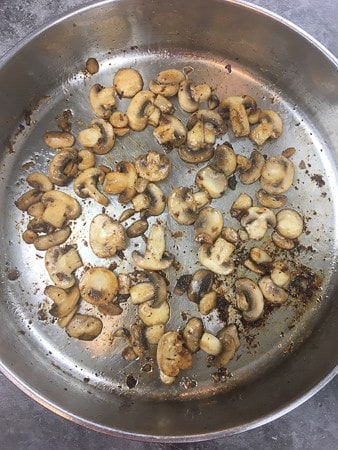 Return pork chops to the skillet and spoon cream of mushroom soup on top. Simmer slow on low heat for about 40 minutes and you've got yourself fall off the bone tender pork chops with a thick, creamy mushroom gravy that's perfect over rice or mashed potatoes.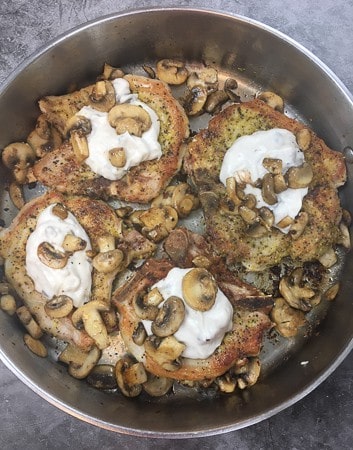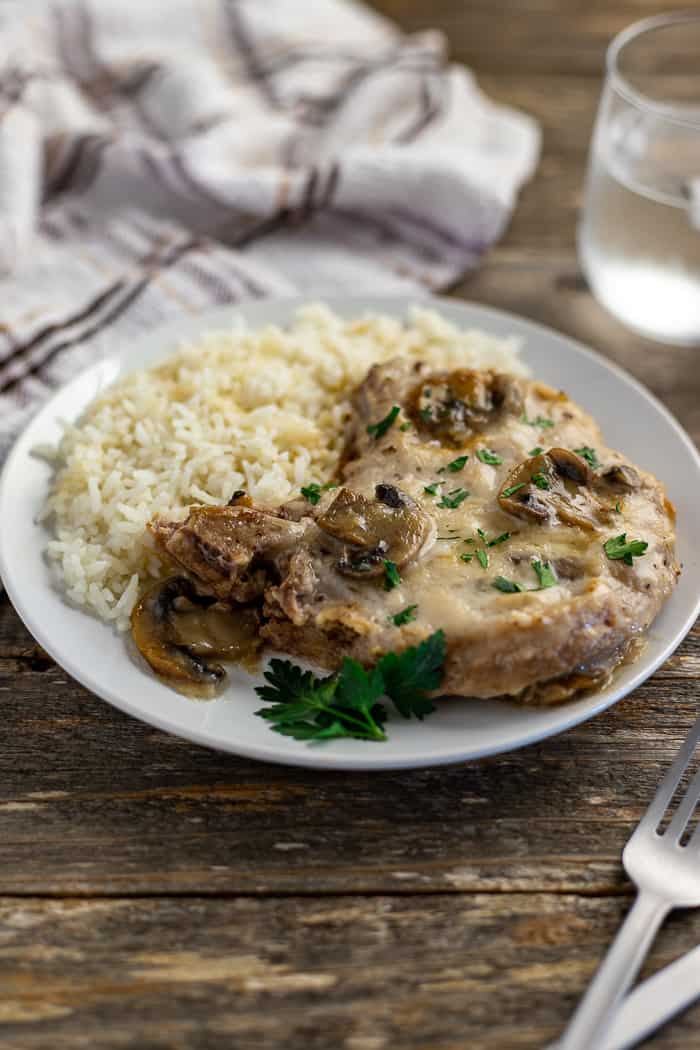 Are you a fan of pork? Try these other pork recipes:
Pork Curry over Cauliflower Rice
Side Dish Suggestions
So, what is a good side to go with your smothered pork chops? This recipe calls for rice as a side dish and nobody loves rice more than I do! Mashed potatoes are another popular side dish with pork chops. Check out my Easy Parmesan Herbed Potatoes. They take about the same amount of time to cook as the pork chops. Very convenient! This Roasted Broccoli recipe from Southern Bite is also a great choice. Just pop it in the oven about halfway through the cooking time for the pork chops to ensure they're both finished cooking at the same time. Last but not least, green beans are always a winner!
FAQS and Helpful Tips
Are Bone-in Pork Chops Better Than Boneless
This recipe calls for bone-in pork chops because they tend to be more flavorful and less dry than boneless. Pork steaks are great to use as well.
Make Sure Pork is Thoroughly Cooked
Undercooked pork carries the risk of you developing a foodborne illness. Use a meat thermometer to check the doneness of pork. Pork should be cooked to 145 degrees Fahrenheit with a 3-minute rest time. Since this recipe is slow cooked for 40-45 minutes, the pork chops will be perfectly cooked.
How Do I Cook Pork Chops Without Drying Them Out
Nothing is more disappointing than overcooking a pork chop. Overcooked pork chops are dry and tough and nobody wants that! This recipe ensures moist, tender pork chops by searing them first, then slow cooking them.
Gluten-free Alternatives
Yes, just skip the flour and use gluten-free cream of mushroom soup such as Pacific Natural Foods Organic Cream of Mushroom Condensed Soup; or make your own. I found this homemade, gluten-free cream of mushroom soup on the interwebs from The Spruce Eats.
How Long Will Leftovers Last
Store leftovers in the refrigerator for up to 3 days. Store in airtight containers. I like to use BPA-free glass containers with locking lids. Check out this 18-piece set of glass food storage containers with locking lids from Bayco. These containers are great for meal prep, too! Available now on Amazon.
If you tried this delicious recipe, please be sure to let me know how it turned out in the comments below!
Need more great recipe ideas? Follow me on Facebook, Pinterest, and Instagram to get more delicious recipe ideas in your feed.
Join my email list to get a variety of delicious recipes sent to your inbox. How easy is that, right?!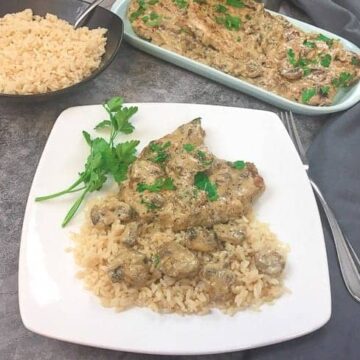 Southern Smothered Pork Chops
Tender pork chops smothered in a creamy gravy with fresh mushrooms. A simple, delicious one-pot meal slow cooked on the stove.
Print
Pin For Later
Rate
Ingredients
4

Pork chops, bone in

1-½

teaspoon

Lemon pepper

¼

cup

Flour

2

tablespoon

Olive oil

8

oz

Sliced fresh mushrooms (add more mushrooms if desired)

1

Can cream of mushroom soup
Instructions
Season pork chops with lemon pepper then dredge in flour. Shake off excess flour.

Add oil to large pan or skillet and brown the pork chops for 2-3 minutes. Remove the pork chops and drain on a paper towel.

Add the sliced mushrooms to the skillet and saute for 5 minutes. Return the chops to the skillet and spoon the cream of mushroom soup on top of the pork.

Cover and reduce the heat to a low, slow simmer.  Cook for about 40-45 minutes. 
Notes
(A) Add 1 cup sliced onion, if desired.  Saute the sliced onion with the mushrooms.  (B) Serve over cooked rice, mashed potatoes, or cooked egg noodles (if desired)
Nutrition
Serving:
1
serving
|
Calories:
311
kcal
|
Carbohydrates:
8
g
|
Protein:
31
g
|
Fat:
17
g
|
Saturated Fat:
4
g
|
Polyunsaturated Fat:
2
g
|
Monounsaturated Fat:
9
g
|
Trans Fat:
1
g
|
Cholesterol:
90
mg
|
Sodium:
69
mg
|
Potassium:
692
mg
|
Fiber:
1
g
|
Sugar:
1
g
|
Vitamin A:
7
IU
|
Vitamin C:
1
mg
|
Calcium:
13
mg
|
Iron:
1
mg
If you try this recipe and like it, please let me know by leaving me a comment. I'd love to hear from you.
Original photos. We've come a long way, baby!