Who wants a delicious guilt-free pizza? This pizza crust is low carb, keto, gluten-free, and nut free. Enjoy an easy low carb keto pizza crust topped with your favorite toppings such as pepperoni, sausage, bacon, and mushrooms! Keep this low carb dinner recipe in your low carb meal rotation.
Quick Note: This post contains affiliate links to my personal favorite items. If you make a purchase, I'll receive a small commission, which helps me keep this blog up and running, at no extra cost to you. Please read my disclosure statement for details. Thank you.
Welcome to My Kitchen Serenity! By now, most everyone has heard about low carb and keto pizza crusts. Low carb and keto crusts have been a big game-changer for all those who have adopted the low carb, keto lifestyle since traditional pizza is completely off the radar for people eating a low carb diet.
There are many recipes for low carb crusts and one of the most popular is called Fathead Pizza Crust or Fathead Dough. Fathead dough typically contains mozzarella or parmesan cheese, eggs, cream cheese, and almond flour. For this recipe, we leave out the almond flour for two reasons: (1) it makes the dough terribly sticky and (2) quite simply, you just don't need it to make a great low carb crust! Spend that extra money on more toppings!
So if you've been wondering, "can I eat pizza on a low carb diet"? The answer is YES! I hope you enjoy this low carb, keto pizza as much as we do!
Let's be social! Follow me on Facebook, Pinterest, and Twitter!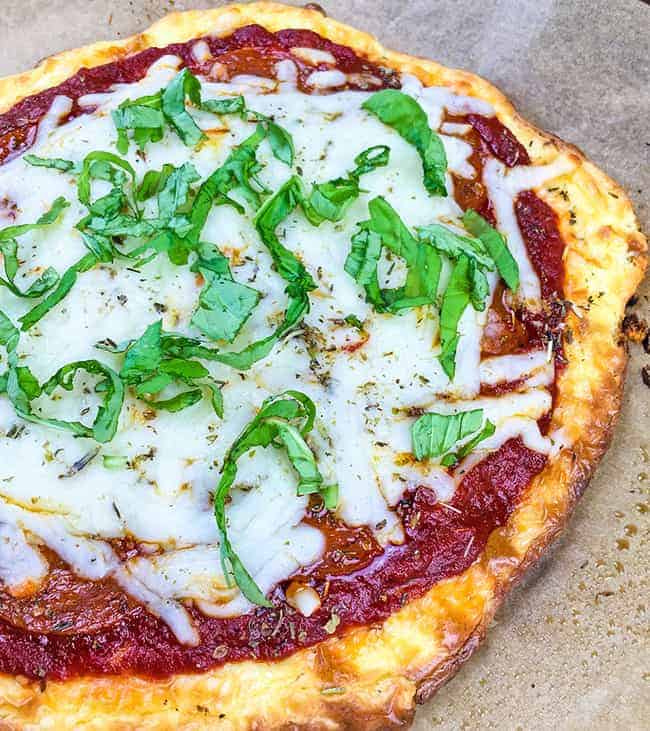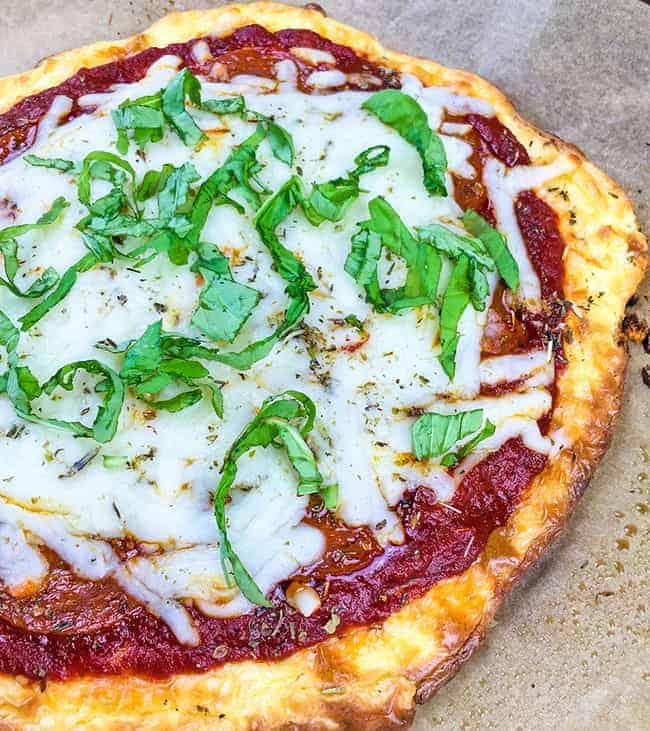 The sauce for this recipe is a classic red sauce made from tomato sauce, tomato paste, and seasonings. Look for low sugar tomato sauce (or sugar free tomato sauce if you can find it) and check the nutrition labels. I'll offer my brand suggestions later in the post.
We use only 3 tablespoons of tomato sauce for the entire recipe. We use just 1-1/2 tablespoons of tomato paste to the tomato sauce to add thickness and a rich tomato flavor. Herbs and seasonings are added to enhance the flavor of this homemade sauce. Organic tomato sauce and organic tomato paste are my go-to canned tomato products. It seems like they just taste better to me.
Ingredients for Low Carb Pizza Crust
8 oz. cream cheese, room temperature
2 large eggs
1/3 c. Parmesan cheese, freshly grated
1½ t. dried basil, divided
1½ t. dried oregano, divided
1 t. garlic powder, divided
Sea salt and black pepper, to taste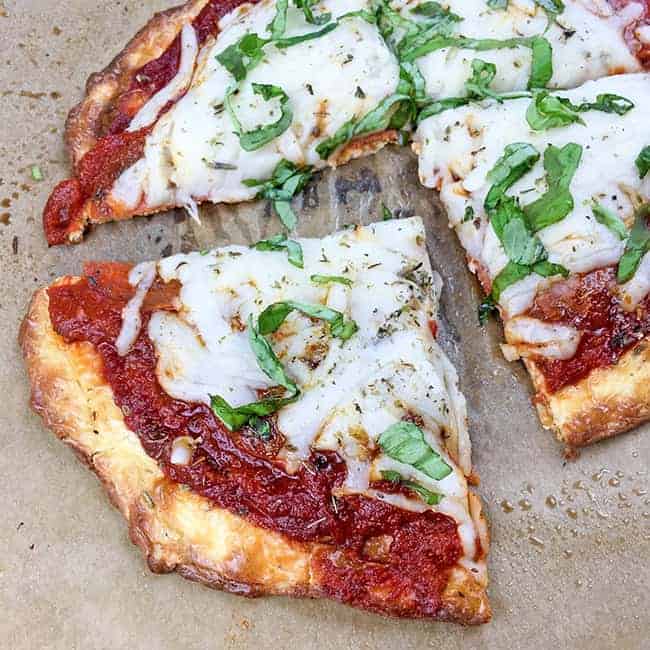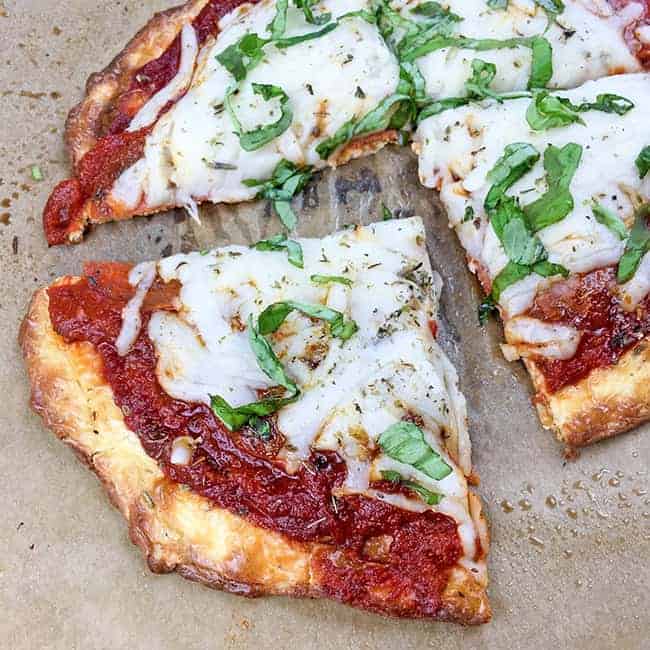 Toppings for this Low Carb Pizza Recipe
1½ Tbsp tomato paste
3 Tbsp low sugar tomato sauce
4 oz pepperoni, thinly sliced
1 cup Mozzarella cheese, shredded
Organic Tomato Sauce and Tomato Paste Brand Suggestions
365 Everyday Value Organic Tomato Paste – 1-1/2 TBS = 2.25 net carbs
Hunt's Organic Tomato Sauce – 3 TBS = 1.5 net carbs
How to Make Low Carb Pepperoni Pizza
STEP 1: Preheat oven to 375° F and line a large rimmed baking sheet with parchment paper. Set aside.
STEP 2: Prepare the crust. Combine cream cheese, eggs, Parmesan cheese, 1 teaspoon basil and oregano, and ½ teaspoon garlic powder in a medium-sized bowl. Season with salt and black pepper, to taste, and whisk until mixture is completely blended and smooth.
STEP 3: Spread the cream cheese mixture onto the prepared baking sheet into the desired shape and thickness. (For thicker crusts, reduce oven temperature to 350° F and increase baking times for best results). For a rectangular pizza, spread the cream cheese mixture into a 9 x 13 pan.
STEP 4: Place the crust in the pre-heated oven for 8-10 minutes, or until slightly puffed and golden brown. Check halfway through cooking time to ensure the crust bakes evenly and does not become too brown.
STEP 5: In the meantime, whisk the tomato paste, tomato sauce, the remaining dried herbs, and the garlic powder in a small bowl. Lightly season with salt and black pepper, to taste, and stir to combine. Set aside.
STEP 6: Remove the pizza base from the oven and let cool for 5-10 minutes before topping with tomato sauce, sliced pepperoni, and shredded Mozzarella cheese.
STEP 7: Return pizza to oven and bake for another 10 minutes, or just until the cheese is melted and bubbly. Remove from oven and garnish with fresh basil, if desired, and serve immediately.
This recipe is for a low carb, keto pepperoni pizza, however, feel free to substitute your own low carb pizza toppings such as cooked sausage, cooked ground beef, cooked chicken, mushrooms, olives, green bell pepper slices, etc. Be creative! Just be mindful to use low carb vegetables. Here's a handy list of low carb keto vegetables from Diet Doctor.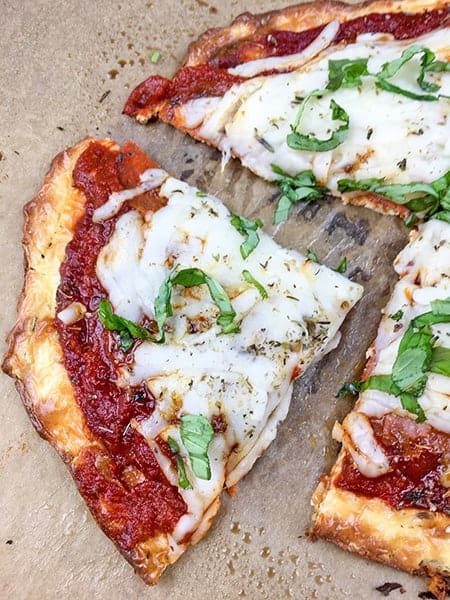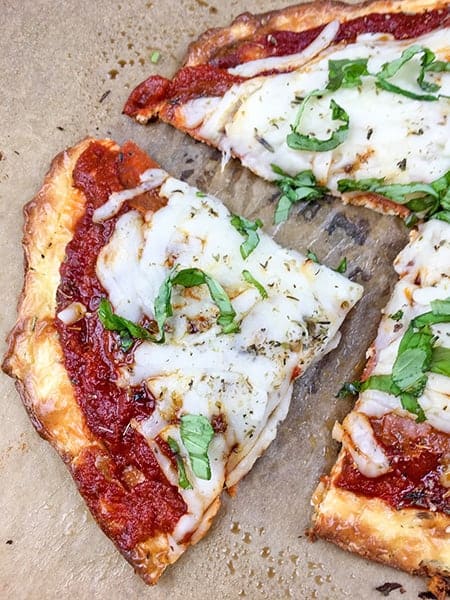 If you like this recipe, let me know. I'd love to hear from you!
Looking for low carb and keto cookbooks? Here are 5 Best Sellers, available from Amazon:
Nutritional Information Source: HappyForks.com
How Long will this Pizza Last in the Fridge?
This pizza will stay fresh for up to 3 days in the refrigerator. Store it in airtight containers. I like to use BPA-free glass containers with locking lids. Check out this 20-piece set of glass food storage containers with locking lids. These containers are great for meal prep, too!
Please try these easy, healthy recipes from My Kitchen Serenity:
Broccoli Bacon Egg Breakfast Casserole
Baked Egg in Avocado with Bacon and Cheese
Notes: Different brands will vary on the net carbs so keep that in mind. For the most part, they should be fairly close. Use a site like MyFitnessPal.com or verywell.com to figure out this information based on the brands or ingredients you used.
Now the legal stuff (because my mama didn't raise a fool): Please note that I am not a medical or nutritional professional. I am simply sharing my personal favorite recipes on this blog. Please consult with your physician before starting any diet or exercise program. I provide some nutritional information for my low carb and keto recipes simply as a courtesy to my readers. I expressly disclaim any and all liability of any kind with respect to any act or omission wholly or in part in reliance on anything contained in this website.