These Low Carb Strawberry Cheesecake Squares have a creamy cheesecake filling swirled with sugar free strawberry preserves baked in an almond flour crust.  This low carb strawberry dessert is our favorite when we need a sugar free dessert.
Quick Note:  This post contains affiliate links which mean if you make a purchase through one of these links, I may make a small commission, at no cost to you. Please read my disclosure statement for details. Thank you.
Low Carb Strawberry Cheesecake Bites
Do you have a sweet tooth?  I think I have more than one!  These sugar free cheesecake squares are perfect when you're craving something sweet.  These bite-sized treats pack a lot of flavor.  Save some for yourself to snack on or serve on a platter to share with your favorite people. 
Almond Flour Crust
This almond flour crust is as good as the filling.  It reminds me of my favorite cookies as a child, pecan shortbread cookies!  I love this crust and I can imagine it being a good pie crust for other dessert pies as well.  Use a super fine ground almond flour for best results.
Keto Strawberry Cheesecake
These strawberry cheesecake bites can easily be made into a keto dessert.  Just use a natural, sugar free sweetener such as stevia (I prefer liquid stevia glycerite because it's less bitter).  But of course, use YOUR favorite!  Everybody has a preference, right!  Also, for keto, depending on which keto plan you're following (I understand there are 3 types of keto!), you could skip the sugar free strawberry preserves used in this recipe, and just have a strawberry on top or skip all together.  For more information about keto sweeteners and other foods, here's a very good list of what to eat, and what not to eat on the ketogenic diet https://www.dietdoctor.com/low-carb/keto/foods.
Easy and Delicious 
This cheesecake crust is an almond flour and chopped pecan mixture that's tossed with butter and a little sugar free sweetener.  Then, after baking the crust, simply top the crust with the cream cheese mixture and then swirl the strawberry preserves on top.  I'm not a good swirler lol, but taste is all that matters.  Bake, cool, and enjoy!
Experiment with different flavors of sugar free preserves!  Blackberry, raspberry, blueberry, etc.  Be sure to check the nutritional information.  
remove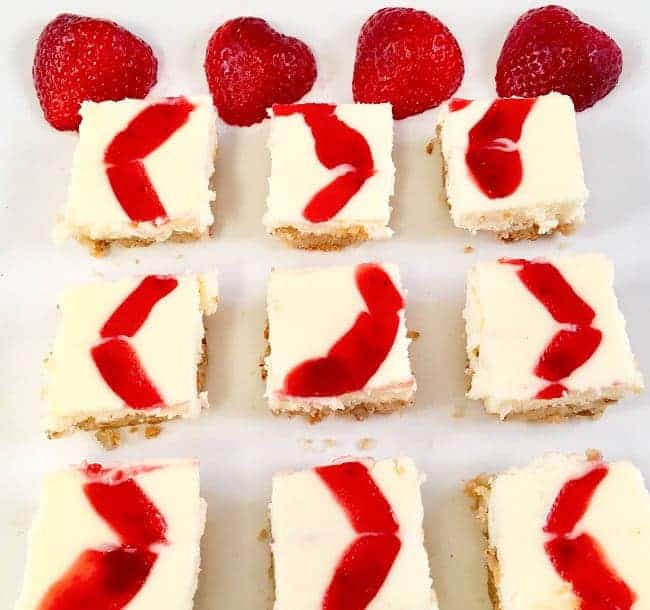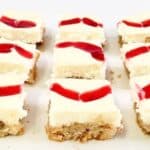 Low Carb Strawberry Cheesecake Squares
Keyword:
cheesecake squares, low carb dessert, strawberry cheesecake
Ingredients
1

cup

Almond flour, super fine ground

1/2

cup

Butter, softened

1/4

cup

Granulated Splenda

Or 6 packets stevia, or 1/4 tsp liquid stevia

1/2

cup

Pecan, finely chopped

8

oz

Cream cheese, softened

1/4

cup

Granulated Splenda

Or 6 packets stevia, or 1/4 tsp liquid stevia

1

Egg

4

tbsp

Strawberry preserves, sugar free

1

tbsp

Almond milk
Instructions
Preheat oven to 350F. Grease a 9-inch square pan. Place softened butter and sugar free sweetener in mixing bowl and beat until smooth. Add chopped pecans and stir until well blended. Press into the bottom of the pan. Bake 15 minutes or until lightly browned. Remove from oven and let cool or 10 minutes.

While the crust is cooling, add the softened cream cheese, sugar free sweetener, egg, and almond milk to a bowl. Beat for 3 minutes until creamy and smooth. Spread on top of the crust.

Heat the strawberry preserves in the microwave for about 20-30 seconds or until smooth enough to pour. Drizzle the melted strawberry preserves on top of the cheesecake, making 4 horizontal lines. Then, run a butter knife through the horizontal lines to create a swirl effect. It doesn't have to be perfect! Swirl the preserves any way you want.

Bake about 20 minutes or until the filling is set. Cool completely before slicing and serving. I like to refrigerate this for a couple of hours before slicing and eating.
This low carb strawberry cheesecake recipe makes about 32 squares.  Each square contains approximately 2.06 net carbs, depending on the sugar free sweetener and brands used.  I happen to like granular Splenda and that's what I used to calculate the net carbs for this recipe (see Notes below).
I hope you enjoy these low carb strawberry cheesecake squares.  If you try this recipe, let me know what you think.  I'd love to hear from you.  Let's keep in touch.
Try some of our other low carb recipes:
Low Carb Pork Curry over Cauliflower Rice
Low Carb Steak and Blue Cheese Salad
Some of the items used for this recipe include:
Notes:  Different brands will vary on the net carbs so keep that in mind.  For the most part, they should be fairly close.  Use a site like MyFitnessPal.com or FatSecret.com to figure out this information based on the brands or ingredients you used.  
Now the legal stuff (because my mama didn't raise no fool):  Please note that I am not a medical or nutritional professional.  I am simply sharing my personal favorite recipes on this blog.  Please consult with your physician before starting any diet or exercise program.  I provide net carb information for my low carb recipes simply as a courtesy to my readers.  I expressly disclaim any and all liability of any kind with respect to any act or omission wholly or in part in reliance on anything contained in this website.