This chicken and sausage pastalaya has all those delicious creole seasonings and flavors you'd expect from jambalaya. Thanks to a handy shortcut, it's ready to eat in about 30 minutes!
This yummy one pot jambalaya pasta (pastalaya) is made with well-seasoned chicken thighs, spicy smoked sausage, the ever so famous trinity (onion, bell pepper, and celery), and a blend of special spices all cooked together with pasta noodles.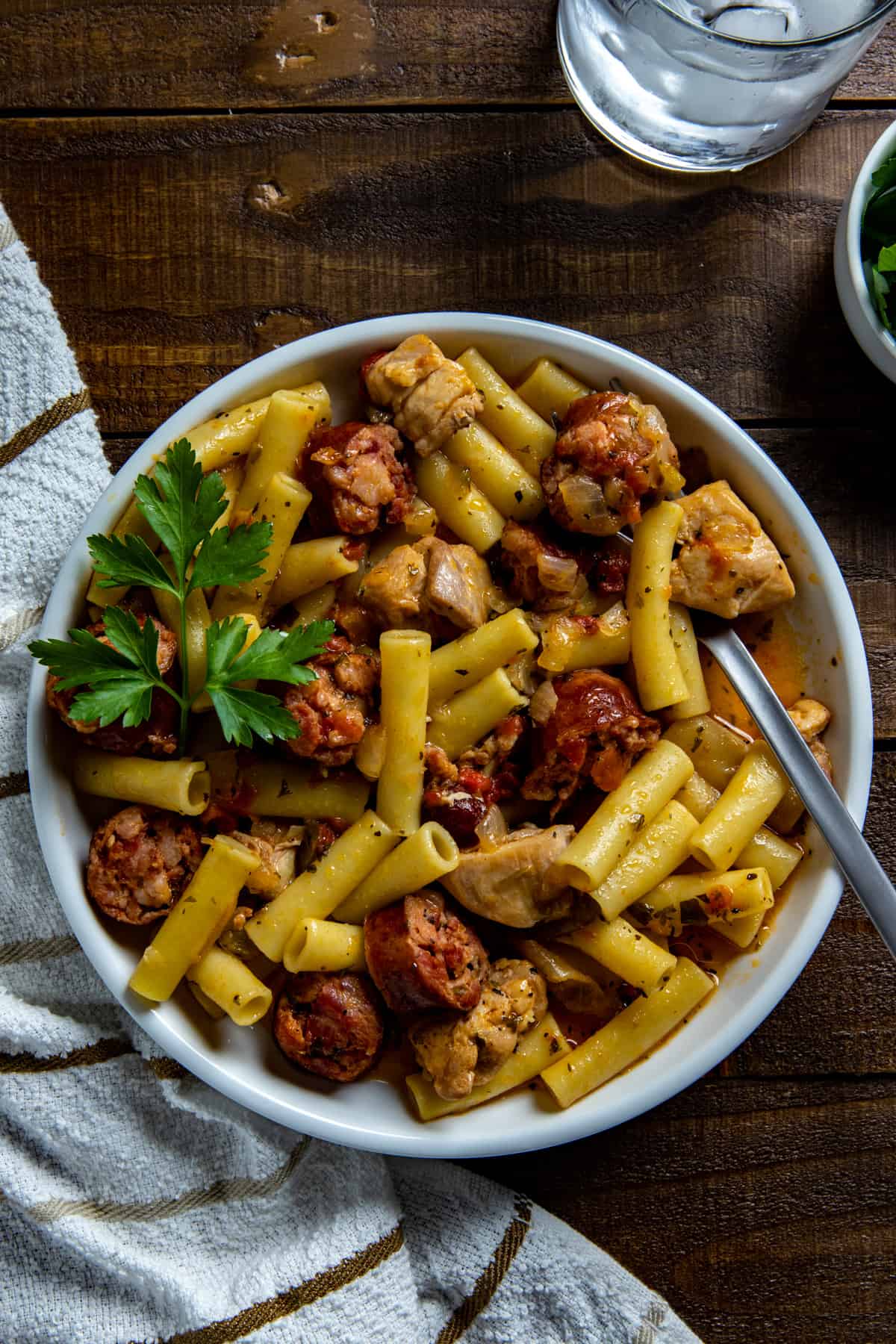 Why You'll Love It
One pot - the entire meal is made with just one pot! The pasta cooks with the chicken, sausage, and seasonings making this an easy, all inclusive meal that's perfect for busy weeknights as well as date nights 😉
Short cut step - because this recipe uses the frozen chopped onion, bell pepper, and celery blend, you'll save yourself chopping time and sauteing time (the frozen blend doesn't take as long to soften).
Flavor inside and out - this recipe uses ziti pasta. You could use any type of pasta, but for me, I like they way the sauce and seasonings find their way inside the ziti (it's totally tubular, man)! Did anybody get that reference, lol?
Budget friendly - assuming you already have the basic pantry ingredients, such as the oil and seasonings, the cost of this meal is approximately $15 or $2.60 per serving. The cost was based on using store brands (as of October 2022).
Dairy free - there are different versions of this recipe out there, and some use cream to thicken up the sauce and that's cool, however, I like to keep this version as true to jambalaya as possible. Having said that, you can add a small amount of heavy whipping cream to the final step if you feel it needs it 🙂
If you love jambalaya, then you're sure to love pastalaya! I've taken my original jambalaya recipe and tweaked it into this chicken and sausage pastalaya.
What Goes In It
Please check out the recipe card for the complete list of ingredients for pastalaya.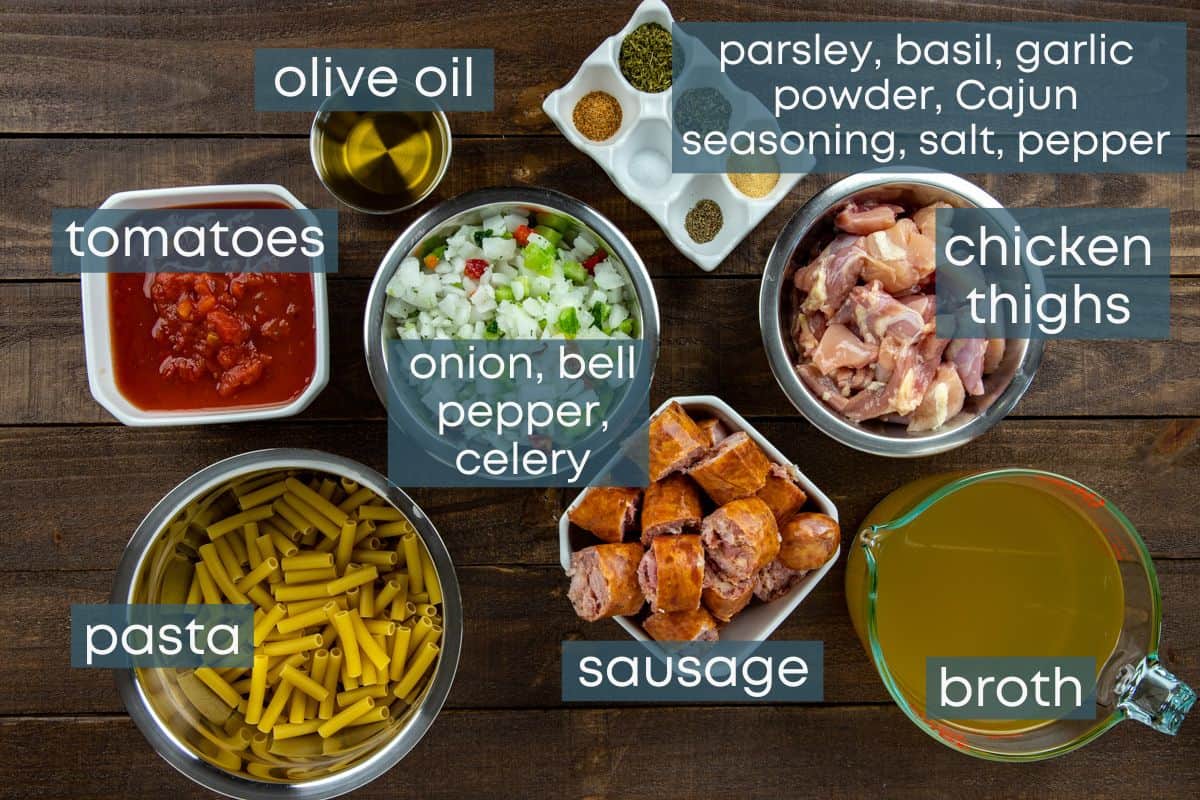 Chicken thighs - it's really hard to dry out chicken thighs and that's why I use them for this recipe. Thighs stay juicy and tender for this dish.
Smoked sausage - you can use any brand or style sausage for pastalaya but I like to recommend a smoked, spicy sausage such as Conecuh or andouille (for the added flavor boost).
Ziti pasta - any kind of pasta will work, but if you want the seasonings to cling to the pasta or get inside the nooks and crannies, use ziti, penne, or even spiral.
Cajun or creole seasoning - these seasonings are perfectly blended for that authentic Louisiana flavor! You can easily adjust the heat level by using more or less.
Chicken broth - you'll need to get either a 32-oz box or two 16-oz cans of broth (8 cups chicken broth). It seems like a lot of broth, but this amount is perfect to cook the pasta.
Frozen seasoning blend - I love this short cut! I always keep a bag of this in my freezer. Pre-chopped onion, bell pepper, and celery is just so convenient!
How to Make It
Here's a quick overview of the recipe instructions.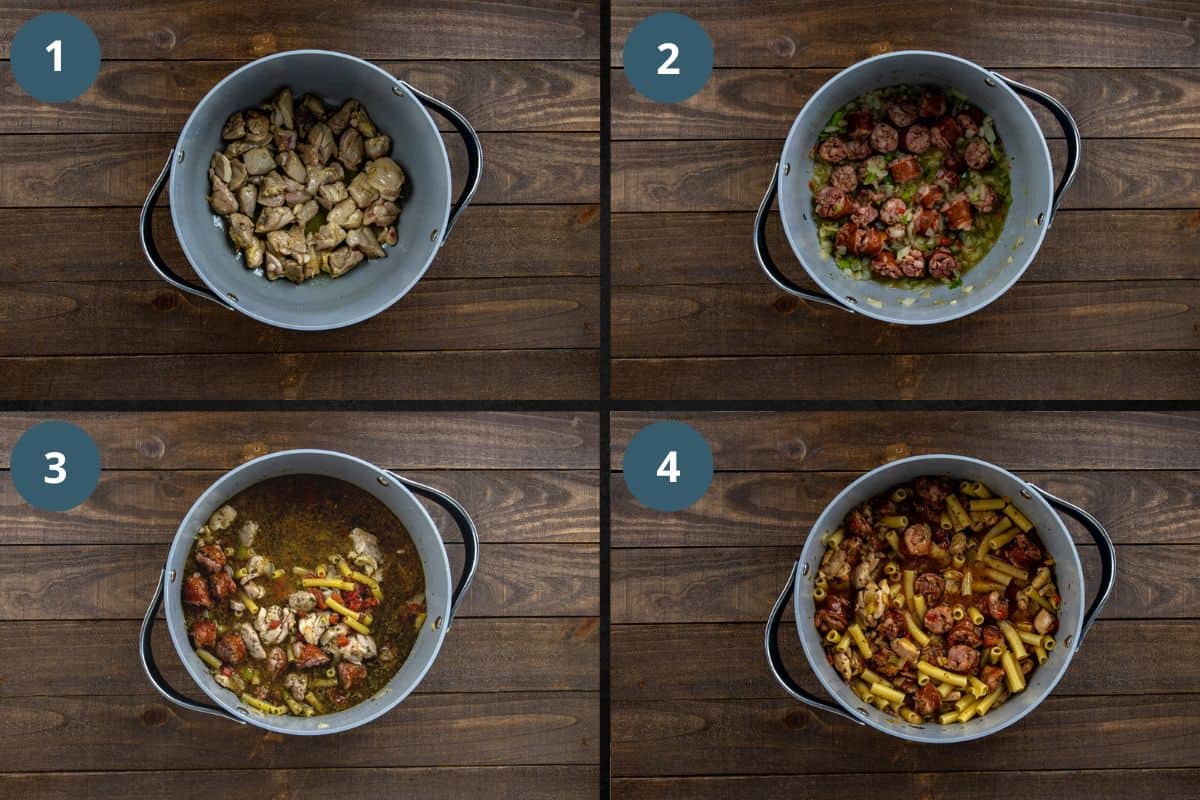 (1) Brown the chicken in a dutch oven or large pot. Remove chicken from the pot and set aside.
(2) Add sausage to the pot, then add the onion, bell pepper, and celery. Simmer for 5 minutes.
(3) Return the chicken to the pot and add the remaining ingredients. Taste test for flavor.
(4) Bring to a boil, cover, reduce heat, and simmer 15 minutes.
Frequently Asked Questions
What goes with pastalaya?
If you want a side for your pastalaya, you can have crusty French bread and a green salad. You can serve chopped green onions on the side for those who like to use them as a topping.
How long will leftovers last in the fridge?
Keep the leftovers covered in the fridge for up to 3 days. By the way, pastalaya leftovers are fantastic because the pasta continues to absorb all the flavorful juices as it sits in the fridge!
What can I substitute for the meats?
Instead of chicken, you can use pork (or a combination of the two). You can also use peeled and deveined shrimp.
Recipe Tips
Don't skip browning the meats! This is what seals in the juices and keeps the chicken and sausage from drying out. Be careful not to completely cook the meats; we want a nice browning on the outside and that's all!
Be sure to scrape up all those little bits of flavor at the bottom of the pan after browning (searing) the meats as indicated in Step 2 of the recipe card.
If you prefer to use fresh vegetables instead of the frozen vegetables, you can use 1 cup chopped onion, ½ cup chopped bell pepper, and ½ cup chopped celery.
While the pastalaya is cooking, why not roast some brussels sprouts as a side? My Roasted Brussels Sprouts with Bacon pairs well with this dish!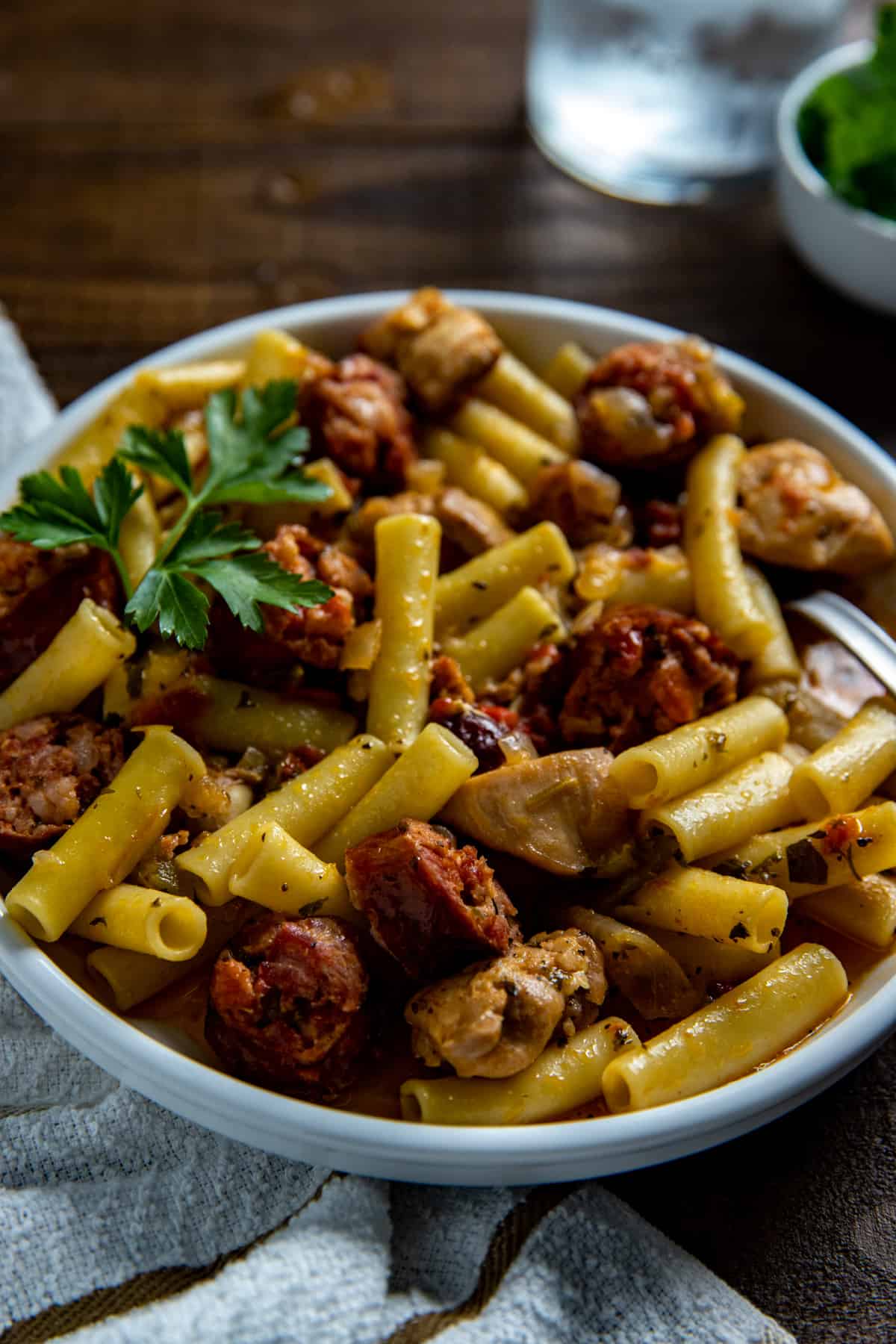 More Easy Southern Meals
If you'd like some recipe inspiration delivered straight to your inbox, sign up for my email newsletter on my subscribe page and receive a free 5-day meal plan.
If you tried this recipe, please let me know by leaving a comment! I'd love to hear from you.
Recipe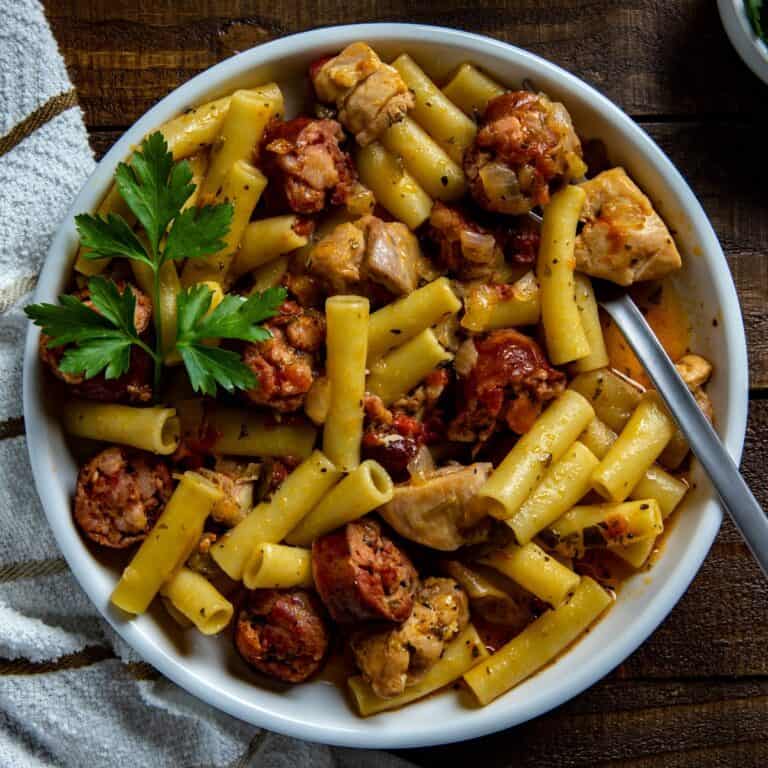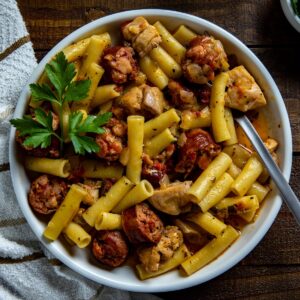 Pastalaya
This chicken and sausage pastalaya has all those delicious creole seasonings and flavors you'd expect from jambalaya. Thanks to a handy shortcut, it's ready to eat in about 30 minutes!
Print
Pin For Later
Rate
Ingredients
¼

cup

olive oil

1

pound

chicken thighs, boneless, skinless, cut into 1" pieces

1

pound

smoked link sausage, sliced into 1" discs

Andouille or Conecuh

10

ounces

frozen seasoning blend (onion, bell pepper, and celery mix)

14.5

ounces

tomatoes, diced, canned (basil, garlic, and oregano)

32

ounces

chicken broth

1

tablespoon

dried parsley

1

teaspoon

dried basil

1

teaspoon

garlic powder

½

teaspoon

Cajun seasoning (such as Tony Chachere's or Slap Ya Mama)

add more to suit your taste preference

½

teaspoon

sea salt

¼

teaspoon

black pepper

3

cups

uncooked ziti pasta (I use Barilla)
Instructions
In a heavy 5-quart pan, or dutch oven, over medium-high heat, add olive oil and brown the cut up chicken that has been seasoned with Tony's (NOTE: this is not the amount in the ingredient list; simply sprinkle the cut-up chicken with a little [or a lot] Tony's) for 3-5 minutes. Do not cook the chicken through. Remove chicken from pot.

Add the sliced sausage to the pot and brown for 5 minutes. Then add the onion, bell pepper, and celery. Mix well and scrape bottom of pan to remove and incorporate any browned pieces of chicken and sausage. Simmer covered on medium heat for about 5 minutes, stirring halfway through cooking.

Return chicken to pot and add the tomatoes, broth, and seasonings above. Mix well and taste for flavor. Add pasta and mix well.

Bring mixture to a boil, cover, and lower heat to medium-low (aim for a slow, bubbly simmer). Cook for 15 minutes or until pasta is done.
Notes
There may be little liquid remaining in the pot after cooking the pasta.  This is OK and it will get absorbed into the pasta as the pastalaya cools.  If there are any leftovers, store covered in the refrigerator for up to 3 days.  The pasta will enlarge over time, and will absorb any extra liquid and will be even more flavorful.
Nutrition
Calories:
560
kcal
|
Carbohydrates:
32
g
|
Protein:
33
g
|
Fat:
33
g
|
Saturated Fat:
9
g
|
Polyunsaturated Fat:
5
g
|
Monounsaturated Fat:
17
g
|
Trans Fat:
0.2
g
|
Cholesterol:
129
mg
|
Sodium:
1423
mg
|
Potassium:
704
mg
|
Fiber:
3
g
|
Sugar:
3
g
|
Vitamin A:
2251
IU
|
Vitamin C:
11
mg
|
Calcium:
66
mg
|
Iron:
3
mg
Nutritional information is provided as a courtesy to my readers. I'm not a nutritionist and I don't guarantee the accuracy of this data. The data may differ according to the brands I used versus the brands you use. To calculate the data yourself using your brands, try using an online nutrition calculator or app.