This easy pumpkin spice bundt cake with cream cheese frosting and pecans is the perfect fall dessert! With all the flavors of fall, I couldn't think of a more classic holiday dessert. Oh, and I've made things even easier for you by using a box of spice cake mix, so you can thank me later.
Quick Notes: This post was originally published in November 2018. It was updated in December 2020 to include a few new photos and additional information. It may also contain Amazon affiliate links. Please read my disclosure statement for details. Thank you.
Welcome to My Kitchen Serenity! When fall is in the air, I know it's time to start thinking about all of the wonderful spice recipes! It seems like everything is either flavored or scented with the spices we associate with fall - cinnamon, nutmeg, and ginger to name a few.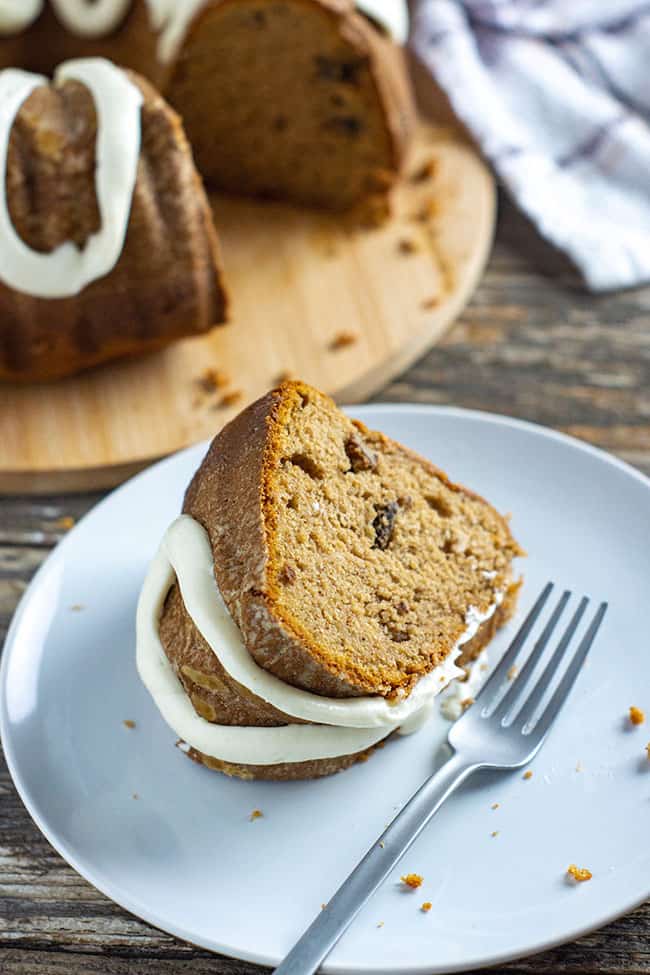 When this Pecan Pumpkin Spice cake is baking in the oven, you've got the best of both worlds. Your house will fill with the most delicious spice scent and your taste buds will be jubilant!
This cake truly fits the bill when it comes to a classic spice cake recipe. I love the addition of canned pumpkin and pudding mix, which ensure a moist and extra flavorful cake.
Why This Moist Pumpkin Bundt Cake Recipe is Awesome
This pumpkin bundt cake is very easy because it takes less than 10 minutes to prepare. Just toss the ingredients in a bowl, mix, pour into a bundt pan, and bake.
Speaking of bundt pans, I prefer the kind with handles. This is my favorite bundt pan from Nordic Ware. The handles come in handy when you're flipping the cake over to cool. Available now on Amazon.
TIP: Place a round cooling rack on the top of the bundt pan before flipping. The handles help hold the cake pan and the cooling rack together during the flipping process.
Fall is that time of year when everything seems to be centered around pumpkins. Halloween and Thanksgiving feature pumpkin themed home decor, and of course, the entire season seems primed for eating pumpkins!
My favorite use for this beautiful orange fruit is eating them, of course. My whole family just loves pumpkin desserts! And we don't leave anything to waste; roasted pumpkin seeds are one of our all-time favorite fall snacks.
Ingredients Needed to Make This Easy Pumpkin Spice Bundt Cake
please scroll down to the recipe card for detailed ingredients and step-by-by instructions
One of the things I love best about this recipe is how simple it is. Using some store bought "cheats" not only ensures the perfect level of flavor, but it also means there is far less measuring to be done! As a result, there are also fewer dishes to attend to, which is always a bonus for me.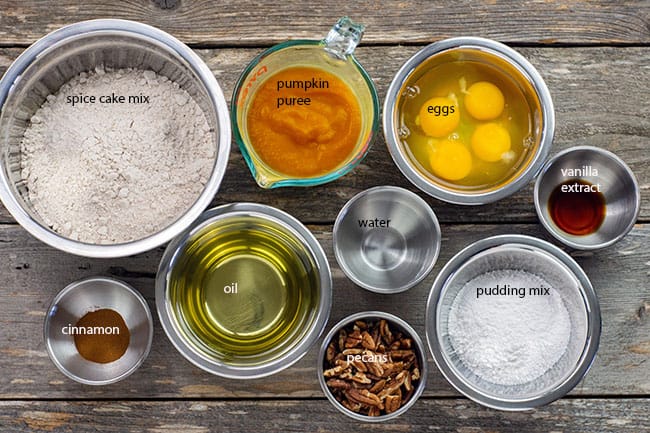 Spice Cake Mix: First up, you're going to need a box of Spice Cake Mix. It doesn't matter which brand you choose! I've never met a cake mix I don't like. Just choose whatever is on sale.
Canned Pumpkin Puree: Canned pumpkin and chopped pecans help to contribute to the autumnal vibes of this deliciously moist spice cake. (Be sure to use the canned pumpkin, aka pumpkin puree - NOT the pumpkin pie "mix"). If you're not a fan of pecans or you have someone who is allergic, feel free to omit them! Alternatively, you can make your own pumpkin puree from your day-after Halloween pumpkin. How neat is that! I love this Homemade Pumpkin Puree recipe from Love and Lemons!
Instant Vanilla Pudding Mix: This is my secret ingredient for this cake. While it might sound like a strange addition, I guarantee that it'll make your cake extra moist and extra delicious!
Cinnamon: I also love to add in just a touch of extra cinnamon to balance out the extra pumpkin and vanilla flavors. This is a spice cake after all, right?
Oil, eggs, and vanilla extract: These are the remaining pantry staples you'll need to make this delicious spice cake.
And if you weren't convinced to make this yummy pumpkin bundt cake yet, there's more! I don't know about you, but I can't resist anything that has cream cheese frosting. This cake pulls out all the stops, I'm telling you.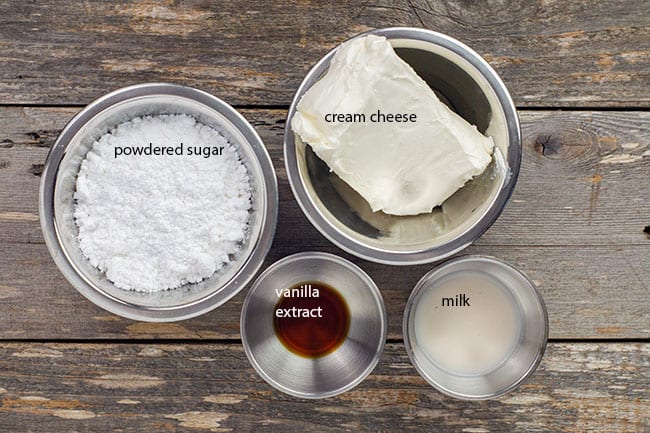 Cream Cheese Frosting Ingredients
The frosting requires just four simple ingredients that you probably already have on hand:
powdered sugar

cream cheese

a tad bit of milk

vanilla extract
Cream cheese frosting goes marvelously on everything from cupcakes to banana bread (and even on graham crackers when you need a quick treat), and this recipe couldn't be simpler or more perfect. Be sure to pin the recipe for later! 🙂
How to Make My Easy Pumpkin Spice Cake
This recipe uses spice cake mix. I love using the spice cake mix because it's easy, the spices are perfectly balanced, and there's less measuring involved.
Mix all the ingredients, pour into a greased and floured bundt (or tube) pan, and bake at 350 for about 35-40 minutes.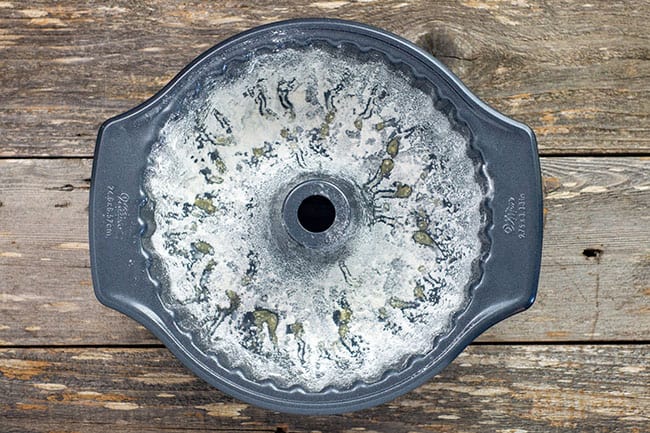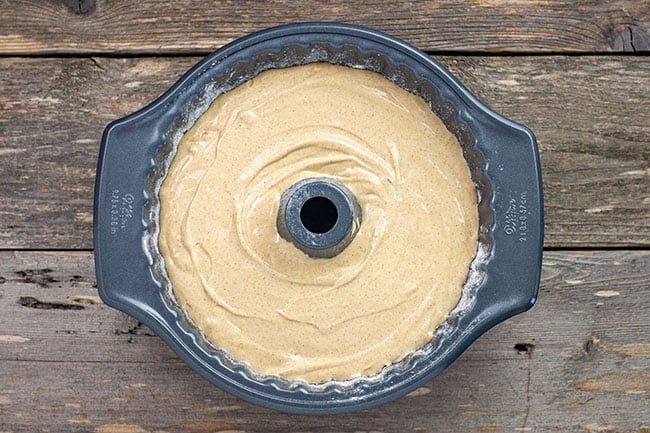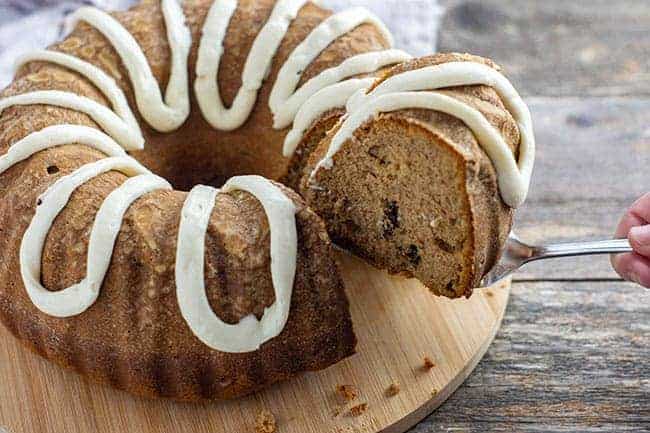 This recipe calls for pecans because they add a lovely flavor and texture to the cake. Pecans add to the "fallness" (my neologism, lol) of this cake. Pumpkins and nuts are a great combination! If you're worried, I only call for ½ cup of pecans, which won't overload the cake. Every now and again, you'll get a bite of cake with a pecan included. It's a nice little treat!
You don't have to top this cake with the cream cheese frosting - I can't believe I just said that! - but the cream cheese frosting is the bee's knees.
If you're looking for a simpler or lighter pumpkin bundt cake, you could dust the cooled cake with powdered sugar or serve it plain with whipped cream on top.
If you opt to use the cream cheese frosting (I highly recommend you do), there is a very simple way to make a cute design out of it. Place the cream cheese frosting in a plastic ziplock bag, cut off a small part of one of the corners, and squeeze the frosting on top of the cake. It doesn't have to be perfect, as you can see from my very imperfect design.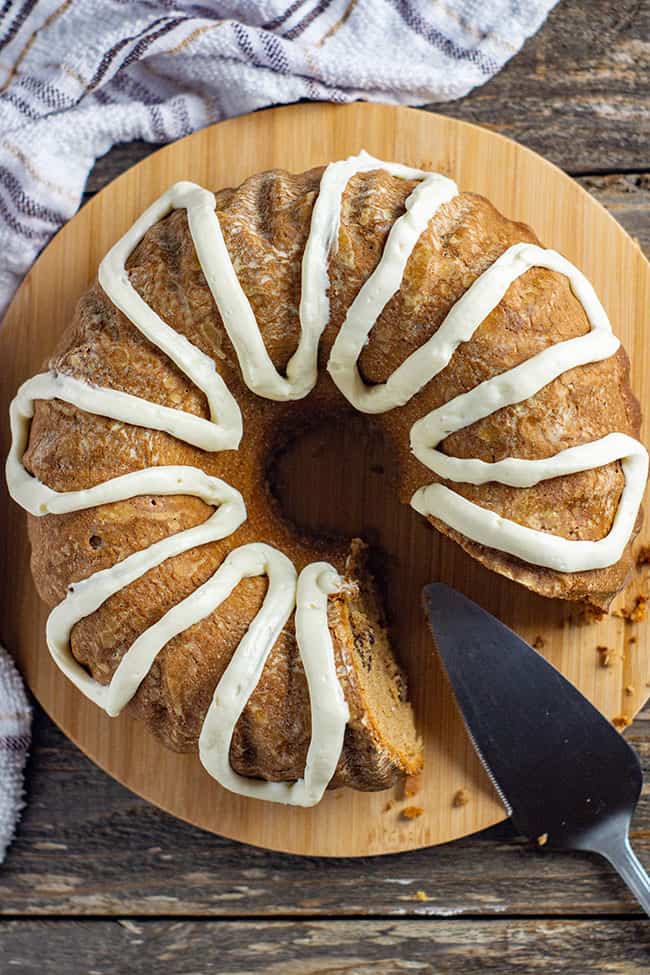 This awesome pumpkin spice pound cake is extra delicious the next day and great served cold. While it is decadent enough for dessert, it's also a lovely snacking cake. And also a yummy (albeit naughty) breakfast. In fact, I wish I had a slice right now 🙂
Frequently Asked Questions:
Can I make this cake ahead of time?
Yes! Not only does this pumpkin spice bundt cake taste better the next day, it's also a perfect cake to freeze.
Most cakes actually freeze well, and it often makes them even more moist and delicious than before you froze them! Just be sure the cake is completely cooled. Skip the frosting. Then wrap the unfrosted cake in several layers of plastic wrap, followed by a layer of tin foil.
Freeze for up to 3 months. When you're ready to eat the cake, remove the plastic wrap and foil, then let the cake thaw on the countertop for 2-3 hours. Frost as desired and enjoy!
Can this recipe be made into pumpkin spice muffins or cupcakes?
Yes, this cake recipe makes delicious muffins (no frosting) or cupcakes (with frosting)! Line a muffin tin with paper liners. Preheat oven to 350F. Proceed to Step 2 in the recipe card. Fill the muffin tins ¾ full, then bake for 20-25 minutes or until a toothpick inserted comes out clean. Frost (if desired) when completely cooled. Makes about 12 muffins/cupcakes.
What is the best way to keep this cake fresh?
This cake will stay fresh for up to 3 days if left covered on your counter top. Keeping the cake in a plastic cake holder such as the Nordic Ware Bundt Cake Keeper will help keep the cake nice and fresh and prevent the icing from getting messed up. The lid locks onto the base and is also somewhat translucent so you can admire your creation.
What if I don't love pecans?
No judgment here! You can either opt to omit the pecans, or substitute another nut that you fancy like walnuts.
Or, if you need something a little sweeter, praline pecans are a great way to up the yummy factor. They also look real pretty on top of the cake.
Need more dessert inspiration? Check out these other simple cake recipes:
Another great pumpkin recipe is my Mini Pumpkin Pies! Kids of all ages will love these cute little hand-held pies 🙂
Happy baking, everybody!
If you made this simple Pecan Pumpkin Spice Cake recipe, please comment below to let me know how it turned out for you! I always love hearing about your successes and am here to help you through any (temporary) defeats.
Follow me on Facebook, Pinterest, and Instagram to get more delicious recipe ideas in your feed. You can also sign up for my email newsletter to get more traditional Southern recipes delivered straight to your inbox.
[mailerlite_form form_id=2]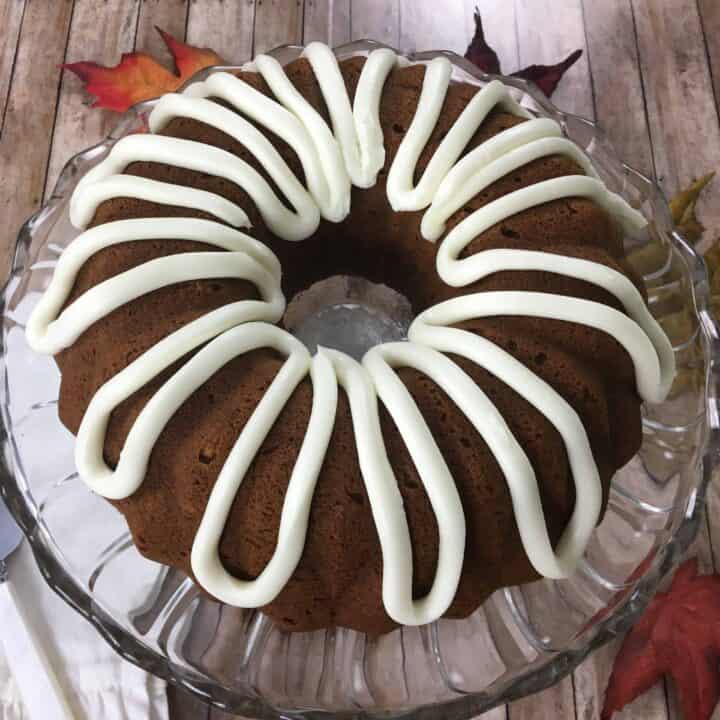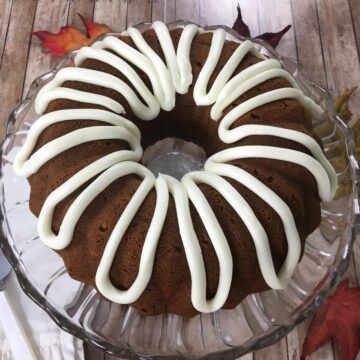 Pumpkin Pecan Spice Cake
This Pumpkin Pecan Spice Cake is an easy, super moist, incredibly delicious spice cake with cream cheese frosting. It's the perfect fall dessert!
Print
Pin For Later
Rate
Equipment
Bundt pan

Electric mixer

large mixing bowl

measuring cup(s)

measuring spoons

wire rack (for cooling cake pan)

small mixing bowl
Ingredients
CAKE INGREDIENTS
1

box

Spice cake mix

1

cup

Canned pumpkin (aka pumpkin puree)

(NOT the pumpkin pie "mix")

¾

cup

Oil

½

cup

Chopped pecans

¼

cup

Water

4

Large eggs

1

small box

Instant vanilla pudding mix

1

teaspoon

Cinnamon

1

teaspoon

Vanilla extract
CREAM CHEESE FROSTING INGREDIENTS
1

cup

powdered sugar

8

oz

cream cheese, room temperature

1

teaspoon

pure vanilla extract

1-2

teaspoon

milk
Instructions
Preheat oven to 350F. Grease and flour bundt pan.

Mix all ingredients, except pecans, in a large bowl with mixer until well blended (about 5 minutes on medium speed).  Then add pecans and mix well with a spoon.

Bake for 35-40 minutes. Let cool 15 minutes then remove from pan and place on wire rack to cool completely.

Dust with powdered sugar, serve with whipped cream, or top with your favorite cream cheese frosting (recipe below).

Cream Cheese Frosting:  Combine 1 cup powdered sugar, 8 oz softened cream cheese, 1-2 tablespoons milk, and 1 teaspoon vanilla extract.
Notes
Store leftover cake on your kitchen counter.  Plastic cake holders work best by not only keeping the cake fresh and moist, but also keeps the frosting from getting destroyed if the cake were only covered with plastic wrap or foil.  The plastic lid is tall enough to not touch the frosting.
Oldie but goodie photos from 2018!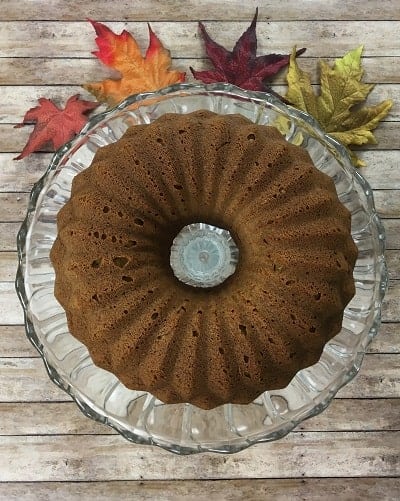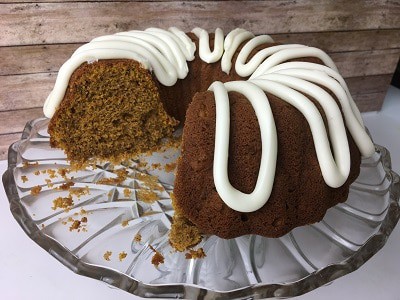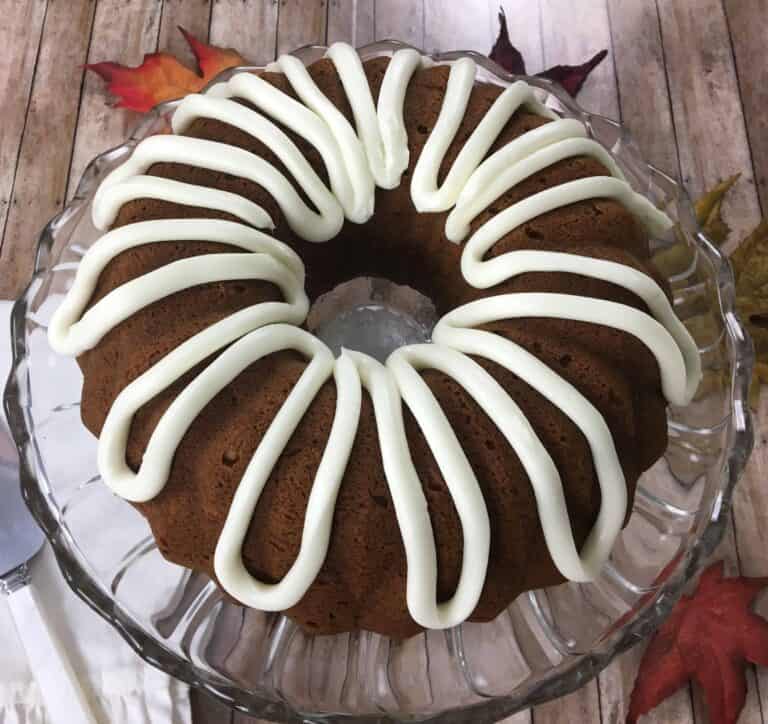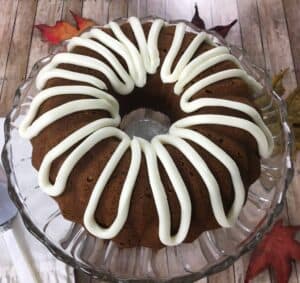 Products used for this recipe include: