This Pumpkin Pecan Bundt Cake is an easy, super moist, incredibly delicious spice cake with cream cheese frosting.  It's the perfect fall dessert!
Quick Note:  This post contains affiliate links. Please read my disclosure statement for details. Thank you.
Moist Pumpkin Bundt Cake Recipe
This pumpkin bundt cake is very easy because it takes less than 10 minutes to prepare.  Just toss the ingredients in a bowl, mix, pour into a bundt pan, and bake.  Speaking of bundt pans, I prefer the kind with handles.  This is my favorite bundt pan.  The handles come in handy when you're flipping the cake over to cool.  Place a round cooling rack on the top of the bundt pan before flipping.  The handles help hold the cake pan and the cooling rack together during the flipping process. 
Fall is that time of year when everything seems to be centered around pumpkins.  There are pumpkins for home decorations such as Halloween and Thanksgiving home decor, and of course pumpkins for eating!  My favorite use for this beautiful orange fruit is eating them of course.  Even the seeds – roasted pumpkin seeds are one of our favorite fall snacks.
How to Make Pumpkin Spice Cake
This recipe uses spice cake mix.  I love using the spice cake mix because it's easy, the spices are perfectly balanced, and there's less measuring involved. Mix all the ingredients, pour into a greased and floured bundt or tube pan, and bake at 350 for about 35-40 minutes.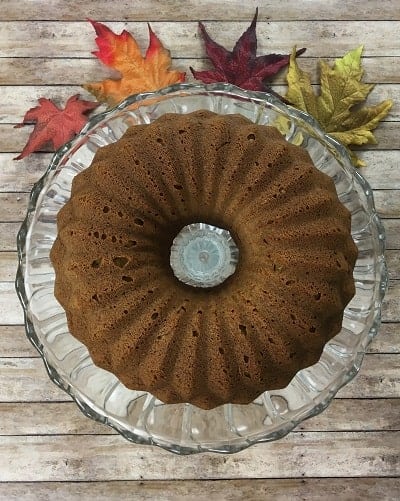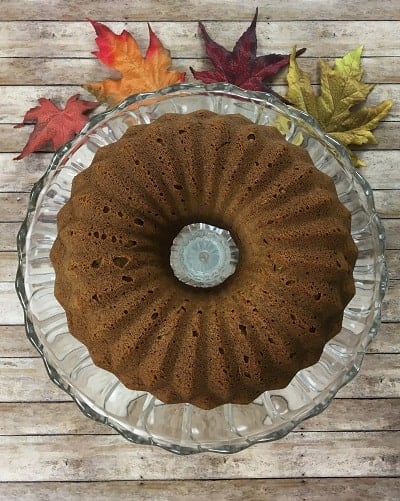 This recipe calls for pecans.  Don't leave them out unless there's a nut allergy!  But other than that, by all means add the pecans.  You'll be glad you did because the pecans add to the "fallness" (my made-up word, lol) of this cake.  Pumpkins and nuts are a great combination!  And, only 1/2 cup of pecans won't overload the cake with nuts either.  Every now and again, you'll get a bite of cake with a pecan included.  A nice little treat!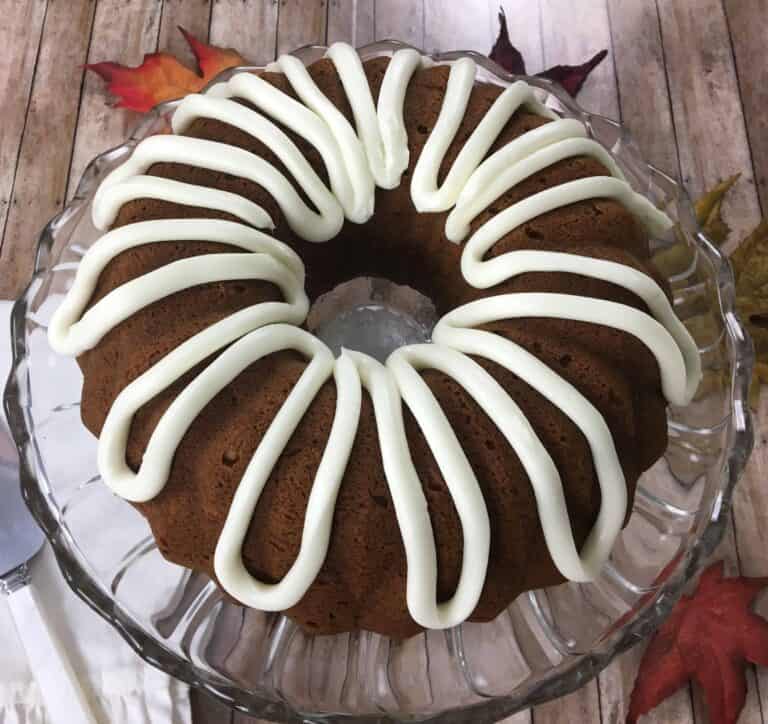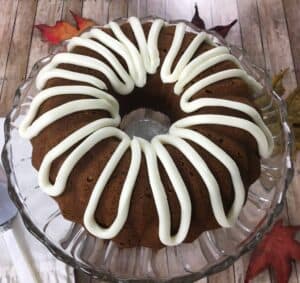 You don't have to top this cake with the cream cheese frosting.  I can't believe I just said that!  No, actually you could dust the cake with powdered sugar or serve it plain with whipped cream on top.  But the cream cheese frosting just seems to blend so well with this cake.  They were meant to be together, ha.  Place the cream cheese frosting in a plastic ziplock bag, cut off a small part of one of the corners and squeeze the frosting on top of the cake.  It doesn't have to be perfect, as you can see from my very imperfect design.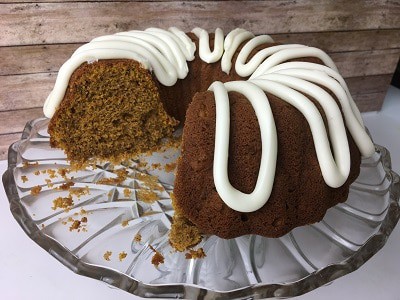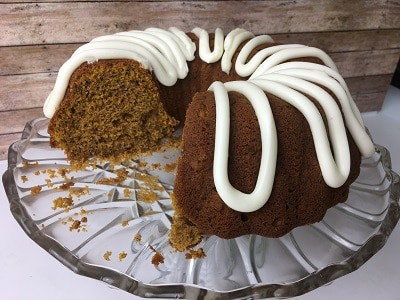 This awesome pumpkin pound cake is extra delicious the next day and great served cold.  I wish I had a slice right now 🙂
Happy fall everybody!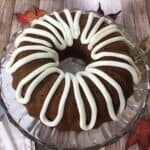 Pumpkin Pecan Bundt Cake
This Pumpkin Pecan Bundt Cake is an easy, super moist, incredibly delicious spice cake with cream cheese frosting. It's the perfect fall dessert!
Ingredients
1

box

Spice cake mix

1

cup

Canned pumpkin

3/4

cup

Oil

1/2

cup

Chopped pecans

1/4

cup

Water

4

Large eggs

1

small box

Instant vanilla pudding mix

1

tsp

Cinnamon

1

tsp

Vanilla extract
Instructions
Preheat oven to 350F. Grease and flour bundt pan.

Mix all ingredient, except pecans, in a large bowl with mixer until well blended (about 5 minutes on medium speed). Then add pecans and mix well with spoon.

Bake for 35-40 minutes. Let cool 15 minutes then remove from pan and place on wire rack to cool completely.

Dust with powdered sugar, serve with whipped cream, or top with your favorite cream cheese frosting (recipe below).

Cream Cheese Frosting: Combine 1 cup powdered sugar, 8 oz softened cream cheese, 1-2 tablespoons milk, and 1 teaspoon vanilla extract.
For other great dessert options, check out these dessert recipes:
Easy Chocolate Trifle with Brownies and Toffee
Products used for this recipe include: