Homemade Blueberry Pound Cake is packed with sweet and juicy blueberries! It's baked in a sugar-coated bundt pan for a crispy outer crust. Moist and fluffy on the inside.
Pound cakes have been popular for a very long time. Probably because they're very easy to make thanks to only using one cake pan. With a wide variety of different style bundt cake pans, it's easy and fun to show off your special design!
Be sure to also check out my Blueberry Orange Muffins recipe. Another great opportunity to eat delicious blueberries!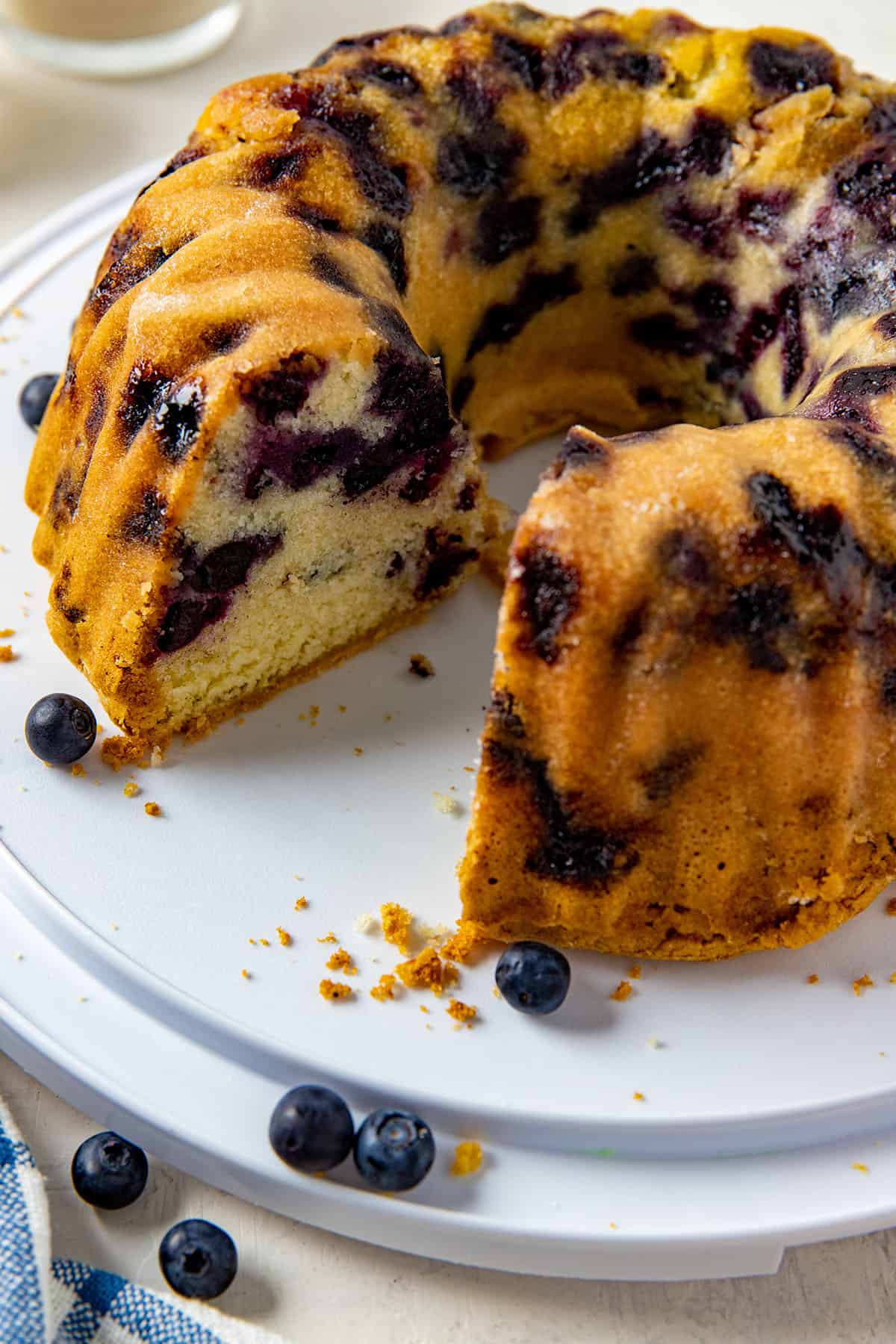 Why You'll Love This Cake
Wonderfully Delicious Cake As-Is. Because of the sugar crust, you really don't need to add a frosting/glaze or any other topping. Of course, nobody would resist a scoop of vanilla ice cream next to your slice of blueberry pound cake!
Right Amount of Sweetness. This cake isn't overly sweet or rich. It has just the right amount of flavor, level of sweetness, and blueberry flavor.
Easy to Make. There's nothing out of the ordinary as far as the recipe steps; it's really quite simple. It's totally worth every minute spent preparing this cake (and eating it, too!). Plus, if you can't find fresh blueberries, frozen blueberries can be used instead, but fresh tend to have more flavor.
Perfect for Breakfast and Dessert. Let's face it, this delicious cake can be enjoyed at any time of the day whether it's a meal, snack, or dessert. Just like my Apricot Nectar Pound Cake, this cake is frequently requested.
What Goes In It
Only the freshest ingredients go into this blueberry pound cake!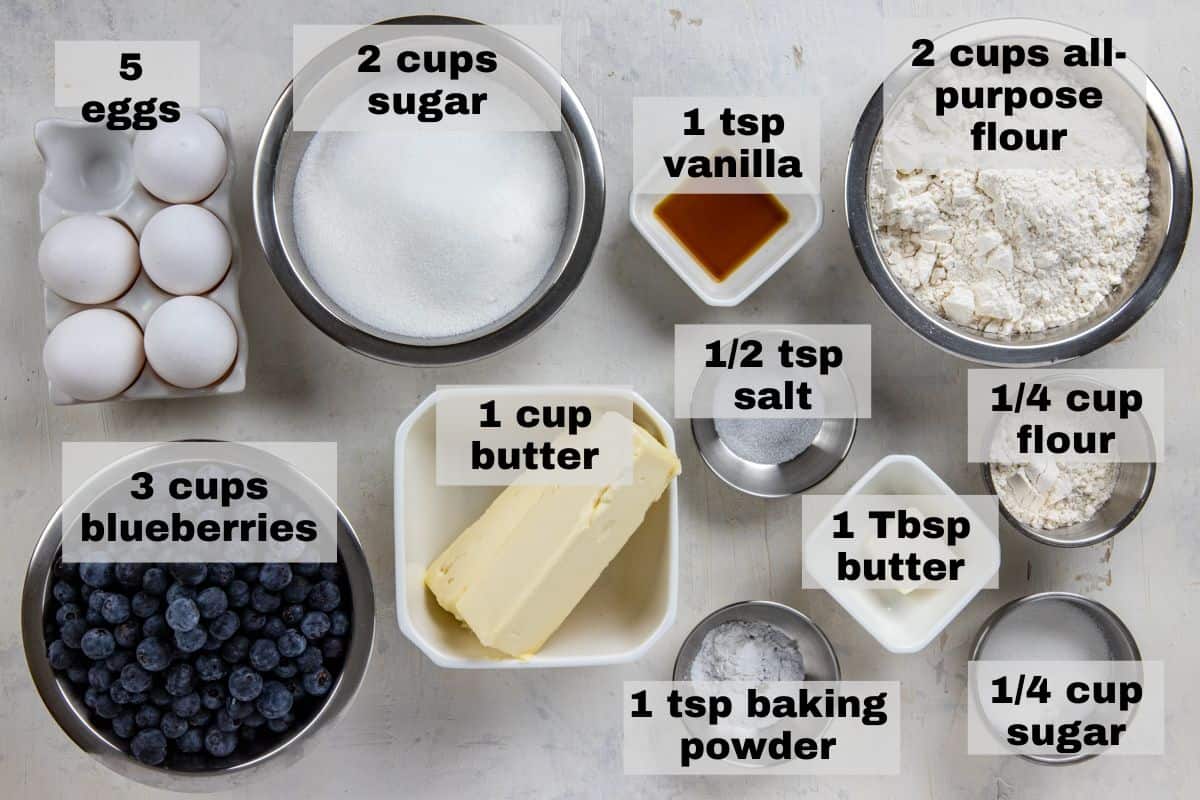 Blueberries - Fresh blueberries are the top choice here as they tend to be more flavorful. Frozen blueberries are a fine substitute if you can't find fresh ones.
Butter - The butter should be room temperature (or soft to the touch) so it will blend easily and evenly with the sugar. We'll also coat the bundt pan with some of the butter (yes!).
All-Purpose Flour - No need to sift the flour because most flour nowadays is pre-sifted. Most of the flour goes in the cake, but some of the flour is used to toss the blueberries in. More about that later.
Granulated Sugar - For the sweetness of course! But also for coating the inside of the bundt pan.
Eggs - The eggs should be at room temperature. If you add ice-cold eggs to the batter, the butter may firm up and the mixture won't be as smooth.
Vanilla Extract - Use the real stuff if you can! The flavor of real vanilla extract just can't be replaced with imitation stuff.
Baking Powder and Salt - These help the cake to rise while baking. Be sure to use baking powder and not baking soda.
How to Make It
For the absolute best results for this blueberry pound cake, please follow the recipe card below.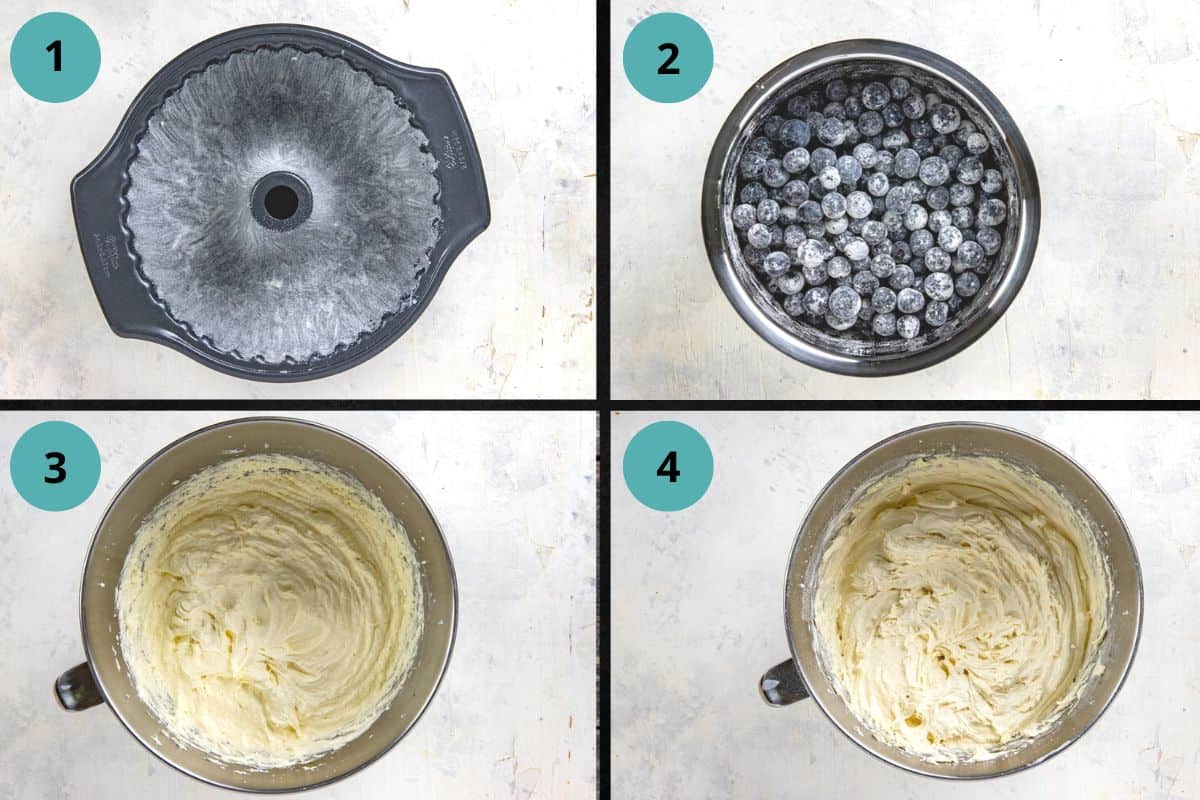 (1) Coat the inside of a bundt pan with butter, then add sugar and toss around until all spaces are sugar-coated.
(2) Toss the blueberries in a bowl with a little flour (to help keep them from sinking to the bottom of the cake pan.
(3) Mix the butter and sugar until creamy.
(4) Add the eggs one at a time. Blend. Add vanilla extract.
(5) Add the flour, baking powder, and salt to a small bowl. Blend. Add to egg mixture.
(6) Gently fold in the blueberries.
(7) Bake at 325F for 1 hour.
(8) Cool. Enjoy!
What to Serve with It
This blueberry pound cake is fabulous as-is! However, some people (like my family) have to have ice cream with their cake lol. So, vanilla ice cream is an excellent choice as well as whipped cream.
Expert Tips
Some people really love the flavor combination of blueberries and lemon. So if this is you, you can add 2-3 tablespoons of lemon juice to the batter.
When measuring flour and sugar, overfill the measuring cup, then run the back of a butter knife across the top of the measuring cup to level off.
Test the cake for doneness after 1 hour of baking. The easiest way to check for doneness is to insert a clean wooden toothpick into the batter. If the toothpick comes out clean (no gooey batter stuck to it), the cake is done.
This recipe calls for a bundt cake pan, but you could also use a tube pan or a loaf pan. As long as they're the same size as the bundt pan, a different-shaped pan should be fine.
Frequently Asked Questions
Is pound cake better warm or cold?
Both! I must say that this pound cake is delicious while it's still warm because it kinda reminds me of a warm blueberry cobbler. Plus, there's no refrigeration needed to store this cake.
How long does a homemade pound cake last?
Keep the cooled-off pound cake covered with plastic wrap or keep it in a cake holder. Eat it within 3-4 days.
What rack should you bake a pound cake on?
Always use the middle oven rack position to bake just about everything; especially a cake! This ensures an even distribution of heat all around the pan.
Can you freeze pound cake?
Cakes freeze very well. Just let the cake completely cool off (this may take several hours). Then double wrap the cake in plastic wrap, then in foil, then place into an extra-large freezer bag. Freeze for up to 3 months. PS - remember to write the date and contents on the freezer bag.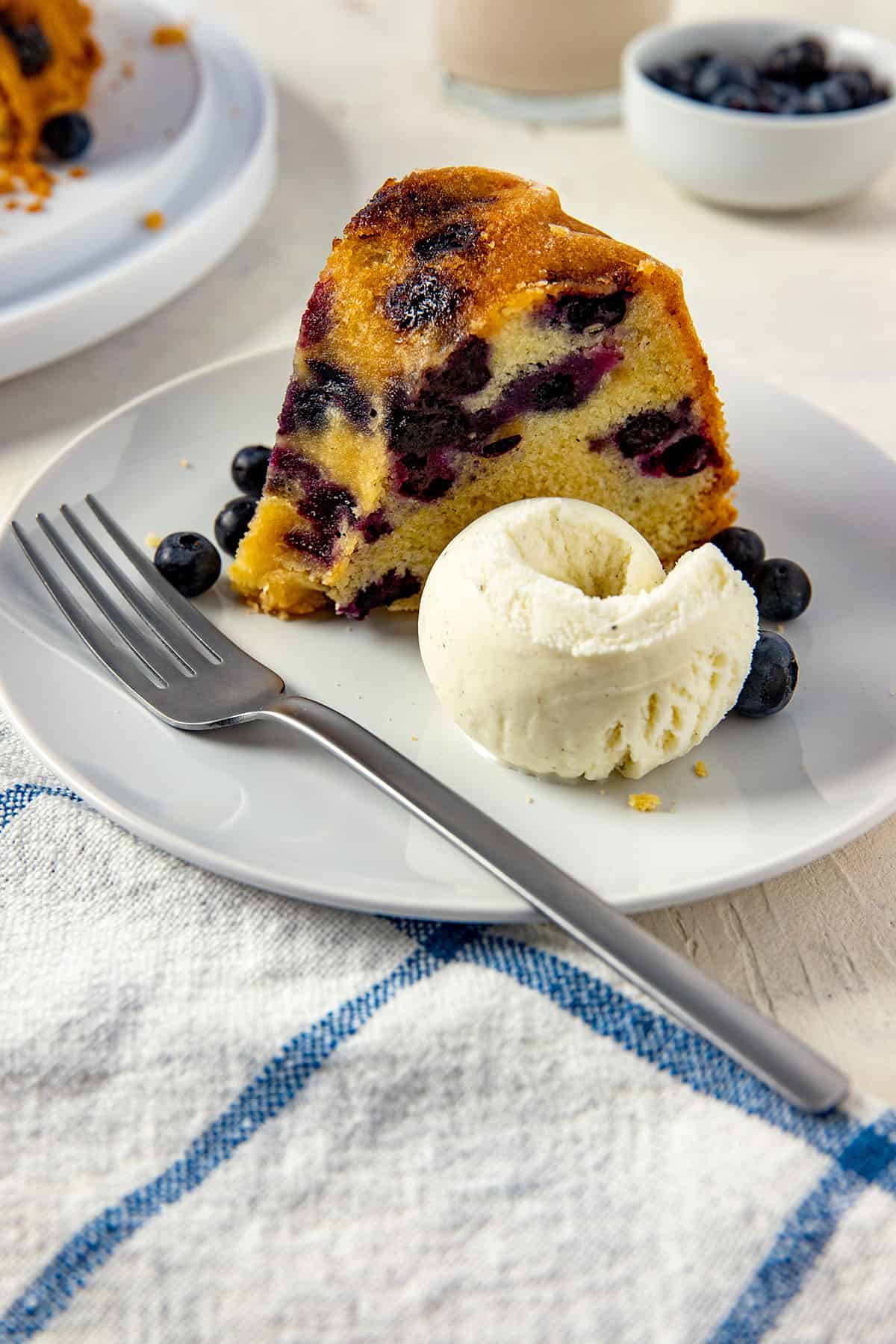 More Delicious Cakes
If you tried this recipe, please let me know by leaving a comment! I'd love to hear from you.
For a variety of easy southern recipes sent straight to your inbox, subscribe to My Kitchen Serenity and get a free 5-day meal plan! Click here to subscribe!
Recipe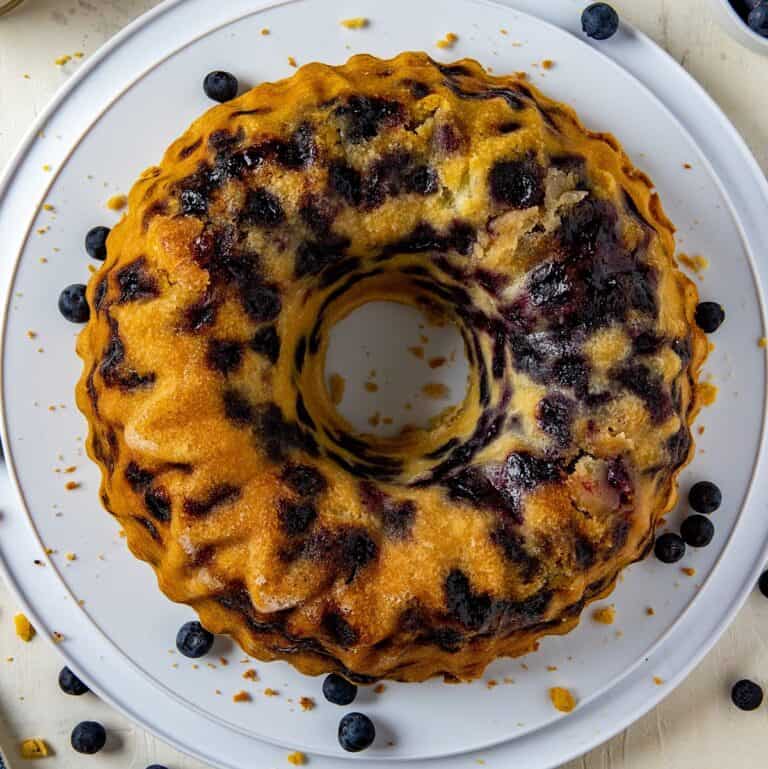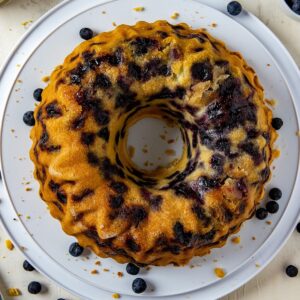 Best Blueberry Pound Cake
Homemade Blueberry Pound Cake is packed with sweet and juicy blueberries! It's baked in a sugar-coated bundt pan for the best flavor!
Print
Pin For Later
Rate
Equipment
Standard Size Bundt Cake Pan (preferably non-stick)

Measuring cups and spoons

large mixing bowl

Electric mixer

wire rack

Pastry brush
Ingredients
1

cup

softened butter, plus 1 Tablespoon set aside

2

cups

sugar, plus ¼ cup set aside

5

eggs

1

teaspoon

pure vanilla extract

2

cups

all-purpose flour, plus ¼ cup set aside

½

teaspoon

salt

1

teaspoon

baking powder

3

cups

fresh blueberries, rinsed and drained
Instructions
Preheat oven to 325F. Coat a tube pan or bundt pan with 1 tablespoon of softened butter. A pastry brush works well for this; get into all the nooks and crannies of pan. Sprinkle ¼ cup sugar all over the inside of the pan. Tap the pan to help distribute the sugar, make sure to coat the entire inner surface of the pan. Place pan in the refrigerator until ready to pour the batter in. Alternatively, you can spray the pan with non-stick oil-flour spray instead of the butter and sugar, but the sugar crust is so good! You'll love it!

Place the blueberries in a bowl and add ¼ cup flour. Toss to coat all the blueberries, and set the bowl aside.

Place the remaining butter and sugar in a large mixing bowl. Mix with an electric mixer for 3 minutes on medium speed; scrape down sides of bowl once during mixing.

Add eggs one at a time, blending between eggs, on medium speed for about 3 minutes total. Blend in vanilla extract.

In a separate bowl, whisk together the flour, salt, and baking powder. Then add 1 cup at a time to the egg mixture, blending between additions, on low speed for about 3 minutes.

Gently fold the blueberries into the batter trying not to get any additional excess flour left in the bowl in the batter. The blueberries should be coated with flour but any excess flour left in the bowl is not needed in the batter.

Evenly spoon the batter into the prepared cake pan.

Bake for 1 hour and check for doneness. The cake should be slightly browned. If a wooden toothpick inserted into the cake comes out clean (with no gooey batter stuck to it), then the cake is ready.

Let the cake cool in the pan for 30-40 minutes. If the edges appear stuck to the pan, run a butter knife around the inner and outer edges to loosen up the cake. Carefully turn the cake out onto a cake platter.

Serve the cake warm all by itself, or add a scoop of ice cream or dollop of whipped cream.
Notes
Coating the blueberries with flour helps to keep the blueberries from sinking to the bottom of the pan.  So, don't skip this step!
Store cake on the countertop (no need to refrigerate).
Nutrition
Calories:
388
kcal
|
Carbohydrates:
55
g
|
Protein:
5
g
|
Fat:
18
g
|
Saturated Fat:
10
g
|
Polyunsaturated Fat:
1
g
|
Monounsaturated Fat:
5
g
|
Trans Fat:
1
g
|
Cholesterol:
109
mg
|
Sodium:
281
mg
|
Potassium:
82
mg
|
Fiber:
1
g
|
Sugar:
37
g
|
Vitamin A:
592
IU
|
Vitamin C:
4
mg
|
Calcium:
40
mg
|
Iron:
1
mg
Nutritional information is provided as a courtesy to my readers. I'm not a nutritionist and I don't guarantee the accuracy of this data. The data may differ according to the brands I used versus the brands you use. To calculate the data yourself using your brands, try using an online nutrition calculator or app.