Listen up folks, if you haven't tried a coconut coffee cake with a cinnamon pecan swirl in the middle yet, you're missing out on a slice of heaven! It's like a tropical vacation and a cozy day all in one delicious dessert.
Why use toasted coconut? Not only does it bring a nutty and slightly sweet flavor to the party, but it also adds a slight crunchy texture that takes your eating experience to the next level. Trust me, your taste buds will thank you for it!
This coffee cake was inspired by my grandmother's recipe. The only thing I changed was the addition of the pecan coconut topping. Not only is this cake rich and moist - it's coconutty, cinnamony, and downright yummy!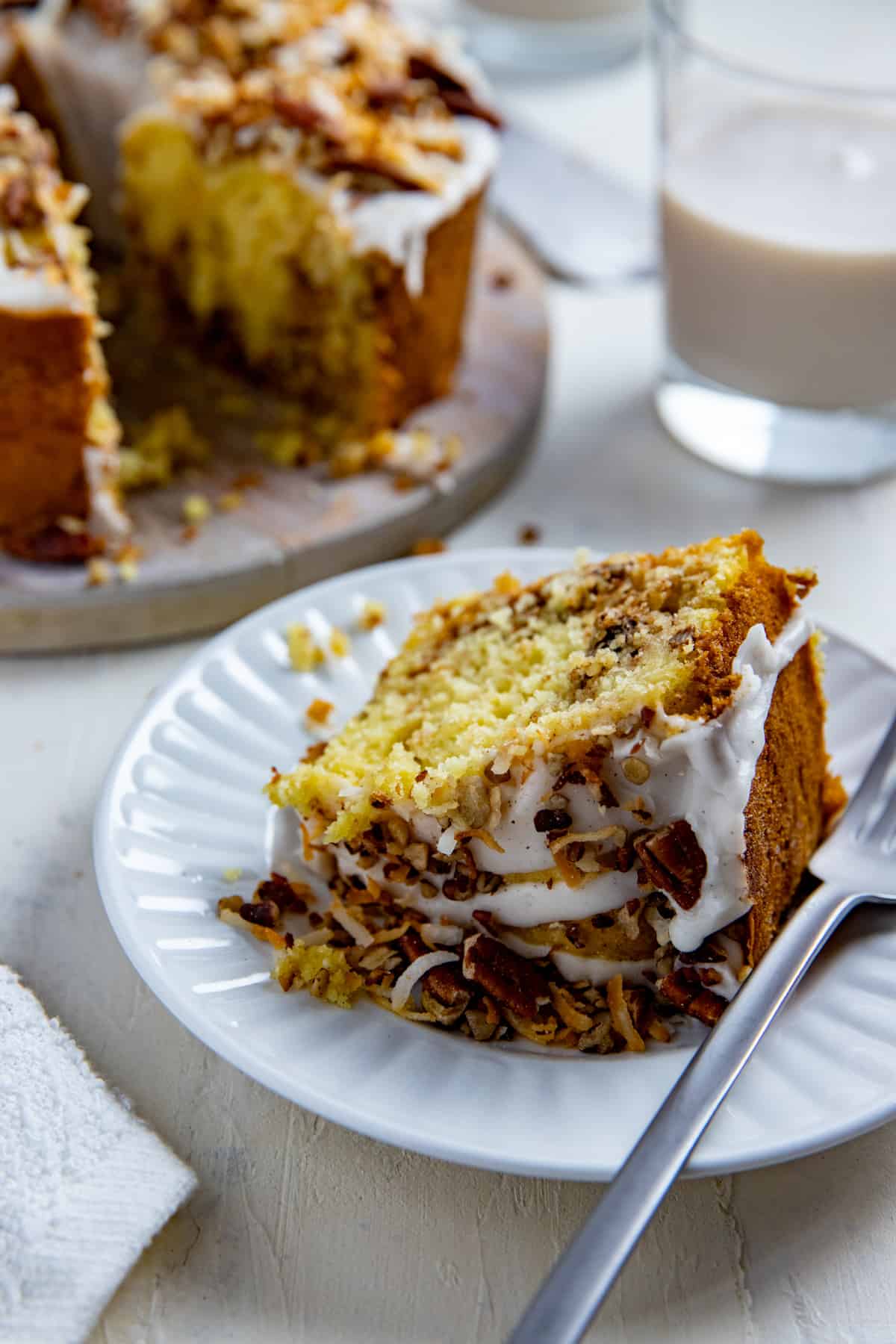 You may already know that I love the ease of Bundt cakes and tube cakes (single-layer cakes!). Another favorite cake is my Apricot Nectar Cake. It's old-fashioned goodness never goes out of style!
Jump to:
Why You'll Love This Coffee Cake
I can easily think of 4 reasons why you'll love this incredible Coconut Coffee Cake with its cinnamon swirl middle and crunchy coconut pecan topping!
Adding toasted coconut to a cake not only enhances the flavor with its nutty, slightly sweet taste, but also adds a slight crunchy texture that takes your taste buds to a whole new happy level.
Indulging in a slice of coconut cake is already a heavenly experience, but adding a swirl of cinnamon and pecans to the mix is a game changing move!
Using a cake mix cuts down a little on your prep time. The proportions of flour, baking powder, baking soda, and salt are already perfectly measured out.
The combination of soft, moist cake and crunchy cinnamon pecan streusel filling creates a satisfying texture that's a delight to bite into.
Ingredients You'll Need
Most of the ingredients are common pantry staples (sugar, eggs, oil, milk, etc.), but I'll highlight some noteworthy ingredients.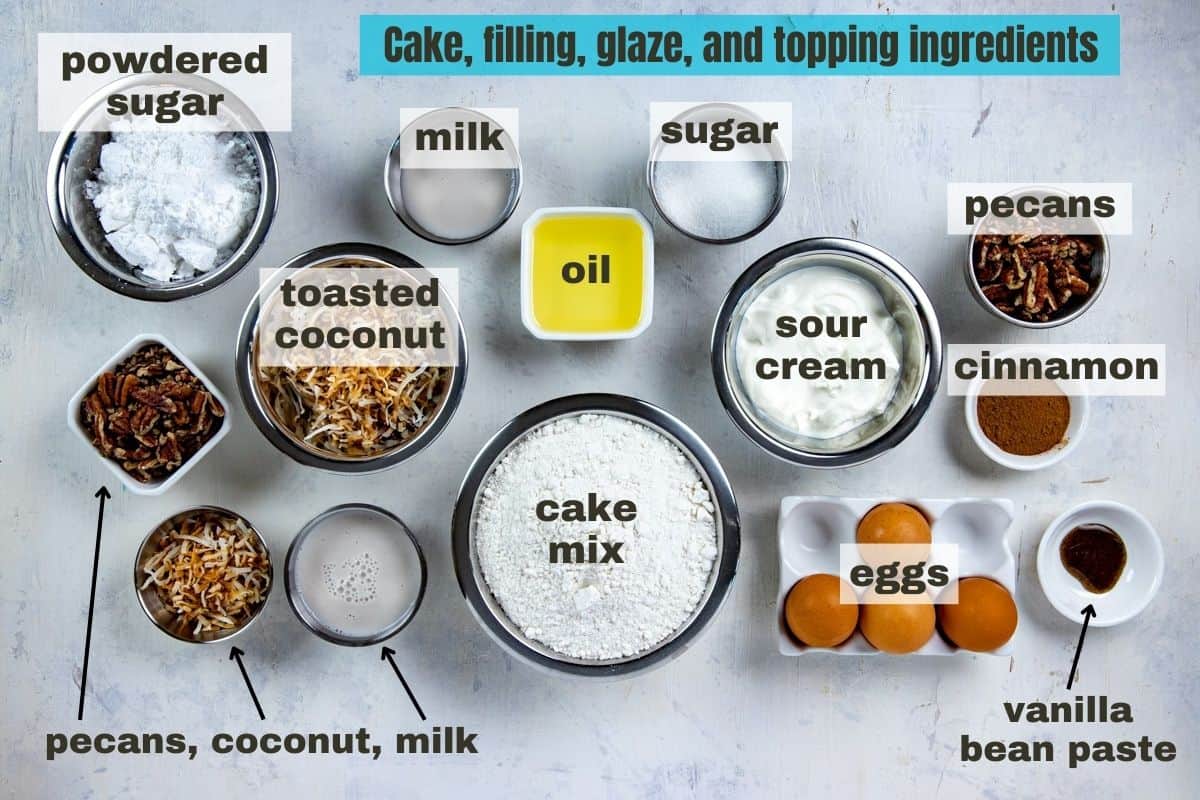 Yellow cake mix - oh how easy and convenient a boxed cake mix is! Its been around since the 1930s and for good reason! Sometimes, it's just a great option for a cake!
Coconut flakes - buy the frozen sweetened coconut flakes. You'll need this for the cake and the topping. You'll lightly toast the coconut flakes to bring out the sweetness, enhance the flavor, and add a little crunch.
Sour cream - this magical ingredient adds moisture and denseness to the cake. Use the full fat version for the best results.
Vanilla bean paste - this recipe uses Mexican vanilla bean paste. This stuff is so delicious and tastes great right out of the jar. It has a richer, deeper vanilla flavor than vanilla extract. You can actually see specks of vanilla bean floating around in there.
Ingredient Substitutions
Unsweet coconut. You could use unsweetened coconut, either frozen or shelf-stable. When making the topping, mix in about a tablespoon of sugar to add some sweetness.
Vanilla extract. If you can't find vanilla bean paste, pure vanilla extract is a great replacement.
Walnuts. Instead of pecans, use chopped walnuts. Either way, be sure to use unsalted nuts.
Greek yogurt. Instead of sour cream you can use Greek yogurt. Use full fat Greek yogurt to ensure a moist cake.
How to Make It
Coconut Coffee Cake is easy to make. Mix up the cake batter, the cinnamon pecan filling, the powdered sugar glaze, then the coconut pecan topping!
Step 1 - mix the cake batter ingredients, remove 2 cups of the batter and set aside, then pour remaining batter into cake pan.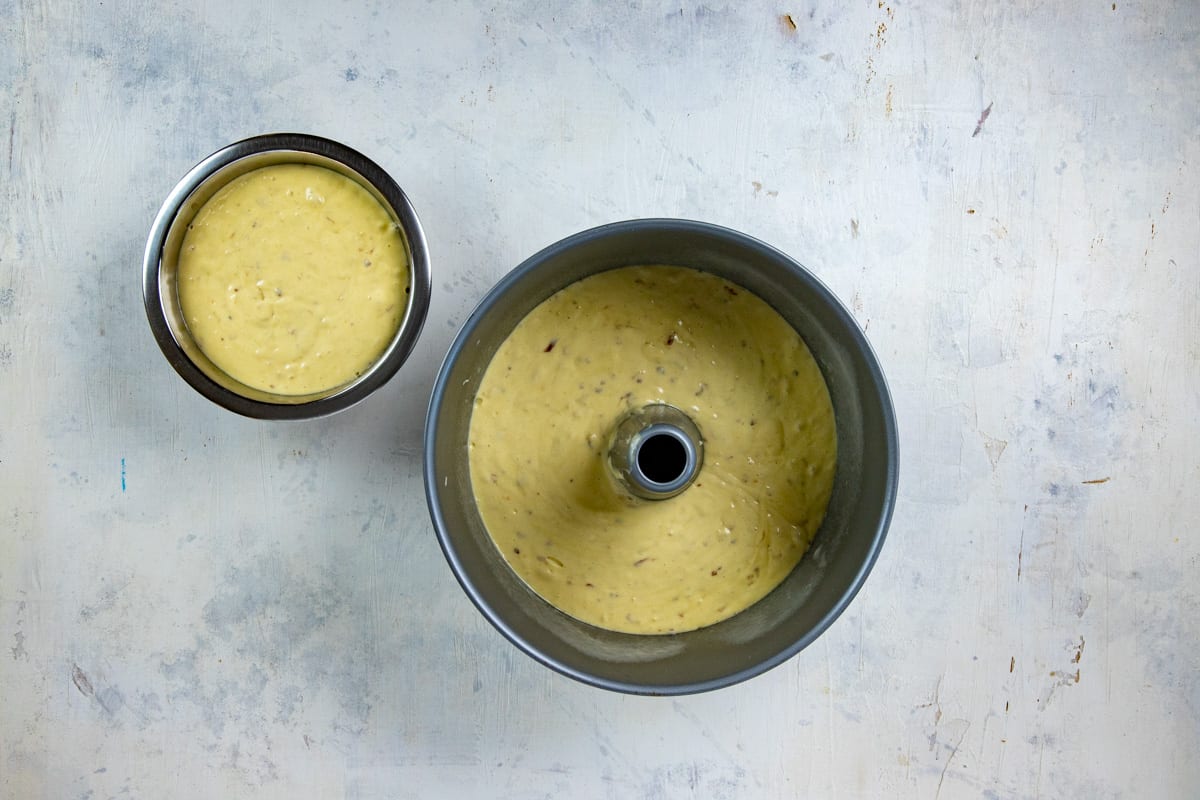 Step 2 - sprinkle cinnamon pecan mixture on top of batter then swirl it in.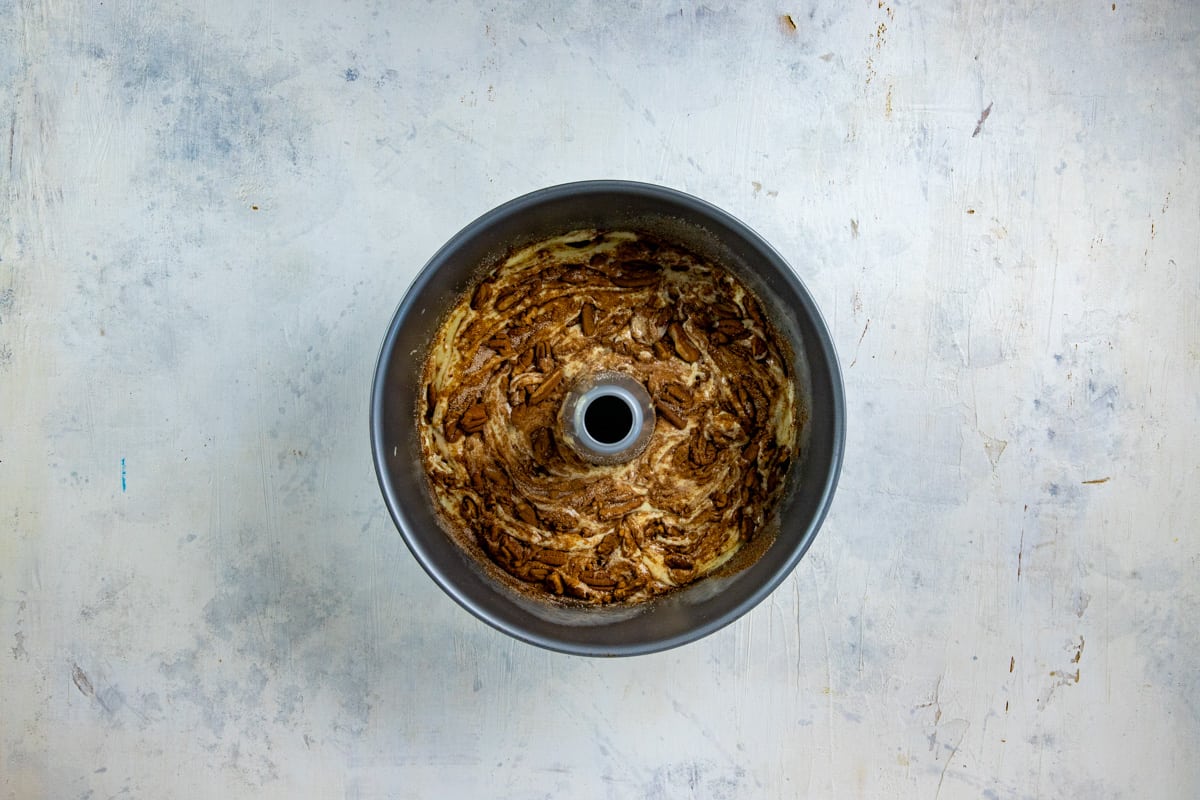 Step 3 - spread reserved cake batter on top.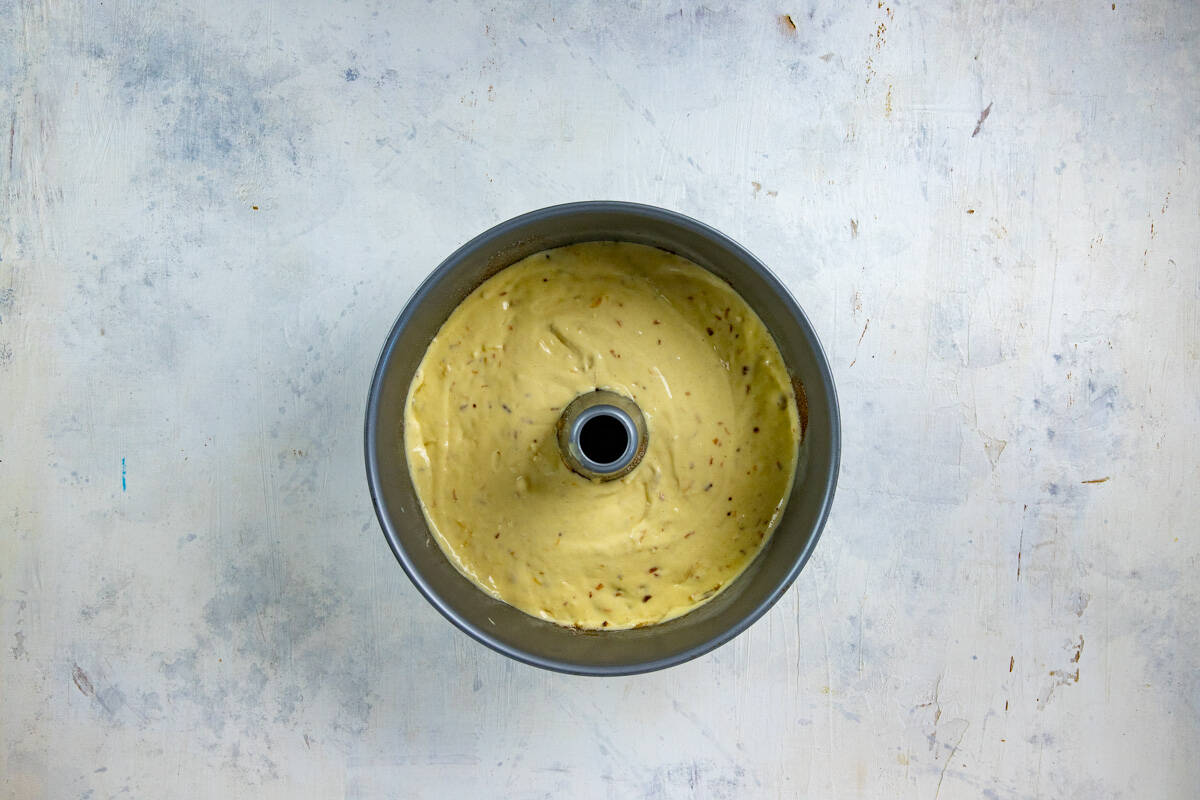 Step 4 - bake the cake and let it cool on a wire rack.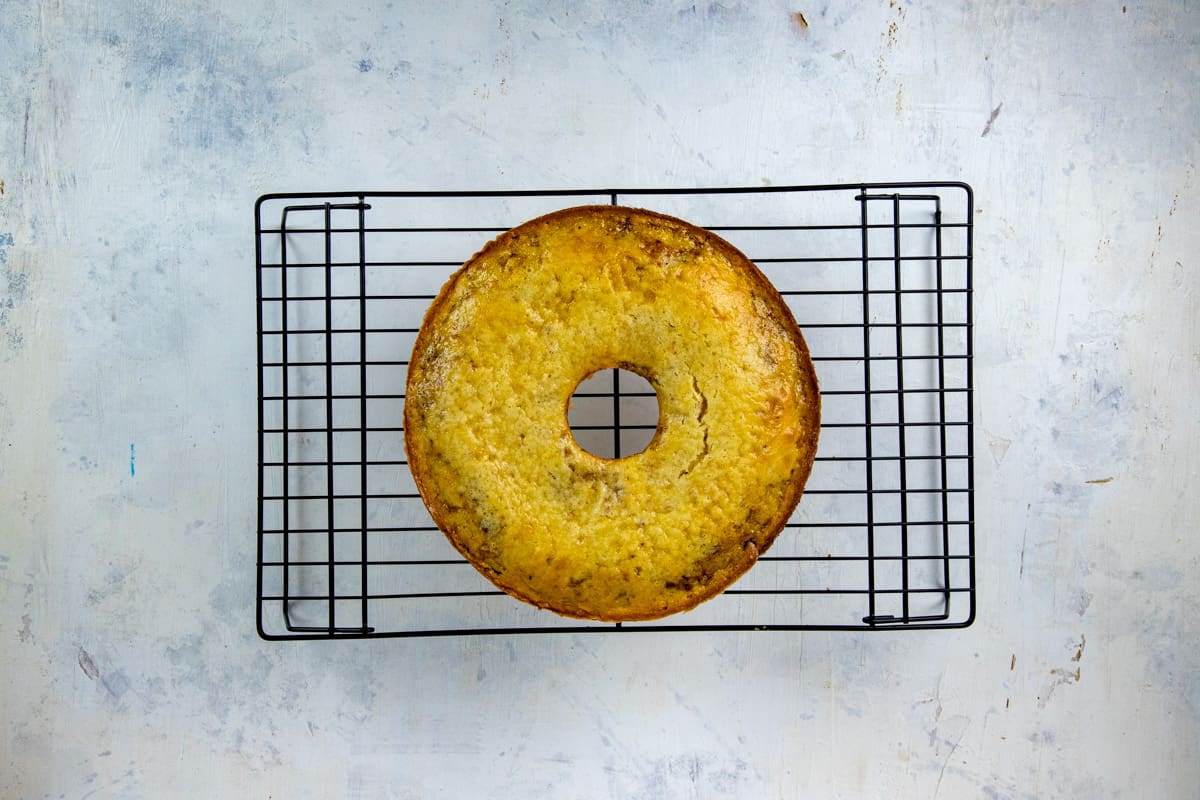 Step 5 - add the glaze to the cooled cake.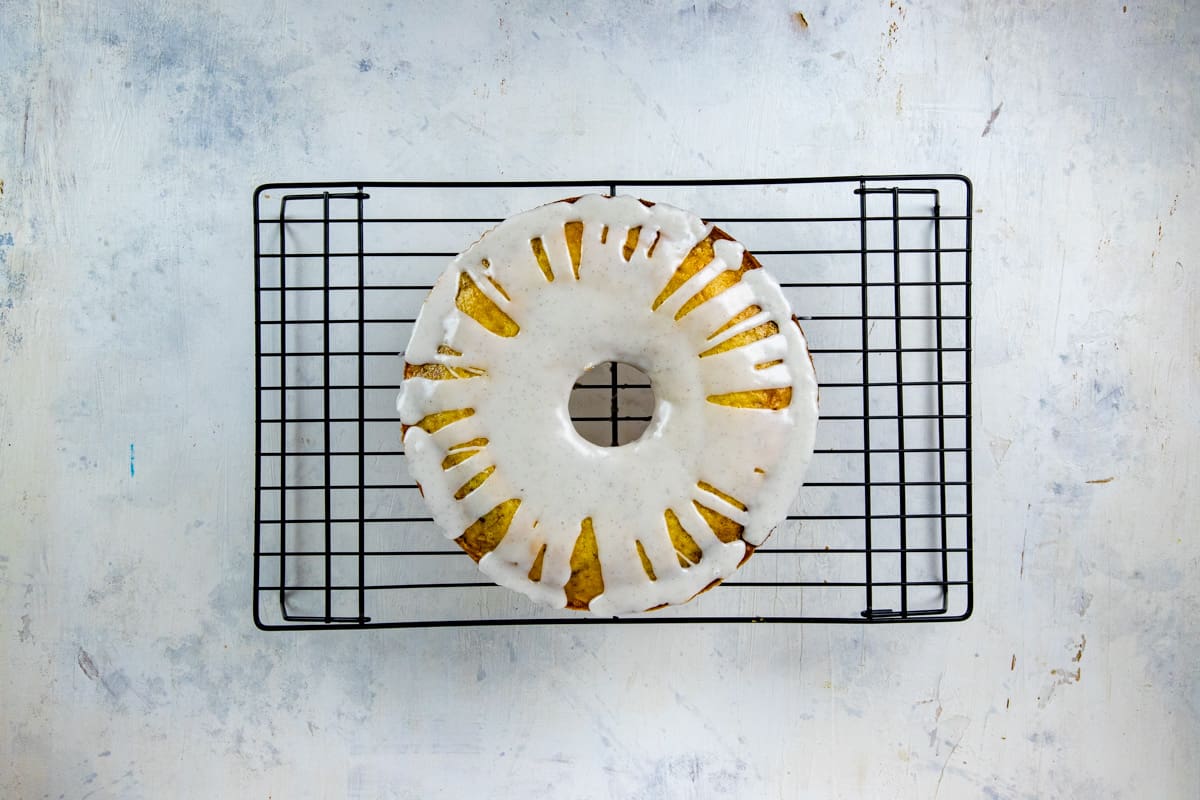 Step 6 - finally, add the coconut pecan topping. Enjoy immediately!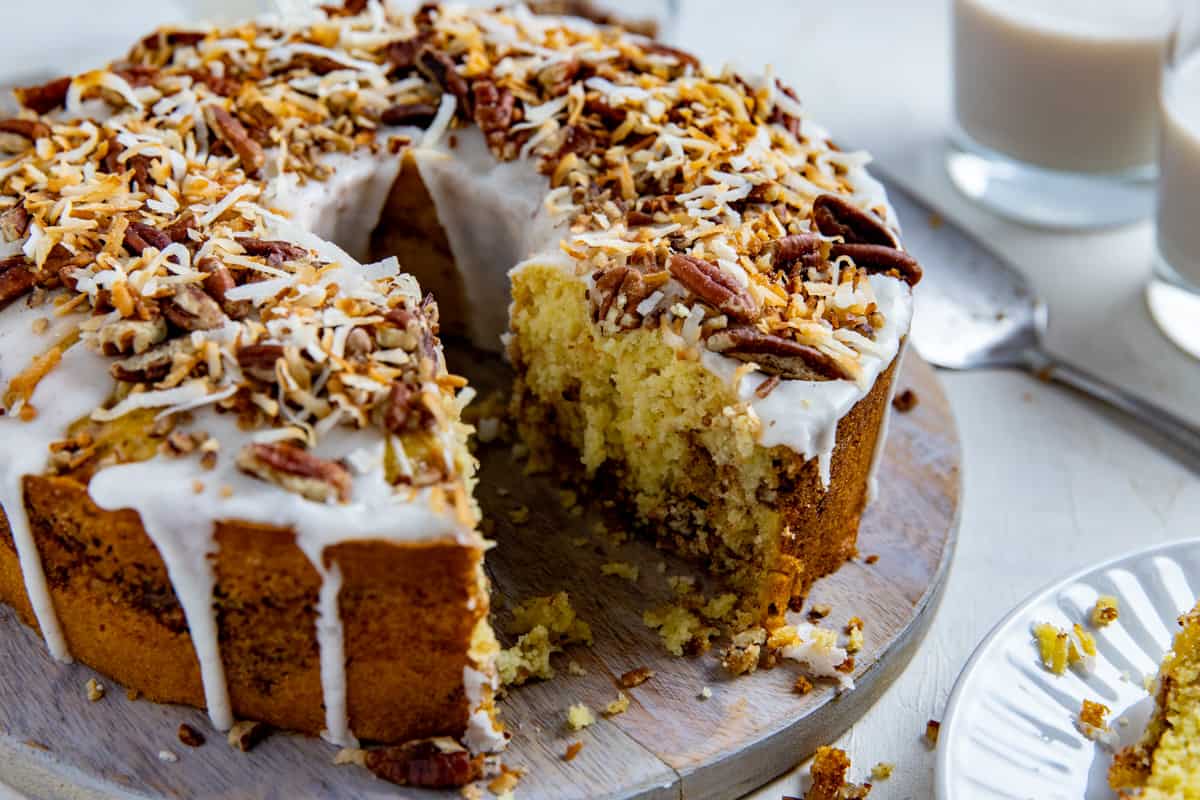 Frequently Asked Questions
Tube Pan vs Bundt Pan
So, what's the difference between a tube pan and a Bundt pan? A tube pan and a Bundt pan are both circular baking pans that are used to make cakes, but there are some differences between the two.

A tube pan has a flat bottom and straight sides, with a hollow center tube that runs through the middle of the pan. Some tube pans come in two pieces with a removeable center. I recommend a one-piece tube pan for this recipe.

A Bundt pan, on the other hand, has a decorative shape with ridges or flutes on the sides and also a hollow center of the pan. It's also called a fluted pan.

A tube pan works much better for this recipe than a Bundt pan because the top of the cake (actually the bottom of the cake because you'll flip it out of the pan) will be flatter and hold the topping the glaze like a champ!
Why are coffee cakes called coffee cake?
Most coffee cakes don't even contain coffee so why call them that? Most likely it's because they are meant to be eaten with a cup of coffee. The sweetness of the cake pairs perfectly with a cup of hot coffee. A slice of coffee cake goes great with a cup of joe in the morning for breakfast or in the afternoon as a snack. If you don't drink coffee, try it with a glass of ice cold milk!
How do you store a coffee cake?
You can keep this cake on your countertop for about 3 days (keep it in a covered cake holder or wrap in plastic wrap). You can also freeze it for up to 3 months if you wrap it tightly in plastic wrap then wrap it again in aluminum foil.
Recipe Tips
Be sure to spray the tube pan with a flour-oil spray to keep the cake from sticking to the pan. You can go old school and coat the pan with Crisco, then dust it with flour.
Use measuring cups and spoons to ensure that your ingredient amounts are accurate. Too much or too little of an ingredient can impact the texture and taste of your cake.
Use a wooden toothpick to check whether the cake is ready to come out of the oven. While you don't want to overbake a cake, you certainly want to make sure it's done! A wooden toothpick should come out clean (with no raw batter stuck to it) when inserted into the middle of the cake.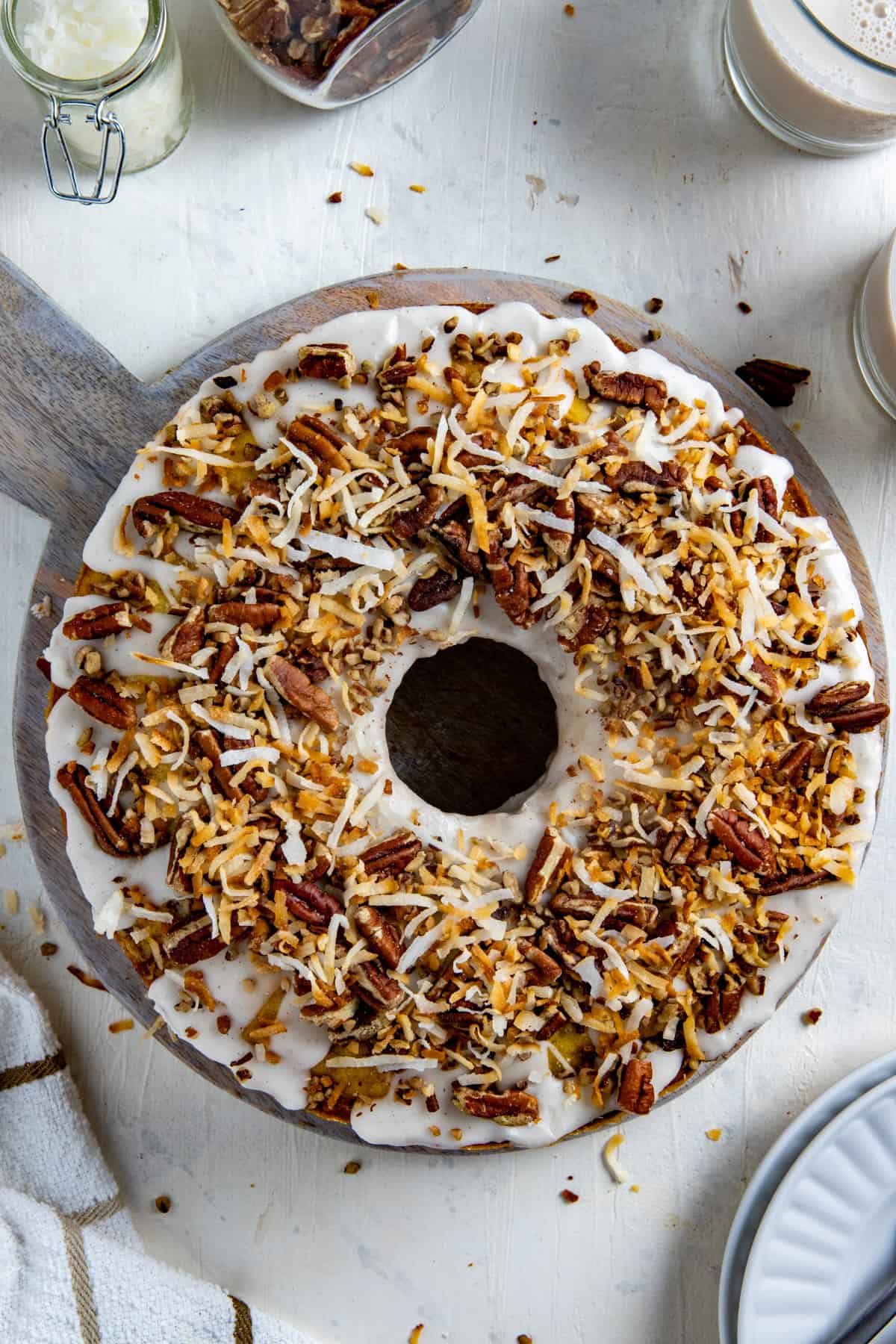 More Delicious Cakes
If you'd like some recipe inspiration delivered straight to your inbox, sign up for my email newsletter on my subscribe page and receive a free 5-day meal plan..
If you tried this recipe, please rate it and leave me a comment. I'd love to hear from you!
Recipe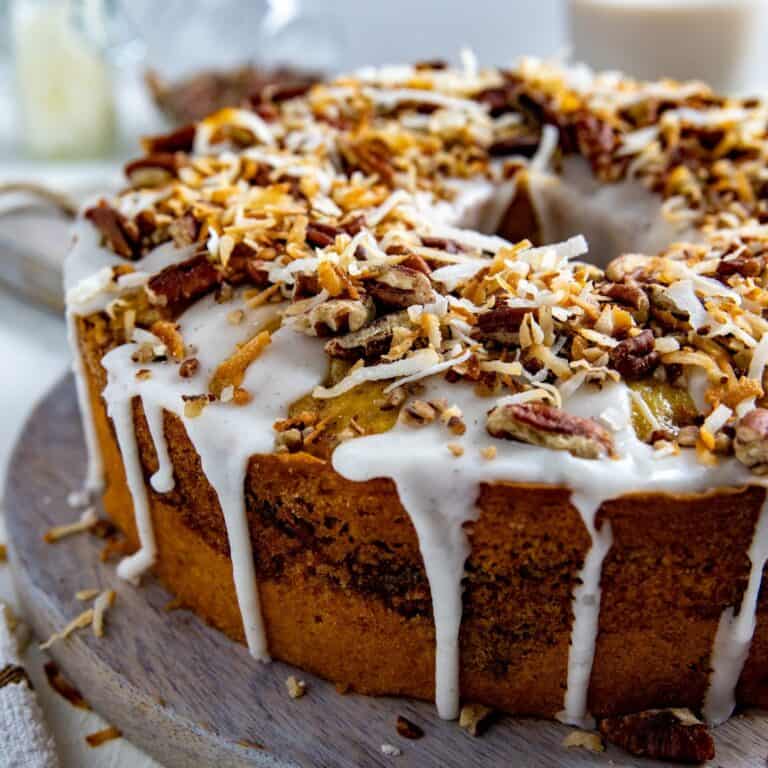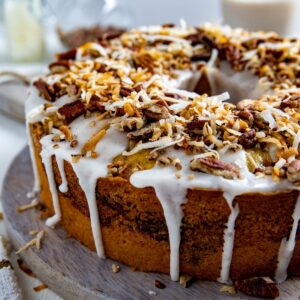 Coconut Coffee Cake
Coconut coffee cake with a cinnamon pecan swirl in the middle, glaze, and toasted coconut pecan topping. Slice of heaven! Easy recipes begins with yellow cake mix!
Print
Pin For Later
Rate
Equipment
10-inch tube pan

Electric mixer

measuring cup(s)

measuring spoons
Ingredients
Ingredients for Cake
¾

cup

frozen, sweetened coconut flakes, toasted (see notes for toasting the coconut)

you will need a total of 1 cup toasted coconut for this recipe

1

box

butter flavor yellow cake mix

8

oz

sour cream

4

large eggs

½

cup

canola oil

½

cup

milk
Ingredients for Middle Filling (Streusel)
⅓

cup

granulated sugar

1

tablespoon

cinnamon

½

cup

chopped pecans

you will need a total of 1 cup chopped pecans for this recipe
Ingredients for Glaze
1

cup

powdered sugar

½

teaspoon

vanilla bean paste

or vanilla extract

1-2

tablespoons

milk
Ingredients for Topping
¼

cup

sweetened coconut flakes, toasted

½

cup

chopped pecans
Instructions
Preheat the oven to 325F. Spray a 10-inch tube cake pan with non-stick spray (flour-oil mixture such as Baker's Joy).

Place all of the "Cake Ingredients" in a mixing bowl. Blend on low speed for 30 seconds, scrape down sides of bowl, then blend on medium speed for 1 minute.

Remove 2 cups of the cake batter and set aside. Pour remaining cake batter into prepared tube pan.

Mix the "Middle Filling/Streusel Ingredients" in a small bowl, then sprinkle evenly over cake batter that's in the tube pan. Use a butter knife to gently swirl into the batter - do not completely mix in!

Add remaining cake batter to the pan and spread evenly with a spoon.

Bake for about 40 minutes (check after 30 minutes). Cake is done when toothpick inserted comes out clean and cake is lightly browned.

Let the cake cool for 10 minutes, then remove the cake from the pan onto a cooling rack (see notes about how to remove a cake from a tube pan). Allow the cake to completely cool off before adding the glaze (can add glaze the next day if you want).

In a small bowl, use a whisk to blend the "glaze ingredients" until smooth. You want the consistency to be similar to honey. Drizzle over the cake.

Sprinkle the "topping ingredients" on top of the glaze.
Notes
How to Toast the Coconut - To toast the coconut, you can use a toaster oven or a skillet. Spread an even layer of coconut onto a small sheet pan and place in your toaster oven (use the "toast" setting) for a couple of minutes (toss after 1 minute) or place the coconut in a skillet over medium-low heat for 3-5 minutes, tossing occasionally until slightly golden browned.
How to Remove the Cake from the Tube Pan - Here's a great instructional video of how to remove a cake from a tube pan.
Storing the Cake - You can keep this cake on your countertop for about 3 days (keep it in a covered cake holder or wrap in plastic wrap). You can also freeze it for up to 3 months if you wrap it tightly in plastic wrap then wrap it again in aluminum foil.
Nutrition
Calories:
464
kcal
|
Carbohydrates:
58
g
|
Protein:
5
g
|
Fat:
25
g
|
Saturated Fat:
6
g
|
Polyunsaturated Fat:
5
g
|
Monounsaturated Fat:
11
g
|
Trans Fat:
0.1
g
|
Cholesterol:
67
mg
|
Sodium:
365
mg
|
Potassium:
147
mg
|
Fiber:
2
g
|
Sugar:
38
g
|
Vitamin A:
222
IU
|
Vitamin C:
0.3
mg
|
Calcium:
146
mg
|
Iron:
2
mg
Nutritional information is provided as a courtesy to my readers. I'm not a nutritionist and I don't guarantee the accuracy of this data. The data may differ according to the brands I used versus the brands you use. To calculate the data yourself using your brands, try using an online nutrition calculator or app.