This Mexican Beef and Rice Casserole is cooked in your crock pot! It's an easy one pot meal packed with flavor and loaded with ingredients such as ground beef, rice, corn, black beans, salsa, and enchilada sauce. Simply cook the ground beef then add the remaining ingredients to your slow cooker. Top with cheese, avocado, or sour cream. Serve with tortilla chips for the best eating experience!
Quick Notes: This post was originally published in 2018. It was updated with new photos and helpful tips. It contains affiliate links. Please read my disclosure statement for details. Thank you.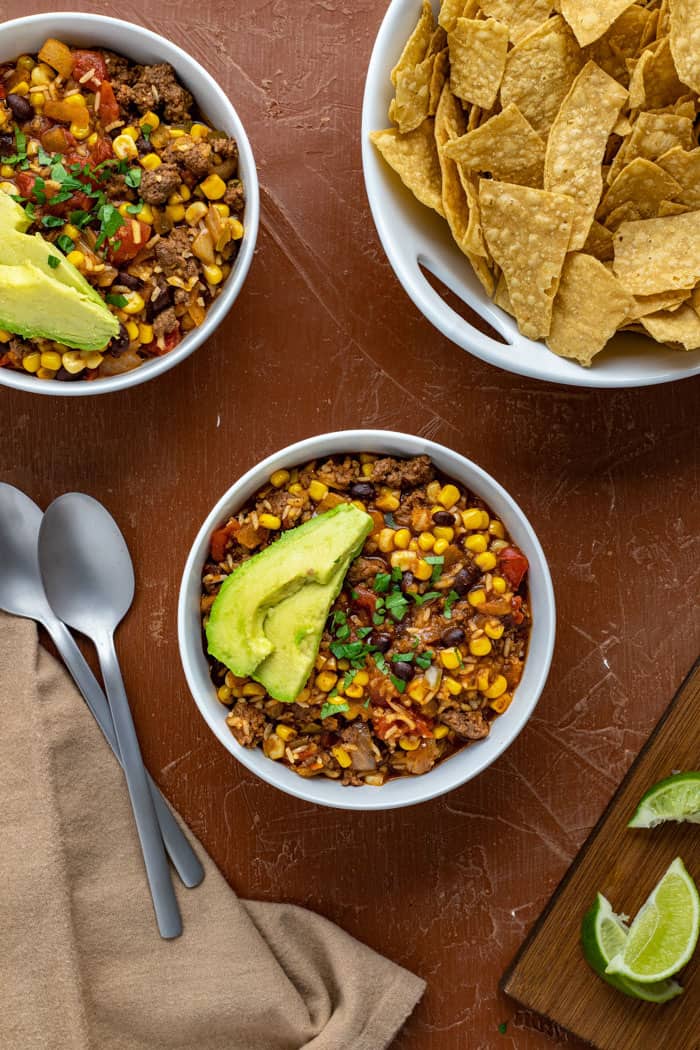 Want another Mexican Recipe favorite? Try my Instant Pot Pork Carnitas Bowls with bonus recipes Homemade Pico De Gallo and Cilantro Lime Rice.
Why We Love This
Everybody has their favorite version of Mexican rice casserole. This one is our favorite because it's full of flavor and always turns out perfect. It's versatile, too. Everybody can add their own toppings so everybody is perfectly pleased. Making this for Cinco de Mayo is a tradition but any day is a great day for making this easy Mexican dinner recipe! And it qualifies for a Taco Tuesday meal.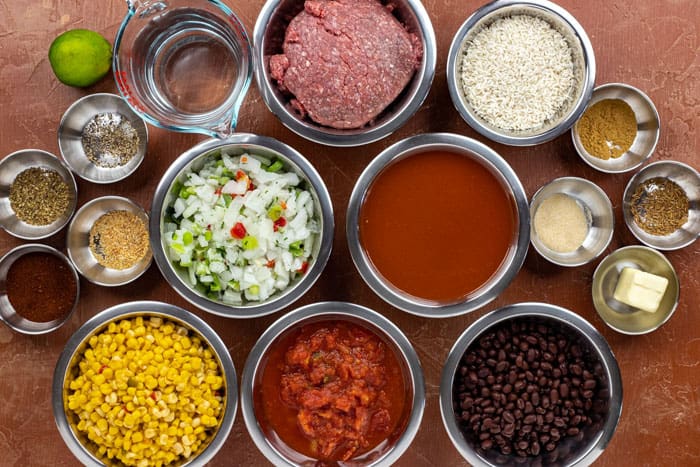 Ingredient Notes
Ground Beef - you could use ground turkey if that's your preference
Onion, Bell Pepper, and Celery - use the convenient frozen chopped "seasoning blend"
Salsa - pick your heat level, chunky or smooth. Use a can of tomatoes if preferred
Black Beans - use pinto beans if that's what you already have
Southwest Corn - this canned corn adds more flavor than plain whole kernel corn
Red Enchilada Sauce - any store-bought brand is fine. Choose mild, medium, or hot
Butter - need I say more?
Chili Powder - gives this dish a slight kick and smokey flavor (try smoked paprika for a change of pace)
Ground Cumin - found in many Mexican dishes, it gives a warm, peppery flavor. Use coriander if you need a substitute
Minced Garlic - use powdered garlic you already have that on hand but the jarred kind sure is good and handy, too
Onion Powder - love this basic pantry staple but you can use onion flakes if that's all you have on hand
Oregano - use dried thyme if you don't have oregano
Cumin Seed - add great flavor but you can certainly leave it out if you want to
Black Pepper - love this basic pantry staple - fresh ground is best
Long Grain White Rice - Long grain white rice won't get mushy or stick together like regular rice does. You can use brown rice instead but you will likely need to let this cook longer, perhaps as much as one additional hour, so please adjust the time as needed.
Lime - adds special zing as a final touch
Equipment Needed
Crock Pot (Slow Cooker)

Pan to cook the ground beef

Measuring cups and spoons
How to Make It
Brown the ground beef and drain. Add to your crock pot.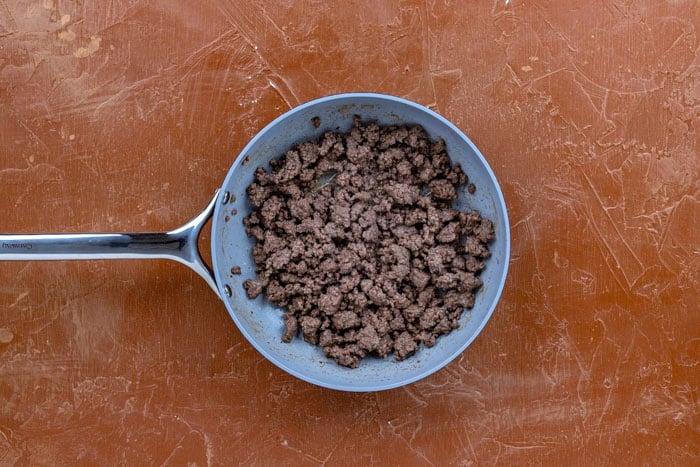 Add remaining ingredients (except the lime).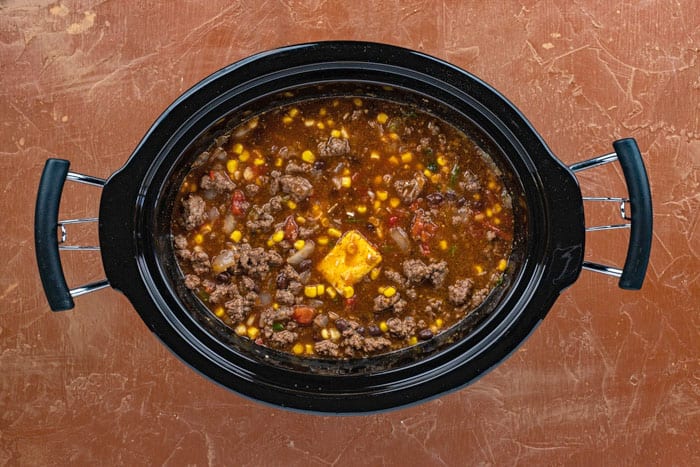 Mix well and cook on high for 3 hours or low for about 5 hours (or until rice is cooked).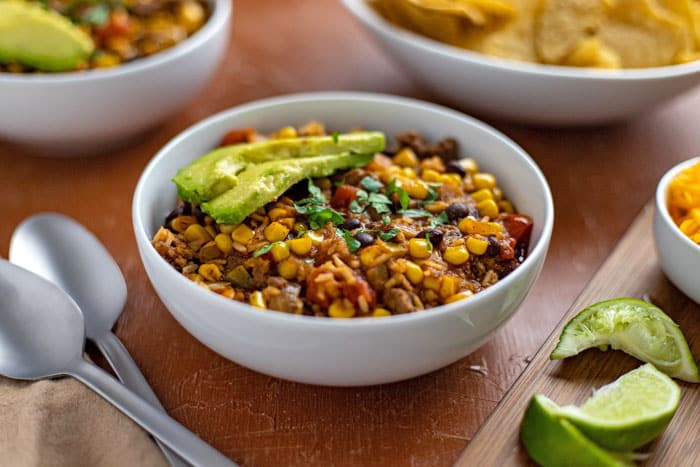 Spoon into a serving bowl and top with a squeeze of lime. Add more of your favorite toppings such as shredded cheese, sliced avocado, sour cream, green onions, etc. Serve with chips or use as a filling for tortillas.
Every time I use the crock pot for my favorite slow cooker recipes, I always ask myself, "why don't I use this crock pot more often!" I've had this crock pot for at least 5 years. It's not fancy, but I love it.
The crock pot, also known as a slow cooker, is simply a magical meal maker! There's something special and delicious about a meal that's been slow cooked all day. This crock pot Mexican casserole is perfect for an easy meal any day of the week.
Best Time-Saving Tip
Have you tried the frozen chopped onion, bell pepper, and celery blend? I tell you that this stuff is the only way for me. Once I discovered this, I have yet to chop another onion (and I have not shed any tears since!). Some people may gawk at the idea of using this, but if fresh onions and bell peppers are your thing, then continue to chop, chop, chop. Fresh is better, I won't even try to convince you otherwise. But in my world, the pre-chopped, frozen version works for me!
Frequently Asked Questions
What are the Benefits of a Crock Pot ?
Superior at tenderizing tougher cuts of meat. Besides you can set it and forget it, there are many benefits of a crock pot! Let's explore them:

The crock pot will do all the cooking while you're asleep or away from your home.

Only two pots to clean! One pot to cook the ground beef, and the other pot being the slow cooker.

It's convenient to take to the office or another person's home...just plug it up to reheat (or keep hot) that delicious food you just made.

Slow cooking brings out more flavor most of the time.

Your crock pot will use much less electricity than your oven or stove.
Who Invented the Crock-Pot?
The crock-pot was invented by Irving Nachumsohn in 1940! He invented the slow cooker to cook a Jewish stew that is eaten on the Sabbath. He wanted to cook it the day before the Sabbath but it was prohibited for Jews to cook on the Sabbath. So he invented the crock pot to cook it the day before! Here's the entire article from One Country, A Brief History of Crock-Pot, The Original Slow Cooker.
Serving Suggestions
Now, you can enjoy this Mexican casserole as is, right out of the crock pot when it's done. Spoon it into a bowl, add a squeeze of fresh lime juice and some shredded cheese and enjoy. Add some avocado and sour cream and you're good to go.
Some people have been known to eat this casserole with tortilla chips or corn chips. Try it inside a taco shell. Others have used this casserole as a filling for their wraps. I'm always interested to hear how creative people can be with food! This is truly an easy dinner meal. Now, let's get crocking!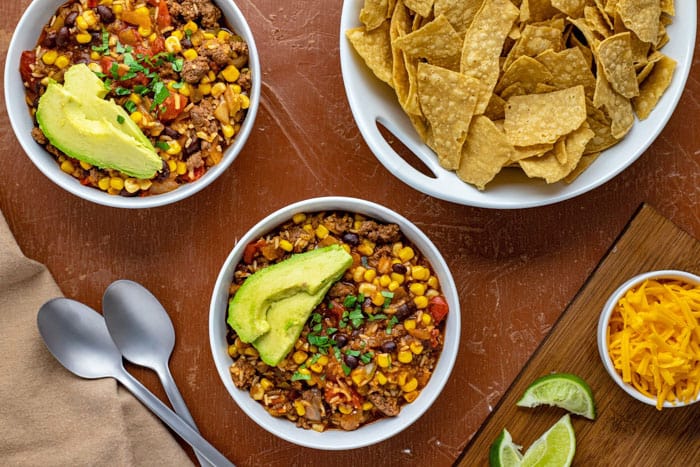 Storage/Shelf Life/Reheating
This casserole freezes well. Allow it to completely cool off. Then place into a freezer container or sealable plastic freezer bag (write the date on the bag so you can easily remember it). It will stay fresh for up to 3 months. Thaw in the fridge the day before you plan to eat if. Reheat in a pot on the stove or in the microwave.

Store any leftovers in airtight containers in the refrigerator for up to 3 days. I prefer to use BPA-free glass containers with locking lids. Check out this 18-piece set of glass food storage containers with locking lids from Bayco, available now on Amazon.
Do you love Mexican Cornbread? Then please give my easy, cheesy recipe a try!
If you tried this recipe, leave me a comment and let me know how it turned out!
Need more great recipe ideas? Follow me on Facebook, Pinterest, and Instagram to get more delicious recipe ideas in your feed.
Join my email list to get a variety of easy recipes sent to your inbox. How easy is that, right?!
If you'd like more simple and easy recipe inspiration delivered straight to your inbox, sign up for my email newsletter.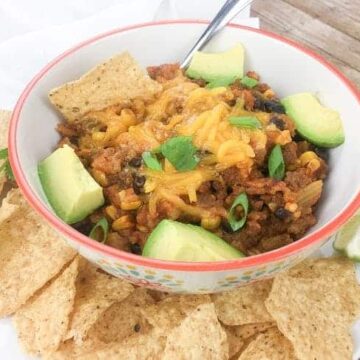 Crock Pot Mexican Casserole
This Crock Pot Mexican Rice Casserole is packed with flavor and loaded with ingredients such as corn, black beans, salsa, and rice. Simply cook the ground beef and add the remaining ingredients to your slow cooker. Turn the crock pot on and let it do its magic.

Print
Pin For Later
Rate
Ingredients
1

lb

ground beef

See Recipe Notes

2

cups

frozen chopped onion, bell pepper, and celery "seasoning blend"

See Recipe Notes

1

16 oz

jar of salsa

1

15 oz

can of black beans, drained and rinsed

1

14.75 oz

can of southwest or fiesta corn, drained

2

10 oz

cans of red enchilada sauce

2

tbsp

butter

2

tbsp

chili powder

1

tsp

cumin

1

tsp

minced garlic

1

tsp

onion powder

1

tsp

oregano

½

tsp

cumin seed

½

tsp

black pepper

1

cup

long grain white rice, uncooked

See Recipe Notes

2

cups

water

1

lime

Your favorite toppings of choice: a few drops of fresh lime juice, shredded cheese, avocado, sour cream, greek yogurt, guacamole, lettuce, tomato, etc.
Instructions
Brown the ground beef and drain. Add to slow cooker.

Add remaining ingredients to the slow cooker. Mix well. Cover and cook on high for 2-½ to 3 hours or low for 4-5 hours or until rice is cooked.

Top with your favorite items such as a squeeze of fresh lime, chopped cilantro, avocado, shredded cheese, green onions, sour cream, lettuce, tomato, etc. Eat with tortilla chips or corn chips.
Notes
NOTES: (1)  You can use cooked ground turkey, cooked ground chicken, or cooked chopped or shredded chicken instead of the cooked ground beef.
(2)  I like to use the frozen seasoning blend to save myself some chopping time.  However, you can use fresh bell pepper, onion, and celery if you desire.  I would use 1 cup finely chopped fresh onion, 1 cup finely chopped fresh bell pepper, and ½ cup finely chopped fresh celery.
(3)  I

f you plan to use brown rice instead of white rice, you'll probably need to cook it longer.  Perhaps as much as one hour longer using brown rice.
Original photos from 2018. The new ones are an improvement - what do ya think?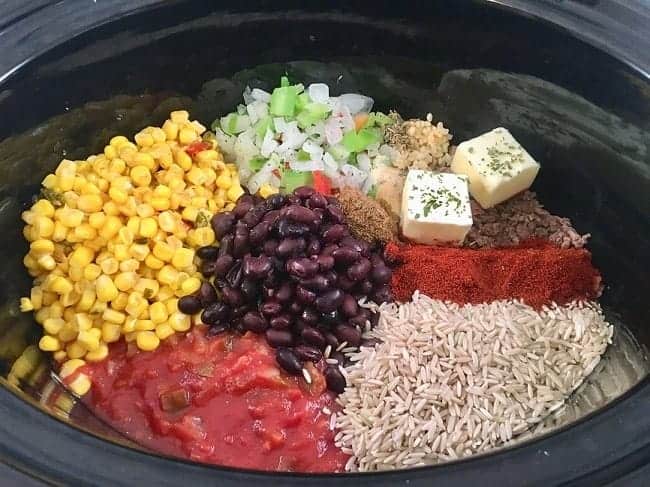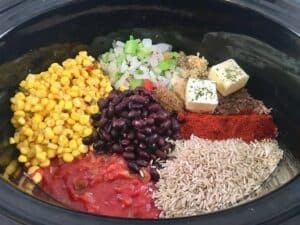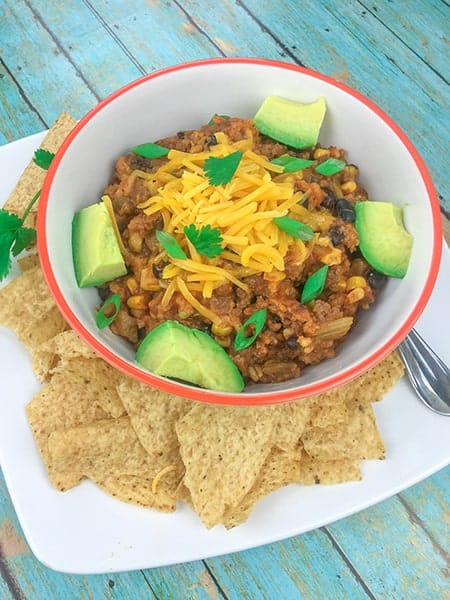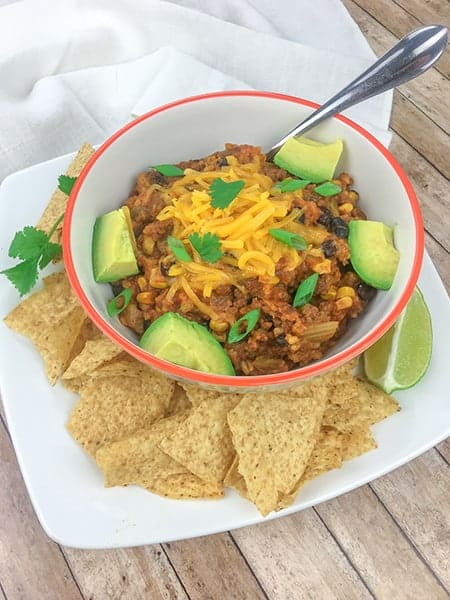 Here are some other recipes you may like. By the way, the chocolate chess pie recipe is super crazy good.
Ultimate Blue Cheese Stuffed Hamburgers
Chicken Broccoli Alfredo Pasta
One Pan Yogurt Marinated Chicken and Potatoes
Quick and Easy Red Beans and Rice with Sausage
Southern Shrimp and Rice Casserole
Family Favorite Stuffed French Bread