Fresh sliced zucchini baked in a pie shell with lots of cheese is a perfect side dish for any occasion.  Is your garden overflowing with zucchini? Here's a delicious zucchini side dish recipe that's always a hit.
Quick Note:  This post contains affiliate links. Please read my disclosure statement for details. Thank you.
Easy Zucchini Pie Variations
You could transform this pie to a crustless zucchini casserole by placing all the ingredients (except the pie crust of course) into a small casserole dish instead of a pie crust and bake as directed for the pie.  Below is a picture of this zucchini pie served with tomatoes but you can actually add a small sliced tomato with the sliced zucchini and bake it as directed.  Use a red or green tomato, it doesn't matter.  But a red tomato seems to add a splash of color.  A zucchini and tomato pie is a great way to use up those tomatoes when your tomato plants are loaded with fresh tomatoes.  Zucchini and tomatoes just seem to "go together" don't they?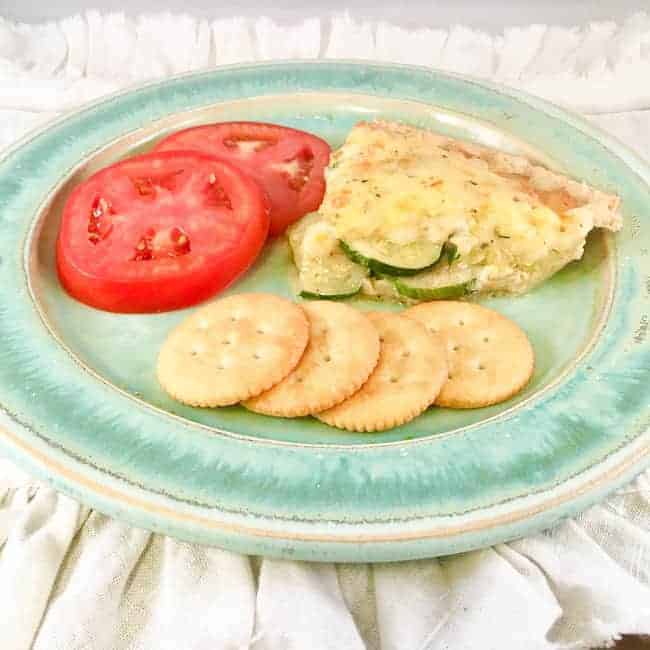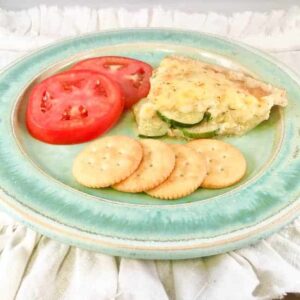 I use a mandolin to slice the zucchini to get all the slices the same thickness.  I prefer to slice them thin, very thin.  I would say about the width of a dill pickle chip.  I know it seems thin, but this is just my preference as it seems to get all the flavors (seasonings and butter) absorbed into the zucchini.  Feel free to slice them thicker!
Tips:  Use a pre-made pie crust to save yourself some time.  Also, Muenster cheese is a soft cheese.  If it seems too soft to shred, place it in the freezer for a few minutes to harden it a bit.  This will make shredding/grating it much easier.
If the pie crust edges start to brown too quickly before the pie is finished cooking, you can remove the pie from the oven and CAREFULLY place some foil around the edges.  Do this carefully as the pie will be HOT!!!  Return the pie to the oven to finish baking.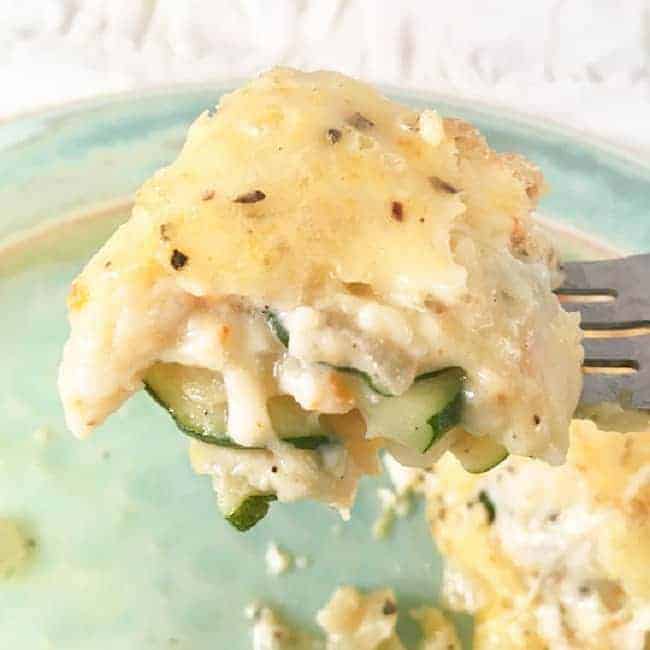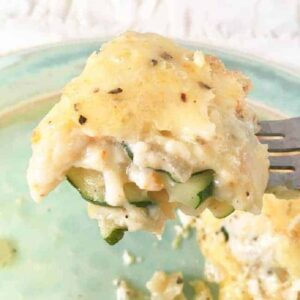 Zucchini Pie Recipe
Fresh sliced zucchini baked in a pie shell with lots of cheese is a perfect summer side dish. In fact, this easy to make zucchini pie can be a main meal, too.
Print
Pin For Later
Rate
Ingredients
1

Pie shell, unbaked

1

tsp

Mustard

2

Zucchini, thinly sliced

1

cup

Onion, chopped

2

tbsp

Butter

1

tsp

Oregano

1

tsp

Garlic powder

1/4

tsp

Black Pepper

2

Eggs

8

oz

Muenster cheese, shredded

Salt to taste
Instructions
Preheat oven to 350. Spread the mustard on the bottom and sides of pie crust.

Saute the onion in butter until soft. Add zucchini slices and saute until softened. Drain the onion/zucchini mixture and add to pie crust. NOTE: Draining the onion/zucchini mixture is very important as this keeps the bottom of the pie crust from getting too soft.

In a bowl, slightly beat the eggs then add the cheese and seasonings. Pour over the onion and zucchini. Bake for 20-30 minutes or until the top is bubbly and lightly browned.
Items used in this recipe include:
Here are a few of my all-time favorite southern cookbooks that I have in my kitchen:
Need a great dessert recipe? You won't be disappointed with these treasures!
Brownie Trifle with Toffee Bits
Here are some Main Dish recipes you may like.  
Ultimate Blue Cheese Stuffed Hamburgers
Chicken Broccoli Alfredo Pasta
One Pan Yogurt Marinated Chicken and Potatoes
Quick and Easy Red Beans and Rice with Sausage
Southern Shrimp and Rice Casserole
Family Favorite Stuffed French Bread
Other side dishes to try are:
Please leave me a comment if you make this recipe.  I'd love to hear from you.