Yes! You can freeze cream cheese, and it's quite easy, too. Here are some great tips and tricks for freezing it! Plus, some great cream cheese recipe creations.
If you're like me, whenever there's an amazing sale at the grocery store, you like to stock up. So, when there was a huge sale on Philadelphia Cream Cheese, I bought multiple packages of it; hey, I love this stuff!
Jump to:
After I got home and unpacked the groceries, I wondered, what will I do with all this cream cheese. Make a cheesecake, Greek Yogurt Fruit Parfaits, or simply have some bagel and cream cheese for breakfast? Maybe I bought too much? Can I freeze it?
After some extensive research on the interwebs, I come up with a treasure trove of information that I hope you find useful.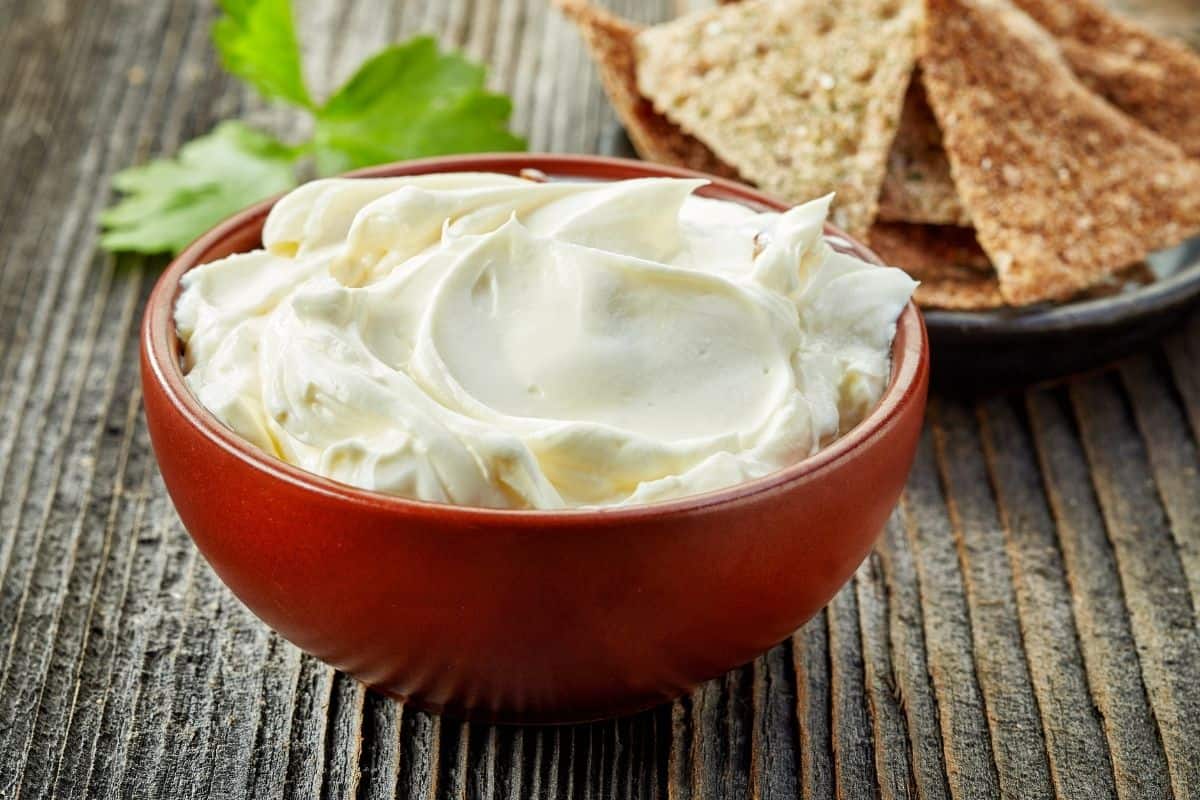 Can You Freeze Cream Cheese?
If you stocked up on cream cheese during a grocery store sale or you have some unopened cream cheese in the fridge, you can easily pop it right into the freezer in its original container.
Freezing Philadelphia Cream Cheese is very easy since it is already in rectangular boxes with foil. This gives the cream cheese enough protection to keep it from freezer burn. It will last in the freezer for up to 2 months. Tip: Be sure to write the date on the package so you'll remember exactly when you put it in the freezer.
What Happens When You Freeze It?
When cream cheese is frozen, ice crystals form because of cream cheese's high water content. These water crystals will melt when you thaw the cream cheese. But the consistency won't be the same! You'll have to give it a good stir after it's thawed. Read more about this topic below.
Does Freezing It Change The Taste?
Cream cheese does not have a very great shelf life and if left in the refrigerator it changes taste after too long. But, will the frozen cream cheese taste differently?
Once it's frozen, there will be ice crystals within the cream cheese. This is normal and will not affect the taste. However, it will have a gritty and crumbly texture. The texture may be a turnoff for many people. So it's best to use this thawed cream cheese in recipes like baked goods and desserts.
How Do You Freeze It Easily?
If it is still in the packaging unopened, you can freeze it as is. This is the easiest method and the one I prefer.
However, if you have leftover cream cheese that you'd like to freeze, it's best to place it into an airtight container like a Ziploc bag or Pyrex storage container.
To help prevent freezer burn, you can wrap the cream cheese in foil first, which will give the cream cheese an extra layer of protection when you put the cream cheese in the freezer.
How Long Does It Last In The Freezer?
Freezing cream cheese can be very convenient if you use it often in recipes/baked goods/desserts. however, do not go on a cram cheese shopping spree just yet. Frozen cream cheese can only last in the freezer for up to 2 months.
A good tip is to always put the month and year you froze the cream cheese. This will make it easier for you to tell if you still have time to use the frozen cream cheese or if it is time to toss it. This tip is outstanding really for all frozen foods. It helps you easily clear out the freezer faster.
How Do You Defrost Cream Cheese Quickly?
Simply transfer it from the freezer to the refrigerator to thaw. This will take about 24 hours.
A fun fact about cream cheese is that it has a high fat content (who knew right?!😉). This means the cream cheese will not take long to get to room temperature. Normally it takes about an hour.
If you need it quicker than the counter or refrigerator. You can use the microwave. When you are thawing an 8oz block of cream cheese, place it on a microwave-safe dish, and place it in the microwave on high for 15-seconds. Add 10-seconds for every extra 8 ounces of cream cheese.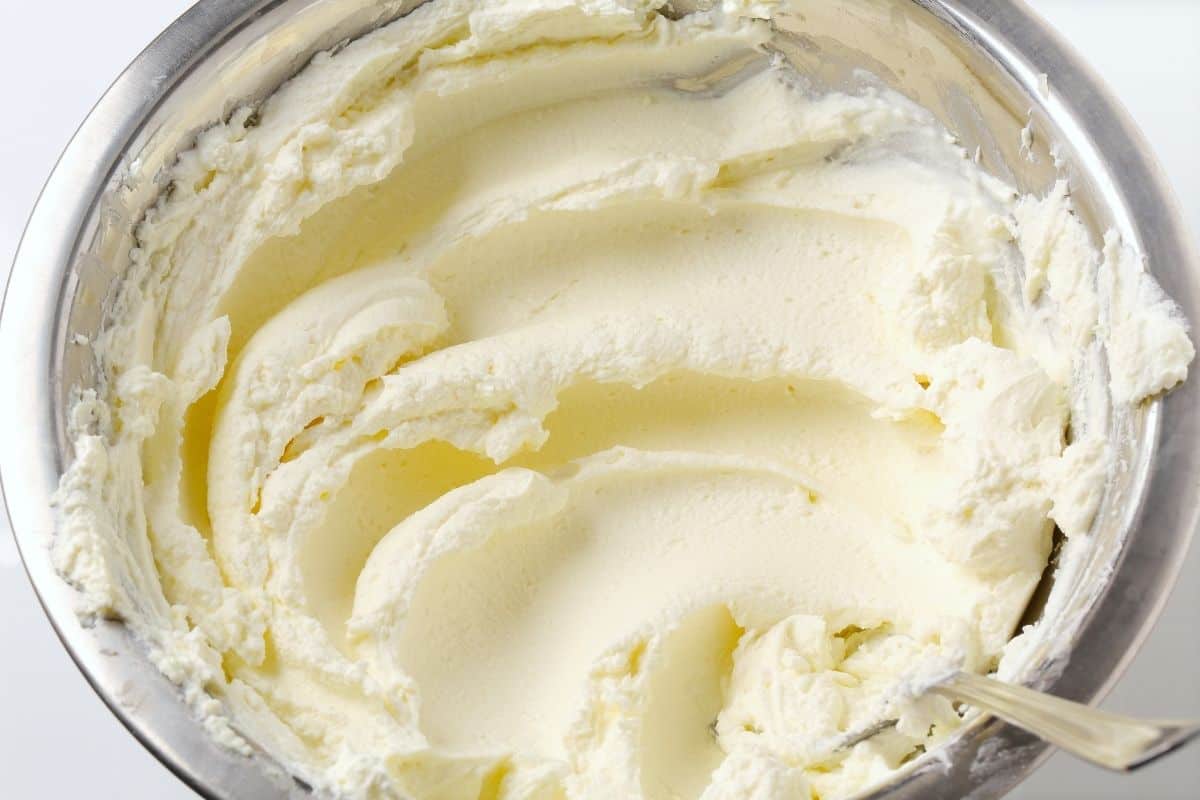 How Do You Fix Thawed Cream Cheese?
The best way to get rid of the grainy texture of thawed cream cheese is to put it into the microwave and give it a good stir with a whisk or electric mixer. This will make the cream cheese soft and will make it "creamy" again.
Microwave Instructions:
Move it from the freezer to the refrigerator and leave it for 24 hours.
Once it's completely thawed, dump it into a microwave-safe bowl.
Microwave it for 10 seconds.
Stir the cream cheese (a whisk works well for this) until creamy.
What Are Some Ways To Use Thawed Frozen Cream Cheese?
Although cheesecake is delicious. You will still get the grainy texture if you use frozen cream cheese in your recipe. You want to use thawed frozen cream cheese in recipes where the grainy texture will not stand out.
If you do happen to make a cheesecake, check out my Best Cheesecake Topping Ideas post. Adding a delicious topping could possibly help "camouflage" any graininess that may be present. And, if you're like me, making a decision on just one is nearly impossible!
Some good recipe options are:
Can You Refreeze It?
Although you can refreeze cream cheese that was thawed. It is not recommended. Since the water and cream have already separated during the first freezing/thawing process. If you put it back into the freezer and thaw it again. This will further break down the cream cheese and make the texture worse.
Frequently Asked Questions
Can you freeze whipped cream cheese in its tub container? 
Yes, you can freeze whipped cream cheese that comes in the tub. The best thing, if it is unopened, you can freeze it as is. However, if it is opened, you might want to put a layer of plastic wrap over the top and then put the lid on it to keep it from getting freezer burned. 
Can you freeze cream cheese frosting?
Yes, you can freeze cream cheese frosting in an airtight container for up to 2 months. 
Can you freeze cream cheese balls?
Freezing cream cheese balls would not be the best idea. Since the texture of cream cheese changes during the freezing and thawing process, the cream cheese balls will not taste the best. 
Can you freeze flavored cream cheese? 
Yep, just follow the same process as for the regular cream cheese. 

So next time there's a big sale on cream cheese, go ahead and stock up because now you know all the tips and tricks needed to use it up and make some delicious recipes with it later!
More Great Substitution Ideas
If you'd like some recipe inspiration delivered straight to your inbox, sign up for my email newsletter on my subscribe page and receive a free 5-day meal plan.