Paula Deen Taco Soup is the ultimate comfort food that effortlessly combines the flavors of your favorite Mexican dish into a warm and hearty bowl. Whether you're a seasoned home cook or a beginner cook, this recipe is a must-try for its simplicity and mouthwatering taste.
Be prepared to be amazed by the perfect blend of spices, tender ground beef, and a medley of beans, tomatoes, and vegetables that will leave your taste buds dancing with delight. Serve this soup with my Jalapeno Cheese Cornbread!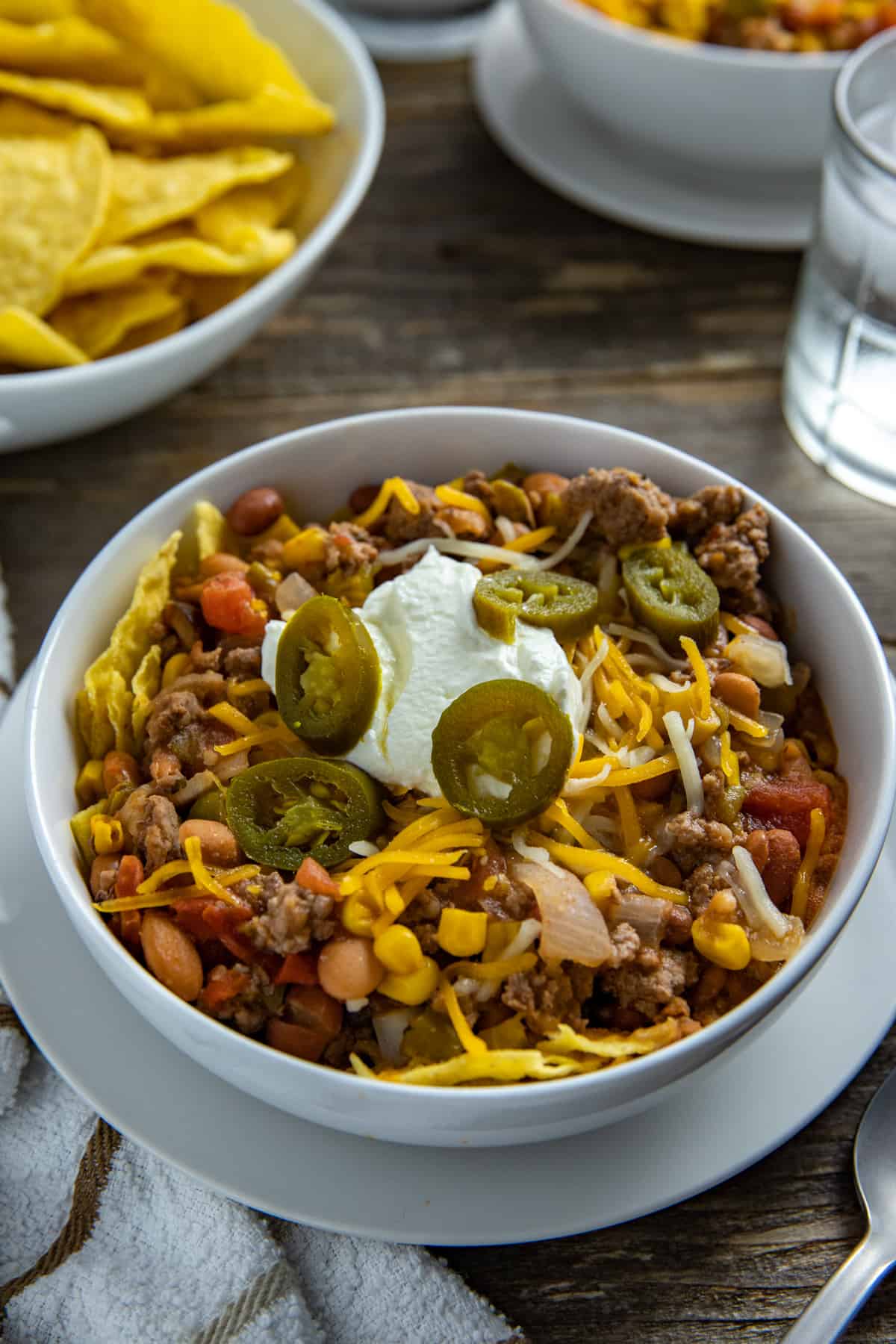 Need another ground beef recipe that's kinda similar and less spicy? Try my Ground Beef Vegetable Soup, it's super easy to make and packed with veggies.
Jump to:
Why You'll Love This Soup
Paula Deen Taco Soup is a fantastic way to bring the flavors of tacos to a soothing, soul-warming soup. Picture the ease of placing a these delicious ingredients into a pot and allowing them to simmer to perfection.
This recipe's versatility makes it a family favorite – it's perfect for a weeknight dinner, a potluck gathering, or a cozy weekend meal. The mix of spices and textures will satisfy your craving for something hearty, wholesome, and full of flavor.
Once I tried this soup, I had to share my experience with you! Here's the link to her original recipe Paul Deen Taco Soup, and I didn't change a thing when I made it; it's perfect the way it is!
Ingredients You'll Need
With its hearty ingredients, this taco soup is sure to become a staple in your kitchen. So, gather your ingredients, and let the aroma of delicious soup fill your home.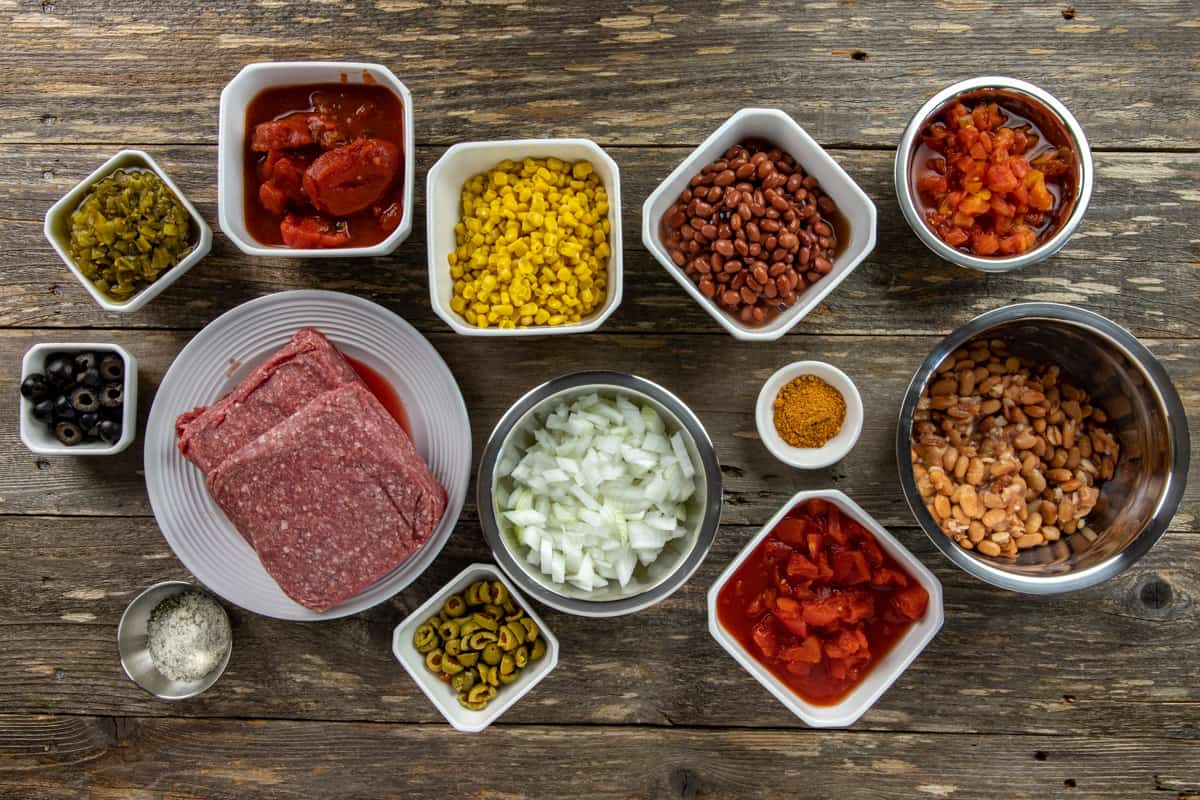 Ground beef - you can use ground chuck this this soup. The ground beef provides flavor, texture, and protein. It also is what makes this soup filling and hearty!
Tomatoes - we love tomatoes for their rich flavor! This recipe uses 3 kinds of canned tomatoes: Mexican stewed tomatoes, diced tomatoes with chilis, and regular diced tomatoes.
Corn - canned corn works really well for this recipe; it tends to be more crispy than the frozen corn which can get soft and gummy. The corn provides a touch of sweetness and nice flavor. Crispy corn works pairs well with the soft beans.
Pink beans - pink beans have a delicate flavor that's slightly sweeter than pinto beans. Their slightly firmer texter and milder taste complements the other robust flavors in the soup. You can find them either in the bean section or the Mexican food section of the grocery store.
Pinto beans - pinto beans are soft and creamy; they have a mild and slightly earthy flavor that absorbs the spices and seasonings in the soup.
Jalapeños - these cute little green peppers add a fantastic kick of heat, flavor, and a hint of brightness to taco soup. You can adjust the amount of jalapeños you use to create a little heat or a lot of heat!
Olives - the olives are optional but adding them adding creates another texture and adds a nice salty flavor to the soup. If you don't like olives, you can leave them out. No problem!
Onions - when sautéed or simmered, onions release their natural sugars and develop a sweet and savory flavor that enhance all kinds of foods such as soups, stews and sauces.
Taco seasoning mix - taco seasoning mix contains a blend of spices like chili powder, cumin, paprika, garlic powder, onion powder, and more. Adding this mix to taco soup infuses it with the quintessential flavors of Mexican cuisine, giving this soup the flavors of classic tacos.
Ranch seasoning mix - ranch seasoning mix typically contains a mix of herbs like dill, parsley, and chives, as well as garlic and onion powders. These ingredients contribute a tangy and slightly creamy flavor to the soup. Love this stuff!
Ingredient Substitutions and Additions
Here are some options for ingredients substitutions. Or to just get creative with your ingredients!
Substitute ground beef with ground turkey or chicken for a leaner option.
Swap pinto beans with black beans or kidney beans, and if you prefer less heat, use plain diced tomatoes instead of Rotel.
You can also adjust the seasoning packets to your taste – go for mild or spicy versions depending on your preference.
If you can't find Goya Pink Beans, you can use pinto beans.
Feel free to add more vegetables to the soup to amp up the taste, texture, and nutrition. Chopped bell peppers, zucchini, or diced carrots can be wonderful additions that not only add flavor but also color.
How to Make Taco Soup
With only 3 steps, Paula Deen Taco Soup is a meal that effortlessly combines ease and flavor, making it a go-to choice for busy weeknights or gatherings with friends and family.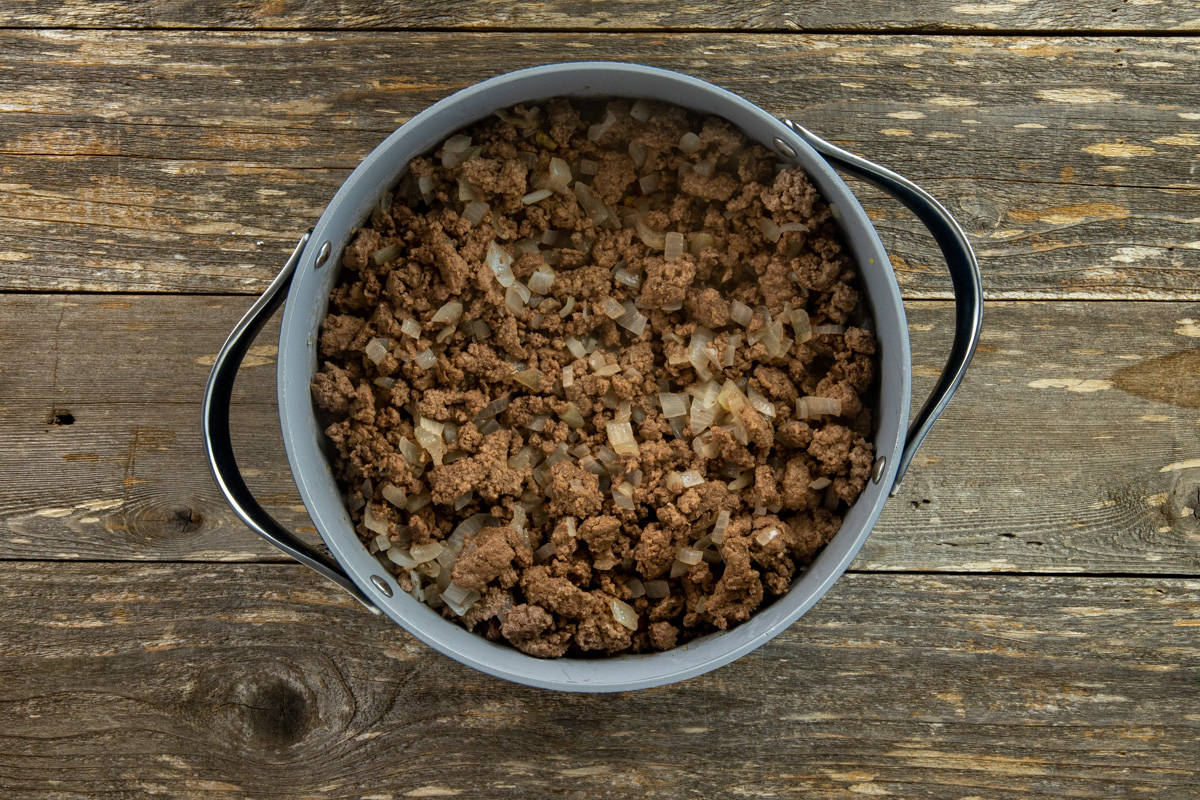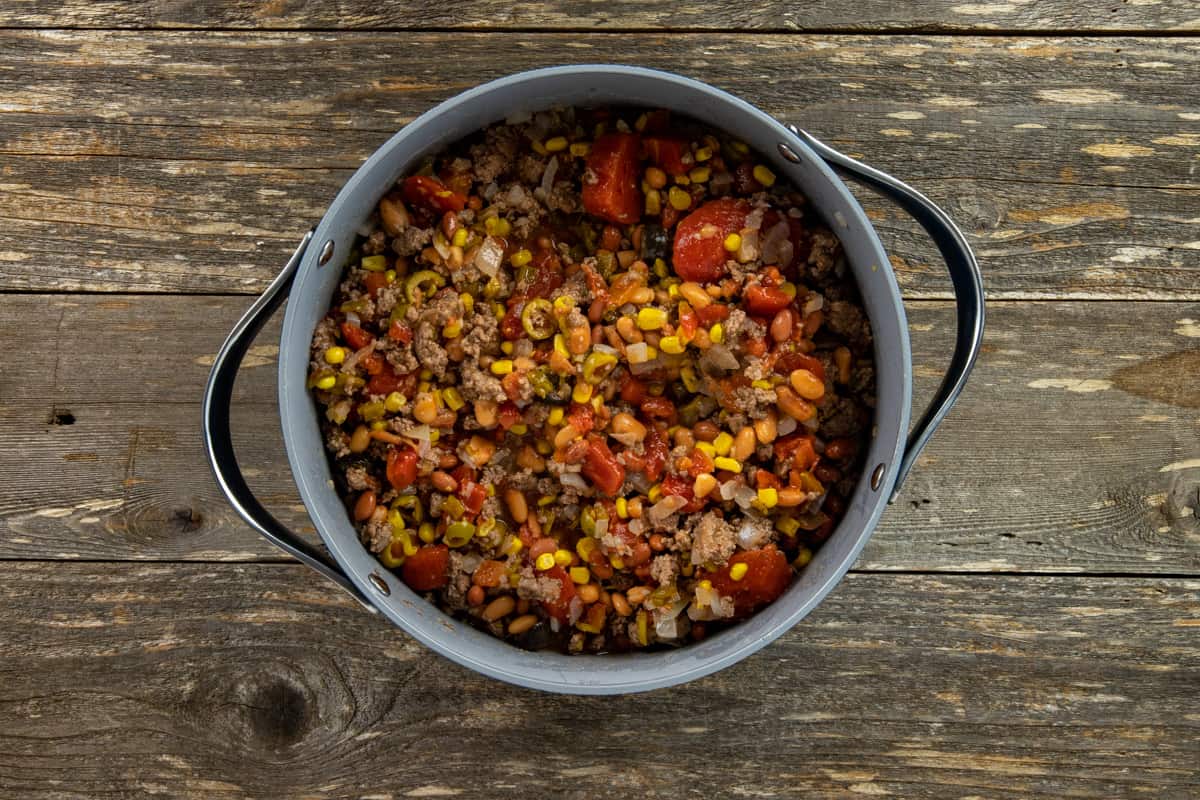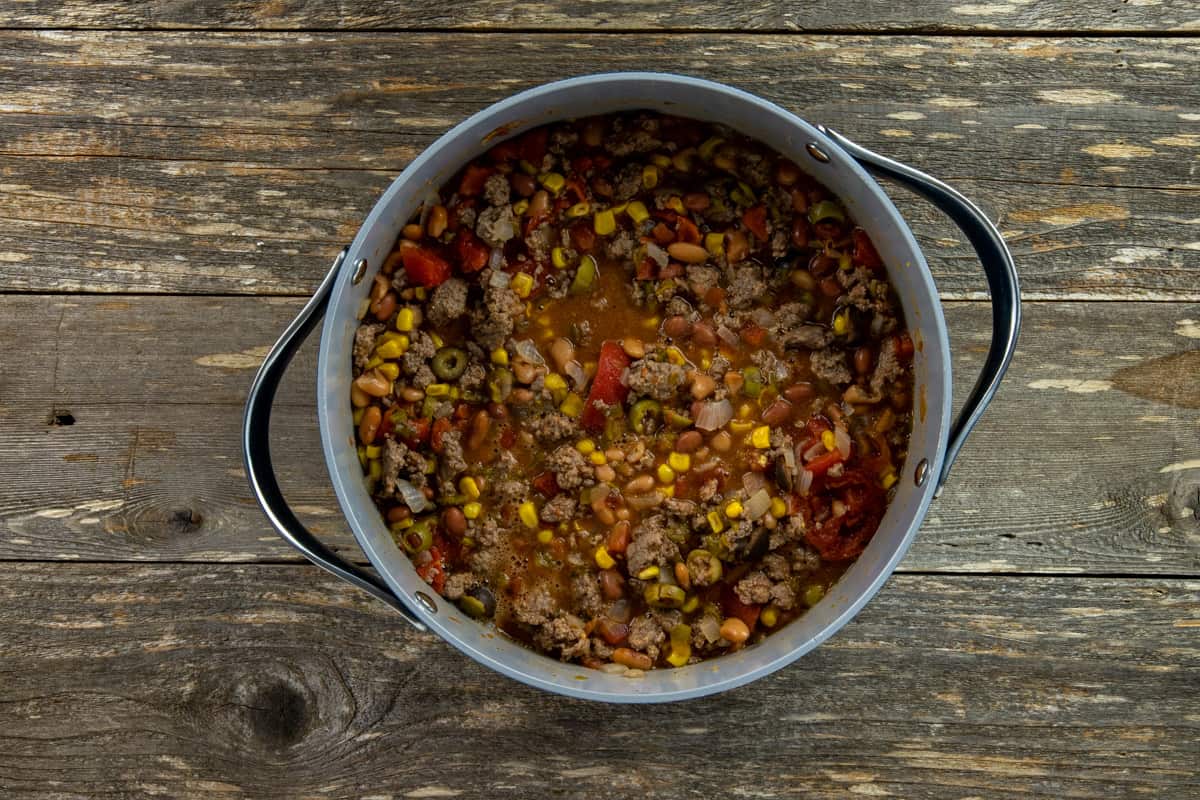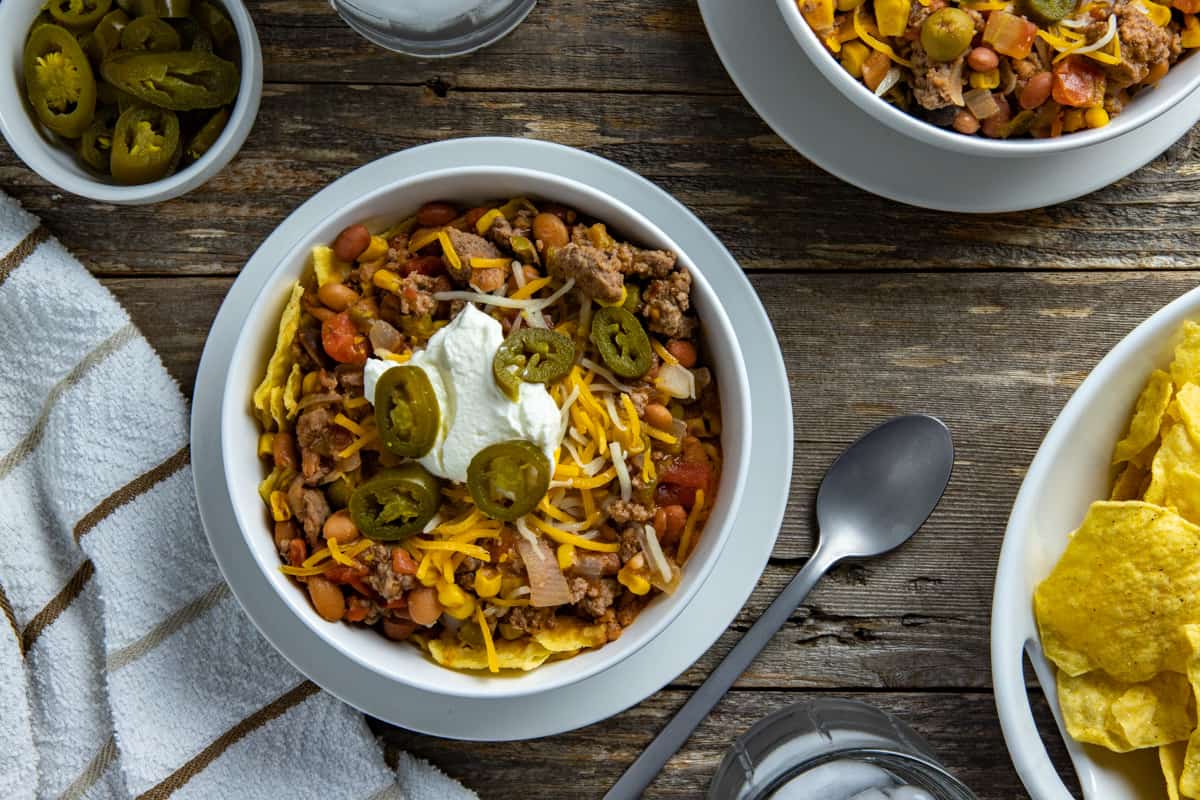 Prep Time Saver
If you're short on time, consider browning the ground beef in advance and storing it in the fridge until you're ready to make the soup. This can help streamline the cooking process and get dinner on the table even faster.
What to Serve with Taco Soup
Taco soup is a complete meal on its own, but serving it with some delicious accompaniments can really add to your dinner experience!
Add toppings galore! Top your soup with shredded cheese, a dollop of sour cream, diced green onions, and crushed tortilla chips for added crunch. Serve alongside warm, fresh cornbread or a simple side salad to make it a square meal.
Make it Fun! Set up a garnish bar when serving the soup to let everyone personalize their bowls. Offer toppings like sliced avocado, chopped cilantro, lime wedges, and even a drizzle of hot sauce for an extra kick.
Kid-friendly Twist! If you have picky eaters at home, consider making a "taco bar" where everyone can assemble their own bowls of taco soup. This hands-on approach might encourage kids to try new flavors and have fun with their meal.
Slow Cooker Directions
Paula Deen Taco Soup is slow cooker friendly! Just cook the ground beef and onions; drain liquid. Add to slow cooker (or crock pot) with the remaining ingredients, stir well, and cook on low for 6 to 8 hours or high for 3 to 4 hours.
Have you tried my Crockpot Mexican Casserole? It's just as easy to make and delicious but also has rice. Cooks up a thick and hearty meal with tons of flavor!
Recipe Tips
I want you to have the best results when making this soup! Here are my best recipe tips:
Brown the beef. Ensure the ground beef is thoroughly cooked and nicely browned before adding other ingredients. This enhances the flavor and texture of the soup.
Drain the grease. After browning the beef, drain excess fat to prevent the soup from becoming overly greasy.
Taste test first, then adjust seasoning. Taste the soup before adding additional seasonings such as salt, because the seasoning packets can already contain a good amount of it.
Customize toppings. Let everyone customize their bowls with their favorite toppings – it's a fun way to involve everyone and enhance the dining experience.
Frequently Asked Questions
How long is taco soup good for?
Leftovers should last 3-4 days when stored covered in the refrigerator.
Can I use fresh tomatoes instead of canned tomatoes?
Yes, you can use fresh diced tomatoes in place of canned tomatoes. Keep in mind that canned tomatoes provide some liquid to the soup, so you might need to add some broth or water to the soup to make up for that.
Can I add rice or pasta to taco soup?
You can certainly add rice or pasta to taco soup for extra heartiness. However, keep in mind that pasta will absorb some of the liquid, thickening the soup. So it's best to add cooked rice or pasta to the soup.
Can You Freeze Taco Soup
Taco soup freezes well, so you can make a larger batch and store individual portions in airtight containers in the freezer. It's a great option for busy days when you need a quick and hearty meal without the cooking hassle. Here's how to freeze it and reheat it:
Let the soup completely cool off.
Place it in a freezer-friendly, airtight container(s) and label with the date.
Place the container(s) in the freezer for up to 3 months.
When ready to eat it, place the container in your refrigerator to thaw overnight.
Once thawed, you can reheat the taco soup on the stovetop over low to medium heat or in the microwave in short intervals, stirring occasionally. Add a splash of water or broth if needed to maintain the desired consistency.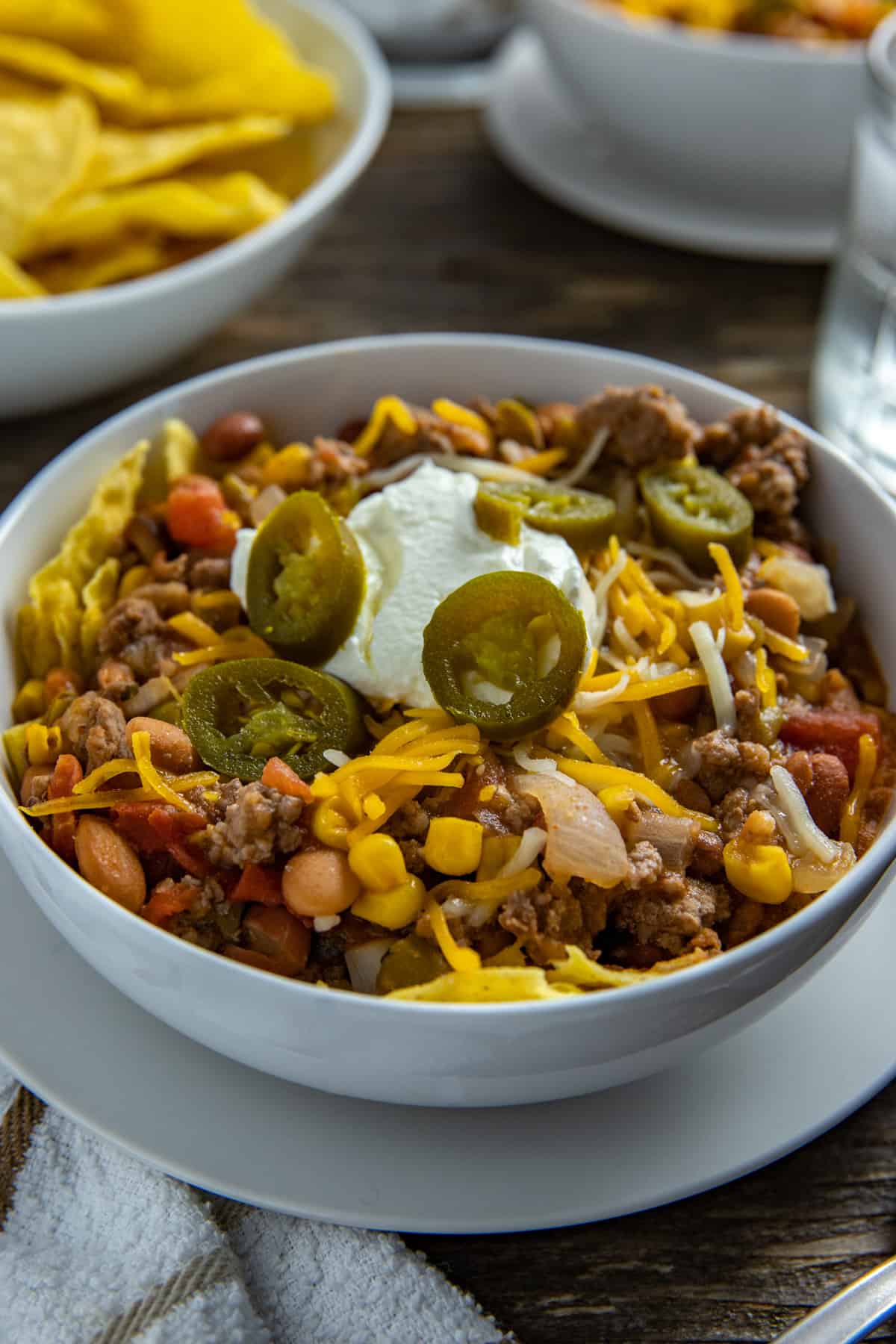 More Mexican Recipes to Try
If you tried this recipe, please let me know by leaving a comment! I'd love to hear from you.
If you'd like some recipe inspiration delivered straight to your inbox, sign up for my email newsletter on my subscribe page and receive a free 5-day meal plan.
Recipe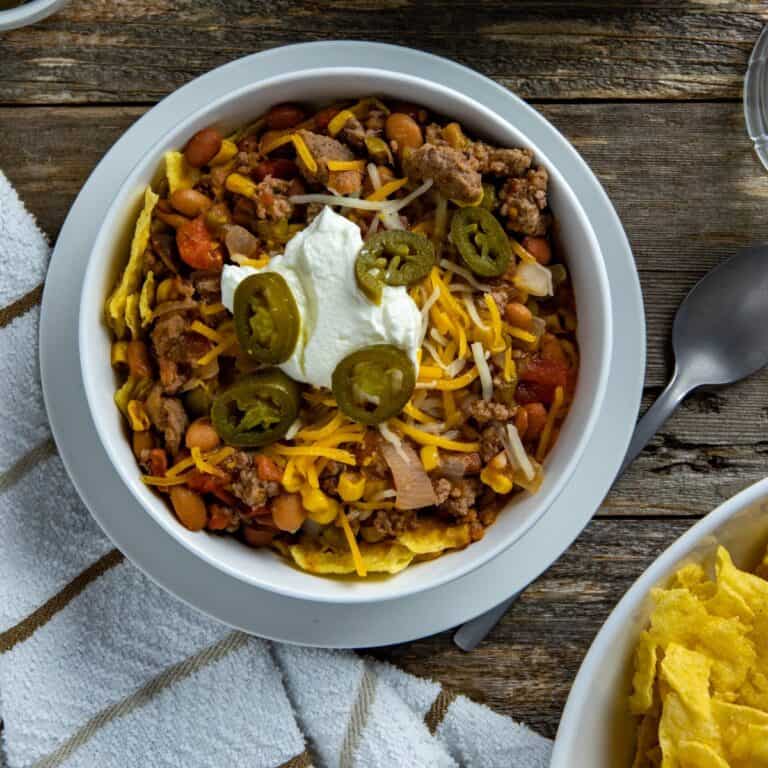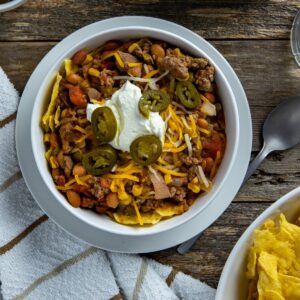 Paula Deen Taco Soup
Taco soup is a fantastic way to bring the flavors of tacos to a soothing, soul-warming soup. Stovetop and slow cooker friendly!
Print
Pin For Later
Rate
Equipment
Large soup pot

measuring cup(s)
Ingredients
2

pounds

ground beef

2

cups

diced onions

2.25

ounces

canned sliced black olives, drained

optional

8

ounces

canned diced green chilies

Two 4-oz cans

10

ounces

canned diced tomatoes with chilies

Rotel brand

14.5

ounces

canned diced tomatoes

14.5

canned Mexican stewed tomatoes

15

ounces

canned whole kernel corn, drained

15.5

ounces

canned pink beans

Goya brand

31

ounces

canned pinto beans

Two 15.5-oz cans

½

cup

sliced green olives, drained

optional

1

ounce

package dry ranch salad dressing mix

1

ounce

package dry taco seasoning mix
SERVING SUGGESTION
corn chips

sour cream

shredded cheese

sliced jalapenos
Instructions
Cook the ground beef and onions in a large pot until the beef is no longer pink; drain the excess fat, then transfer the beef and onions to a large pot or a slow cooker.

Tip: One of the beauties of taco soup is that it's a one-pot meal, which means less cleanup after cooking. Just make sure to use a pot that's large enough to hold all the ingredients.

Add the remaining ingredients, stir well, and bring to a boil. Cover, reduce heat, and slow simmer for about 1 hour on the stove. (Or add to a slow cooker and cook on low for 6 to 8 hours).

To serve, place a few corn chips in each bowl and ladle soup over them. Top with sour cream, cheese, and jalapeños.
Notes
How to Store Leftovers
Let the soup completely cool off.
Place the soup in  an airtight container(s) and label with the date.
Place the container(s) in the refrigerator for up to 3 days or in the freezer for up to 3 months.
Nutrition
Calories:
768
kcal
|
Carbohydrates:
98
g
|
Protein:
39
g
|
Fat:
28
g
|
Saturated Fat:
10
g
|
Polyunsaturated Fat:
2
g
|
Monounsaturated Fat:
12
g
|
Trans Fat:
1
g
|
Cholesterol:
81
mg
|
Sodium:
3085
mg
|
Potassium:
2681
mg
|
Fiber:
21
g
|
Sugar:
33
g
|
Vitamin A:
1781
IU
|
Vitamin C:
77
mg
|
Calcium:
396
mg
|
Iron:
16
mg
Nutritional information is provided as a courtesy to my readers. I'm not a nutritionist and I don't guarantee the accuracy of this data. The data may differ according to the brands I used versus the brands you use. To calculate the data yourself using your brands, try using an online nutrition calculator or app.